Lindsay Swearingen was introduced to needle and thread at 8 years old, when her mother taught her how to cross-stitch. She was young and didn't stick with it, but "about eight years ago, I picked it back up around when there was a resurgence of embroidery and fiber art," she says.
Her aesthetic is sweetly macabre with a reverence for plants and a vintage feel, in a black-and-white palette, with accents of pale greens and pinks. She markets her work under the moniker Tusk and Cardinal — named in homage to her parents, "Tusk" for one of her mother's favorite songs by Fleetwood Mac, and "Cardinal" for Cardinal Construction, the company her father owned.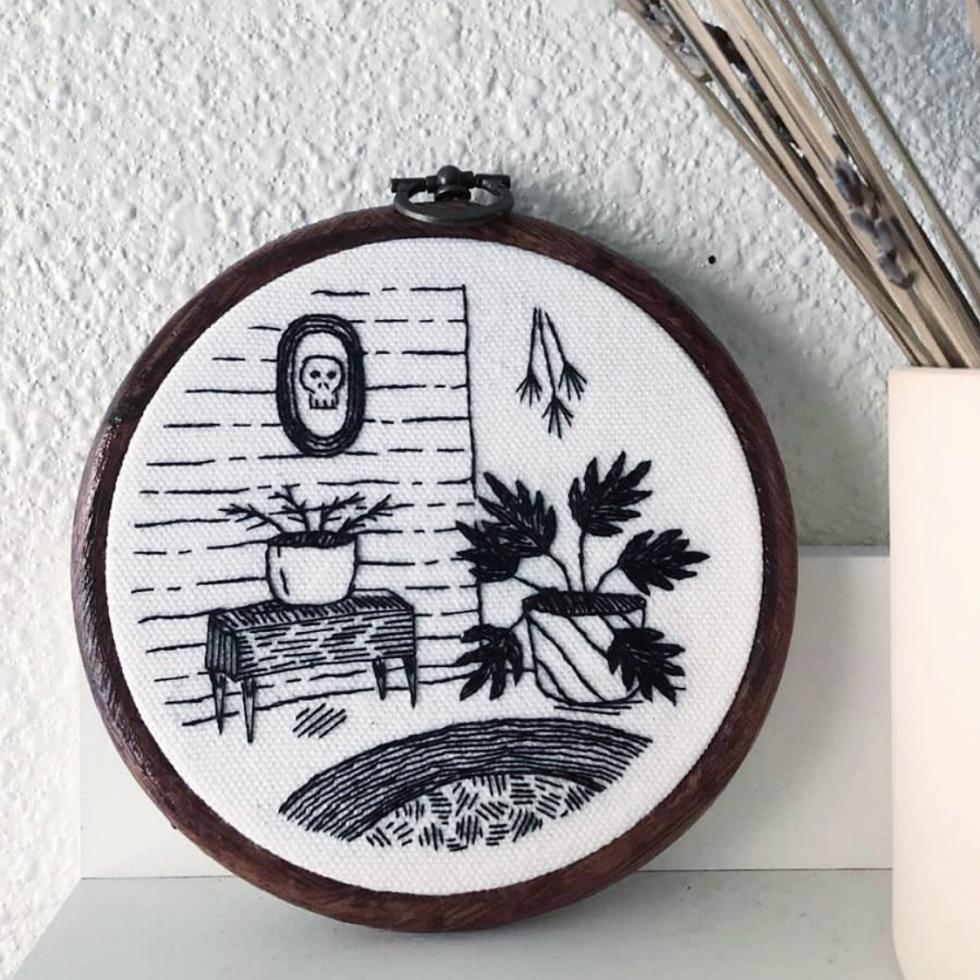 In 2018, she found the repetitive motions of stitching left her in pain in her hands and shoulders. "Embroidery is hard on my body," she says. "It hurts." So she began doing ink drawings. Her drawings are largely inspired by the work of Edward Gorey, a 20th-century American writer and illustrator of dark-but-charming Victorian and Edwardian stories. Swearingen presents the drawings in frames found at thrift shops, often house- or heart-shaped or with convex glass. In June 2019, she had her first solo art show of her drawings in Sacramento at Outlet Coworking.
Originally from Aurora, Colorado, Swearingen, 34, came to Sacramento after graduating college with a degree in art education, a field "which I never pursued," she says. She works full time in marketing at Retinal Consultants Medical Group, leaving evenings and weekends to work on Tusk and Cardinal pieces to share with her 30,000 followers on her carefully stylized Instagram account and Etsy shop, where she's made around 260 sales.
How have sales been in your Etsy store in the past few months?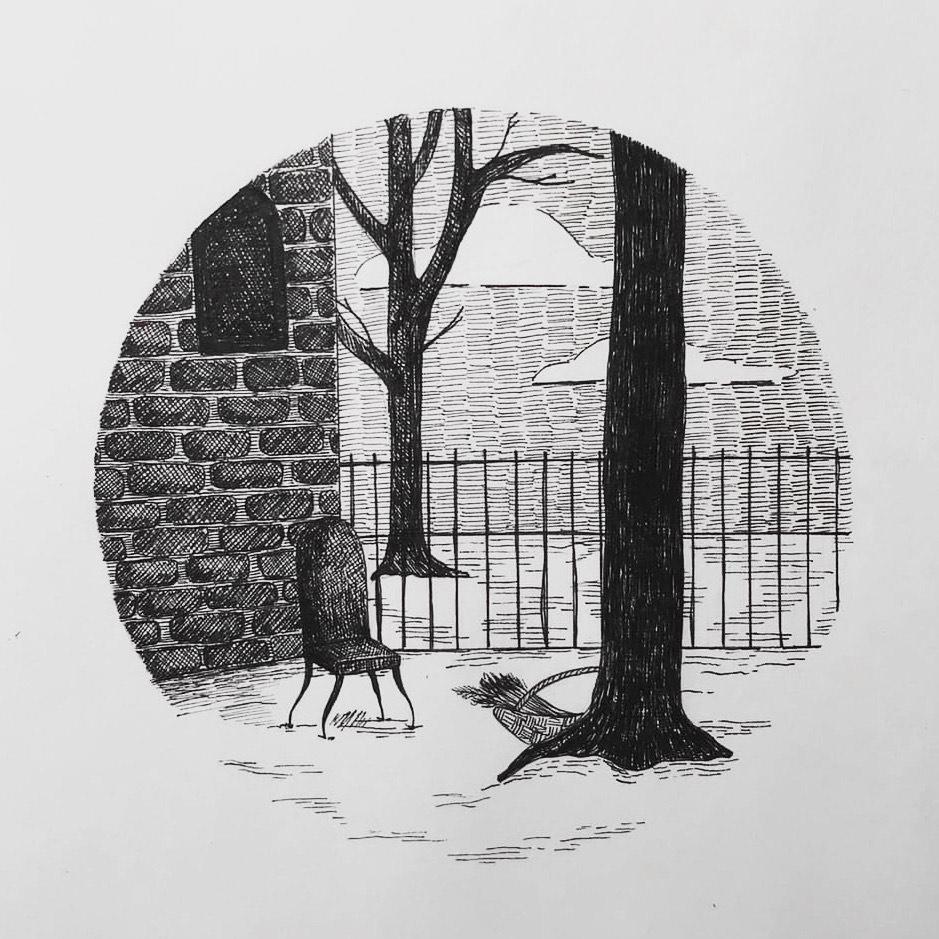 My sales really fluctuate, and it's based off of how often I post on social media. … I don't tend to have a ton of sales, and I'm fine with that. I'm slow in my work, so I expect it to be that way as far as sales too. … So when I'm more active, it tends to jump, just because I'm more seen on Instagram, and it leads more people to my Etsy shop a little bit easier. It's hard to be found on Etsy unless you're doing something about it. You can't rely on the website to get people to see you. … If I fall off, it's because I'm busy with my work or busy with life, and it tends to dip down a little bit.
Where would you like to see it go?
I have so many things that I want to do. … I don't know if I have a main goal for my shop, necessarily, but for my art in general, I would love to illustrate a children's book and maybe some more art shows. I don't think I have anything like a big goal, as far as opening a shop or anything like that, or even selling in stores. It's not something I'm that interested in. I think I just want to expand upon my talent and get better in my skills and put it out there in different ways.
Are you connected to book publishers that are looking for illustrators, or do you want to do the writing as well?
I would like to write as well. I definitely haven't been working on that dream (laughs). It's always been on the back burner as a thought or an idea that I think I'd eventually like to pursue.
Your illustrations are inspired by Edward Gorey. What drew you to his work?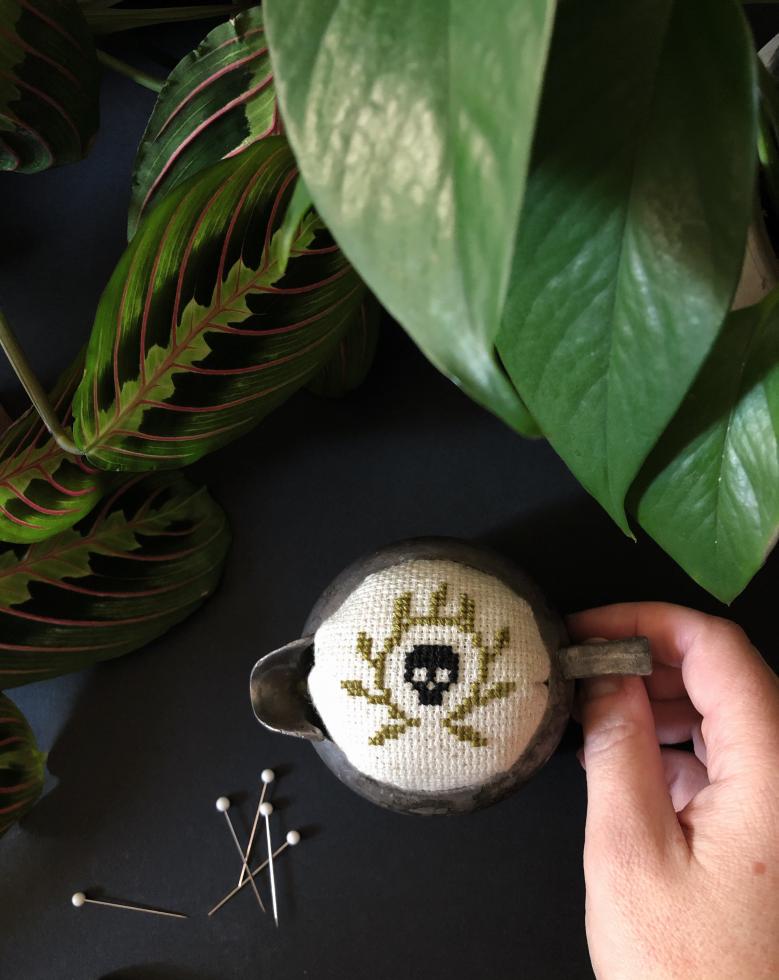 What I love most about his work is that it is dark, but it's also whimsical and just comedic, even though it can be creepy. I just like that combination. I've always liked … opposites. His work is just cute. If you look at some of the illustrations, they're so endearing. … His use of line work is unique, and I think it's beautiful.
Why did you switch from embroidery to illustrations a couple of years ago?
It was taking a toll on me (physically), so I wanted to try something that moved a little bit quicker and still could create the design that I want to in a faster way. … I started doing Inktober (in 2018): In the month of October, you do one ink drawing a day with a prompt. And that really helped me start developing different skills.
You use a lot of repurposed items in your embroidery and illustrations. How often would you go to thrift stores to find the items?
I used to go twice a week. … I would start in the frames every time and work my way back to the front of the store. … I have specific items I would look for first, then, after I look for items I was seeking out, I would kind of browse and see if anything caught my eye.
What have you been doing during shelter-in-place order because the stores are closed?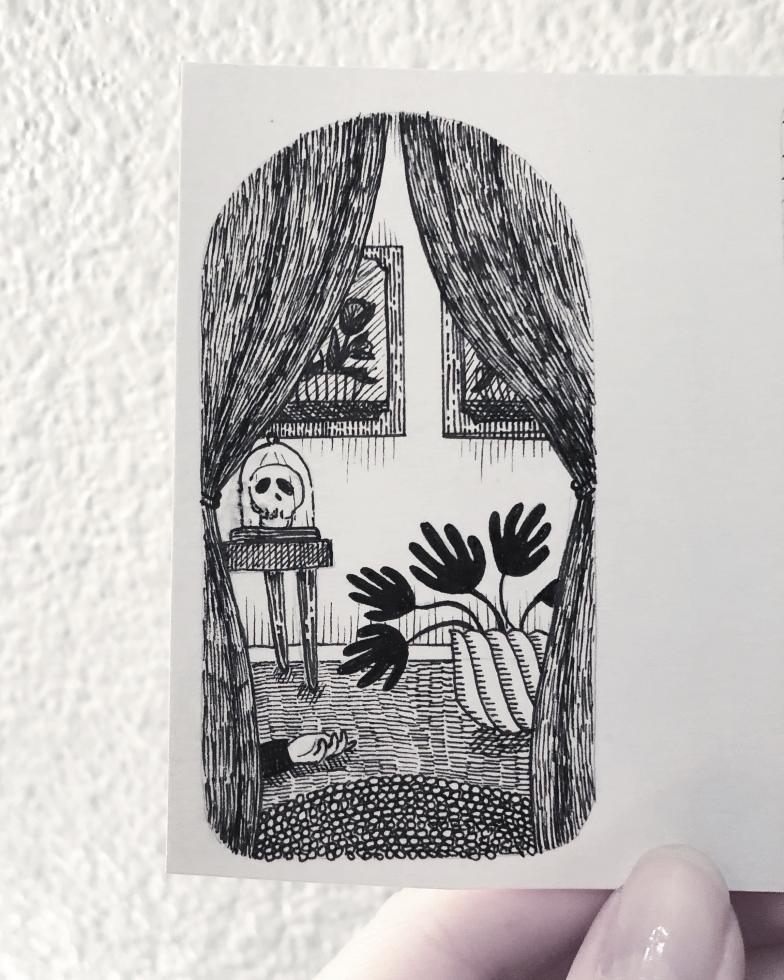 Well, I have too much inventory, to be honest. It's probably been a good thing that I haven't been able to go thrifting for two months because I have plenty of (items) I can use, but I just so enjoy shopping and looking … because there's just unlimited things. Things I could not have imagined there existing. But I have tons of stuff, so it's fine. If anything, I need to get rid of them.
Have you encountered challenges when it comes to pricing your embroidery and how others see the value in it as a medium?
For a long time, and I think it still continues … that type of art is not considered art, necessarily. It's like considered a hobby, which I know I call it that for me sometimes, but I do consider it my art as well. … They just think they need a pattern, and they can reproduce it easily, and so when someone sells something like that that someone thinks they can recreate, it really undervalues it, I think. I know people in the (embroidery art) community have tried to be careful how they try to price. It's easy to dismiss what we do as what anybody can do.
That's an argument that's been going on for a very long time with art, with people saying my 4-year-old could have made that, so why pay for it.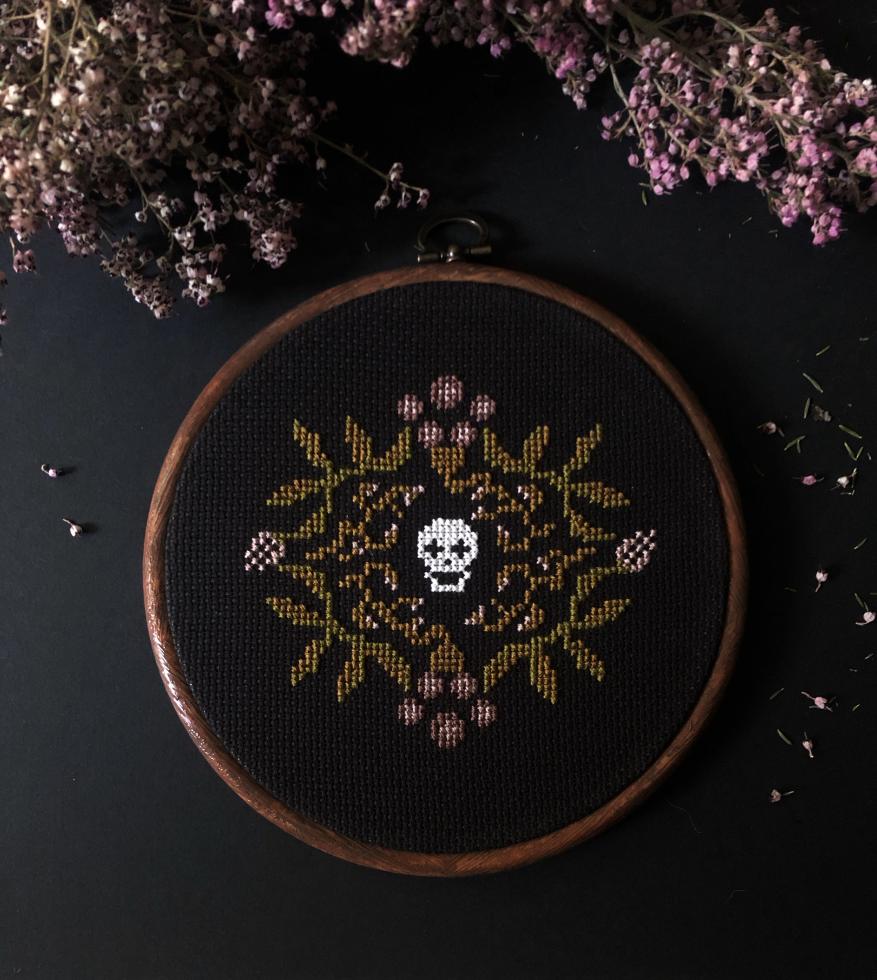 Exactly. I mean, I remember I'd be vending at an event and have some embroideries on the table, and I remember two women came up, and one pointed to it, and to her friend, "You could make that, couldn't you?" And she's like, "I could totally make that." It's so disheartening to hear something like that. First of all, maybe you could, but you didn't come up with that original idea, you know? You didn't create it. I'm the one who put it on the table. And so I know a lot of folks … (who) have struggled with that.
Creating something simple is not a bad thing. Creating something that can be recreated is not a bad thing. But I feel like it seems bad if someone says, "I can do that." You know, it devalues it. Looking at something that's simple is nice. I make these pin cushions that have a really simple little cross-stitch on the top, and they can easily, easily be recreated, but I was the one who came up with that idea, you know. …
There's the discussion of art versus craft. … Embroidery has long been considered a craft as opposed to art, and I think, just look at Instagram and look at #embroidery, and you'll see that that's not the case. There is some incredible embroidery artwork out there.
—
Stay up to date on business in the Capital Region: Subscribe to the Comstock's newsletter today.