Amy Seiwert, artistic director of the Sacramento Ballet, grabs the fireplace mantle in her living room as if it were a ballet barre while demonstrating choreography during a videoconference class. No longer able to teach in person due to the state's shelter-in-place order because of the coronavirus pandemic, Seiwert and other area artists and art businesses are utilizing videoconferencing and streaming services like Zoom, Twitch and YouTube to engage with their audience during quarantine.
"We're doing our best in this crazy time to offer something moderately in alignment with tools our artists normally have to train," Seiwert says.
Here's how several organizations and artists have gotten creative with technology to continue sharing their art with people during the pandemic.
Sacramento Ballet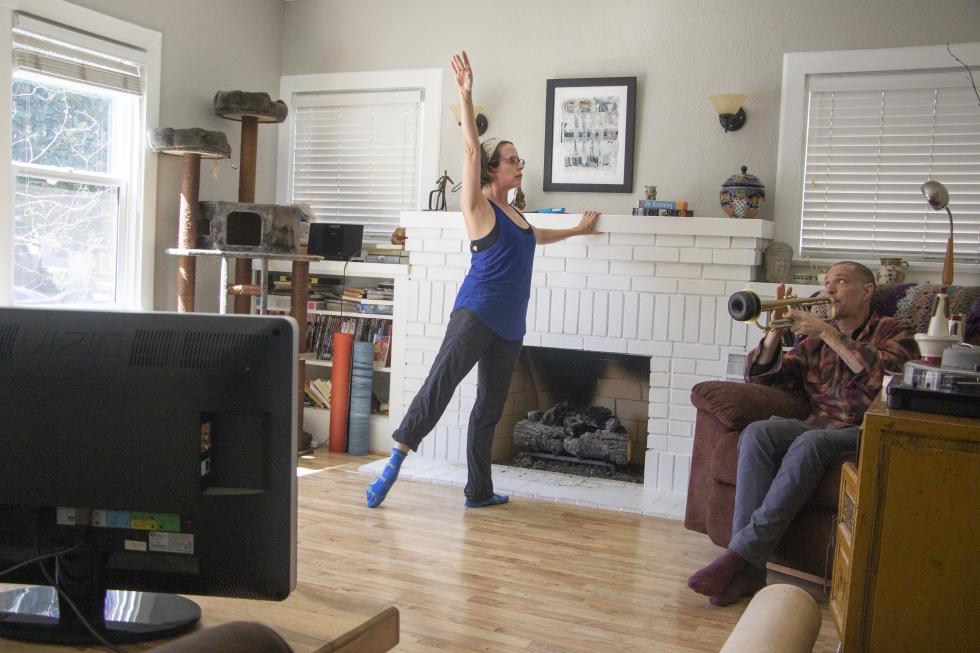 Amy Seiwert, Sacramento Ballet's artistic director, conducts a training via videoconference call with the company's professional dancers from her East Sacramento home, while her husband, Darren Johnston, plays the trumpet on April 1. Since April 15, the Sacramento Ballet moved its dance classes for all skill sets and ages — for children, pre-professionals and adults with monthly tuition or drop-in rates — online, as well as free fall-prevention classes for seniors. While the ballet had to postpone its spring performances, it has uploaded videos of performances on its website and YouTube channel.
Stab Comedy Theater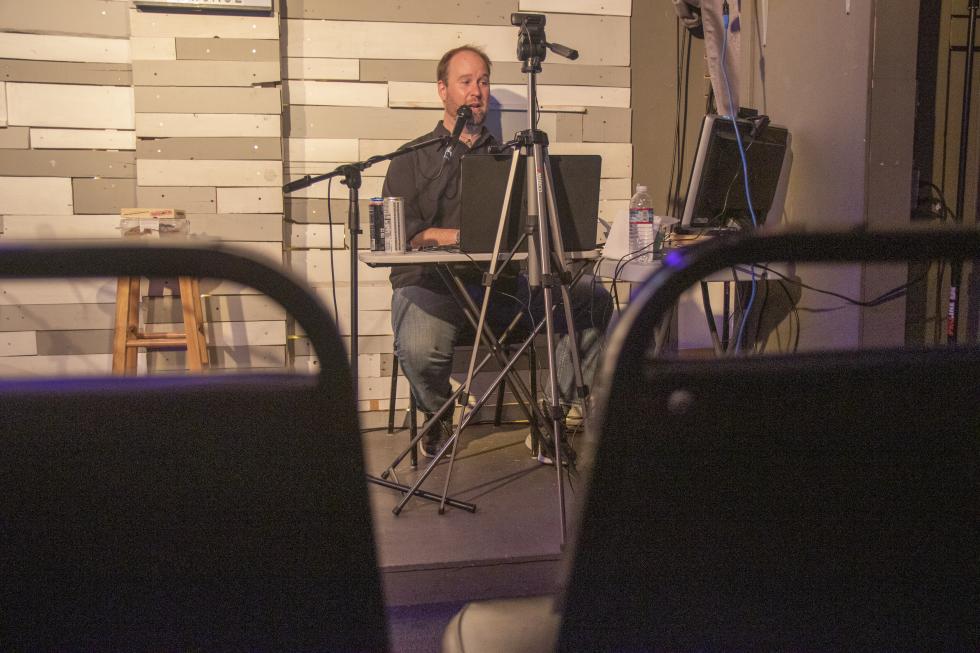 Jesse Jones, co-owner of Stab Comedy Theater in Sacramento, hosts Inside the Box, a weekly livestream of Jackbox Games — humorous online interactive party games — in the empty comedy club on Broadway on April 1. Stab had already been streaming some shows prior to the March 15 shutdown of nonessential businesses in California, and it began streaming shows for free seven days a week since then on Twitch, YouTube and Facebook, such as "The Social Distancing Stand-Up Showcase," a compilation of comedians' recorded five-minute stand-up sets, and an improv show called "Duos Night."
B Street Theatre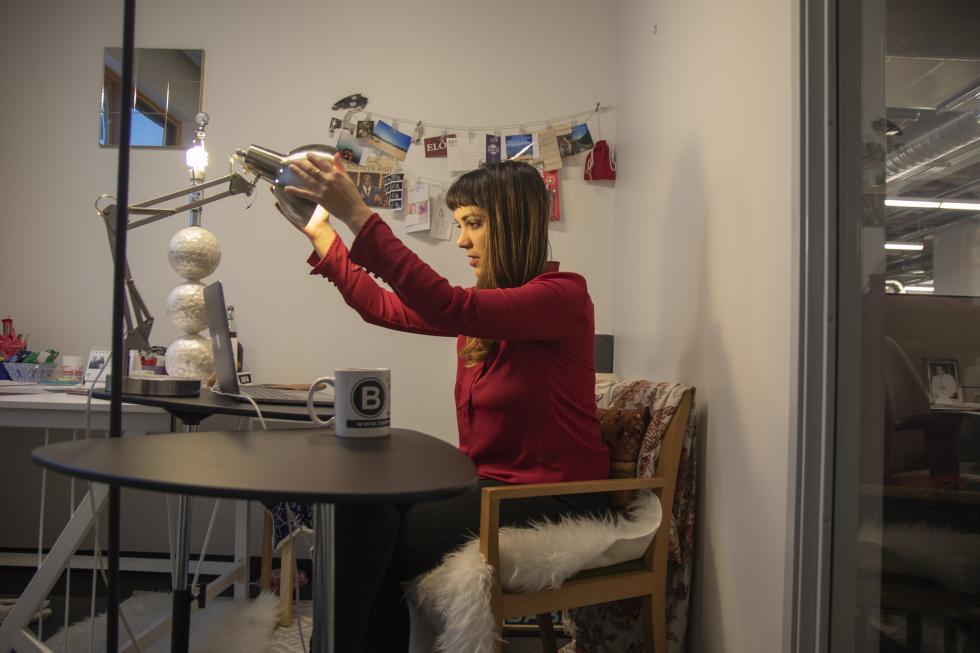 Lyndsay Burch, B Street Theatre's associate artistic director, gets ready in her office in The Sofia theater's empty office before hosting "Maximum Occupancy," B Street's weekly Saturday online improv show on April 11. B Street Theatre created free live online events Wednesday through Sunday, presented via Zoom, like Six Feet Apart, a showcase of local musicians live from their living rooms, and New Play Brunch, in which a B Street actor reads a short play. The theater also offers theatrical classes for adults and children, which are also free, but accepts donations.
B Street Theatre
Dave Pierini, B Street Theatre's artistic producer, livestreams his preparation of pasta dishes — orecchiette with sausage and broccoli rabe and linguine with clams — in his home in Sacramento for B Street's show, "Dealer's Choice" on April 9, where two members of the B Street acting company have a half hour to perform anything they choose.
UnchArted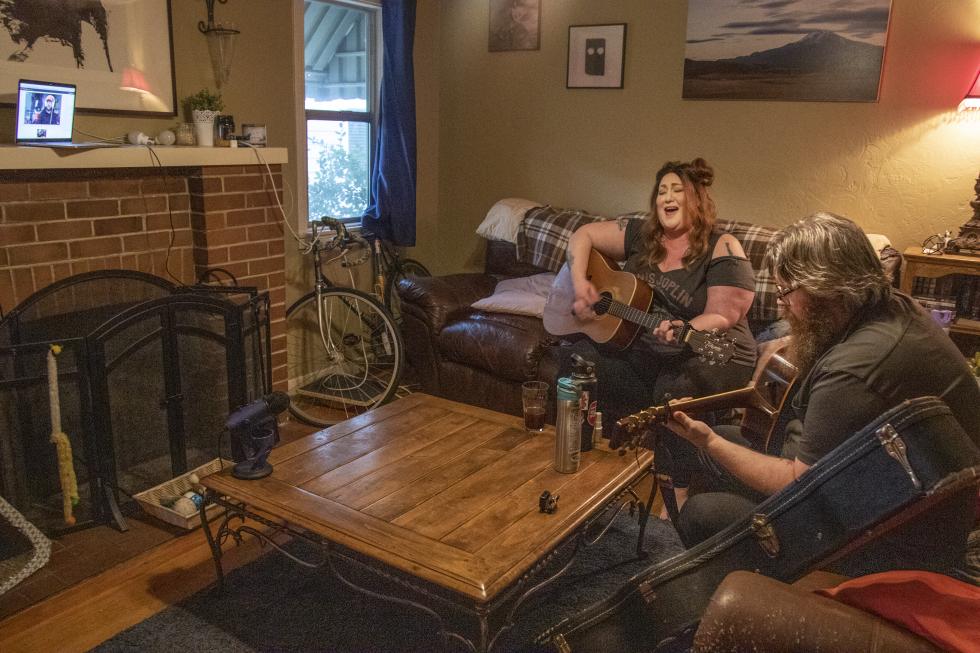 Musicians Carly DuHain and Coday Anthony from Sacramento band Drop Dead Red, perform in DuHain's living room during their sound check for Arden Fair's UnchArted's In Your Living Room Vibes, a free, live online concert series, on April 17. UnchArted, an art program, included Living Room Vibes, a monthly series of intimate concerts with Sacramento artists held in a space that emulated a living room inside the mall in 2019. In Your Living Room Vibes is a digital, social-distance spinoff of the original series, with musicians performing from their real living rooms. The series, which aired every Friday in April, offered links to the musicians' Venmo accounts for viewers to donate.
Eben Burgoon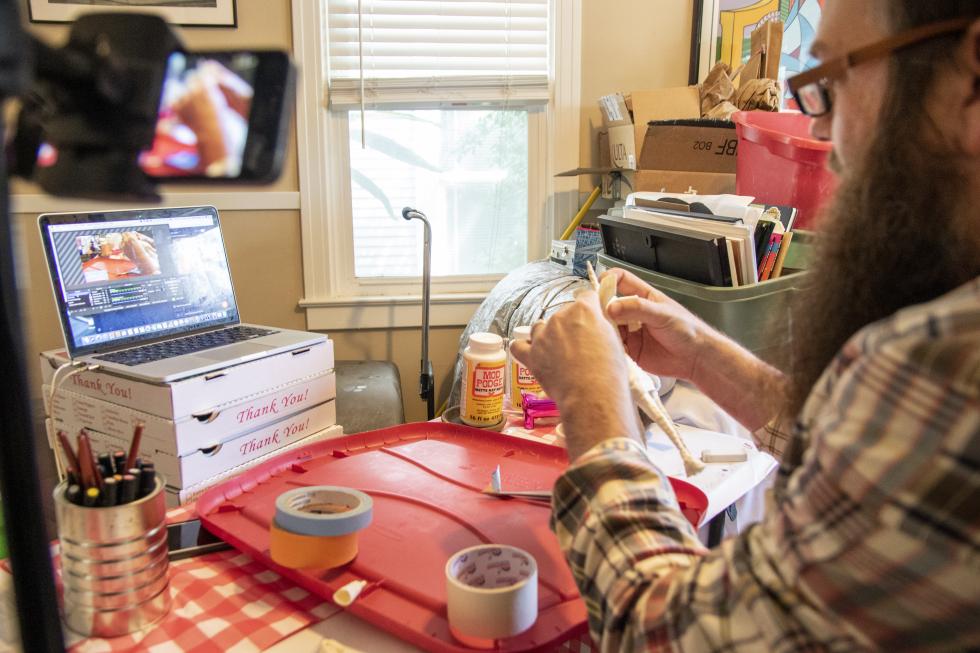 Eben Burgoon, tape artist and comic book author of "B-Squad: Soldiers of Misfortune," livestreams a tape-art tutorial on how to make a "derpicorn" inside his makeshift office at his Oak Park home in Sacramento on April 18. He began doing online workshops on April 7 due to the lockdown. He presents his workshops — which are all free, but he does accept donations — on cartooning, stop-motion animation and storytelling four days a week on Twitch, Twitter, Facebook and YouTube
Verge Center for the Arts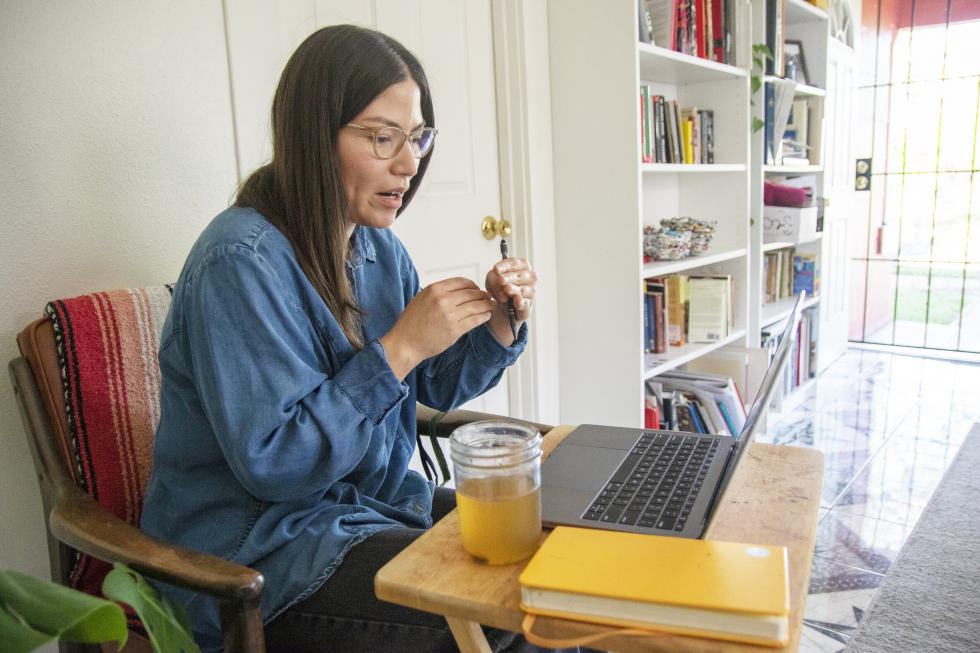 Aida Lizalde, education manager of Verge Center for the Arts, hosts Artists' Salon, a free online artist hangout that's open to all artists to discuss topics relating to contemporary art every third Thursday of the month, from her home in Sacramento on April 16. The nonprofit is shifting its classes to go online in May and also offers free and subscriber-based activity packs for children and adults for $5-$10 monthly.
—
Stay up to date on the effects of the coronavirus on people and business in the Capital Region: Subscribe to the Comstock's newsletter today.