Heritage Oaks Park in West Sacramento was slated as a 9-acre community park in the city's master plan, but demands for budget resources has left the park undeveloped for years. In 2016, when husband-and-wife team Kale Wisnia and Catherine Reon were scouting locations for Kletterwald USA — planned as the Sacramento region's first tree top adventure park — they immediately fell in love with the undeveloped park, just 10 minutes from downtown Sacramento.
"The trees are really amazing to stand below," Wisnia says. "They have their own presence."
Kletterwald will use about 45 of the park's 113 valley oaks — the largest of California's native oaks — to create seven ropes courses in the trees' canopy with three levels of difficulty, depending on obstacle stability and required core strength. The courses will reflect those of its sister company, Kletterwald Ossachier See in Austria, owned by Wisnia's sister and her husband, who are also co-owners of Kletterwald USA. Kletterwald means climbing forest in German.
Development of the park is the result of a collaborative public-private partnership between the Kletterwald team (Reon and Wisnia are an experienced designer and architect team who also own CRKW Studio in Sacramento) and the City of West Sacramento. As part of the lease agreement, Kletterwald will fund the development of the city's public park at Heritage Oaks Park with a playground, drinking fountain, walking path, picnic tables and parking. Without the public-private partnership, the City estimates the cost to develop the park at about $5 million.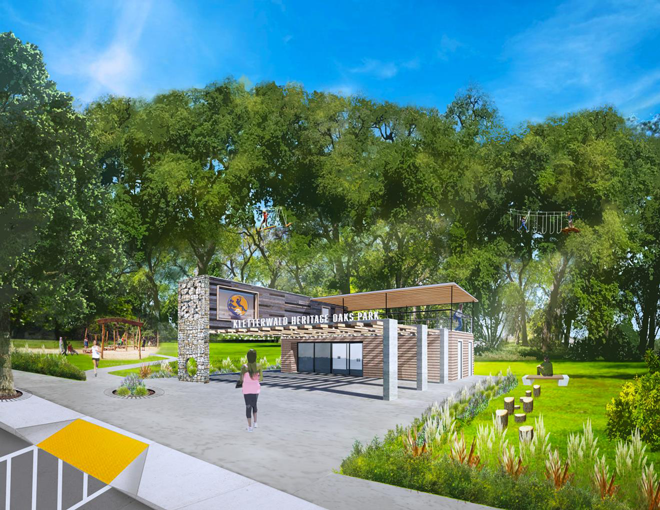 "This has been a unique partnership … The site is not an empty lot," says West Sacramento Mayor Christopher Cabaldon. "It's a grove of heritage trees that has been an important asset in the community and for the environment, so it was very important that we work together to bring the right stewardship — environmental and community — to the project. We're essentially planning their ropes course and our public park and access together."
Kletterwald's mission is to serve as stewards of the trees and raise awareness of the valley oaks in California (and the surrounding wildlife) through outdoor recreation. "Sacramento itself is one of the largest urban forests, and yet there isn't an opportunity to climb the trees because they're in our streets and state parks," Wisnia says. "This is an opportunity to actually climb some of that urban forest."
That fits in well with a region that offers bountiful outdoor recreation along the American River — with more than 5 million visitors annually, according to Sacramento County — the Sacramento River, Folsom Lake, Lake Natoma and the 32-mile Jedediah Smith Memorial Bicycle Trail.
After completing its feasibility study and signing a lease agreement with the City, Kletterwald is in the permitting phase of development with plans to submit its completed permit application this summer and begin construction in the fall. The project includes a concession building and restrooms in addition to the ropes course and public park amenities.
While phase one of the adventure park — which is slated for a soft opening in spring 2019 with a grand opening in summer — has been fully funded through private investors, bootstrapping and family investments, the economics can be hard to crunch.
"We are paying out of our pockets for public amenities to provide back to the community and we can't recoup those costs … so there's an incredible expense behind public works that I don't think a lot of people understand," Wisnia says.
A recent 30-day Kickstarter campaign — which raised $50,565 from 57 backers, just topping its $50,000 goal — additional funding opportunities, and advance ticket sales and season passes will be strategic to offset front costs and higher interest rates, and fund future park developments.
Cabaldon says for West Sacramento, the adventure park is expected to spur the local economy as visitors discover nearby amenities, shopping and restaurants, and expose them to neighborhoods slated for revitalization with a range of mixed-use development.
"We are looking forward to the impact, not just from the existing businesses and opportunities that are in the city, but also to help accelerate even faster some of the entirely new neighborhoods that are emerging," Cabaldon says.
The Kletterwald team hopes to develop strong partnerships with other organizations in the region like Sacramento Tree Foundation, as well as the Boy Scouts and Girl Scouts of America and local climbing gyms, which have a distinctively similar target audience.
Wisnia says that's really part of it — getting people into the trees in a way they've never experienced before. "There's a different kind of experience from walking amongst an urban forest and understanding the benefit of having trees within a city versus actually climbing up and being within the canopy of the tree."