Meredith Cancilla has made it her business to build up women-owned brands. Her company Quixotic Design Co. develops custom brand identities and web designs to help businesses attract clients and develop brand recognition. When Cancilla launched her company in 2017, she intended to build a web design firm that was entirely remote with no ties to a particular region. Her point of view changed, however, when she saw the strength and proliferation of women-owned businesses in the Capital Region. "It was the Sacramento community that actually boosted my business and helped get me that initial client base," says Cancilla, who grew up in Sacramento.
As the CEO and creative director of Quixotic Design Co., Cancilla oversees content, brand and website design. In addition to client work, she runs Quixotic's social channels and website as resources for branding and content marketing tips. She manages a team of four who help execute ideas and production for clients and Quixotic's own brand. Now that she has a team, "I'm focused a lot more on creative direction rather than the actual details of design, which is a cool new role for me," she says.

Occupying the role of CEO and designer is somewhat of a surprise for Cancilla, as her initial career pursuits were rooted in academia. During her undergraduate years at UC Santa Barbara, she worked as a lead research assistant on a study measuring the effects of stressful environments on couples, and she planned to earn a PhD and become a professor. But after graduating with a bachelor's degree in communication, she started designing for fun. While working at a restaurant "to pay the bills," she designed a menu for the owner, which took off and led her to design brand materials for all his restaurants. "That sparked the thought that, oh, this is actually a career path. I can get paid for this."

To "understand the basics," Cancilla leaned on digital tutorials on platforms like Lynda.com, Skillshare and YouTube. She started freelancing and working at a few agencies — both remotely and in-person at Sacramento offices, like Propaganda Design Studio — and learning from other creatives. "I worked with some incredible creative directors that helped shape me into the designer that I am today," she says. She believes her experience working under a creative director allowed her to go beyond her self-taught foundation to learn "intelligent design." Networking and participating in mini art shows and pop-up events allowed her to build a roster of freelance clients and launch Quixotic.

Cancilla says she loves that Sacramento is "super small business-centered." "There are so many thriving small businesses in Midtown," she says, "and you just don't see that everywhere. The food, the culture, it's all so authentic and it's somebody's business." Quixotic has built the brands of women-owned businesses such as Arvo Floral Studio, Mist Body Bar, Joyeux Events, Becca and Co., Village General Store and KM Design Co. (She says she also occasionally works with male business owners if it's a good fit.)

The founder attributes her drive to support women-owned companies to her own family dynamics — she says she comes from a "family of self-starting women."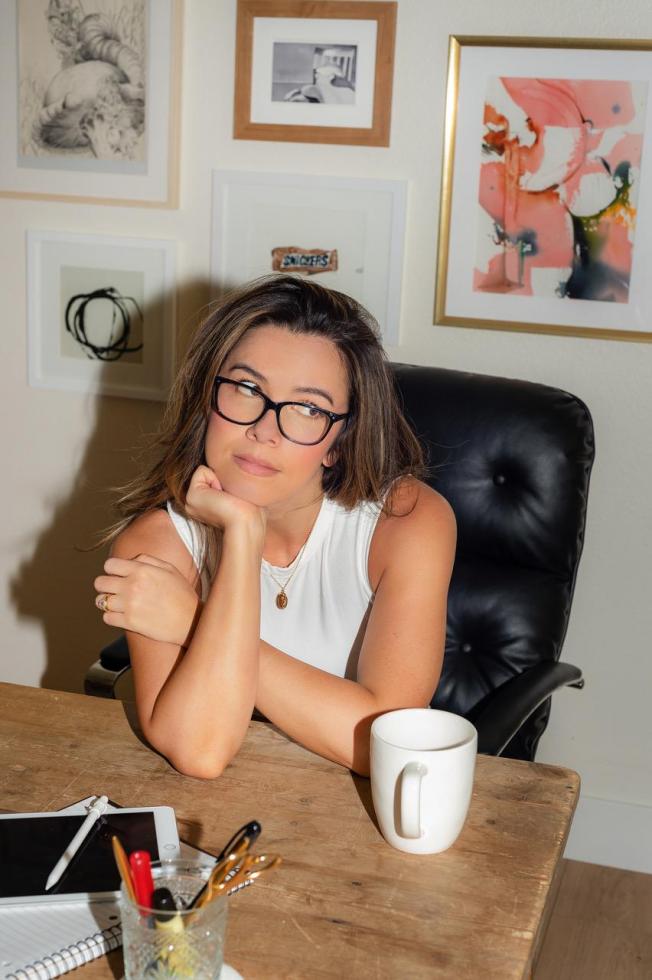 The value of a good website: People want information as quickly and digestible as possible, and a website is a great way to give them a quick synopsis of what you do. For a small business owner, having a great website is about client attraction and finding organic new lead pools. Not just creating one-on-one client relationships, but also through SEO (search engine optimization), reaching new types of people that maybe you wouldn't have had contact with. It's a digital place where you can be on 24/7. So the beauty of the website is that anyone can go to your site at 2:00 AM and learn everything that you do, your whole story, how to get in touch with you and what your product process looks like. And you don't have to do any sales calls to get them there. It's this amazing piece of your presence that allows you to remove your own time from the equation a little bit.
Making it my business to support women in business: I noticed with my agency and my freelance work both that my favorite types of clients were small businesses owned by women. And I come from a family of self-starting women. I mean, my mom worked three jobs when we were little and then just started this career that totally took off. It really inspired me to focus on women. Not only are those the kinds of clients that I enjoy working with most, but I feel a need to represent women with my own business.
Why I advise clients to stay nimble and up-to-date on social and content trends: Something that I see a lot of small business owners doing, which is a mistake in my opinion, is avoiding shifting with social trends. I've been guilty of this too. When TikTok came out, I was like, I'm not doing this, I'm not adding more work. … But I think for the most part being flexible and pivoting, when you can, is the most important thing you can do because it really pays off traffic wise and finding new lead pools. And of course, making sure there's a strategy behind everything.
​
My recommendation for how to experiment with trends in your business's branding: I think you want to stay away from including trends in your brand foundation. That's what we want to avoid. Because you don't want to look like everyone else doing the same thing. It's about taking a little more time and effort and creating something that's totally unique.
Not all trends are bad, but when you look at the trending concept as a whole, it's that ultimately it will go out of style and everything is temporary. I think trends can be really cool for temporary content. Things like Instagram Stories or social posts, anything that's not going to be super evergreen or the cornerstone of your brand. It's fun to experiment with trends through typography and color use. And I think apps like Canva do a great job of making trends like that accessible.
Looking for creative inspiration for your brand outside of the usual places: My assistant, Kendall (Baylor), is a big vintage fashion shopper. She brought up this great point about how when you find a really special piece at an estate sale, it's your unique piece. And that really resonated with me. I feel like it's the same with branding.
Instead of looking to what everyone else is doing, look outside your industry. Look for inspiration everywhere. Whether it's a sign or a billboard, consider all different types of branding and style outside of your niche.
Take notes, because I think all forms of art are created from some replication in our brain. We're taking in images and processing all day long, and sometimes we see something and it inspires a work of art. We just want to make sure that we're pulling from lots of different sources so it's not an actual replica.
Supporting an influx of small businesses that launched during the pandemic: Being a remote designer is one of those very few fields that actually did pretty well during the pandemic, I think because we're able to support small businesses that are launching.
So when a lot of people lost their 9-to-5 or were furloughed, they finally had time to tackle that side hustle project they'd been thinking of for years and never got around to. So we got to work with a lot of business owners that were just starting out, which was really cool. I'm really grateful I was able to do that this past year.
Editor's note: This story has been updated to correct Meredith Cancilla's surname.
–
Stay up to date on art and culture in the Capital Region: Subscribe to the Comstock's newsletter today.