On a recent 111 degree day, the Moving Van Show moved its 5th anniversary show — originally planned to be parked at Southside Park — indoors. (Sacramento County Health Department recommendations at the time allowed vaccinated people to congregate indoors without masks; as of July 15, masks are recommended for all people at indoor gatherings.) That evening, a crowd of about 100 people filled the room at The Creation District, the impromptu venue that replaced the usual roving parking lot location, where the air-conditioned atmosphere was downright jubilant. Co-producers of the Moving Van Show, Shahera Hyatt and Melissa McGillicuddy, say they're happy to be back after resurrecting the show from its 13-month pandemic hiatus in April of this year.
As hosts and comedians of the show, Hyatt and McGillicuddy delivered jokes about their dating and work lives to a crowd that was right in step. Following their acts were three others — a mix of homegrown Sacramento and Bay Area comics — who spun hookups into hilarity, divorce into diversion. "We usually book a lineup of five to seven comedians," says Hyatt. "We care about diversity, and we usually skew queer and femme, which is reflective of its producers," she laughs.
For the last five years, the donations-funded Moving Van Show has popped up at various Midtown Sacramento parking lots on a monthly basis, announcing its rotating locations via Twitter and Instagram. Aside from the titular moving van, which they usually rent from U-Haul, the gear is minimal: a mic, generator, stool and a rug to create an intimate atmosphere. Attendees are either devotees who come prepared with a picnic blanket, or passersby who see something cool happening and stand around to see what it's about.
The duo, who founded the renegade show in 2016 with Sacramento comedian Joe Joe Louis (no longer involved), say they want the concept to feel unpretentious. "It's easy and not fussy, you know?" says Hyatt. "There's no two-drink minimum, nobody's going to hold you hostage, just come and go as you want to."
In addition to the desire to create community, the co-producers hatched the DIY show to create opportunities for themselves and other fellow comedians. The two have come into their own as comedians and leaders — McGillicuddy was the former program director of The Comedy Spot and works as a freelance comedy instructor and coach — but when they were starting out, they needed a place to experiment and grow. "We were kind of newer comedians and trying to think of how can we take something and run with it, like a less traditional kind of a comedy venue," McGillicuddy says. "Yeah, and how can we get booked?" Hyatt adds. "(We wanted to) have a show that we produce and we control. Even though it's outside, it's on our terms other than that element of surprise."
Hyatt says the unpredictability is part of what makes the show. "It's kind of leaning into and laughing at the mishaps. … Just, like, rock with us, you know?" she says. "Because it'll be a good show."
Taking on production as a way to leverage control, and relinquish it when necessary: McGillicuddy: It's important to us to not be dependent on somebody else or another venue. We create the venue and everything we want with it, without having to rely on another place to coordinate all that and work all that out.
Hyatt: Yeah, and when we started, outdoor shows were considered alt comedy venues. It's not typically where people want to be performing. (Traditionally), you want a lot of control in your environment. And so you have to give up a lot of control with an outdoor show. I think that's been something that's always been kind of exciting for us. There's pros and cons, but it's really fun to ride the wave of not knowing what's gonna be thrown at you. It also got us some attention early on in a way that did start to build the crowd that we have. Just the excitement of what's going to happen and the thrill of that.
How the rotating outdoor location keeps it interesting, weird and coincidentally pandemic-proof: McGillicuddy: We started the show before the pandemic, when a lot of shows weren't popping up outdoors. Now that outdoor shows are kind of the thing, it's been kind of interesting to be like, we're used to being outdoors, with a lot of unknowns, and popping up in random places. It's less something that we had to adapt to as part of the pandemic, 'cause we were like, oh, we were already doing weird pop-up shows in a parking lot.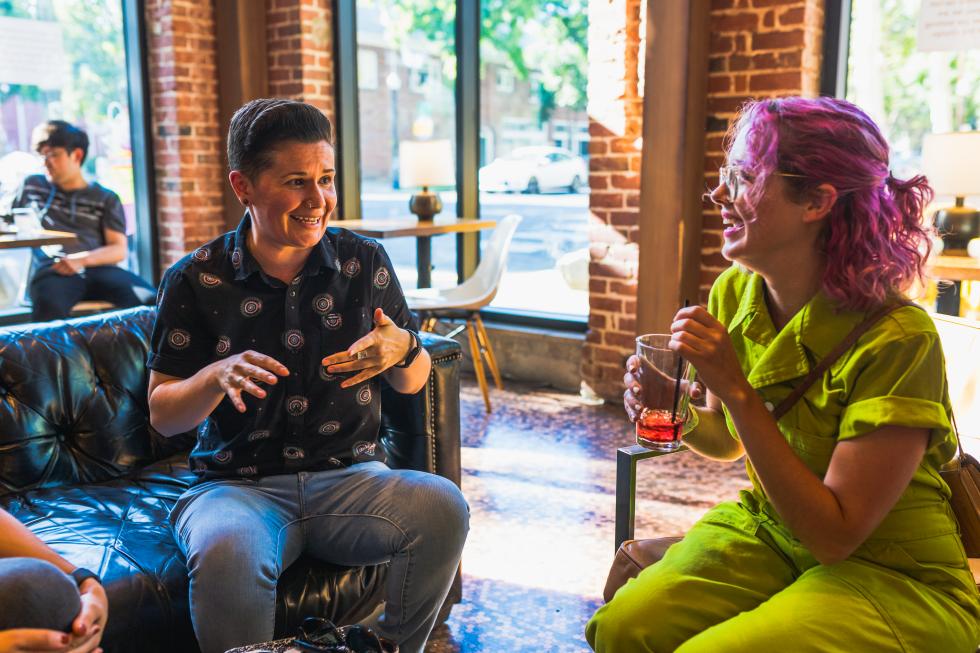 The Moving Van Show audience: Hyatt: Our audience is very much other artists. There's a lot of poets and musicians, a lot of social workers and activists. Sometimes it feels like stand up comedy isn't for everybody, particularly marginalized communities and our crowd does feel like (it's made up of those). You're not going to get made fun of for being queer unless it's like a very in-group type of a moment, you know what I mean?
McGillicuddy: Sometimes our audience, too, is just random people who happen to be walking by and are like, what's this? This looks cool. Some of the places that we pop up at, there is a lot of foot traffic.
Loving vibes and euphoric crowds: Hyatt: Coming out of the pandemic, the crowds have been so loving and so euphoric. I think so many people, myself included, realize the preciousness and value of live shows. After this last show, some people came up afterwards saying, I can't believe I got to laugh with other people! It does feel like it's taken on a new tenderness. I think also, especially after not performing for so long, having really supportive crowds is helping to rebuild our self-esteem and confidence.
The ease and inclusiveness of a donations-based show: Hyatt: It's been really nice to have a donation-based show because nobody's turned away for lack of funds. Some people may not be able to pay, but can still see a show. And some people will pay more and some pay somewhere in the middle. And I like that, there's an elegance to that. (It's also nice) not having to have somebody staff the door.
McGillicuddy: Or keep track of tickets. … Everybody just sits down and gets comfortable. And I think that was more what the show was about. I don't know that we ever thought, man, this is going to be our big cash cow. It was, this is something that we can have fun with and do on our own terms. Making money's always great, I mean, as an auditor, as a cash queen! But the show has been more about bringing comedy to the community in a different, alternative way. Although we do have stickers now, and we will be selling those for $11 each. (Laughs.)
Creating a habit as a means of finding inspiration: McGillicuddy: I generally don't "find" inspiration. Things will happen that I'll think, that's funny, and I'll write it down in my notepad. But it's more about creating the habit of writing and then that in itself creates the inspiration. Yeah. For me, I have to create the habit of spending a little bit of time writing every day. And then once I get into that, I'm like, oh, this is exciting. I like how this is coming together. And then that inspires me, but it's almost like the inspiration didn't come until later in the process.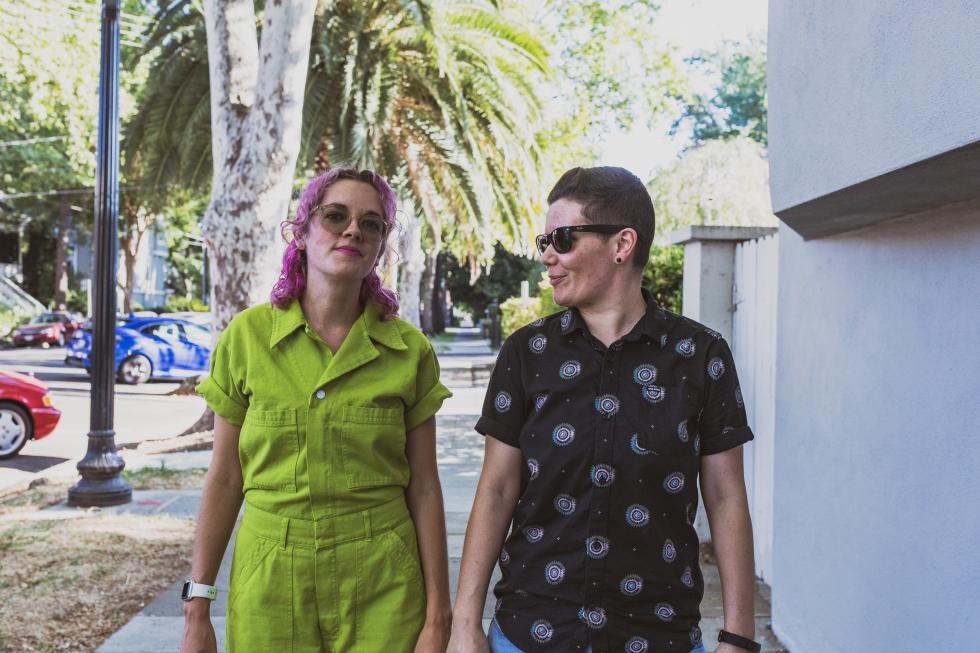 Comedy informed by personal experience, and an evolving comedic style: Hyatt: I feel like, obviously drawing from life experience and getting into comedy at almost 30 years old, there's sort of already like a treasure trove of things to explore. … I'm not meaning to be a comic with a message, but because I've always been in advocacy or activism or policy work, it's a lot of what I think about. I think about sex and politics.
McGillicuddy: (I also draw from) a lot from personal experiences. I grew up in an interesting household with a single mom and she's pretty crazy. That's where I started as a storyteller. My whole set would be just one story.
But then I sort of got away from that. I think (now) my style is more dark, misdirection type of comedy, doing smaller bits and sharing an interesting perspective. I always find myself in these situations where I'm saying or doing something weird. I think that can be really funny if everybody likes something and then you're like, I don't like that thing, and I'm going to double down and own how much I don't like it. Or the opposite — everybody hates something and I'm like, oh, this thing is great.
–
Stay up to date on art and culture in the Capital Region: Subscribe to the Comstock's newsletter today.