Imagine taking that long-awaited road trip. The bags are in the car, the bikes are on the rack, and the GPS is set to your destination. All that's missing: road snacks, healthy ones. Vanessa Maggio, vegan snack enthusiast, is the owner of Gxxd Box, a plant-based convenience store, and she's got your back. The store is small and mighty — an upcycled shipping container that will soon be situated somewhere within Midtown Sacramento. Maggio is working with distributors to stack the box with plant-based products you might recognize from the grocery store: Sunwink wellness tonics, Oatly beverages made from oat milk, PeaTos pea protein puffs — as well as some unique products like Mexican candy she hopes to source on her frequent trips to Mexico.

The concept started taking shape in 2020 when she and her husband, Jason Maggio, were driven by a desire to get quick, health-conscious snacks on their way to their favorite outdoor excursions. The couple own and operate two other businesses — Official Brand and All Good Store, Sacramento-founded lifestyle brands that outfit Sacramento's streetwear crowd and outdoorsy set. Each brand has found success locally and internationally since their inception in 2007 and 2014. With Gxxd Box, the Maggios will move into a different kind of tastemaking.

The pandemic caused many to take a closer look at what they put into their bodies, accelerating a shift toward plant-based eating. With environmental and health concerns at a fever pitch, it's no longer a surprise to see meatless offerings like Impossible Burgers on the menu of mainstream chains. "I think it's the (direction) we're moving in," says Maggio. "The Gxxd Box concept is for the health of the environment and also for health and wellness."

Yet another new consumption habit we've adopted is contactless everything. Gxxd Box's scan-and-go process makes it easy to select a snack, scan it, pay and be on your way. "You'll feel better about your options and taking your kids to go get some candy," says Maggio, who has 10 years of retail experience and four children. She is currently experimenting with soft openings and pop-ups until she determines where in Midtown to set up the container for a tentative July opening.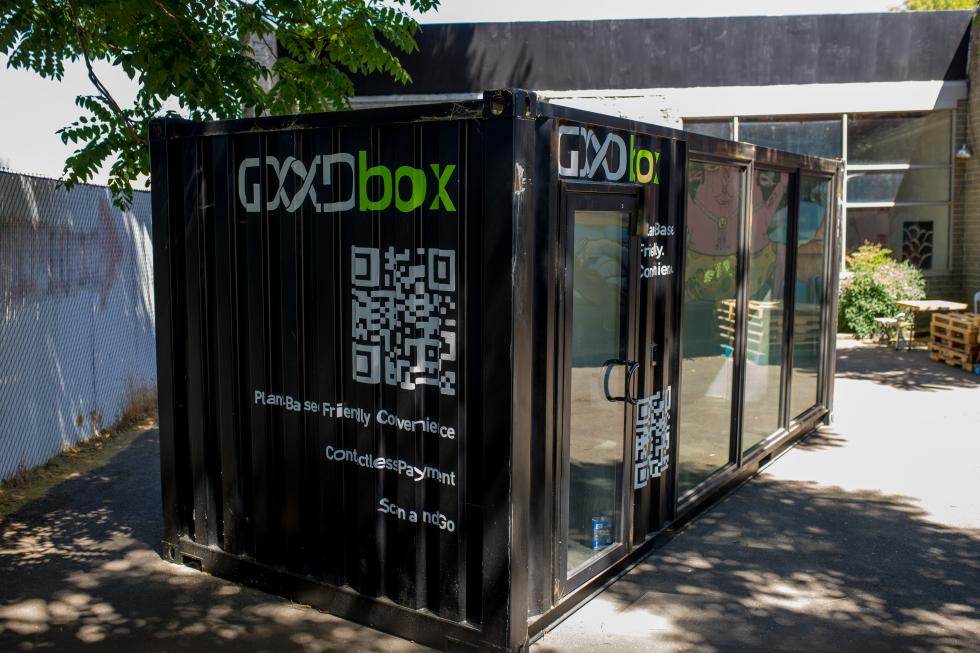 A concept for the modern, healthy lifestyle: We're lovers of vegan, plant-based-friendly snacks. When we're traveling or going on a road trip, or going on a hike, we like to find the best snacks and the healthiest snacks, because we care about our health. And as much as we indulge in other stuff, if it's plant-based, we feel better about it.
Good vibes, a better customer experience, and convenience for plant-based folks: (Even though it's scan-and-go), there still will be an associate (in the store). They'll be able to engage with the customers and talk about the products more than worrying about ringing them up. We want to make the convenience store a better experience.
You don't have to worry about looking at a label and making sure there's no milk product. That's one thing that plant-based or vegan people have to do — look and be like, oh my God, why does this potato chip have milk product? So you won't have to do that. We've done all the dirty work. Everything in there is plant-based-friendly, and you don't have to worry about it.
Goodies you'll be able to unwrap at Gxxd Box soon: I spent time during the pandemic researching every plant-based, vegan candy, gum, chips, different sparkling waters, ice creams and bars. I also like researching when we're out in different cities and trying to bring (things we find there) to Gxxd Box as well. We go to Mexico a lot and I want to incorporate vegan-friendly, Mexican, authentic candy.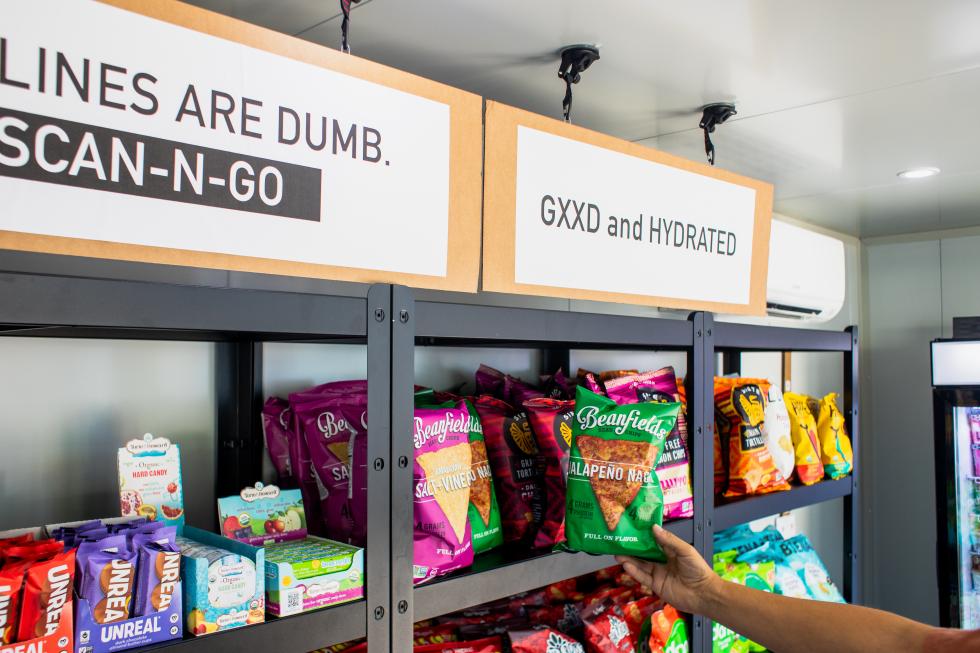 Beyond the package: The next phase will be to engage with our local restaurants, bakeries, coffee shops to offer local, vegan fresh-and-ready options. So if you want to have Babe's Donuts, for example, on a Sunday, we'll have those ready. Or breakfast burritos, anything like that.
Service is in my blood: I work at the All Good shop as well. I love working at the shop with my customers. All of us, the whole family, we all work there. I have a special connection with customers and I love building a relationship. It's a perk and a benefit. (My approach is) a little more personal, I think. I don't know if I talk too much or what it is, but I love engaging with my customers and I'm not even asking them to buy anything. And then we have a sale come out of it. That's one thing I don't think I'll ever stop doing, hopefully, is being able to work with the customers.
Building excitement through social media and in real life at our sister companies: Starting with our social media, (we want to get them) into our ecosystem once they've shopped at our store. I think Gxxd Box has a good response (on social). And people are coming into the (All Good) shop and talking about it. Even if you're not vegan or plant-based, or you like healthier options, or you just like snacks, you're going to find something.
Building partnerships with brands large and small: We would love to do meetups there and do taste challenges or have Revive (Kombucha) come in and do a little pop-up. We've built a relationship with Stumptown (Coffee Roasters) and Oatly, so we'll be carrying them there and they would love to come support. Better Booch (the Los Angeles-based kombucha brewery), too. People are so excited to come and support and build events out of it.
I also have people coming into my All Good store saying, this is such a good concept. I make gluten-free, vegan, plant-based baked goods. And I'm like, I would love to showcase and bring them in. 'Cause I know for them (it can be) so hard to start selling some of their goods. If we can figure that out and if it can happen, I want to carry their products or help them be a pop-up next to us.
A gxxd plan: We're in the limbo of trying to figure out where we're going to plop the container. We're starting with the container. If it works, we would love to do a brick and mortar and take the Gxxd Box container and plop it somewhere else and test it there. We would love more than one in Sacramento and then keep building from there.
Reading to motivate: I love "Atomic Habits" (by James Clear). I like being structured and having my ritual morning. So waking up at 5, getting my meditation, then my workout. And then I can start breakfast and all that stuff. I think having those mornings, when you have children and a business to run, is so important to make sure that you have time for yourself.
Mixing up the location: We have an office at home and I have an office at the (All Good) store, and we have an office location where my husband and my oldest work at 3400 Broadway. When the kids are doing school, distance learning, then my office is either our office desk or in the kitchen. I get to mix it up.
Edited for length and clarity.
–
Stay up to date on business in the Capital Region: Subscribe to the Comstock's newsletter today.