As one of the most diverse cities in America, Sacramento is home to a wide range of cultures and languages. It's crucial for people who have limited English proficiency within these communities to process information accurately as they navigate complex health care, education or social service systems, and William Glasser, CEO of Language World Services, has focused his career on bridging that gap.
For the past 20 years, his Carmichael-based agency has served Northern California's linguistic needs with a team of 110 employee interpreters, over half of whom are certified by the Certification Commission for Healthcare Interpreters or the National Board of Certification for Medical Interpreters to serve in complex medical and behavioral health assignments. The company also provides interpreters for conferences, parent-teacher meetings, political polling and other events and situations.
"Interpreting is one of those ancillary services that people don't think about until they need it," Glasser says. "And then when they need it, they'll wing it. They'll start to yell, shake their hands a little higher." But when winging it is risky business — say, when a non-English speaker encounters a serious health problem — Glasser says a service like Language World Services can contribute to healthier outcomes.
As some first-generation families can attest, it can be common for children to be conscripted into interpreting for their non-English-speaking family members, including in serious medical situations. "On top of being able to manage the nomenclature, how would it be if a 9-year-old had to relay a (terminal diagnosis) from the doctor?" he says. Working with a professional can keep children out of the role of communicating delicate or complex information to family members.
Glasser describes the process of sourcing and hiring full-time interpreters as "magic," as the role requires tenacity, a high standard of integrity, and a combination of hard and soft skills. Beyond linguistic ability and a sharp short-term memory, interpreting is one of those jobs that requires a human touch.
How I fell in love with another language and another culture: I was born in Spain — although I'm not Spanish — because my dad was in the movie business making science fiction movies and spaghetti Western movies. So I was raised there and Spanish was my first language. We moved to (Los Angeles) back when we were still young. But I went back to Spain for college for a year abroad in my junior year at UCLA and really loved it, and almost didn't come home. I was so in love with the culture and the language.
What makes a great interpreter: I think the best interpreters are born, just like some people know how to sing and some don't. I mean, you can learn to be bilingual and produce language in the velocity and accuracy needed, but (usually it's a natural gift).
On the love of language: There are hard skills of linguistics that you can actually test, but as an interpreter, you also have to have a thirst for knowledge. … The best interpreter has a dictionary by their bed. They love and devour words because it's their stock and trade.
On the difference between being bilingual and being an interpreter: This is not an ad hoc hobby for a bilingual person that wants to be so-called helpful. Being helpful can kill somebody if you're not careful. … If we're talking about medication, about chronic condition management, we want to make sure that fidelity to the source language, in this case, English, is true and accurately conveyed.
On the importance of maintaining boundaries as an interpreter: Not crossing the line and establishing professional boundaries is very important. We don't talk about personal issues. We don't offer sources and opinions. We don't editorialize. We learn all of these things in our training to just be message conveyors. Not to give you a ride after the appointment, or give you advice on whether it should be chemotherapy or some other course of treatment. We're not licensed by the state in any shape, way or form to provide that. We are simply converting messages into something actionable and reasonable and digestible.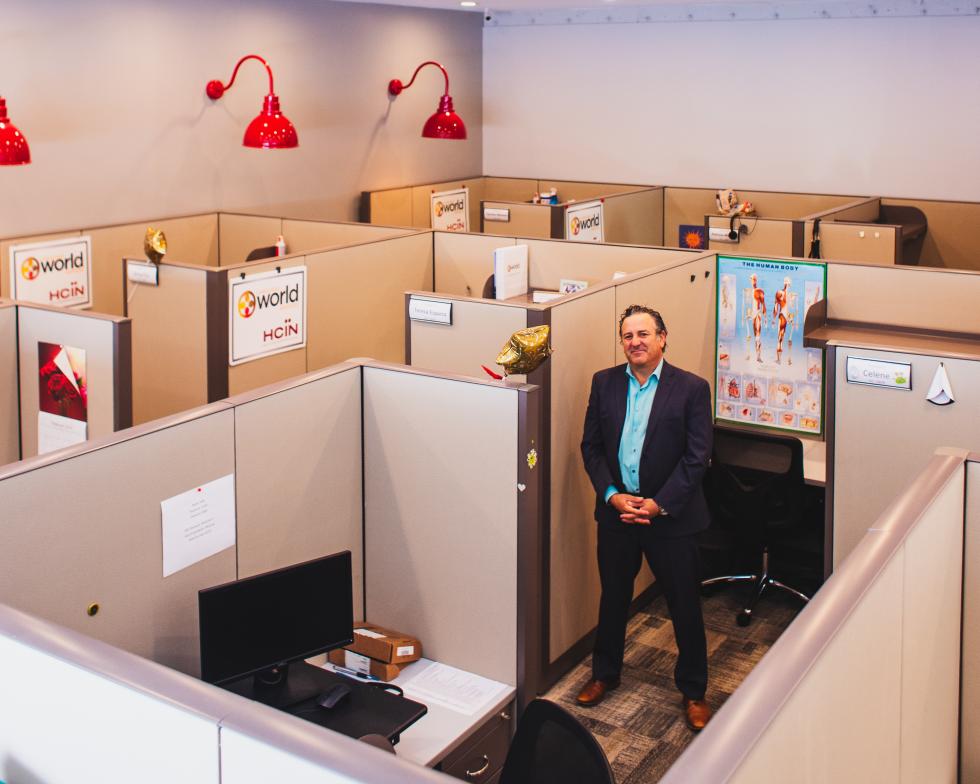 How interpreters give back: Just like doctors consider their work a practice, interpreters approach the work the same way. It's never perfect, it's never complete. It's a process and a practice to get better. Also, intellectual curiosity, a desire to help their community, and a desire to stay engaged and helpful. And (they may have a desire) to help their respective communities deal with things that they may have experienced as younger people in the United States when they arrived, you know?
How we occasionally do extraordinary work: We get a lot of visiting dignitaries. For example, we had a whole group of Greek farmers coming to the Central Valley to learn about fruit trees and how we irrigate them. We've had Italian delegations that are experts in irrigation and water systems. So they come and do exchange programs. We've had the Duma of Russia, which is like the parliament of Moscow. … We've also provided high-level interpreters for the presidents of Mexico, (including Enrique) Peña Nieto. We've interpreted for Jerry Brown when he was governor … all sorts of people.
How the oral tradition goes virtual: Telephonic and video interpreting is not new, so we were participating in those platforms years before coronavirus. It was the trend already and we were poised to ride the wave.
Still, the business has really changed (since the pandemic). I just didn't think that on-site interpreting would stop as quickly as it did. It's sad because I cut my teeth in this business in-the-room. I'm a better interpreter when I can see everyone and feel everyone, you know?
How in-demand languages ebb and flow with resettlement patterns: Language is very specific. It's interesting how resettlement patterns influence the language demand.
Back in the day, a lot of Vietnamese refugees settled in south Sacramento (specifically), and now they're all over. Same with the Hmong people. What happens is, when new refugees come in, the language demand is very high. And then over the years, it diminishes down to nothing. So the older generation essentially dies with the language, unfortunately. And the newer generation, they're all doctors and lawyers and school principals, so they don't need interpreters anymore.
The dominant languages of Northern California: Clearly, Spanish is the most spoken language other than English in the state today, and it's the most consistent. Russian and Ukrainian was a close second because of the massive influx of refugees of the Pentecostal faith that came in when the wall came down at the end of the Soviet Union. And now we're seeing more Pashto, Urdu, Farsi, Dari. These are people from Afghanistan and Iraq, Libya, Syria, Egypt. All these places that have a massive issue with displacement.
My favorite project, completely unrelated to my day job: About two years ago, I built a little 54-seat theater (The Stage at Burke Junction in Cameron Park). We had our first season of plays this year and last, and we won an Elly Award, which is a big deal for little regional theaters. We won Best Production and Best Director for a dramatic play that we put on for our very first season. … It was super fun. And, you know, exhausting and ridiculous. But we had a great time. It's such a cute little theater and I'm just so depressed that I can't open it. I'm just a total theater nut. Some people like to buy a sailboat or go gambling or watch football, I'm a theater geek.
–
Get all our web exclusives in your mailbox every week: Sign up for the Comstock's newsletter today!