In historical terms, California's current drought isn't looking great, with The Weather Channel noting in May that the first four months of 2022 were the state's driest on record. "I've been in the water world for 35 years," says Brent Hastey, a board member of Yuba Water Agency. "We've never seen this kind of a drought."
Hastey and others are doing something that could provide residents who live in their area with a buffer against the drought. On June 13, local leaders gathered in Wheatland, a city of roughly 3,800 residents in Yuba County, to celebrate its latest capital improvement project: installing 1,212 smart water meters.
While Wheatland already had readable water meters, project proponents say the upgraded ones, which include advanced metering infrastructure, can enable quicker readings. They also allow the reader to know if something's off in a customer's water use, such as a running toilet, which can waste 780 gallons of water in a month.
"Unless it's discovered by the homeowner, we have no knowledge of the excess water use for at least 30 days," says Jim Goodwin, Wheatland city manager, of the older water meters. "By having the meters read continually through this automated system, we'll be getting really daily information."
Goodwin says there wasn't impetus from the state legislature to install the new meters, which will replace Wheatland's entire existing system. "We just simply knew our system was aging and we wanted our customers to have more control over their own water use," Goodwin says.
Hastey says the new meters can provide water savings, let customers know how much water they're using and send alerts to their phones if water usage spikes.
That's a good thing in Yuba County, where every little bit helps and the per capita income averaged $25,774 from 2016 to 2020, according to census data. Wheatland, an old railroad and agricultural center that incorporated in 1874, has just two stoplights and was barely stirring during the ceremony for the new meters.
For people like Hastey, who also served on the Yuba County Board of Supervisors from 1993 to 2000, this has been the kind of investment Wheatland has needed for some time.
"When we all started in this system many years ago, we built water systems and we didn't think we'd have to upgrade, just keep going," Hastey says. "And I think that technology really wasn't something we thought about. But I think the reality is many, many small towns need to have this kind of technology."
Granted, new infrastructure can sometimes be hard to pay for in small cities, where ratepayers can be left holding the proverbial bag after costly capital improvements. Local leaders insist this won't be the case in Wheatland, with the $1.36 million cost for the smart water meter project split between Yuba Water Agency and the Proposition 1 Integrated Regional Water Management Program through the California Department of Water Resources. The entire project is grant-funded.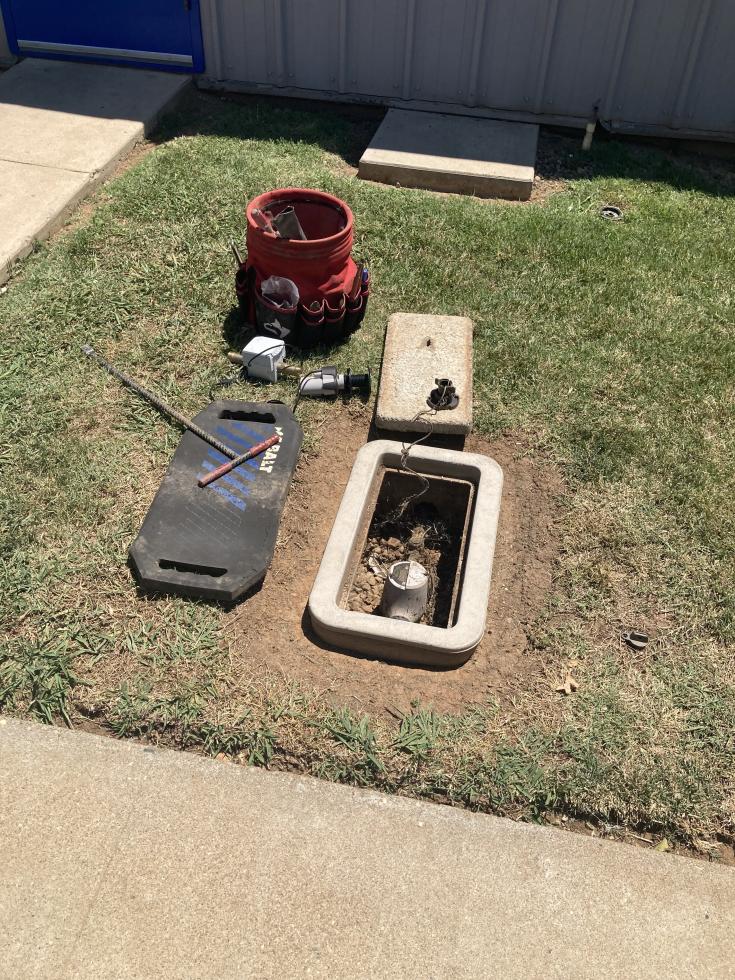 Monday's event included a demonstration of one of the smart water meters being installed by a contractor from Pennsylvania-based Keystone Utilities, which is handling the replacements.
Dane Schilling, Wheatland's contracted city engineer through Coastland Civil Engineering of Auburn, says the project is going well so far. "We've got about 300 meters in," he says. "We've got zero complaints right now."
It's been a journey to get to this point; Schilling says the project went under contract over a year ago. The first half of the meters didn't arrive until the end of 2021, which a person close to the project attributes to supply chain issues. The city is still waiting on roughly 600 meters, and Schilling says they've been told they could come in August.
Schilling expects the remaining 300 meters for the first cycle to be installed within 2-3 weeks. "Water is gold," Schilling says. "It's the blood of California. So keeping track of it … is a really good idea."
–
Get all our web exclusives in your mailbox every week: Sign up for the Comstock's newsletter today!
2020 will go down in history as a time when women made remarkable advances on the political scene.
Sacramento's K-Hits 101.5 recently celebrated Mitchell's 50-year milestone in radio with a four-day studio party that honored his long and colorful career.
As the pandemic forced businesses across the Capital Region and the country to shut down, there has been an uptick in reports of anti-Asian racism and violence.