What happens when a high school business plan assignment turns into reality? For a team from Sacramento Charter High School, it's just the beginning of a budding hot sauce business.
The Sangre del Dragon project started in August 2016 when Sac High seniors Leo Lopez, Angel Roque, Benny Perez and Jordan Salvador were given an assignment to create a business plan for hot sauce. On paper, they had a solid plan to create and sell "sweet heat" – hot sauce blended with fruit. But bringing their product to market required a few extra-curricular activities.
With an assist from Edible Sac High Director Karen Henderson, the students connected with a chef and with Jason Poole of Preservation & Co., who shared his expertise, his facility, some ingredients and bottles.
"They could not have had the experience and success without Jason," says Henderson, who joined Sac High a year ago. "I ran my own business for 10 years and understand the need to focus, market, take risks and go for it. At first I was promoting, finding and booking the events for them to showcase their hot sauce, but now they take the initiative 100 percent."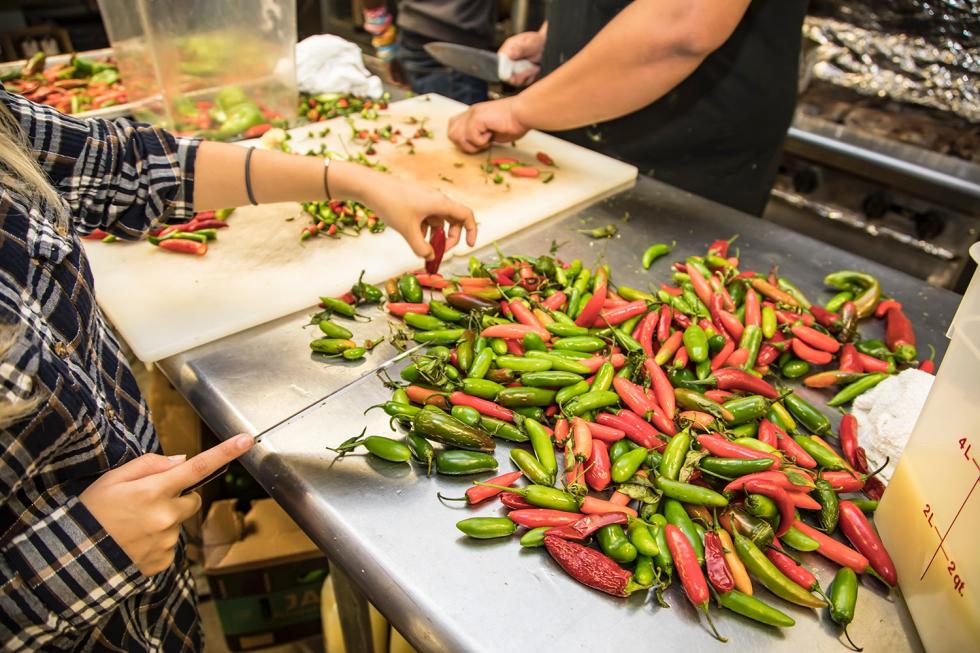 Once the four students graduated from Sac High last spring, they continued to pursue the Sangre del Dragon dream. They added more team members – Cristina Espinosa, Rosie Espinosa and Christian Jackson. They expanded their hot sauce line from three fruit-based flavors to five, including one with only chilis and no fruit. Perhaps most importantly, they secured FDA approval to produce and sell their hot sauce.
"Originally, the recipes were inspired by what is growing in the garden – raspberries, blackberries and habaneros," Henderson recalls. "This year, we planted a row of chilis for Sangre. It has produced hundreds of pounds combined of jalapeno, serrano, banana and riot peppers. There is no shortage of heat in the garden right now."
Along the way, the students have learned more than most high school business students.
"Personally, I have learned that there is always research and paperwork before you can have fun," says Leo Lopez, who graduated last spring and is now a freshman business major at Sacramento City College. "I wouldn't know about cottage food acts or EINs or even the first step to starting a business. I wouldn't have known that you have to heat a product to a certain temperature to bottle or that your product needs a certain pH level to sell."
On a recent Friday morning, Lopez and other team members were working in the production kitchen at Preservation & Co. to prep, blend, cook, bottle and package their hot sauce. It takes about two days every month or two, Lopez estimates, to keep up with demand for the product, which is sold at Sac High and online [https://www.sangredeldragon.com]. Early commercial customers include La Cosecha in downtown's Cesar Chavez Plaza and the planned Golden Road Brewery in Midtown.
What's next for Sangre del Dragon? Lopez hopes to secure retail distribution in at least two markets by next spring. "We also want to push ourselves to bring in new flavors every season," he adds, hinting there may be a peach hot sauce in the works. And the team is looking to expand beyond the hot sauce market.
"This is the only business that has launched into the community from our high school," Henderson says. "Sangre Del Dragon is a role model and provides training and internships for current students. This entrepreneurial pilot has also helped navigate my vision for the future of Edible Sac High."