Sacramento was in the international spotlight July 8-15, when the 18th Homeless World Cup, a compelling weeklong soccer tournament that spotlights the plight of worldwide homelessness, was held on the campus of California State University, Sacramento.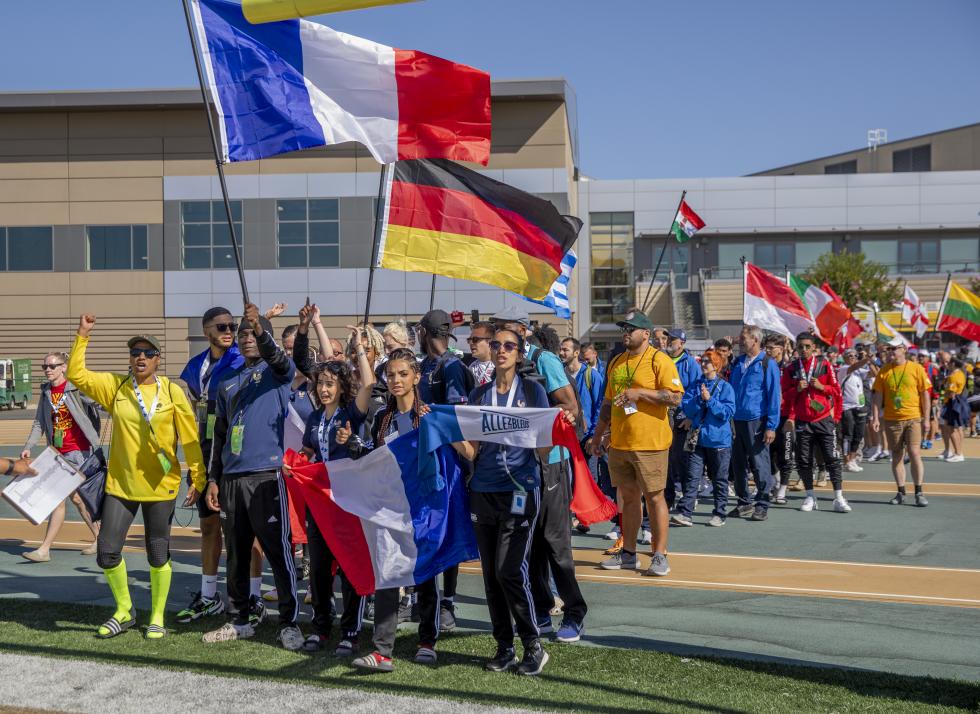 "We should be working together to end homelessness forever, everywhere in the world, and we can do that using soccer," says Scotland entrepreneur Mel Young, during the opening ceremony. Young co-founded the Homeless World Cup in 2001.
It was the first time the tournament, which took a three-year break due to the COVID-19 pandemic, was held in a U.S. city. The 28 men's and 12 women's teams, featuring 400 athletes from 30 different countries, displayed equal amounts of goodwill and competitiveness while taking over Sacramento State's campus for almost 10 days. Athletes qualified to play if they had experienced homelessness during the past two years.
Approximately 500 athletes, coaches, managers and support staff stayed in campus dorm rooms and ate at Sacramento State's dining commons. The operation also involved 700 international and local volunteers, says Erika Bjork, a board member of sponsoring Street Soccer USA, Sacramento Chapter, and events director for the HWC.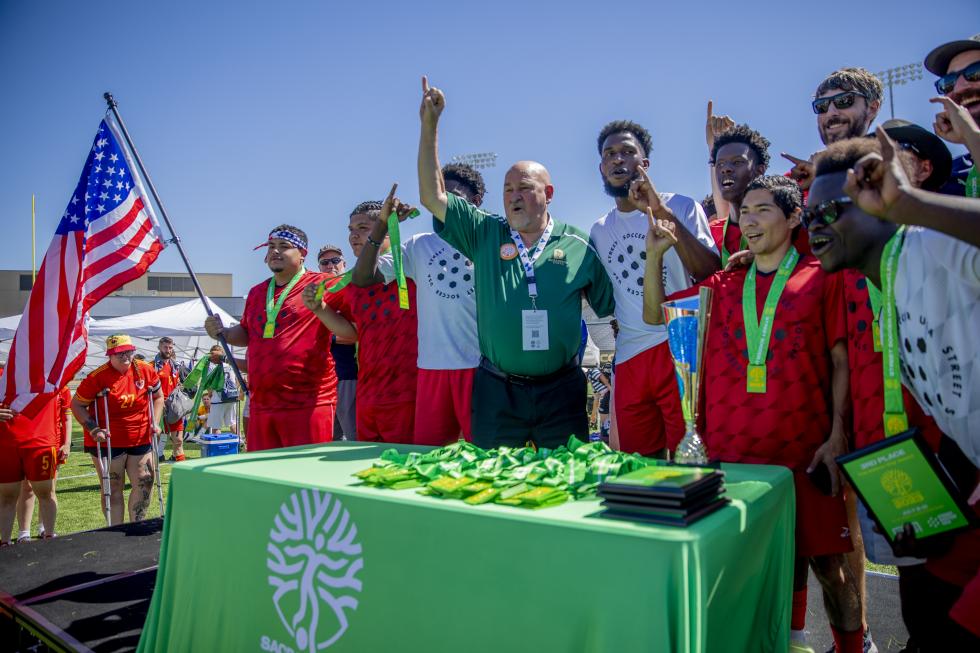 "I think overall, it was tremendous on a variety of levels," Bjork says. "We said pretty much from Day 1 that we wanted to create the best experience possible for the players and create some legacy and impact in our region. And I think we clearly succeeded in both of those goals."
The tournament featured the fast-paced Street Soccer USA version of the sport, with three small pitches (fields) the size of a basketball court constructed inside the 21,195-seat Hornet Stadium. Four players made up a team with games consisting of two seven-minute halves. The event's 400 matches were livestreamed around the world, with the HWC also being the last act for seven-year Sacramento State President Robert C. Nelson, who officially retired after the final games.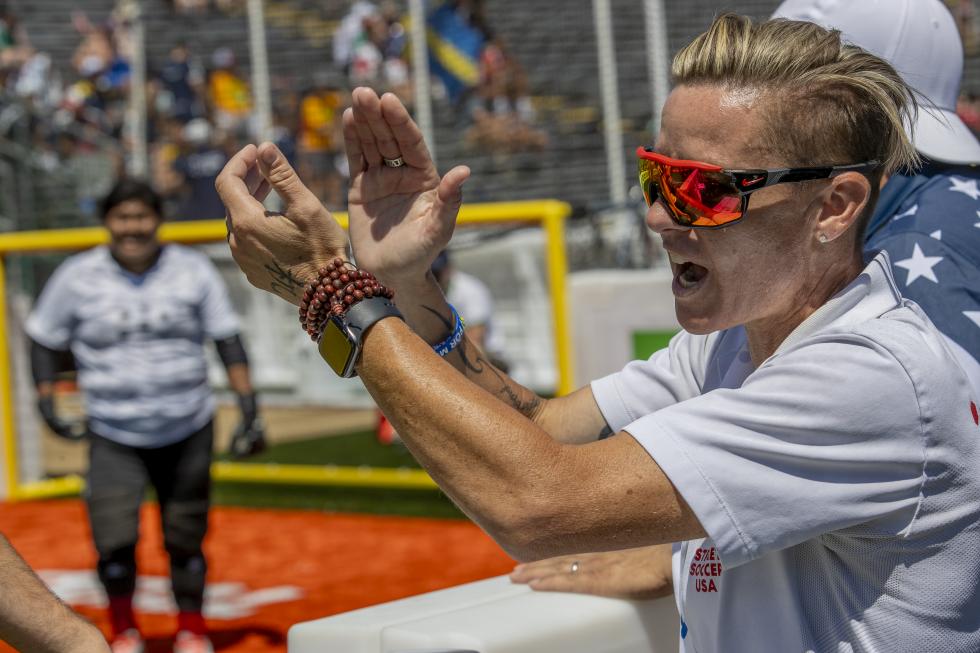 Opening ceremonies and first games commenced July 8, and the tournament wrapped up on a scorching hot Saturday morning a week later, with Chile facing Mexico in both the men's and women's finals. Mexico came away with the women's title, while Chile's men defeated defending champion Mexico.
The USA women's team was coached by former Sacramento State soccer player Lisa Wrightsman, who battled her own substance abuse and homeless issues after leaving college. She played for the U.S. in the Homeless World Cup in 2010 and credits it with helping reboot her life.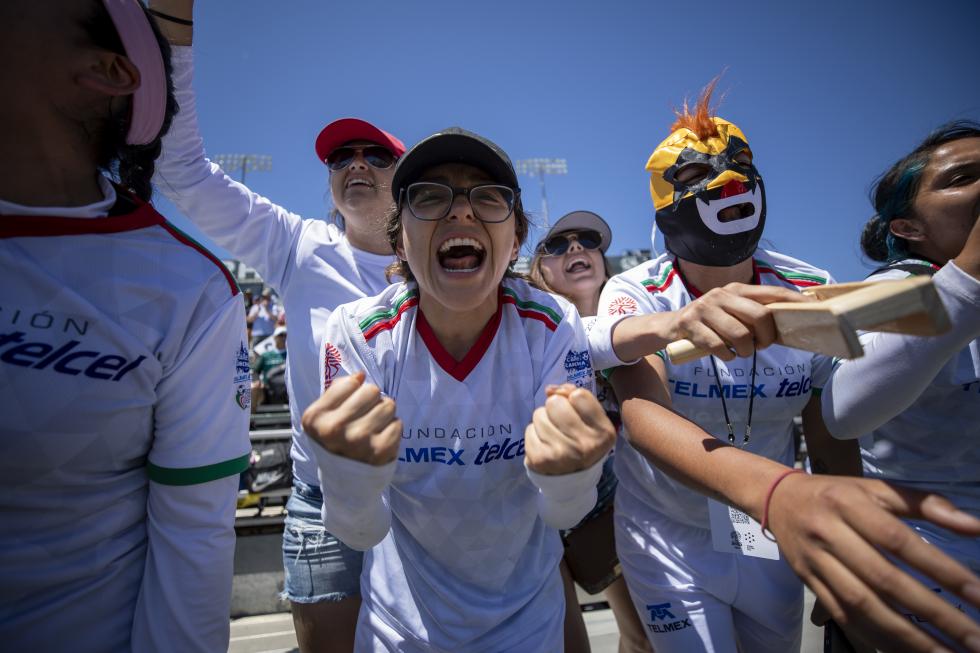 "The experience was so profound that I knew I wanted to share it and be a bigger part of it," she said last December, when it was announced Sacramento State would be the first college campus to host the HWC.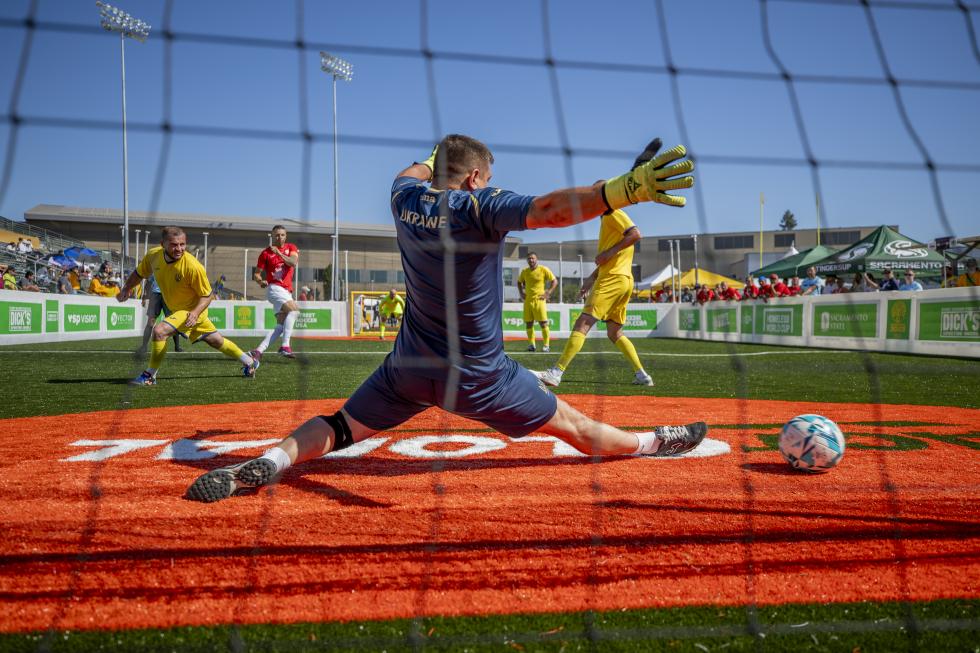 Wrightsman co-founded Sacramento's chapter of Street Soccer USA along with her now-wife and former Sacramento State teammate Tiffany Fraser. Last October, Wrightsman received a Distinguished Alumni Award from her alma mater. In the tournament, she coached the USA women's team to a surprising fifth-place overall finish, defeating Denmark 6-2 to claim the Nelson Way trophy.
Another dynamic story involved the Ukraine men's team, who traveled to Sacramento from the front lines of a war with Russia. The Ukraine players were police officers or soldiers in Ukraine, says Sacramentan Kevin Barker, who served as their Team Guide during the tournament. Ukraine lost a tight consolation game on the final day, but came away with a fantastic experience, Barker says.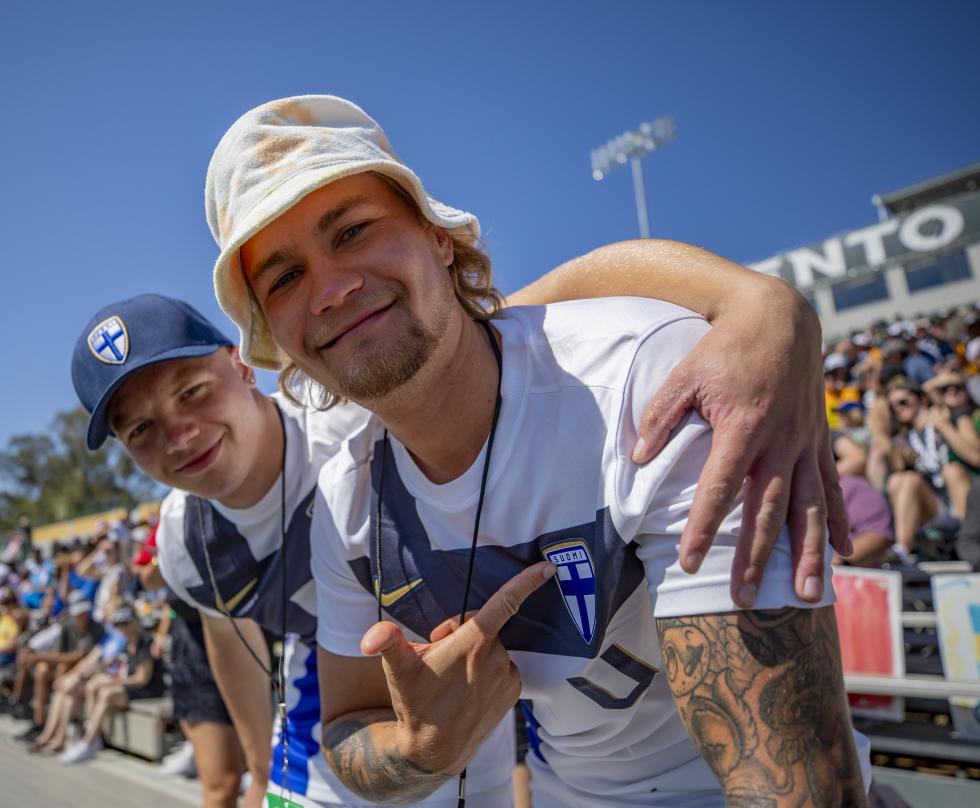 "It was a little rough at the beginning, and then we played pretty amazing in the knockout stages," Barker said after the loss. "I think for the team, it means a lot that, unfortunately coming from the battlegrounds back in Ukraine, they've been able to have a little bit of time off to come here. But they're still worried about their families and everything back at home."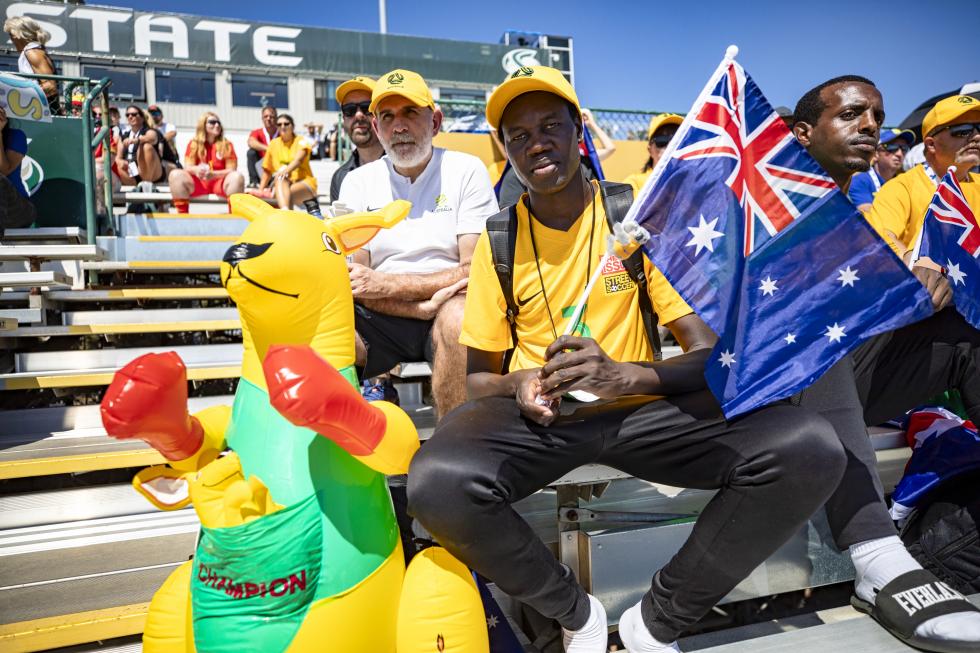 Feeding the athletes, volunteers and staff — up to 600 people per meal — proved to be a major undertaking, Bjork says, but the school, with a lot of help from the community, pulled it off. Breakfast was served at the campus dining commons, while a variety of local partners pitched in to help with lunch and dinner. Bjork says they created a couple of special group meals, "family-meal style," that gave everybody a chance to get together at once.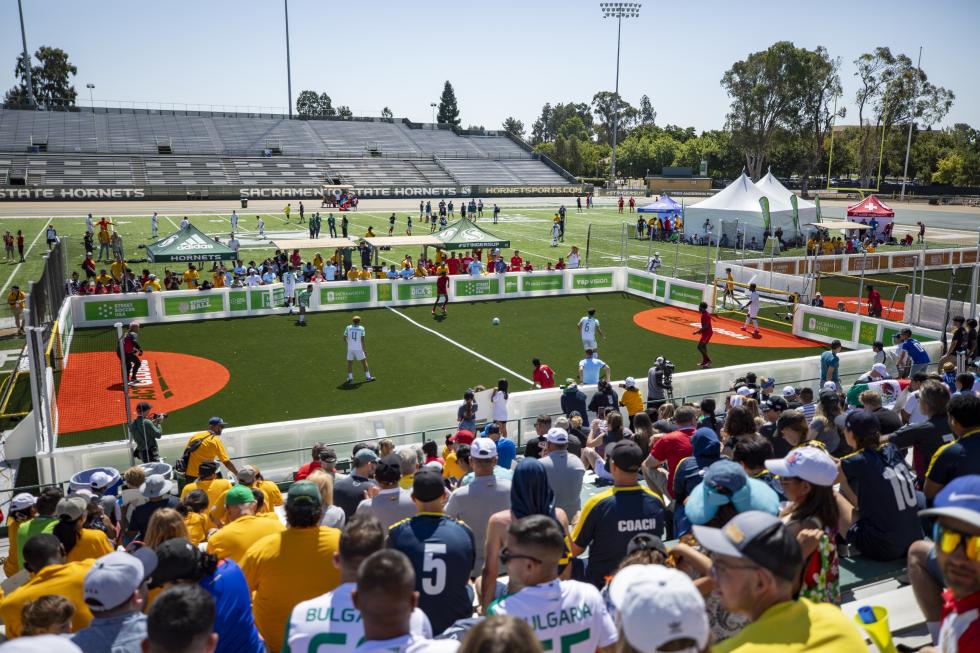 Those included two dinners by UC Davis Health chef Santana Diaz, who has also taken part in Sacramento's Tower Bridge Dinner. On the Friday night before the HWC started, more than a dozen firefighters hosted a barbeque at the UC Davis Street Soccer Court in conjunction with House Kitchen & Bar restaurant.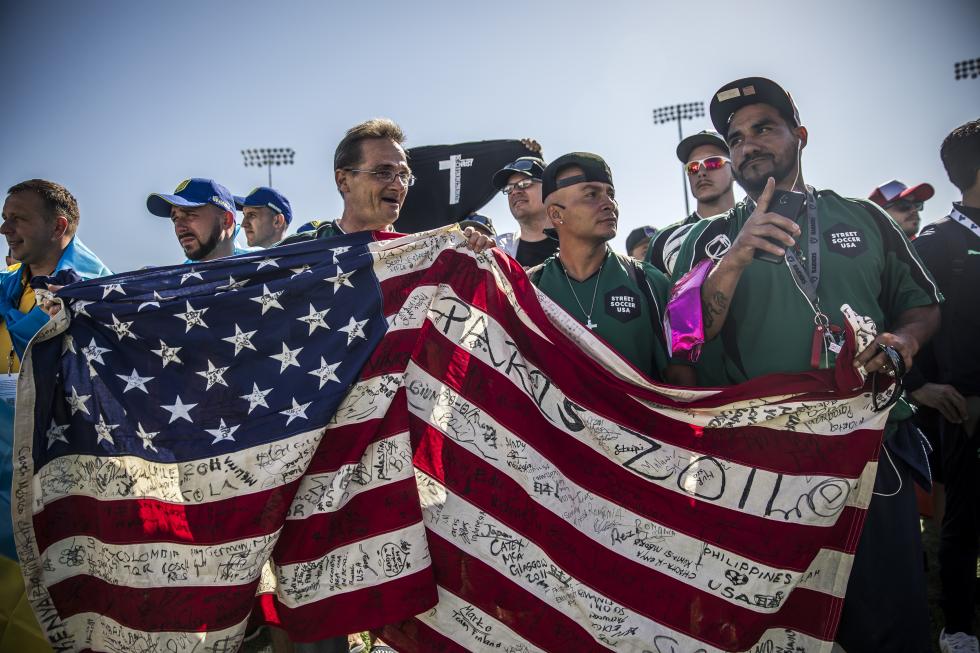 Bjork credited Aramark, Raley's and Nugget Market with helping provide the approximate 15,000 meals dispensed during the tournament.
On July 12, a global Cities Ending Homelessness campaign, cofounded by the Homeless World Cup and Catalyst 2030, was launched at a symposium at Sacramento State with Young, Nelson and two-time Olympic Gold Medalist Hope Solo as guest speakers. The campaign brings together communities, governments, businesses and others with a goal to adopt a solutions-focused approach to explore the problems of homelessness, with input from homeless people a key part of the strategy.
The spirit of the HWC, says Barker, the Ukraine Team Guide, was evident by the welcome his team received in Sacramento.
"People were coming up to the team, to talk to them, to wish them the best," says Barker. "And while there's a little bit of language barrier, when you're out here playing soccer or football, everything goes away."
Corrections July 27, 2023:
A previous version of this article misidentified the role of Kevin Barker. He was the Ukraine team's Team Guide, not coach.
A previous version of this article misidentified the name of the award the USA team one. It is the Nelson Way Award, not Nelson Peak.
–
Stay up to date on business in the Capital Region: Subscribe to the Comstock's newsletter today.
The nonprofit Sacramento Juneteenth promotes health and wellness through educational programs at local schools. One of its current focuses is mental health care, especially for the Capital Region's Black community. It's one of several local nonprofits picking up the slack for Black mental health care.
Refugee youth often bring traumatic lived experiences, known as adverse childhood experiences, raising the demand for U.S.-based mental health services. A network of support groups has formed to provide culturally sensitive care and catch those falling through the cracks.
Schools and universities in the Capital Region have taken an array of approaches to assure mental health is one of the many pillars a student's education addresses.