Smile Market 2
Address:
9545 Folsom Blvd
Sacramento, CA
Phone: (916) 376-7217
Smile Market 2
Address:
9545 Folsom Blvd
Sacramento, CA
Phone: (916) 376-7217
When Smile Food Market opened in north Sacramento in 1998, it was one of the few places in the region devoted to the needs of the Korean kitchen. Korean pop music and movies had yet to become blockbuster hits in the United States, bringing dishes like mandu and chapaguri into the spotlight, and mainstream supermarkets did not yet stock kimchi near the salad mix.
But in Smile Market's labyrinthine, often chaotic shelves, you could find all the ferments that form the foundation of Korean cuisine: red chili gochujang tempered with sweet rice; doenjang, a bacteria-cultured soybean paste far funkier than miso; and, of course, kimchi. The cold case might hold a dozen varieties of the spicy pickle, including some made in-store, the vegetables pressed against their jars like wet specimens in a lab.
Korean food and ingredients are now much easier to find than they were 24 years ago, but Smile Food Market still has a monopoly on a few specialties. Last year, its new branch Smile Market 2 became the only restaurant in Sacramento focusing on junghwa yori, Korea's version of Chinese takeout.
Smile Market 2 first opened Feb. 14 2020, on the eve of the pandemic, as a banchan gage — a store specializing in the myriad side dishes that accompany a traditional Korean meal. After the shelter-in-place order, "people would go to Smile Food Market for their essentials, but Smile Market 2 really struggled," says Christina Kim, the daughter of co-owners Do Sool and Chae Kyung Kim. Born five months before her parents opened Smile Food Market, Christina grew up alongside the business. She remembers stocking shelves on the weekends and eating after-school snacks made by the women working in the kitchen, who she calls "ajummas" (aunties).
In January 2021, the Kims hired a chef who specializes in Korean Chinese cuisine to help attract more customers to the business. Word spread quickly in the Capital Region's Korean community, and today Christina says the branch is doing well. The only side dish for sale at the former banchan gage is kimchi, made by hand by Do Sool. "My mom says his seasoning for the kimchi is so delicious that people come all the way from Los Angeles" to buy it, Christina says.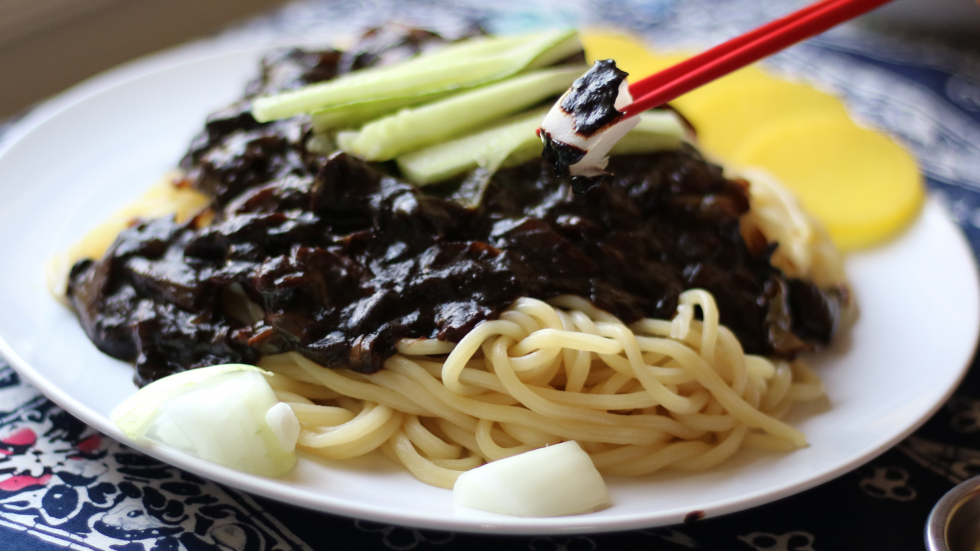 There are still a few shelves of dry goods inside Smile Market 2 in concession to the "market" in the name, but the focal point of the space is the triptych of LCD screens displaying the picture menu. Look around the dining area, especially during the busy lunch hours, and you'll see most of the photographs duplicated on the tables. The dish that appears most often is jajangmyeon, noodles dressed in a gravy as dark and viscous as blackstrap molasses.
Derived from northern Chinese zhajiangmian, jajangmyeon is a home-delivery standby in South Korea, the kind of thing you might order when you've moved into a new apartment and have yet to unpack the plates. Its main ingredient is chunjang, traditionally made with stale mantou (steamed bread) fermented in a muskmelon with wheat flour and soybeans. The result is a dish so dark that it has become standard fare on Black Day, a recently invented holiday "celebrated" on April 14 in Korea. The fete is set aside for singles, who are encouraged to wear black, eat black food and commiserate about having received no valentines two months earlier.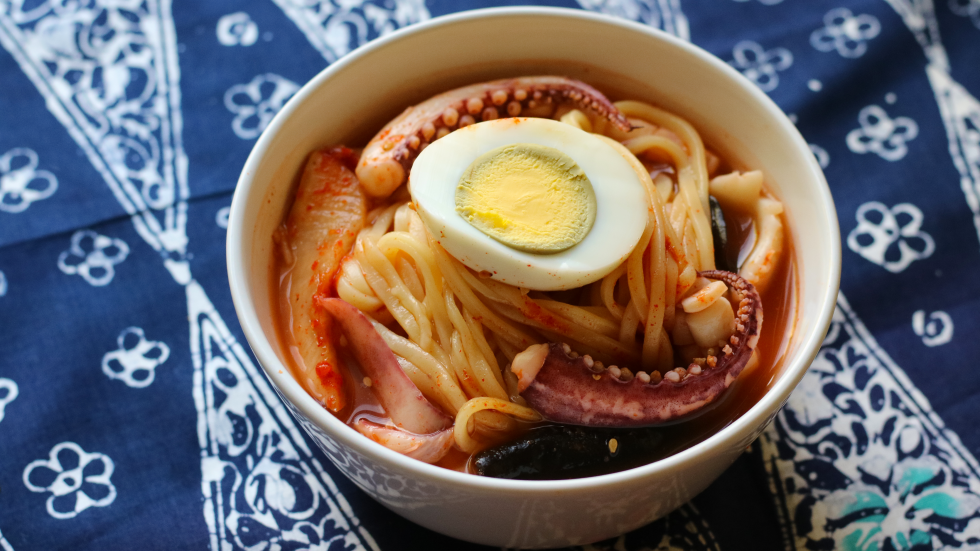 Smile Market 2's jajangmyeon is the right food for that mood, and there's no need to wait for a marketing holiday to eat it. The sauce is as balanced as a Bolognese ragù: Earthy chunjang plays the role of tomato paste, sharpening the edges of the lush pork and sweet onions. You can ask for scissors to cut down the serpentine noodles, but there's something therapeutic about slurping them from end to end, head held down as if in an onion-scented facial steamer.
Another popular order is tangsuyuk, or sweet-and-sour pork, the Korean Chinese dish most analogous to its American counterpart. Here, the sauce and vegetables are served on the side, to better preserve the crisp carapace of the fried pork. The best time to eat tangsuyuk is the moment after you douse it, when the sauce has worked its way into the crags of the crust but has yet to make it droop.
There are just two dozen numbered items on the menu, including four varieties of jajangmyeon and four of jjamppong, a spicy seafood noodle dish descended from Nagasaki's Chinatown. No compromises are made for those who might wander in looking for American Chinese or more standard Korean food, though Christina says her mother Chae Kyung would like to expand the menu when they have the resources to hire a second cook.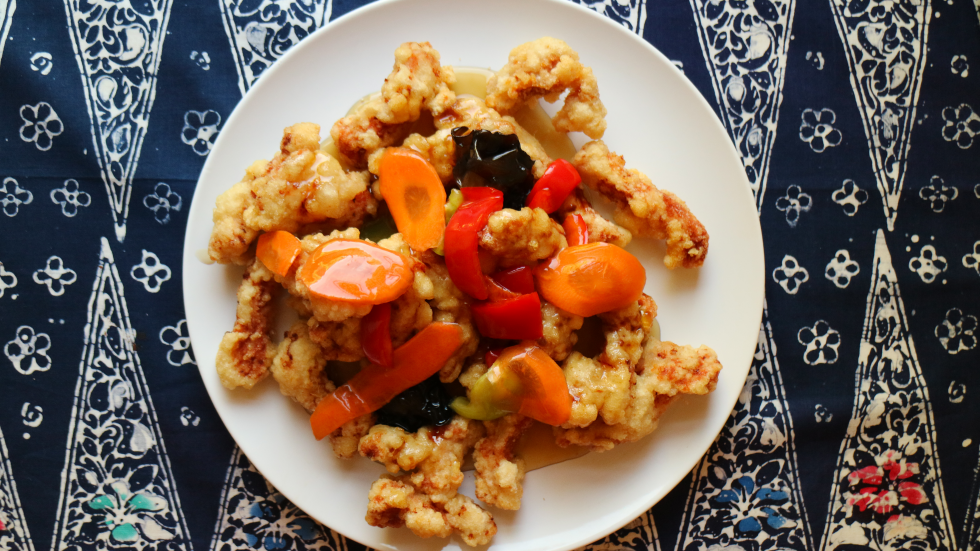 If anyone can successfully promote an underrepresented cuisine in Sacramento, it's the Kims. They took a gamble on Korean cuisine 24 years ago, when Do Sool — who had saved up capital from a series of supermarket and janitorial jobs — convinced his wife to leave her relatively stable telecommunications career to help open Smile Food Market. "My dad grew up extremely poor in Korea with six other siblings and his mother," Christina says. He left home to support his family soon after finishing elementary school and moved to the United States in 1988. "To grow up very poor, it meant a lot to start your own business."
Though she often begrudged her parents' 112-hour work weeks (7 a.m.-11 p.m., 365 days a year) and the chores she was saddled with in consequence, Christina says growing up around the market "definitely helped preserve my cultural roots." The business also allowed her parents to send her to college with no loans. Now in their 60s, Do Sool and Chae Kyung still spend most of their days at the two branches.
Do Sool, who turns 67 this year, has no plans to retire. He's known for giving steep discounts and free gifts — a red bean bun, perhaps, or a foot-massage contraption. "It was always cool growing up and hearing your friends tell you how cool and nice my dad was," Christina says. "His main passion is Smile Market."
–
Stay up to date on business in the Capital Region: Subscribe to the Comstock's newsletter today.