It's a few days before Conner Menez is supposed to board a plane for Japan and all he wants to do is throw before he has to deal with his work visa.
Menez, 27, who grew up in Hollister and was drafted in 2016 by the San Francisco Giants, now pitches for the Hokkaido Nippon-Ham Fighters of the Nippon Professional Baseball league. When he woke up this morning, paperwork for his visa, which he needs to pitch in Japan, was on his driveway. He gets the OK to pitch before dealing with the papers and heads to Union Stadium at Sacramento City College.
On this bright Tuesday morning in late January, Menez is just one of a contingent of eager athletes working out at Sacramento City. They're involved in one of the Capital Region's most specialized sports businesses.
Menez and dozens of other professional, collegiate and high school baseball players have been working out this winter at Optimum Athletes, part of an elite training facility near Cal Expo that also uses Sacramento City's facilities as needed. Though it remains under the radar, a number of major leaguers have been loyal customers.
Looking to level up
Optimum Athletes was founded in 2018 by Galt High School and Sacramento City College alum Ryan Mattheus, three years after he wrapped up a five-season Major League Baseball career pitching in relief for three teams.
Mattheus, who spent eight years in the minor leagues before making his MLB debut at 27, has created a business that caters to the type of player he was. "I think for the most part, these guys are just trying to level up all around, whether it's a little bit of velocity here, or add or develop a new pitch, kind of tighten up and optimize a pitch," Mattheus says. "That's a lot of what we do."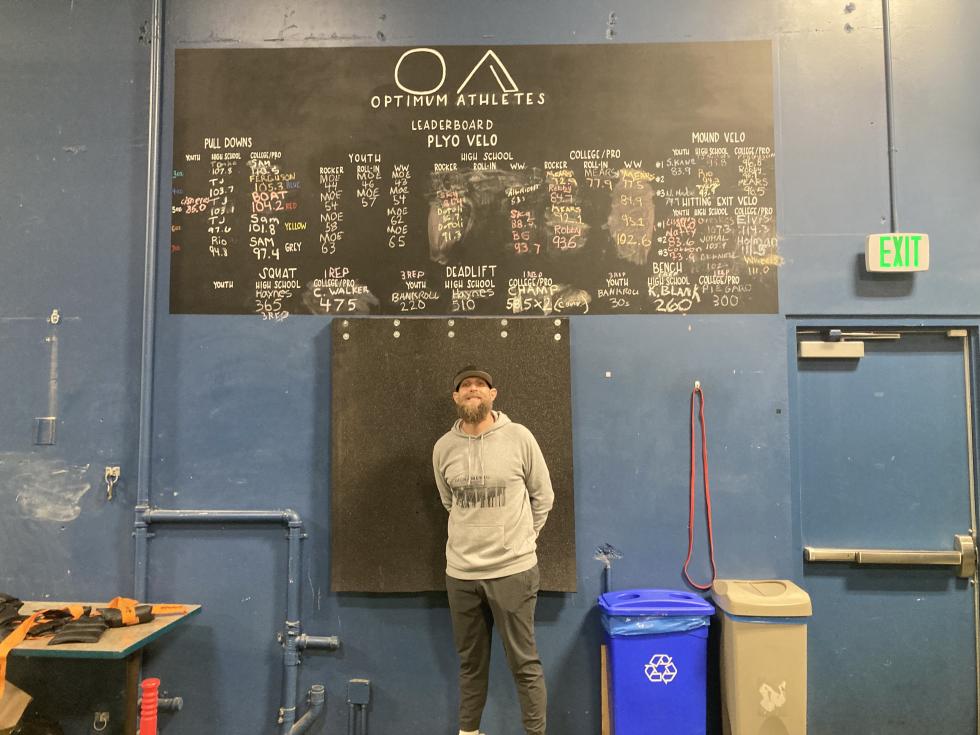 The business attracts athletes like Menez, who pitched parts of four seasons with the Giants and Cubs from 2019-22, before signing with the Nippon-Ham Fighters. A lefthander, Menez has been working this offseason with a Southern California-based coach and former big league pitcher named Dave Coggin, who isn't affiliated with Optimum Athletes. At Optimum Athletes, where Menez can take advantage of tools like a TrackMan machine that can track pitch locations, he's been working on the vertical ride for his fastball.
"I just threw a bullpen last week and it was awesome," Menez says while he stands inside the 22,000-square-foot warehouse where Optimum Athletes is located. "Like, my vertical ride and my fastball is way up. I'm not even doing 100 percent yet."
Menez is coming off knee surgery for his meniscus, which allows him to take advantage of another service adjacent to Optimum Athletes. Sharing the warehouse with the training facility is KIME Performance Physical Therapy and an umbrella organization, the Sacramento Sports Center, which works with high school and younger players who are often involved in travel ball teams. "For us, it's always been that we've wanted to have everything in a one-stop shop," says Andrew Henning, a co-owner of the Sacramento Sports Center.
Evan Hogger, who owns KIME Performance Physical Therapy, and Mattheus work together on assessments for athletes who come in. "I think that the collaboration is what's different," Hogger says. "I think the fact that both of us sit down and do the evaluation is different. I don't think that happens most places."
While Hogger talks, Nick Mears, a pitcher who went to Rocklin High School and is entering his fourth season in the majors, lays on KIME's table, having suction cups put on his back. Working at Optimum Athletes, Mears says he's seen his velocity go from highs of 97 miles per hour to around 101 miles per hour. But throwing that fast can take a toll on the body. "It feels like you're shooting laser beams out of your fingers," Mears says.
Mears remembers what it was like before he was a professional athlete, when it felt like he could just ride on natural talent. "In my eyes, I wasn't really working hard," Mears says. "Whereas now I work hard and am working toward that goal."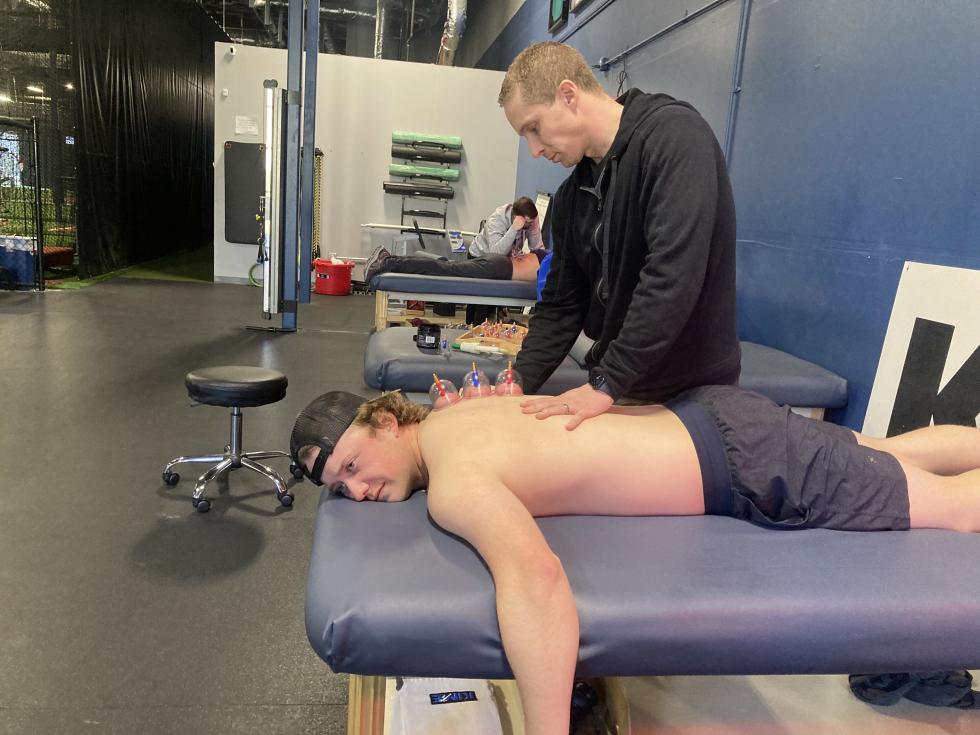 Investing in optimum performance
Optimum Athletes is not a cheap service. Mattheus says a full program costs $450, with a one-time assessment fee of $150 upfront. He gives a discount of $250 for professional players, whose presence can lend credibility to his operation and who, when they're going through lower rungs of the minor leagues, can make as little as $4,800 for a season.
"I was lucky enough to sign for a good bonus, but they're really good with us on the professional side," says Kevin Gowdy, a pitcher in the Los Angeles Dodgers system who works out at Optimum with the professional discount.
Players are willing to work out at places like Optimum Athletes in part because of good word-of-mouth and the promise of what can be possible. Austin Roberts, who pitched at Sacramento State and is now in the Miami Marlins system, joined due in part to the influence of another former Hornet, Sam Long, perhaps the business's greatest success story.
Long was released as a minor leaguer in 2018, two years after being drafted. Out of baseball, he re-enrolled at Sacramento State and began mounting a comeback through Optimum Athletes, which shared video footage of him working out that went viral. Long finally made his MLB debut with the Giants in 2021, giving credit to Optimum in the following summer.
"Those guys have really taken care of me," Long said when interviewed for a piece this author wrote for the Sacramento Bee.
There have been other big names around the facility in recent years as well. Dylan Carlson, who was a first round draft pick out of Elk Grove High in 2016 and finished third in National League Rookie of the Year voting with the St. Louis Cardinals in 2021, wishes Optimum Athletes had been around when he was a prep.
While the business is known for what it can do for pitchers, it helps position players like Carlson as well. "First things first, you learn some areas you may be deficient in movement-wise," Carlson says. "So it helps your body move in ways that one, it should probably be moving in and two, maybe you didn't know you weren't using correctly."
Giants ace Logan Webb, who pitched with Mears at Rocklin High School, is around Optimum Athletes less since he moved to Arizona for his offseason home, though he still comes by when he's in the area to see family at the holidays. (Long, who recently moved to Arizona himself, has been doing remote workouts, Mattheus says.)
Chicago White Sox starter Lucas Giolito, who's twice finished in the top 10 in American League Cy Young Award voting, worked out at Optimum Athletes while his wife was attending veterinary school at UC Davis.
"It's a knowledgeable group," Giolito said in the visiting clubhouse when the White Sox played the A's in September. "It's all about improvement. I feel like it's a good environment for a bunch of motivated guys to get in there and help each other out."
Roberts appreciates the camaraderie that exists among the players who might be in different professional organizations or at different points of their careers, but are still willing to help one another out when they cross paths at Optimum Athletes.
"At the end of the day, we all have that same goal," Roberts says. "We all have the same aspiration of pitching in the big leagues and staying there for a long time."
–
Get all our web exclusives in your mailbox every week: Sign up for the Comstock's newsletter today!