Josefina Magallanes' food stand is a fixture outside Our Lady of Guadalupe Church in Midtown Sacramento on Sundays. As her menu advertises, she specializes in homemade tamales, but her accompaniments range from drinks to dessert.
In the winter she ladles out hot champurrado, a corn-based chocolate drink that thickens to a pudding when it cools. Come summer, she switches it out for fresh juices: red hibiscus, green chia seed, amber melon. Coolers and boxes of single-serve chip bags surround her table, and when she sits in her low-slung lawn chair, she nearly disappears behind them.
Last year, Magallanes was among about a dozen vendors selling food and drinks outside the church who had their stock and equipment seized by Sacramento city and county code enforcement officers. A cell phone video published by FOX40 documents officers loading coolers and tables onto flatbeds, collecting canned soda and pouring juice down storm drains. "That was April 23, 2017," Magallanes says without hesitation, the date branded into her memory.
The 2017 raid also looms large in the memories of the Sacramento's city councilmembers. In June, the council carried a motion to move toward expanding mobile food vending permits to cover sidewalk vendors like Magallanes, as well as other non-truck vehicles like trailers. At the meeting, council members repeatedly mentioned "what happened at Our Lady of Guadalupe Church" as a cautionary tale against heavy-handed enforcement.
Community backlash against the Guadalupe raid prompted City of Sacramento code enforcement to cease confiscating vendors' equipment, and councilmen Eric Guerra and Steve Hansen encouraged the staff to write this stance against confiscation into the new city codes.
Sacramento's effort to expand mobile food codes is part of a statewide push to legitimize California's long tradition of sidewalk vending. In jurisdictions that lack permits for sidewalk vending, unlicensed vendors are at risk of being arrested and sentenced to hefty fines or jail time. These charges are especially dire in the case of vendors who are not U.S. citizens; a misdemeanor charge can lead to immigration court and possible deportation.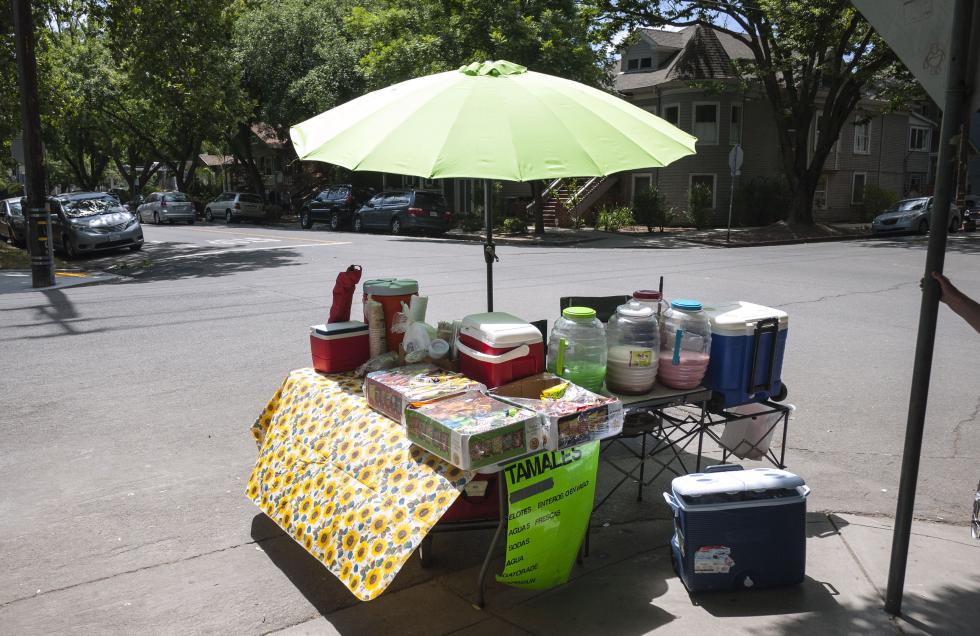 As soon as she could, Magallanes bought new equipment to replace the impounded equipment and began selling again, as did most of the other vendors. "I don't want to sit around and do nothing," she explains. "I want to be independent." Retired from a decades-long career in security, Magallanes finds purpose and camaraderie in her tamales business. She says she is willing to start from scratch after every raid, even if it means falling short of a profit, to maintain that sense of fulfillment.
There are legitimate reasons for preventing unlicensed vendors from selling food. "Any unlicensed and uninspected food business, whether it is a food cart or a restaurant, is at risk for not handling food safely," says Kelly McCoy, deputy chief of the Environmental Health Division at Sacramento County's Environmental Management Department. "Our ultimate goal of inspection and permitting is to prevent foodborne illnesses."
To that end, the County department is helping the City of Sacramento design food safety standards and inspection practices for mobile food vendors. Licensed vendors may be required to post health inspection certificates, like brick-and-mortar restaurants do. "These are people who are trying to make a living, and we want to make it as easy as possible for folks to start up their own business," said Guerra at the council meeting.
Advocates on the local level have allies at the state level. The California State Senate is currently considering a piece of legislation that would protect vendors from the threat of arrest. Earlier this year, Sen. Ricardo Lara introduced the Safe Sidewalk Vending Act to decriminalize the act of sidewalk vending. If the act becomes law, individual jurisdictions will no longer be able to issue misdemeanor or infraction charges to food vendors.
Luis Gutierrez of the Leadership for Urban Renewal Network, based in Los Angeles, predicts that the Safe Sidewalk Vending Act will encourage cities to create "a more thoughtful sidewalk vending system," including accessible permitting processes. Sacramento is already ahead of the fold on this point.
"We want to encourage the best system possible — something that holds up to the codes that are there, advised by the [California] Department of Public Health, that emphasize the safety of public spaces and sidewalks," he says. "I think a lot of people are going to have a tough time making that transition."
Magallanes says that she welcomes the possibility of transitioning to the formal economy, and possibly to a larger business. She sold sodas and baguette-like bolillo sandwiches off a donkey cart in Tlaxcala, Mexico before moving to Sacramento at the age of 20 in 1974. She planned to return to Mexico after making exactly $2,000 — enough to expand her bolillo business to a brick-and-mortar location — but soon felt at home in Sacramento among family and friends. "I had no desire to leave after that," says Magallanes, who became an American citizen last year . "I felt at home here."
On a recent Sunday, Magallanes is still open for business. A father of four in a cowboy hat orders two dozen tamales after church; a young couple laden with farmers-market vegetables shares a chia seed agua fresca. Magallanes greets a steady stream of customers who already accept her stand as a legitimate food business.
"People keep wanting tamales, so I keep making them," Magallanes says. "I've always been a businesswoman."