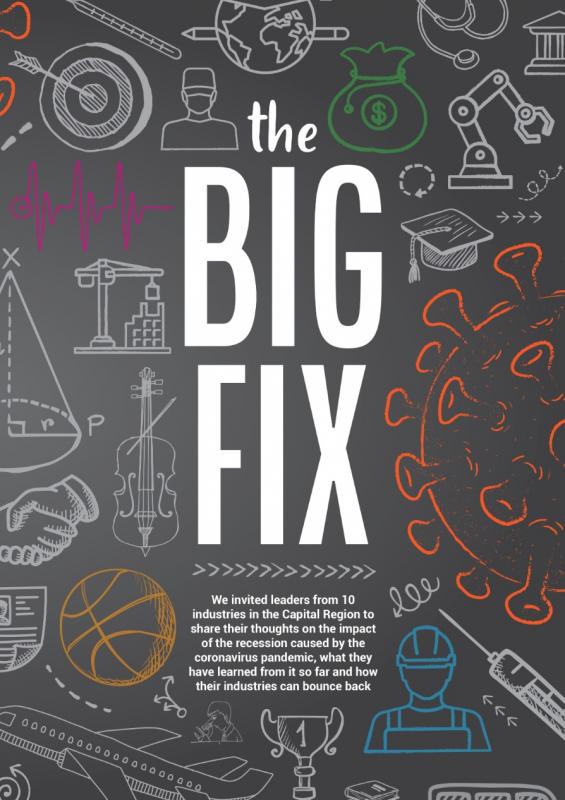 This story is part of our August 2020 Big Fix issue. To subscribe, click here.
Managing litigation risk in the COVID-19 era is a key issue that concerns California employers for good reason. Companies can expect to see COVID-19-related employment lawsuits from nearly any corner, including wage and hour issues and disability discrimination.
California's Executive Order N-62-20 states that workers who contract COVID-19 are presumed to have a workplace injury covered by workers' compensation, and the employer has the burden to show otherwise. Pursuant to the Occupational Safety and Health Act, employers must maintain a workplace free from serious hazards. If employers knowingly expose employees to COVID-19 hazards, they are at risk for infected employees, as well as litigation. Here are four strategies the savvy employer can use to manage risk.
1. Have a strategic plan
Prepare and train employees on a COVID-19 prevention plan that includes a risk assessment of all work areas and a designated person to implement that plan at each location.
Develop an exposure-response plan that addresses isolation, containment and contact tracing procedures; stay-at-home requirements; and staff communications in the event of an exposure.
Provide personal protective equipment such as masks, gloves, face shields and hand sanitizer.
Maintain physical distancing to the maximum extent possible, facilitate use of face coverings, implement frequent handwashing, and conduct regular cleaning and disinfection.
For physical distancing measures within the workplace, consider staggered shifts and breaks, rotate weeks in the workplace and working remotely, move workstations, implement one-way traffic patterns.
Consider welcoming back a small group of employees to test procedures.
Restrict business travel. Start with essential travel only and define it, and add nonessential travel gradually.
Define customer and visitor contact protocols such as directing customer traffic through the workplace, limit the number of customers in each area, use video or audio conferencing for client meetings, and provide contactless pickup and delivery.
2. What you can and cannot do
In response to community spread of COVID-19, the Equal Employment Opportunity Commission has confirmed how employers can avoid running afoul of the Americans with Disabilities Act (remember that all results should be confidential).
You can take employees' temperatures at work. Temperature checks should be reliable, performed consistently and respect employees' privacy. All employees entering facilities should be checked only by trained personnel.
You can ask employees if they have tested positive for or been diagnosed with COVID-19; if they have symptoms, such as a fever of 100.4 degrees or higher, cough, shortness of breath, sore throat, or loss of taste or smell; if they have had close contact with any person who has been diagnosed with COVID-19 in the past 14 days; if they have been asked to self-quarantine by a health official within the past 14 days; and if they have traveled to a country under a Centers for Disease Control and Prevention Level 3 health notice.
You cannot ask an employee if they have any underlying health condition that would make them more vulnerable if infected by COVID-19. It would be a violation of their privacy. If you do ask such a question, any employment decision you later make about that employee could be scrutinized as potentially discriminatory, based on the employee's perceived or actual disability.
You can advise employees to stay home (or leave work) if they become ill with symptoms of COVID-19. You may require employees to provide a doctor's note stating they are fit for duty once they return.
You can screen job applicants for symptoms of COVID-19 after making a conditional job offer, as long as it is done for all entering employees in the same type of job. You also can withdraw a job offer when the employer needs the applicant to start immediately but the individual tests positive for COVID-19 or has symptoms of it.
3. Consider policy changes
Adjust paid-leave policies to reflect new requirements and actual business needs.
Relax attendance policies to encourage sick employees to stay home and address potential increased child care obligations.
Time-off request procedures should indicate when time off can be required by the employer if sick employees need to be sent home.
Adopt flexible scheduling options that allow for compressed workweeks and flexible start and stop times.
Adjust meal and rest break policies to stagger times.
Adopt telecommuting policies that reflect work that may be done remotely and procedures for requesting telework.
Revise information technology policies to reflect remote work support and employee reimbursements for telework.
4. Avoid the appearance of bias
Do not specifically designate younger employees or employees without underlying conditions to return first. The EEOC states that involuntarily excluding workers over 65 violates the Age Discrimination in Employment Act, even if it is for "benevolent reasons."
Beware of the potential for a disparate impact lawsuit, where the employer makes an innocent decision with a discriminatory effect. Suppose you welcome back sales representatives but not administrative assistants in an attempt to increase revenue while minimizing payroll costs. Suppose the sales folks are under 40, while the assistants are all over 40. This is a disparate impact age-discrimination lawsuit waiting to happen.
Do not retaliate against employees for taking COVID-19-protected leave or needing it in the future. If your employee advises their attendance will be spotty because they are taking care of their father who has COVID-19, you cannot use that as a reason not to welcome them back. "Protected leave" means just that: You cannot retaliate against employees for using it. The Families First Coronavirus Relief Act, California's COVID-19 Paid Supplemental Sick Leave and the Family and Medical Leave Act (if applicable) each provide protected leave for various reasons related to COVID-19. Experienced employment counsel can help you determine how much leave you must provide, to whom and who pays for it.
Be sure to post the FFCRA poster alongside your other employment-related posters in the workplace. The FFCRA is in effect through Dec. 31. One of the
FFCRA's six reasons for leave is inability to work because a child's school or place of care is unavailable due to COVID-19. Place of care can mean summer camp too, so this protection could extend well beyond the school year.
Your employee could contend they have anxiety about returning to work, which could potentially qualify as a disability under the Americans with Disabilities Act. They may contend that working from home is a reasonable accommodation, if employees have done so for months. Fully engage in the interactive process in good faith, and seek expert help if needed.
Ensure that you have a legitimate, nondiscriminatory reason for every employment decision. Test your reason by saying it aloud: Would you be comfortable repeating it in front of a jury? Finally, ensure you have clear documentation of the reasons for your decisions.
–
Jennifer Duggan founded Duggan Law Corporation in 2013. She is an employment law specialist and litigator with more than 24 years of expertise representing employers of all sizes. Duggan has consulted on employment issues for Comstock's.
Stay up to date on the effects of the coronavirus on business in the Capital Region: Subscribe to the Comstock's newsletter today!