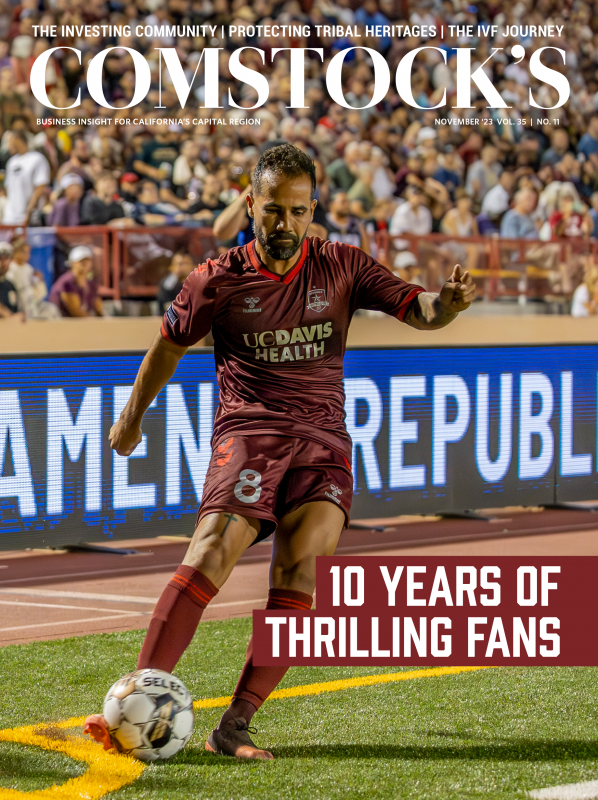 This story is part of our November 2023 print issue. To subscribe, click here.
More than two dozen 1950s and '60s vintage cars — which had been lowered in the front and raised in the back, painted in multiple coats of metallic, neon or primary colors, and polished to a glassy sheen — were parked in a semi-circle in front of the Sacramento History Museum's entrance, heralding attendees to enter a world they had likely encountered over the past several decades but may have feared or simply misunderstood.
More than 200 people from more than 40 lowrider clubs in the region contributed memorabilia — photos, magazine and newspaper articles, art, posters, music and other items — for this current exhibit called "Boulevard Dreams." The exhibit, which celebrates lowrider cars and culture in the Capital Region, rumbles on until January 24 in this spacious, multi-level facility on the Old Sacramento riverfront.
In his 2019 book, "Hot Rods and Custom Cars of the Sacramento Delta" from History Press, author John V. Callahan takes a crack at explaining the evolution of lowrider culture, which didn't start out nearly as family-friendly as it's become.
"Back in the 1950s, hot rod building and street racing were widespread and mostly illegal, sort of the Wild West phase of their history," he writes. "The (Sacramento River) delta is as flat as a pancake, with roads elevated a bit to keep the farms from the river. … Hot rodding in the early days had a bad name, street racing was out of control, and the publicity that came with it was bad."
The exhibit is a change of pace for the history museum. "We're continuing a serious paradigm shift with this exhibit," says the museum's executive director Delta Pick Mello.
"Lowriders are a multi-ethnic, family-oriented group. They contribute to the community. They're not only friendly but also eager to talk about their cars, which have been called rolling works of art."Delta Pick Mello, executive director, Sacramento History Museum
While it will continue to be devoted to the past, Mello says the museum has been thinking hard about its future, which will be much more Sacramento-centric. "I'm not suggesting that the museum will stop commemorating people and things that came before, only that its focus will turn inward, recapping and explaining more local and regional trends and personalities," she says. "We've been telling stories mainly about California's more distant past — the 1800s and early 1900s. We need to share more of our own story and some of the recent past."
Mello says the murder of George Floyd in 2020 "got everybody thinking about what they were doing about diversity in a meaningful way" and not just paying it lip service. "The museum industry especially wanted to reach out. For us, it meant becoming more of a community museum than a tourist museum." (Floyd was the 46-year-old Black man in Minneapolis slain by a white police officer after Floyd had allegedly passed a counterfeit $20 bill. Protests decrying police tactics and racism erupted across the country.)
Mello says that the California Museum in downtown Sacramento "is the perfect venue for celebrating the state. We're the best ones to talk about Sacramento." In fact, the California Museum began hosting its own Boulevard Dreams event, which opened a month after the local museum's exhibit, and runs through April 14, 2024.
The lowrider culture was a milieu long fraught with discrimination. In February 2022, the nonprofit Sacramento Lowrider Commission was sanctioned to combat misapprehensions and racial profiling. Founder and chair Francine Mata recalls, "The no-cruising ban in Sacramento came about in 1988. Eventually, lowriders and their families were locked out of Miller and William Land parks when all they were there to do was picnic and show off their cars, which were their prides and joys. Security guards, who were very rude about it, said we couldn't go into the park and have a car show because we didn't have permits. We explained these weren't car shows. No cars were parked on the lawns. It was just people and their friends and kids eating, playing music and enjoying the outdoors."
Lost in the bureaucratic shuffle was the fact that lowriders were, for the most part, community-oriented. "They organize more than 100 give-back events during the year, including Trunks for Toys, in which they give out Christmas gifts to needy kids and families," Mata says.
Some people confuse lowriders — the cars, their drivers and their fans — with the lawless "side show" demonstrations of noisy cars screeching their tires, spinning out and temporarily taking over quiet residential neighborhoods throughout the city: anarchic activity seemingly meant to rattle rather than entertain.
"Lowriders are a multi-ethnic, family-oriented group, " Mello says. "They contribute to the community. They're not only friendly but also eager to talk about their cars, which have been called rolling works of art."
Lowriders caught the attention of Gov. Gavin Newsom, who signed Assembly Bill 436 into law in October that now legalizes lowrider cruising across California. It had been banned since the 1980s.
The lowriders cultural phenomenon has even grabbed the attention of no less than the Smithsonian Museum. Mello says that when she learned that the national institution was creating its own traveling exhibit, Sacramento city councilmembers Katie Valenzuela and Eric Guerra, who is also the vice mayor, said, "Why are we waiting for them to tell us about our own culture? Let's do this."
It came together pretty quickly — which is what can happen when elected officials put the pedal to the metal.
A Life in Museums
- The delightfully named Delta Pick Mello, who's 63, might ring a bell for you, especially if you've been a devotee of Sacramento area attractions over the years. At the helm of the Sacramento History Museum for the past five years, she previously served for three years as executive director of the California Auto Museum, eight years with the State Railroad Museum and 17 years in leadership roles at the Sacramento Zoo. She calls her current job "the culmination of everything I learned working for other museums and attractions." She laughs lightly and adds, "This might be the first time I have a job and don't suffer from impostor syndrome. I really belong here and love it. "
- "Boulevard Dreams" is setting the stage for more adventurous shows on Mello's watch. On the horizon is a traveling exhibit called "Tattooed and Tenacious," a look at how the inker's art became a form of expression for high-born women in the Victorian age.
- Contrary to a popular misconception, the Sacramento History Center isn't a department of Sacramento City Hall. Just as the Sacramento Zoo broke away from city governance years ago, the museum is managed by a nonprofit — in this case, the Sacramento History Alliance, which also oversees the Sacramento Visitors Center, the enchanting Old Sacramento Underground Tours and the Living History Program.
– Ed Goldman
–
Do you know of any unique history, events, people or places for us to share in The Back Story? Email us at editorial@comstocksmag.com.