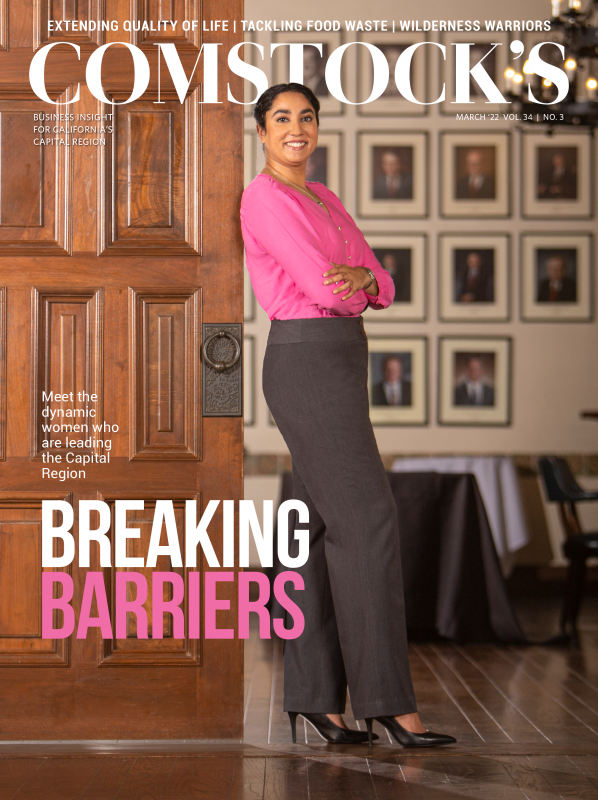 This story is part of our March 2022 Women in Leadership print issue. To subscribe, click here.
Isolation and uncertainty brought on by the pandemic have left countless families feeling trapped in a maelstrom of financial and domestic crises. Many women face homelessness after fleeing abusive situations and need individual services to address a web of complex issues. Capital Region organizations like Saint John's Program for Real Change and My Sister's House are lifelines for thousands of vulnerable women and their children, providing a holistic approach with crisis counseling, housing, supportive services and hands-on employment training. Both of these programs focus on culinary training, but the lessons learned extend far beyond the kitchen.
"Some don't know how to boil water when they first get here," says Tiffany Johnson, vocational trainer at Saint John's. The up-to-18-month rehabilitation and job training program teaches transferable skills and includes a range of services designed to help formerly homeless women achieve self-sufficiency. "So we start with the basics and work our way up from there."
Saint John's clients — as the program calls its participants — are provided mental health therapy, parenting classes, career education and job training through the program's social enterprises. The program may be best known for Plates Café, full-service restaurants co-founded in 2010 by former Saint John's CEO Michelle Steeb and Mulvaney's B&L co-owner Bobbin Mulvaney, but both cafes closed due to COVID-19 with no plans to reopen. The Midtown location was taken over by Pressed Record Cafe, and the program uses the south Sacramento location for catering jobs and monthly ticketed dinners with guest chefs.
Meanwhile, the organization's primary focus has shifted to Red Door Desserts, a gourmet cookie business. In addition to baking and kitchen techniques, women learn the ins and outs of order management, inventory control, packaging and shipping — skills that can be applied to work outside the restaurant industry.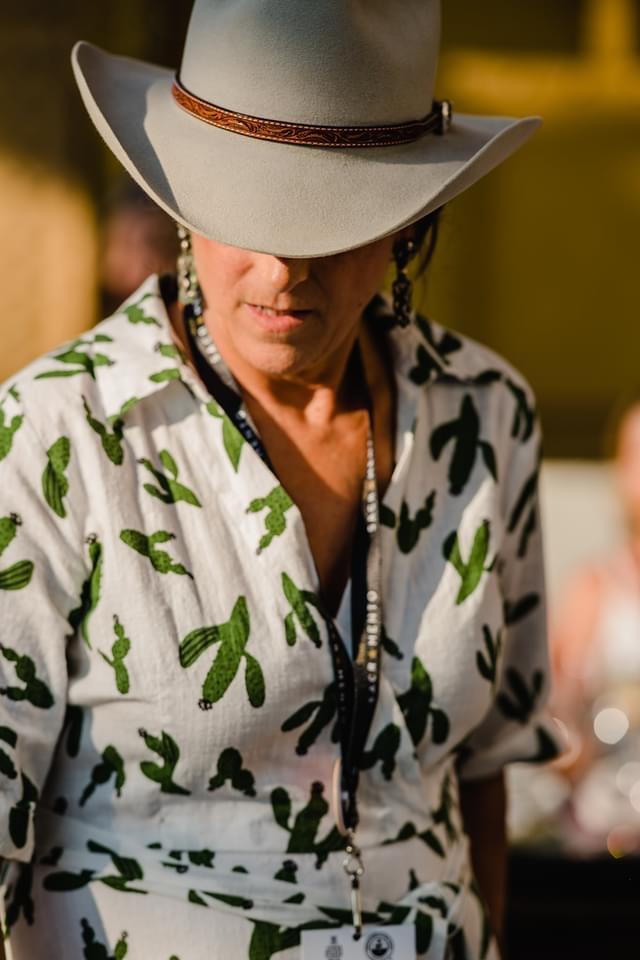 For a Q&A with Bobbin Mulvaney, co-founder of Plates Café, click here.

A typical participant has a history of drug use and domestic violence and little to no work experience, explains Nicholle Cox, food services and catering manager. "They come from living in tents on the river and sleeping in cars with their children. They tend to have some kind of a traumatic background that has been a barrier to them obtaining and maintaining employment," she says. Cox entered the program as a client herself in 2015 and continued as a volunteer before being hired as a catering lead in 2017.

"There are so many different aspects of baking and operating a business," says Cox. "We're also online and we ship nationwide, so it gives us a chance to expand quite a bit and reach out to people who have never heard of us." A signature red box inviting the recipient to "indulge and empower" contains a dozen cookies along with statistics printed on the inside flap about the women who participate in the program.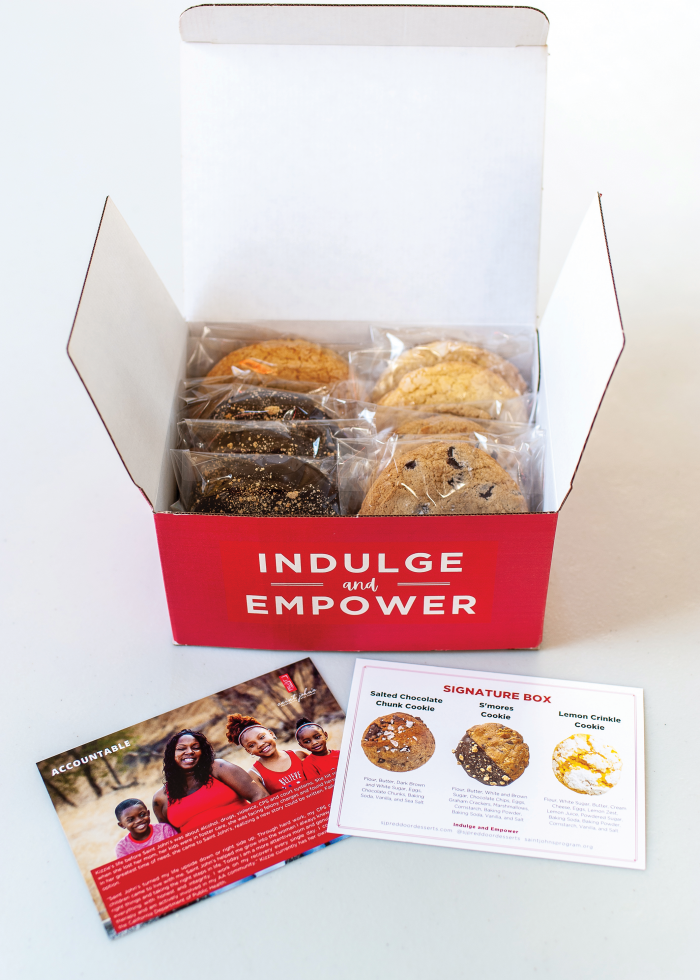 The program is voluntary, but sometimes court-mandated for women required to seek a program to help get them back on track and reunify with their children. After going through detox, they spend approximately four months learning the production process from the ground up. "We teach them what ingredients are, how to use a scale, how to read and upscale recipes, and from there we just create cookies!" says Johnson. Once they put in all their hours, they go into "job readiness," a five-week class that covers writing resumes, gathering references, sending applications and preparing for interviews. Then they are ready to enter the job market armed with their new skills.
Vocational trainer Deanna Spittles loves seeing the transformation that can occur in their clients from the time they walk in until the time they graduate. "Being able to teach them skills to make meals for their children, to bake with their kids at Christmas time, to just feel like they can put a meal or dessert together on their own," she says, "that's so rewarding."
"Being able to teach them skills to make meals for their children, to bake with their kids at Christmas time, to just feel like they can put a meal or dessert together on their own, that's so rewarding."

Deanna Spittles, vocational trainer, St. John's Program for Real Change
Seeing that kind of growth is amazing, agrees Nilda Valmores, executive director of My Sister's House, a nonprofit organization incorporated in 2000 that helps victims of domestic violence, sexual assault and trafficking. The shelter is open to all ethnicities but provides culturally appropriate services for the Asian and Pacific Islander communities. This includes a bilingual and bicultural staff providing various services: counseling, legal and emergency support, and job training for women whose first language is not English. The program also supports a "culturally-based desire to be independent," says Valmores. "That eventually evolved into creating a few social enterprises, including My Sister's Café."
Nestled close to the Downtown Commons area, My Sister's Café is a volunteer-staffed eatery that opened in 2014. The cafe serves breakfast and lunch and offers food with an Asian and Pacific Islander focus: think banh mi, ham sesame ginger wraps, roast beef wasabi sandwiches and Thai peanut salads. A full coffee and espresso bar beckons with specialty drinks like the Tuxedo Mocha (featuring both cocoa and white chocolate powder) and the Chunky Monkey Latte (shot through with banana, peanut butter and chocolate syrups). Volunteers are trained on a variety of tasks, like counting money, preparing food, handling the cash register and customer service, as well as some American expressions. These are transferable skills that can be used anywhere, says Valmores.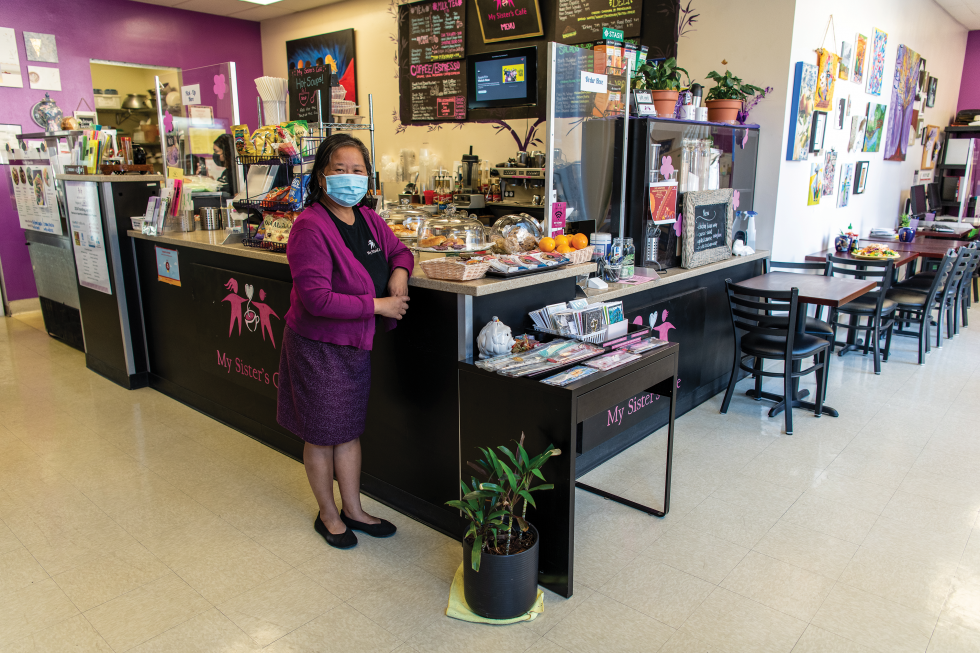 Food can play a powerful role in healing, she adds. "The phrase 'comfort food,' I believe, says it all. Most of us have memories of favorite foods and favorite smells which remind us of home," she says. "Often for immigrant families, that reminds them of culture and traditions and of home. Being able to do what you are used to is important to helping one feel safe and comfortable." But My Sister's Café isn't just about the food, she says. It's about building skills, confidence and independence.
"I'm proud to say we've had women go on to work at other restaurants as well as companies like Apple and Amazon," she says. Milestones like saving money to buy a car help women build confidence so they know they can do things for themselves. They typically aim to train about 10 people a year, says Valmores. "So if you were to judge this social enterprise by looking at numbers, we wouldn't do as well. But if you judge it by the change it's making for the women that we help, we're an A plus."
The cafe has managed to keep going through the pandemic thanks to the support of several organizations, including the Sacramento Kings Foundation, Sacramento Regional Community Foundation, the Women's Foundation of California and the California Partnership to End Domestic Violence. "During the hardest part of COVID-19 when people weren't coming, understandably so, I was so glad we were able to pivot with their help," Valmores says. "We were very lucky we were able to keep this place afloat and do the important work we were meant to do. Now we're excited to be able to hire and train more people."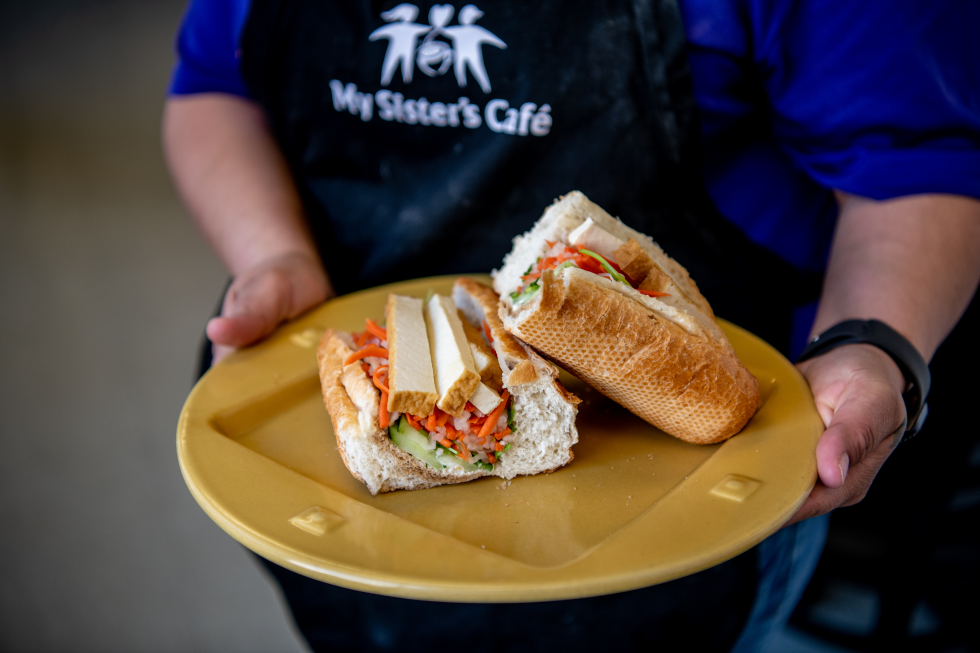 Future plans include reopening a second Capitol Mall location that opened briefly for a few months prior to the pandemic. A new retail shop, My Sister's House Treasures, recently opened on 10th Street in the former location of Sakura Gifts, a mainstay of Sacramento's Japanese community that closed soon after its 50th anniversary last year. "It's funny," says Valmores. "We have a newsletter, we've held galas and other community events, and yet sometimes social enterprises like the cafe are the first way many people learn about My Sister's House."
As COVID-19 continues to impact vulnerable families, Saint John's and My Sister's House will continue to provide services and opportunities for women to gain the confidence and skills they need to move on to better lives.
The smallest moments can be life-changing lessons at these programs. Megan, a client at Saint John's, remembers a time when she dropped a full tray of chicken on the kitchen floor. "I had just finished cleaning it for lunch that day when I felt the tray slip from my hand," she recalls. "It just shot my mood down." Seeing her distress, her trainer turned things around, helping her clean up the mess and find another option. "She helped me see that accidents happen, and they will happen. What matters is how you handle it."
–
Stay up to date on business in the Capital Region: Subscribe to the Comstock's newsletter today.