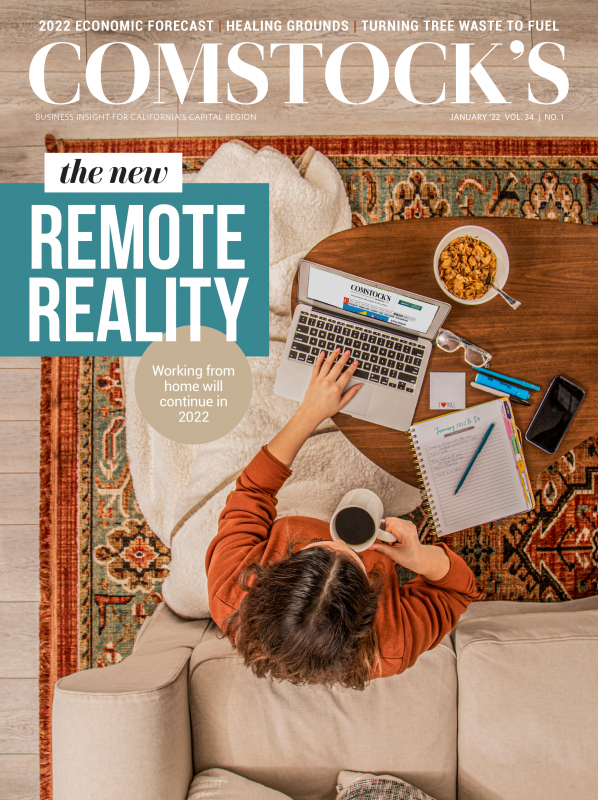 This story is part of our January 2022 print issue. To subscribe, click here.
Esperanza Ortis had always dreamed of owning her own restaurant. In a Japanese kitchen in Chicago, she mastered the art of food prep; at a taqueria run by Salvadorans, she learned to retain customers with above-and-beyond service; from her mother-in-law, she collected traditional Mexican recipes and garnished them with her own flair. Now, she operates out of an eatery on wheels — she says it's better than brick-and-mortar for those seeking freedom and less stress.
The name La Esperanza graces the flank of her truck, decorated with colorful piñatas on sale for any occasion. It's usually parked in the Sutter Hill Plaza shopping center near the intersection of Highway 49 and Ridge Road, the gateway to Amador County's wine country. According to Ortis, hers was the first taco truck to set up shop in the area, roughly 12 years ago. Since then, food trucks of all types have become a dependable staple in a region where restaurants are relatively few and far between.
For Ortis, the truck is a full-time lifestyle and a family affair. Her children grew up helping in every facet of the business, and her son, Francisco Ballagomez, now owns a taco truck of the same name in neighboring Calaveras County, in San Andreas. Ortis' husband and co-owner, Tomas Valentin, makes his signature salsa and takes orders at the window. Ortis remarks proudly of her husband, "He is always smiling at the customers. He knows every customer, and he knows what kind of food they like."
"(My husband) knows every customer, and he knows what kind of food they like."

Esperanza Ortis, co-owner, La Esperanza
Valentin has memorized many of their customers' favorites and works wonders alongside Ortis on the flat top stove. The pair often have regulars' food ready before they order. Another aspect of Valentin's role is coaxing those regulars outside of their comfort zone when it comes to trying something delicious, like Ortis' seasonal birria.
"They never had birria" before, Ortis says of her predominantly white customers, who may believe "Mexican food is only tacos and burritos." "No, we have a lot of good plates," she says. For the birria, she slow-cooks a bone-in beef stew with pineapple, apple, two kinds of chiles and her own secret blend of spices. The finished product is served steaming hot on a winter's day — full of flavor and hearty bites of meat.
Ortis also prides herself on her enchiladas and fajitas, though the most popular order is a carne asada burrito: "It's easy to carry, easy to eat, and easy to make," and many took comfort in the handheld meal during the pandemic.
"When you make work your passion, you don't get tired."

Esperanza Ortis, co-owner, La Esperanza
But the steady stream to La Esperanza still continued when restaurants reopened. Ortis credits that to what drives her and her husband to get up at 4:15 a.m. every morning, then hop on the truck: "When you make work your passion, you don't get tired. … I don't want much money. I just want a smile on the faces of the people who eat my food. It makes me so happy."
Fast family food
With its plethora of wineries offering the best parking spots in the California Shenandoah Valley, the food truck scene was catching on in Amador County well before 2020. The symbiotic relationship between wineries and mobile caterers provides an ecosystem in which food creators can stay busy without ever having to get on a freeway.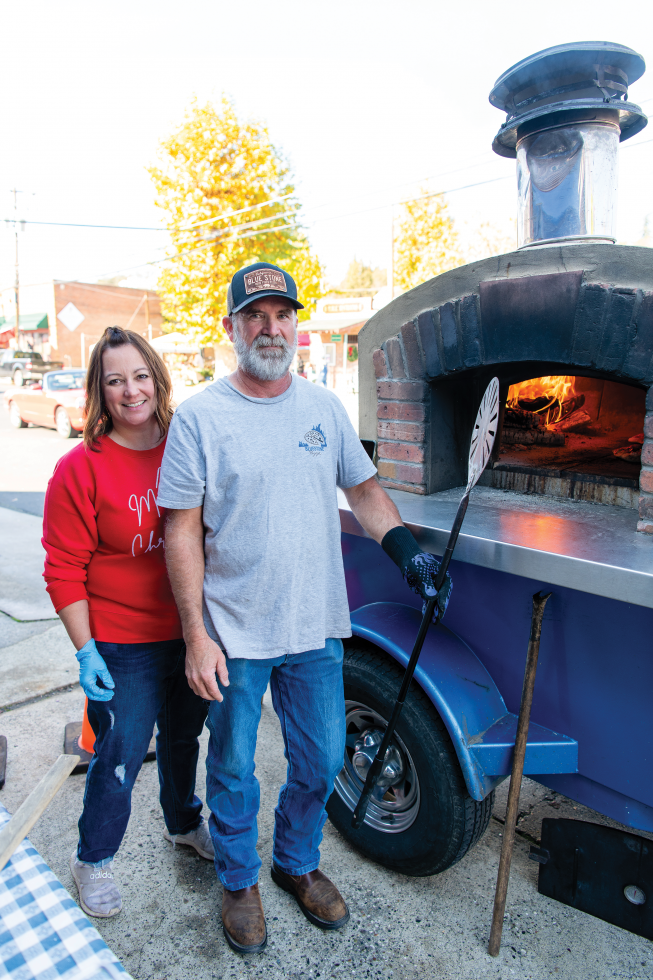 Yet perhaps the most steadfast supporter of these mobile businesses isn't a winery at all. Amador Brewing Company in Plymouth is a beer-lover's haven, situated among a sea of vineyards. It also offers an ever-changing array of food options due to its pop-up culinary experiences.
"Being where we are in the Shenandoah Valley, we're the first place you see and the last place you see on the way out," says assistant brewer Nate Wilsey. "If you're married, a lot of the guys don't like wine. They go to a couple wineries up there just to come down here and be stoked for the beer."
Many patrons also follow their favorite food trucks to the location, as Amador Brewing Company relies solely on vendors for food offerings during its Friday through Sunday taproom days.
Locally owned Blue Stone Pizza is a frequent feature at the brewery, rolling up to the outdoor seating area with a one-ton wood fire pizza oven heated at 800 degrees Fahrenheit. The outdoor pizzeria only started last March, when head chef Payton Slusser and her parents, Pieter and Amber Slusser, saw an opportunity to replace another local pizza company that had lost its mobile oven in an accident.
Already a well-oiled machine, Blue Stone Pizza relies on several high schoolers manning the production line. From ordering to oven-baked bliss, the process takes "seven minutes tops." Payton says it's the crust that sets her 10-inch pizzas apart — a slathering of olive oil soaks up the garlic salt sprinkled around the edges before going into the fire, creating a more decadent bite. Blue Stone's menu offers the classics as well as some unconventional combinations like pulled pork, barbecue sauce and pickles.
According to Payton, the pandemic poured fuel on the flames of non-service-based dining, but this new era doesn't seem to be dying down anytime soon. "I think everyone's just used to convenience," she says, adding that with eateries like hers and the popularity of food delivery services, the concept of "fast food" has expanded to new horizons.
The nick of time
The reputation of Taste Restaurant and Wine Bar precedes itself well beyond its Plymouth locale. Rated by Zagat as one of the top restaurants in America, Taste is multi-course fine dining rooted in the foothills where much of its award-winning wine list is sourced.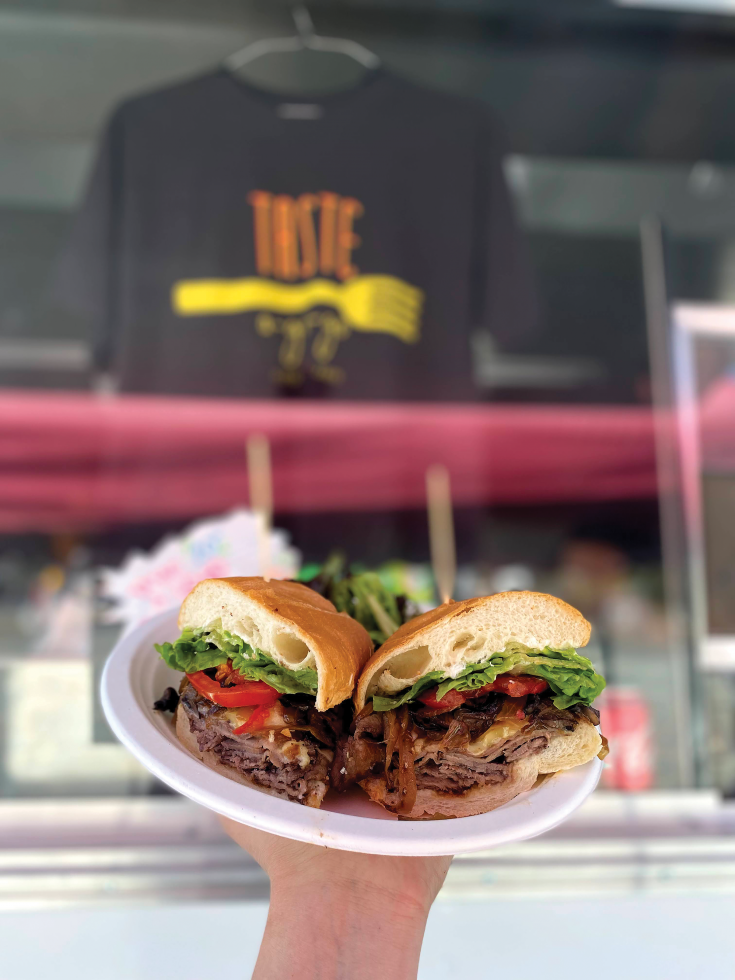 It was this connection with the wine region that drove B&E Hospitality Group, the parent company that encompasses Taste and several other establishments in Amador County, to commission a food truck. Taste a Go-Go was ready to set up shop at a local winery in spring of 2020, but plans changed that March when virtually all operations came to a halt, and pandemic shutdowns forced B&E Hospitality to lay off nearly 50 employees.
"When we got the food truck, we were able to bring back some of that team," says Tracey Berkner, co-owner of B&E Hospitality. By May 2020, Taste a Go-Go was parked at the corner of Highway 49 and Main Street in Plymouth, serving up casual comfort food beside the tasting room at Prospect Cellars. The "fresh and local mobile kitchen" continued to frequent that spot and others until November 2021, when the food truck went on hiatus to allow B&E Hospitality to focus on its newest addition, Taste Mobile Kitchen. Berkner says the new food truck will be parked at a to-be-disclosed winery and will offer wine pairings with "fun and classic" small plates that better reflect Taste Restaurant's gourmet seasonal cuisine.
"When we got the food truck, we were able to bring back some of that team (that we previously laid off)."

Tracey Berkner, co-owner, B&E Hospitality
With its range of eateries now providing full-service dining, counter service-only and mobile offerings, B&E Hospitality is well positioned to handle whatever trends may follow. "Every day, it's crazy. I can be jumping on the food truck on the corner, taking orders for burgers, doing social media and taking photos … then head over to Taste to open up a $100 bottle of wine for a multicourse dinner," Berkner says.
She emphasizes that her customers' needs differ greatly between venues. "While a lot of people are fine and happy they don't have that full interaction, there are people that really want that and crave it. They want full service at bargain basement prices," she says. "The cost of doing business has exponentially risen over the last year-and-a-half, and there are a lot of challenges that come with that. … You kind of have to adjust the business model to be able to continue."
–
Stay up to date on business in the Capital Region: Subscribe to the Comstock's newsletter today.