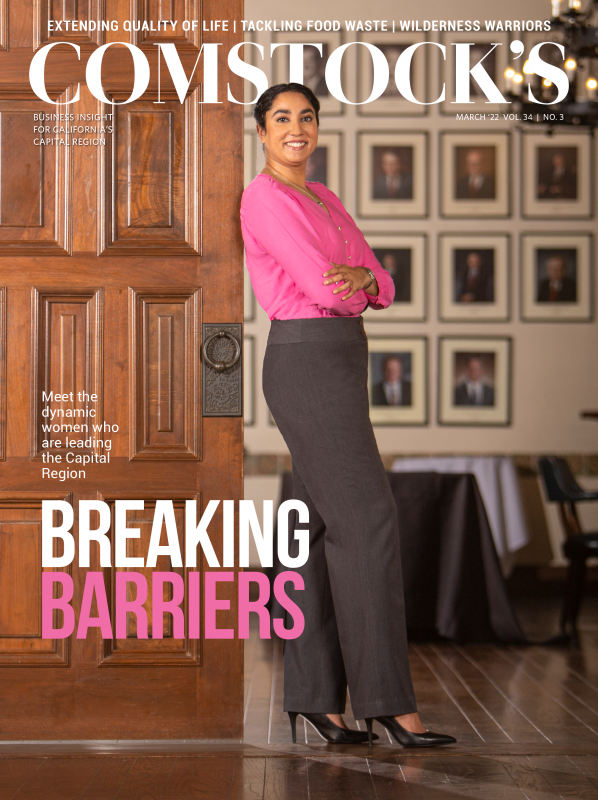 This story is part of our March 2022 Women in Leadership print issue. To subscribe, click here.
Bobbin Mulvaney's impact on the Capital Region goes beyond Mulvaney's B&L, the Midtown restaurant she co-owns with her husband, Chef Patrick Mulvaney. She is also a prominent supporter of local nonprofits and co-founded Plates Café, a restaurant and training program operated by the women's shelter and employment training program, Saint John's Program for Real Change. Both locations of Plates Café closed during the pandemic, but the program has transitioned to catering, ticketed dinners with guest chefs, and a mail-order cookie business, Red Door Desserts. Women who go through the program learn about order management, inventory control, packaging and shipping in addition to cookie recipes. We asked Mulvaney about her experience with Saint John's and her future plans to give back.
Can you tell me the story of how you got involved with Saint John's Program for Real Change?
I came to know Saint John's through a couple ways over the years. Over 20 years ago, my mother and I would donate "ditty kits" using our "gift with purchase" from our favorite cosmetic companies. We soon learned that giving makeup was not on the list of immediate needs, but we used the fancy bag with lotion, mirror and such, and would save fancy hotel shampoos, conditioner, body gels and soap. My mom felt that having something personal for each woman when they arrived at the shelter could ease the shock of it all. We know how peaceful it feels to have a hot shower.
We could do a half dozen or so a year. Once I mentioned it to a group of ladies in my water aerobics class and that group pulled together over 30 "ditty bags." I realized that people really wanted to help, they just need avenues, and if I could share my passion maybe it could inspire others to find their own way to help. I felt so blessed four or five years ago when a social-professional group I belong to, Les Dames d'Escoffier, began a scholarship program to support graduates on their new beginnings, and a pajama drive at Christmas.
What was the spark that led to Plates Café? Where did the idea for this program come from?
I was having lunch with Tina Reynolds from Uptown Studios — she eats, drinks and breathes social equity. I was talking about growing up in a 24-hour cafe in the Central Valley and how we always had a stream of "drifters" — they were there until they weren't — or folks just needing a little opportunity. Yes, washing dishes by hand in a three-part sink was opportunity.
I could see the way my folks talked with them and encouraged them that it helped their world and hopefully gave them confidence when they moved on. Tina said, "You must meet Michele (Steeb, then-director of Saint John's Program for Real Change)." She wanted to open a workforce training restaurant. Michelle and I met over lunch and knew we were on the same page. She discussed it with her board, and even though restaurants are a high-risk business, the board was forward-thinking and approached the project with an entrepreneurial spirit, supported by the board's individual business experiences.
What are some accomplishments you're especially proud of from your time with Saint John's culinary training program?
Actually, what I'm most proud of aren't my accomplishments — they are the women who have made the tough choices to change their environments, relationships and lives to make a better future for their children. It's not an easy program, and I'm really proud of them. It feels awkward to say I'm proud of SJP for their ability to care for and assist 475 (women and children) served last year.
And for expanding the program to include a reentry/parolee program, Custody to Community Transitional Reentry Program, running strong. (Saint John's manages the Sacramento branch of this statewide program under the California Department of Corrections and Rehabilitation.) Fifty inmates (who are) on the last two years of their sentences (are) transforming their lives through our programming. The program gives them the opportunity to build healthy relationships with their children they have been separated from and to find their place in our society.

Can you think of any specific success stories that came out of the program?
Without naming names, I had the opportunity to meet and work with a very energetic mother of five. She came into the shelter on Christmas Eve, knowing that she was scheduled to spend a few weeks incarcerated. She was desperate but was able to see that by being honest with her situation, that others could help.
Saint John's realized that the oldest child was turning 18 before her mother was scheduled for jail. So the staff worked on helping get the oldest child custody of the younger, so they could stay in the shelter together without getting split into foster or institutional care. She paid her dues and finished the program. She worked for our company and was well-loved by other staff and guests alike. She was able to get on her feet and has made a good future for herself and her children. She has since moved out of state to be closer to her aging mother but sends occasional updates. We love when the ladies from the program stop in to say hello!

Why do you think this work is important?
Honestly, because it gives the women time and encouragement to work through their roadblocks. To hold them accountable and give them purpose. Originally, I wanted a faster culinary training program, but learned that it takes time to make real change.

How did it feel when the two Plates Cafés closed?
Restaurants have a lifespan, and I could see that Plates two could only support three or so women. I'm excited about what the board has come up with — a mindful shift in the Plates business, from restaurant to catering and expanding Red Door Desserts.

How else do you give back to the community now, and how do you plan to continue to do so in the future?
Of course, food is important to me and most of what I do is influenced by it. I am also available to the Salvation Army Culinary Program, another awesome board. And I enjoy being on the board for the Ag in the Classroom Foundation, working to educate 1.2 million California school-age children K-12 for $0.67 per student. Teaching the basics about our food and where it comes from, from the farmer and food produce and agriculture professionals.

Edited for length and clarity.
–
Stay up to date on business in the Capital Region: Subscribe to the Comstock's newsletter today.