More than 74,500 Afghans have been given permission to live in the United States since the Taliban returned to power in Afghanistan in August 2021. Sacramento is a major destination for these displaced families. The city has been a prominent site for Afghan refugee resettlement for over a decade; since 2011, nearly 12,000 Afghan refugees have come to the Capital Region, with many concentrated in the Arden Arcade area. According to Lisa Welze of the International Rescue Committee's Sacramento office, 800 refugees were resettled in October 2021, and 200 families are expected during the next six months.
City and county governments are mobilizing to meet the needs of these new refugees. "Many refugees who fled Afghanistan late last year settled in District 3 in Sacramento County, and my priority is to ensure they can connect to the county and other resources they need upon their arrival," says Sacramento County Supervisor Rich Desmond, noting that the county website has a page detailing refugee resources. "I continue to embrace the County's new residents who have decided to resettle here and make our community a richer place."
A spiritual and emotional support system
Local nonprofits are also working to welcome the new arrivals. One of these is the Arab-American Learning Center. The AALC is a Christian faith-based organization located on Eastern Avenue, in the heart of the Afghan refugee community. The directors of the AALC are Pastor Raed Awabdeh and his wife, Minar Awabdeh. The couple has been operating the center since its founding in 2004.
The Arabic Church of Sacramento is the host entity for the nonprofit, which provides counseling, English classes, document interpretation and processing, child care, food distribution, and transportation for the area's refugee population. In 2021, the AALC served approximately 2,000 refugees from countries including Syria, Iraq and Afghanistan. The new preschool has around 45 children in weekly attendance and offers employment opportunities to the community.
"Our church believes that it cannot be contained by four walls. It must reach out to the entire world," says Raed Awabdeh. "We could see that refugee populations were being settled all around us. For this reason, we founded the Arab-American Learning Center." Awabdeh is a Syrian immigrant who came to the U.S. to study engineering in 1972. He left engineering to join the ministry, with a unique perspective on helping immigrants and refugees. In 2018, his church obtained a former school property that allows it to house community and humanitarian programs. "We want to offer the refugees a new home in a new land. We want our church to be that home. We need to give them a spiritual and emotional support system," he says.
The AALC recently launched a youth sports program, developing an on-site soccer field. In order to expand services, the AALC is seeking more volunteer support in language training, child tutoring, transportation and document preparation. Volunteers are asked to provide at least two hours per week on a long-term basis.
Steps to self-reliance
The Tarbiya Institute, an Islamic religious, educational and community organization based in Roseville, offers refugee support and assistance through its chaplaincy and other programs, including the Lend a Hand Refugee Initiative, informational sessions on adopting Afghan orphans and more. Ali Beshnak, a chaplain volunteer for the organization whose family came to the United States as refugees from Palestine via Syria, says that the greatest contribution the chaplaincy provides is mentorship. He feels that new refugees need support and advice on how to navigate the complexities of accessing housing, transportation and employment. The Tarbiya Institute also serves as a local hub for Islamic organizations that help refugees, such as the Sacramento-based Refugee Enrichment and Development Association and Al-Misbaah (The Lantern) in Elk Grove.
"I have been working with volunteers to deliver furniture and household goods to refugees without transportation," Beshnak says of his recent work with Al-Misbaah, which he encountered through the Tarbiya Institute. "The volunteers with me questioned the validity of the donation. When we arrived, we offered to set up the furniture. We entered and found a family of ten, eight who were children. They were sleeping on a concrete floor using plastic bags of clothing as their pillows. The teenage son, who had been an army translator in Afghanistan, told me they had been in the U.S. for eight days. The volunteers immediately went to a discount store and purchased bedding and household goods. Many refugee families can not access government financial assistance for up to 60 days. Al-Misbaah steps up and meets the emergency needs."
Beshnak says refugees benefit from one-on-one mentors who help coach them toward independence and self-reliance. He is very proud of a family he mentored on job seeking and saving toward a home purchase. He recently saw that goal fulfilled and celebrated with the family.
The Afghan business community steps up
One way immigrants may build a new life is through entrepreneurship in the Capital Region's small business community. Naseer Roshan is a prime example of this path. His family, originally from Afghanistan, immigrated to the United States as refugees in 2007, when Roshan was 10 years old. He went to college at Sacramento State and graduated with a degree in philosophy in 2018. In 2019, Naseer and his sister Farhad opened the restaurant Madar in Arden Arcade. Madar, which translates as "mother" in Persian, fulfilled their mother's lifetime dream to own a restaurant.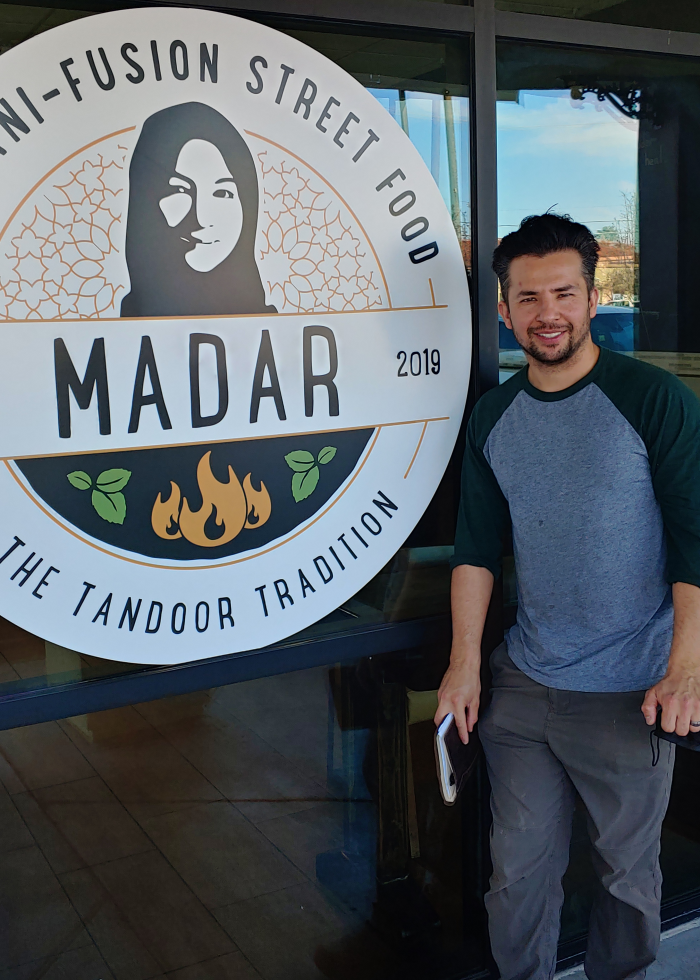 "When we immigrated, we had friends and family to help us," Roshan says. His family lived in Iran and Uzbekistan after leaving Afghanistan but saw better opportunities for citizenship and education in the U.S. "The type of assistance we had in 2007 is not available now," he adds. "The need is much greater and no one organization can meet all the refugee needs."
Madar now employs around ten people and is working with the nonprofit Asian Resources Inc. ARI provides refugee resettlement support, job training and health care enrollment assistance. "We recently hired a refugee woman who had no previous work experience," Roshan says. "ARI provided her training and we placed her in an entry-level job. She has worked so hard and learned all aspects of my business. I think she will be capable of managing the restaurant someday."
–
Stay up to date on business in the Capital Region: Subscribe to the Comstock's newsletter today.