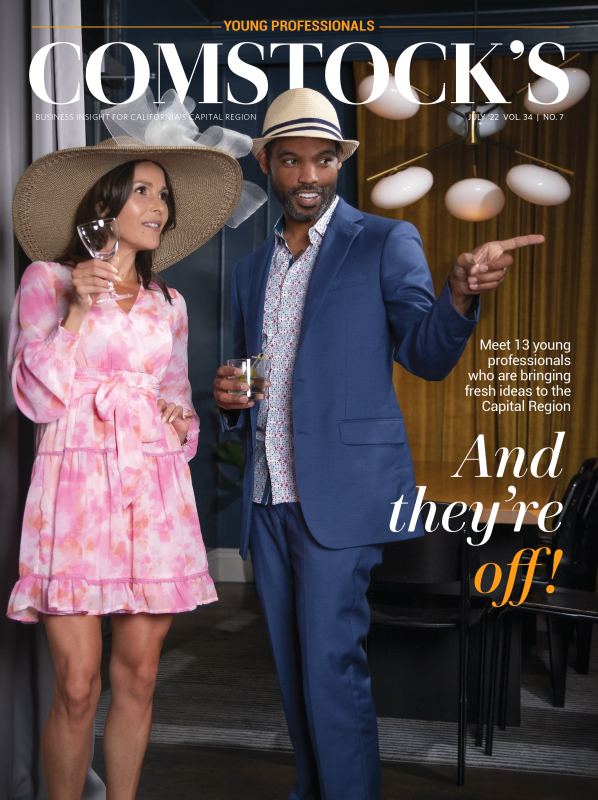 This story is part of our July 2022 Young Professionals print issue. To subscribe, click here.
Somewhere under the black-topped tent run by Mak & Grille, a vendor that's been at Sacramento's Midtown Farmers Market since April, lies a tray of cold noodles glossed in Thousand Island dressing. Raw vegetables, cubes of boiled egg and vegetarian Vietnamese-style meatloaf nestle in its tangles. The ingredients may seem incongruous, but the result, brightened with herbs and tart tamarind, is harmonious as a fugue.
This is no fusion contrivance; it's Iu Mien glass noodle salad, a dish with deep roots in Sacramento that chronicles the Iu Mien people's migration from Southeast Asia to the United States following the Vietnam War. Once made with the sparse ingredients available in the mountains of Vietnam and Laos, the dish accumulated American ingredients like salad dressing and bacon bits after Iu Mien refugees, many of whom aided U.S. troops, arrived in this country. Mak & Grille co-owner Ashlee Mak is Iu Mien, part of a population roughly 15,000 strong in the Sacramento area, and her business is the first in the region to share this cuisine with the broader community.
Mak & Grille is one of three recipients of the 2022 Street Food Sacramento grant, a program operated by the Midtown Association (the nonprofit behind the Midtown Farmers Market) intended to help the business district and the thriving Saturday market better represent the city's diversity. The grantees receive services the organization values at about $11,250 per business, including free booth space at the market for one year, logo and menu designs, social media support, technical assistance, and access to mentors and workshops.
The Street Food Sacramento grant offered Mak & Grille "our chance to show the city what Southeast Asian fusion food could look like," says Ashlee. She and her husband, Hong Mak, and his brothers Minh and Yen (who are Chinese and Vietnamese) planted the seeds of their business in 2020 with a hot sauce inspired in equal parts by American barbecue and Southeast Asian sambal. Once sold through Instagram drops, their sauce is now available at their farmers market booth, along with Chinese, Vietnamese and Iu Mien hybrids like banh mi-style sausage dogs, chicken sliders scented with lemongrass, and vegan egg rolls like those Hong's mother makes every year for Lunar New Year. Though optimized for farmers-market eating, the core recipes carry memories of temple ceremonies and family barbecues.
'Truly authentic to Sacramento'
Emily Baime Michaels, executive director of the Midtown Association, says that the lack of Iu Mien restaurants in Sacramento was one of the reasons that the grant committee chose Mak & Grille; all three grantees serve regional cuisines that are not yet represented in Midtown. Other factors included compelling stories and the business owners' efforts to create what she calls an "authentic voice of Sacramento." A native of San Diego, a city with a robust and longstanding street food culture, Michaels has seen what street vendors can achieve for themselves and their city when they scale.
"My hope is that this begins to model that you can have a street food culture in a way that's appropriately regulated, but it's truly authentic to Sacramento."

Emily Baime Michaels, executive director, Midtown Association
"My hope is that this begins to model that you can have a street food culture in a way that's appropriately regulated, but it's truly authentic to Sacramento," she says. "It doesn't have to be the same bacon-wrapped hot dog that you eat outside of every nightclub. It can be beautiful homemade tortillas, it can be smoked beef cheek; it can be all of those things that are very real to the folks that are part of Sacramento."
Grantee Fernando Ponce began his street food career among those ubiquitous hot dog vendors. Beginning in 2019, he ran a taco stand at the corner of 20th and K streets that did its best business between the hours of 1:30 and 2:30 a.m., when partygoers would spill from the nightclubs. "There were like 20 hot dog stands, and then I was the only one doing tacos, so I used to have good sales," he says. "Then COVID started, and I stopped doing that."
Instead, he opened his own restaurant. Ponce's Chido Restaurant in Northgate focuses on Mexico City-style seafood — think tostadas piled with ceviche, head-on prawns tossed with biting chile piquin and Parmesan cheese, and cacophonic cocktails of chilled shellfish with names like "vuelve a la vida" (come back to life). These are the kinds of dishes one might find at Mexico City's sprawling La Viga seafood market, where Ponce worked at his father's fish processing business before he immigrated to the United States. The restaurant soon acquired fans at the Sacramento Hispanic Chamber of Commerce, who encouraged him to apply for the grant.
At the Midtown Farmers Market — on the same intersection where he once hawked carnitas to clubbers — Ponce serves shrimp, octopus and fish tacos cooked to order, finished with splashes of smoked chipotle salsa that sizzle on the grill. He sold out of everything half an hour before the market closed at his first event in April. "It feels great when somebody tells you your food is great," he says. "You don't hear that much when you're doing it by a nightclub and everybody's already drunk." His market presence is already driving traffic to his restaurant, where he hopes to introduce Sacramento to more region-specific Mexican cuisine than is currently available in town.
'Nothing really quite like ours'
Not far from Ponce's tent, fellow grantee Geronimo Escobar of Steady Smokin' BBQ is turning out tacos from a far divergent branch of Mexican cuisine. A cloud of mesquite smoke wafts from his Texas-style smoker, sweet as cinnamon, blending with Ponce's volatilized chipotle. The smoke permeates the brisket and beef cheeks that Escobar mounds on handmade corn and wheat tortillas. The latter, made with tallow rendered from the smoked beef in place of the traditional lard, also carry the scent of mesquite.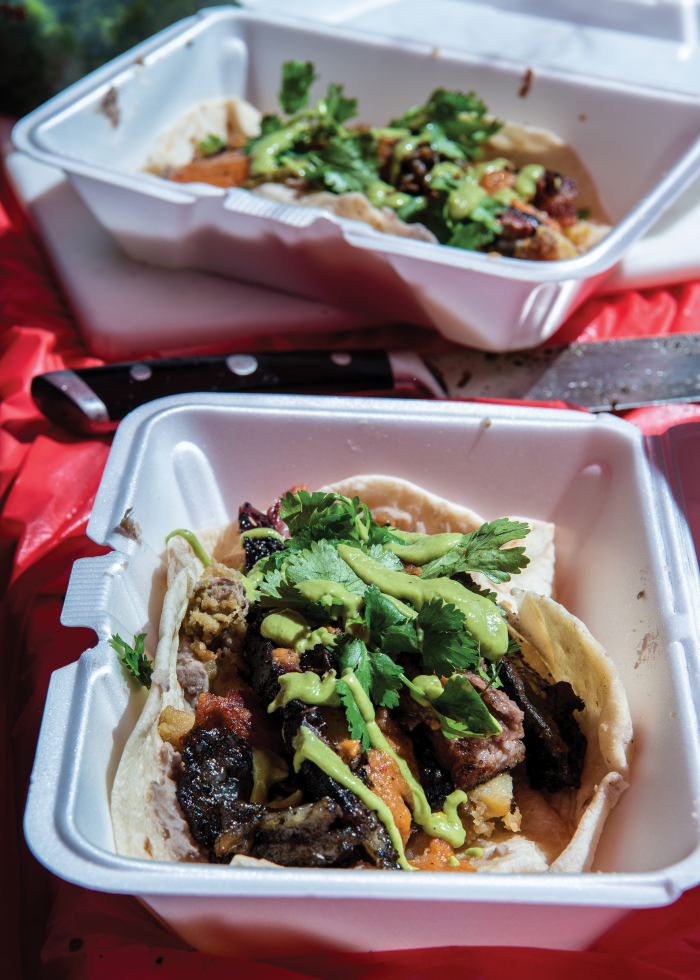 Escobar and his girlfriend Stephanie Rios, who makes the tortillas, were both born in Sacramento but have roots in New Mexico, home to a centuries-old taco tradition with influences from Pueblo and Spanish cuisines as well as later infusions from the American South. A welder by trade, he began building barbecue pits and honing his pitmaster skills as a hobby. Later, he was accepted to the Alchemist Kitchen, a food business training and accelerator program operated by the nonprofit Alchemist CDC, and applied to the grant through the organization.
Rios and Escobar dream of opening a brick-and-mortar restaurant on Franklin Boulevard, the historic core of Sacramento's Mexican community and home to some of its oldest Latino-owned businesses. Street Food Sacramento connections may help; the Franklin Neighborhood Development Corporation is one of the program's technical assistance partners. "There's a lot of Mexican food there, but nothing really quite like ours," Escobar says. "I think it'd be a good addition to the area, and everybody around would like it."
Rethinking the framework of street food
Steady Smokin' BBQ's tacos are topped with salsas pounded in a stone molcajete, but those who prefer more spice may want to stop by Celine Callejon's nearby tent to pick up a bottle of her Puerto Rican-style hot sauce, Épicée. Callejon was a member of the first cohort of Street Food Sacramento grantees last year, when the program was only open to graduates of the Alchemist Kitchen. Her free year at the market ended in April, but she decided to pay to stay on.
Among the three 2021 grantees, only one, Boone's Red Onions, is no longer in business due to its owner's move East. The third, La Minerva, is still serving its birria with consomme and sauce-drowned tortas ahogadas at the Midtown Farmers Market every Saturday. Callejon says her support from Street Food Sacramento and Alchemist CDC was essential to her success, though she recognizes that these competitive programs can only serve a tiny fraction of the Capital Region's diverse aspiring entrepreneurs.
But Michaels of the Midtown Association says that the three grantees per year aren't the only beneficiaries of Street Food Sacramento. The program can serve as a sandbox for the city to rethink the regulatory framework for street food and its place in the region's economy and identity.
"Sacramento needs to recognize what treasures these small businesses are and how unique it is what they're offering to us," Michaels says. She adds the city should consider ways for vendors to sell outside of events without impacting surrounding businesses or creating safety issues, and that local grocers should become more open to stocking vendors' packaged items, a move that could contribute to vendors' long term success.
The Midtown Farmers Market is the right place for this kind of supportive sandbox, Ashlee of Mak & Grille says. "Music in the air, people are happy, it's their Saturday morning; there's just not a negative feel when you're out in the market," she says. "And it aligns so well with what we want to do with our business."
–
Stay up to date on business in the Capital Region: Subscribe to the Comstock's newsletter today.