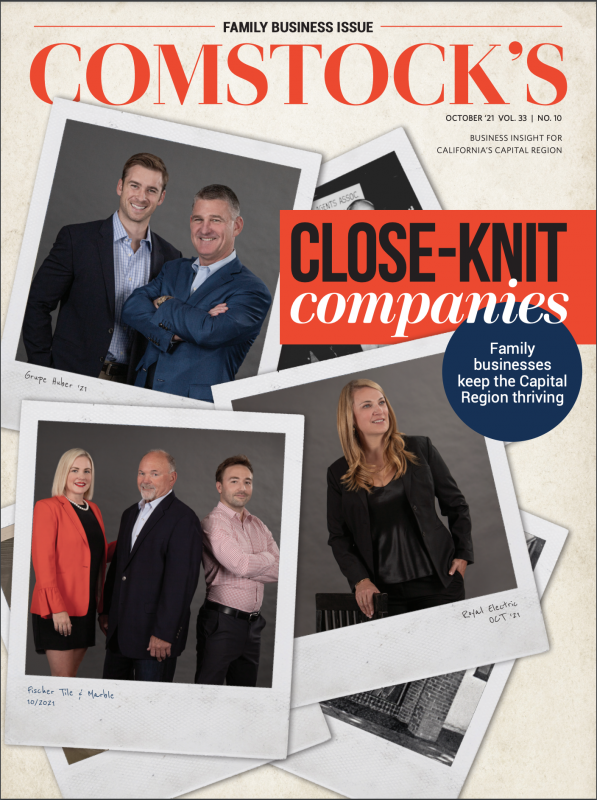 This story is part of our October 2021 Family Business issue. To subscribe, click here.
Albert Davalos is training one of his nephews how to cook the family recipes at El Novillero Restaurant, a fixture on Franklin Boulevard in Sacramento for 51 years. The food won't go out unless it tastes the same as the dishes served since day one. "He's always in the kitchen learning. My nephew has made every dish so far and no one's noticed that something's different," says Davalos, who has been a cook at the restaurant since it opened in 1970.
In the kitchen, a big pot of fresh tomatoes that will be used for sauces is stewing on the stove. On another burner, Davalos stirs a vat of pork being rendered into lard. He's a big fan of lard, a key ingredient to the flavor of their food that has had customers coming back for decades.
"My mother was a fabulous cook," Davalos says. "The recipes are not written down and they're not measured. Everything is in the palm of our hands. We use the palm as a measure and certain cups."
Restaurants often generate loyal customers, those that cherish the comfort and consistency that comes with recipes and techniques passed from one generation to the next. This dedication to the past allows some family restaurants in the Capital Region to survive through the decades.
Humble Beginnings
Tim Canevari, owner of Stockton's 103-year-old Genova Bakery, also understands the importance of care in preparation that allows a business to flourish long term. "We bake our bread every night. We don't sell day-old bread and our bread doesn't have preservatives," Canevari says. "It takes time to make it. You just can't throw flour, salt, water and yeast in there and have it ready in an hour."
Genova Bakery is like a slice of Italy, hearkening back to 1918, when Angelo Rolleri, originally from Genoa, Italy, opened the business with two partners. The bakery is still housed in its original location, designated a historic landmark by the City of Stockton in 1985. Salami, mortadella, roast beef and sausage fill the deli cases from Molinari Delicatessen in San Francisco, alongside the provolone, Swiss and buffalo cheddar cheeses.
Club Pheasant in West Sacramento knows about consistency, as well. The 86-year-old family-owned restaurant still makes many of the same Italian and American dishes since it opened in 1935. Founder Luisa Palamidessi created the spaghetti sauce and handmade the ravioli. Although she passed away in 2000, Club Pheasant still makes about 7,000-8,000 ravioli each week. Its garlic steak sandwich runs a close second in popularity.
"I order probably 300-400 pounds (of steak) a week," says owner Peter Palamidessi, Luisa's grandson. He adds that their fried ravioli is almost as popular as the regular ravioli with sauce.
Club Pheasant's building was built in 1912 on what was originally an agronomy lab used by UC Davis to test soil and farming practices. Luisa and her husband, George Palamidessi, bought the building and surrounding 10 acres of land in 1935 where George farmed alfalfa, tomatoes, corn and sugar beets. Luisa and her daughters started cooking for farmers who stopped at their modest gas station and soon turned the building into a restaurant. Most of today's dining room, bar and kitchen are part of the original building. An additional room, dubbed the Luisa room, which includes a portrait of its founder and namesake, was added in 1977.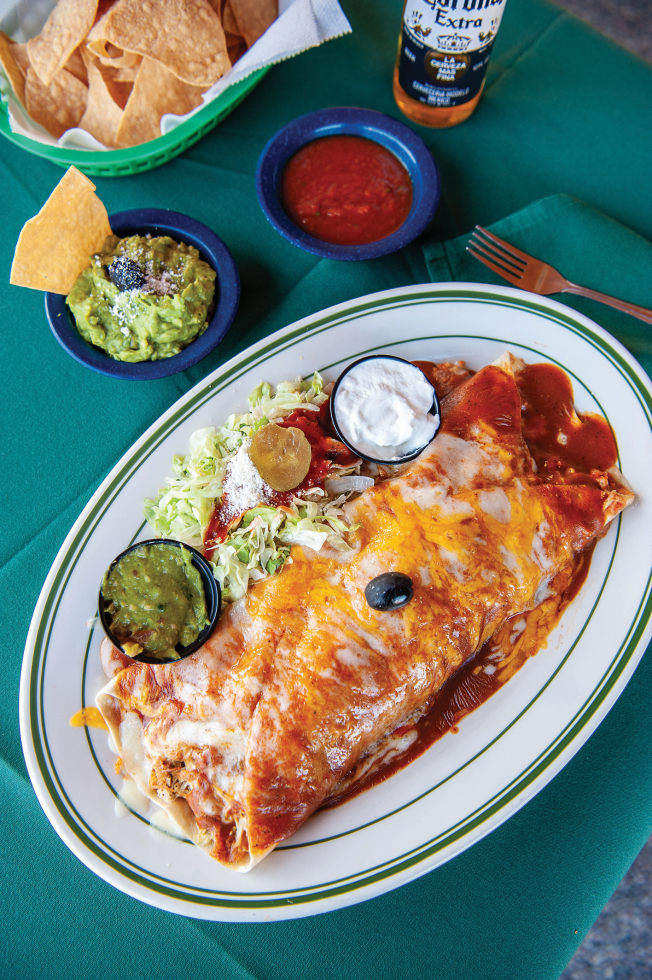 El Novillero has also seen changes since its early days. It was an abandoned and boarded up burger joint when Albert's father José first set eyes on it in 1970. He owned several businesses in the area including the El Matador Club next door, but it had little parking so he bought the run-down building and parking lot and turned it into a 28-seat Mexican drive-up restaurant serving authentic food from a counter on tin trays.
His oldest son, Joe Davalos, was about to graduate high school and had no plans. So his father said, "I know what you're going to do. I'm going to put you in business." He put Joe in charge, with two of José's five children doing everything from washing dishes to cooking and waiting tables. The restaurant's name, El Novillero, translates to "The Apprentice Bullfighter," a reference to José's intent for his son Joe to carry on the family legacy.
From One Generation to the Next
Today, stepping into El Novillero, a customer is immediately met with images of the Davalos family history. The three brothers who run the restaurant — Joe, Bobby and Albert Davalos — are grinning in their cowboy hats and jeans from a framed childhood photo. A large portrait of the family's patriarch and matriarch — José and Esperanza Davalos — hangs in a dining room that seats 180 people.
"(What) people care about the most is that they want to go somewhere where they know they're going to get the same food every time; have consistent food come out of the kitchen," Albert Davalos says.
Genova Bakery prides itself on its bread, providing the best of both old-world tradition and updated methods. Compared to the bakery's original output, growth and technology have allowed Genova to employ 15 bakers who pack the shelves and display cases with 200-800 loaves a day of crusty French bread, bundles of ciabatta, sourdough, Dutch crunch, and wheat and milk rolls. Still, it follows recipes that have been passed down over time, with an emphasis on its original high standards.
"(What) people care about the most is that they want to go somewhere where they know they're going to get the same food every time; have consistent food come out of the kitchen."

Albert Davalos, co-owner, El Novillero
"We're not going for the cheapest price," says Canevari, who purchased Genova from the Rolleri family in 2004 after coming on board as a baker in 1992. "It's got to be reasonable on price, but it's got to be quality. We're going for quality."
Continuity is also key at Club Pheasant, thanks to a cook who has been working there for 52 years. Serena Jorge is 82 but still is in the kitchen every day, cooking up the ravioli and sauce that has kept customers coming back for four generations. "She can cook circles around anyone here," says Palamidessi. "She's phenomenal."
All of Canevari's family members have worked at Genova, from his daughter Morgan Canevari, and wife, Patty Canevari, working the cash register, to sons Mark and Mathew Canevari helping out. Canevari's dad David Canevari is the store's repairman, fixing squeaky hinges on the century-old building and mending the screens on the store's double doors.
What keeps the Canevaris going with Genova? "What I like about it and maybe it's the Italian in me: I like feeding people. I'm happy people enjoy our products," Tim Canevari says.
"Maybe it's the Italian in me: I like feeding people. I'm happy people enjoy our products."

Tim Canevari, owner, Genova Bakery
Club Pheasant is now on its fourth generation: Peter Palamidessi's daughter Jennifer Palamidessi is helping run the restaurant. (Her daughter, Ava, a high schooler, sometimes helps bus tables.) But Peter, 68, has no plans to retire soon as he helps his daughter prepare for the restaurant's future. He's grateful for all the family members who came before him, especially grandma Luisa, who gave Club Pheasant a lasting presence in the community. "She gave us a legacy to live up to. We continue to learn from the other generations," he says.
As for El Novillero? The Davalos brothers are in their 60s now but have no intention of retiring, though Joe's son, dubbed "Joe the Third," will eventually take over the management reins. Just about all members of the Davalos family have worked at El Novillero, including the children of the three brothers.
The elder Joe Davalos, the owner, is at the restaurant every day and according to his son, hasn't taken a vacation in years. "We're (all) going to continue until we can no longer work," says Albert. "There's no retirement in the restaurant business."
–
Stay up to date on business in the Capital Region: Subscribe to the Comstock's newsletter today.