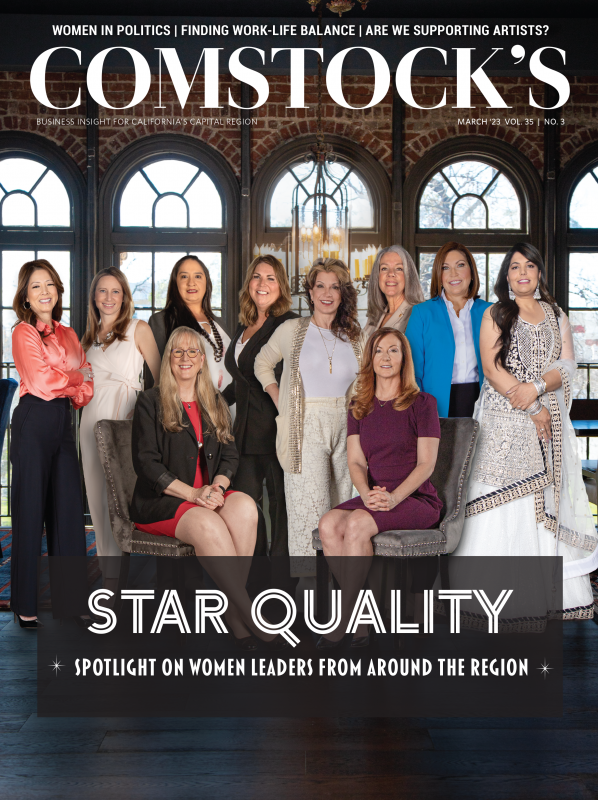 This story is part of our February 2023 print issue. To subscribe, click here.
Risa Omega
President and General Manager, ABC10
Risa Omega was a go-getter early on. Born in Walnut Creek, she was a communications major at UC Davis and wanted to work in advertising. While still in college, she talked her way into an unpaid internship at a Sacramento ad agency that led to a paid position as a receptionist. She was exposed to the world of sales and marketing and loved it.
She eventually went to ABC10 in 1990 as an account executive, chasing sales with a phone book and a rotary phone and working her way up to director of sales. She was named the president and general manager in 2016 and celebrated her 33rd year with the Sacramento media company this January. "It's pretty unique that my career has all been in this particular building. This company has been good to me and I'm incredibly loyal."
Omega oversees 140 employees and is responsible for every aspect of the news station's efforts, including overseeing the news department, business and sales operations, marketing and community impact initiatives. "The buck kind of stops with me here when it comes to running the operation."
Her work and the efforts of her team have paid off. ABC10 is currently the most-awarded newsroom in the Capital Region, winning five prestigious Edward R. Murrow awards, multiple Emmys plus special achievement honors for overall excellence. This was the culmination of a plan the station set in place six years ago by starting an investigative news team to dig deep into stories, such as wildfires caused by PG&E and flaws in the state's conservatorship system.
"I don't really know that there is such a thing as work-life balance. … It's an ever evolving dance, so to speak, to find that balance." ​

Risa Omega, President and General Manager, ABC10
"We really wanted to find something that we can dig our feet into and have a really big impact and meaningful way with our community," she says, adding ABC10 has raised nearly $1 million for local food banks.
Omega says her parents instilled in her a philosophy of "hard work and working smart." Her father told her "don't ever think you're better than the next, Risa." She followed her father's advice. "I'm not the smartest person in the room, and I'm OK with that. I think what makes me a good leader is that I surround myself with smart colleagues and empower them," she says. She also strives for a diverse newsroom that reflects the community. "Not just ethnic diversity, but diversity all around. It's age, cultural. It's a lot of things."
ABC10's motto is "We Stand for You." "We really try to live our North Star and live our brand internally and externally. … It means giving a voice to the voiceless and trying to be a catalyst for positive change." She says the most challenging time in her career was trying to run a newsroom during the COVID-19 pandemic. "We had to navigate the unknown."
Omega, who's married with three grown children, treasures quality time with her family. "I don't really know that there is such a thing as work-life balance. It's a give and take, right? It's a constant. You're never 50-50 balanced. And so I know enough to get it where I can get it and give it back when I have to give it back. It's an ever evolving dance, so to speak, to find that balance." ​
She also relishes her free time by doing the 5 a.m. workout at Orangetheory five days a week and the 7:15 a.m. class on weekends. "That workout for me is kind of how I get on track for the day and get a right mindset. It keeps my sanity," she says. She also serves as a board member of the Asian Pacific Chamber of Commerce.
As for her role as the leader of a Sacramento media company: "I learn something new every day I come to work. That's what keeps me excited, challenged and motivated."
–
Get all the stories in our annual salute to women in leadership delivered to your inbox: Subscribe to the Comstock's newsletter today.