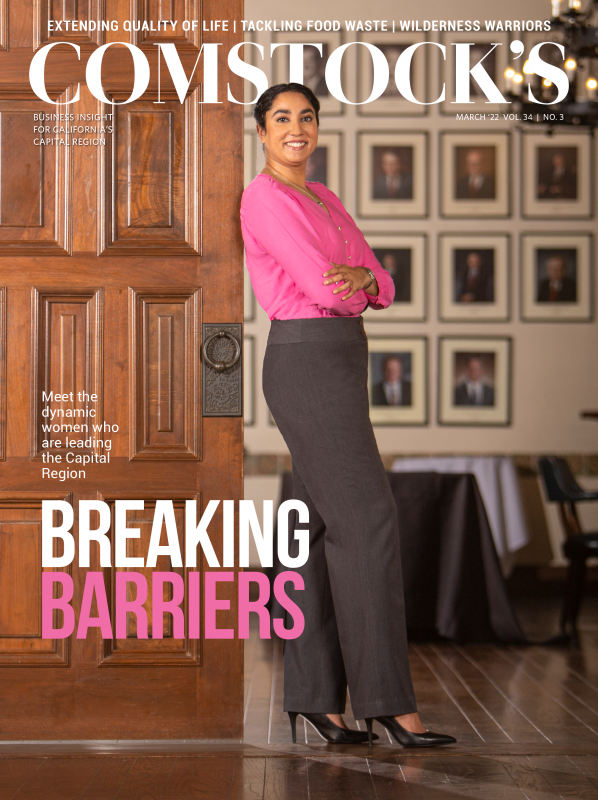 This story is part of our March 2022 Women in Leadership print issue. To subscribe, click here.
Sarah Hemly
President, Hemly Cider
Most days, you can find Sarah Hemly in a former airplane hangar deep in the Sacramento River delta. The once-abandoned building houses the fermentation equipment for Hemly Cider, her 7-year-old cider business, as well as a tasting room that opened last spring. Everything inside the hangar has the sheen of novelty, from the gleaming tanks and kegs to the live-edge wood slabs that servers use to carry flights of cider and perry (pear cider). But the orchard that surrounds it belongs to one of the oldest family businesses in the Capital Region.
Hemly's husband, Matthew Hemly, is part of the sixth generation of family operators of Greene and Hemly, a pear and apple grower in Courtland with more than 160 years of history. The business began in the Gold Rush and grew in step with the Sacramento Valley's burgeoning canning industry in the late 19th and early 20th centuries. Vestiges of this boom time remain in the grand Victorian homes that dot the delta, including a white-columned example on the Greene and Hemly grounds. But by the 21st century, most local canneries had folded and foreign imports were cutting into delta growers' share of a shrinking market.
"Farming families like the Hemlys, like a lot of the other apple and pear people, were depending on those canning contracts," Hemly says. "We're seeing literally tons of fruit just getting thrown away because there was no market for it. … Now, on top of making sure that we tell the story that's out there, there's also this urgency and responsibility to make sure that we can find second avenues for a lot of these crops in California."
It's a relatively recent concern for Hemly, who says she never visited the delta before she met her husband at UC Berkeley — despite growing up in Sacramento. "I was blown away by everything that's going on out here … the quality of the fruit, how it's harvested, when it's harvested and why it's different than any other fruit on the rest of the planet," she says. "Naturally, because I like my wine and drinking, I figured, let's see if we can do cider."
After research trips to traditional cider-making regions in England and France, Hemly met Tasmanian cider maker Chris Thomson, who had experience with sweet, dry-climate fruit not unlike what's grown in California. She and Thomson co-founded Hemly Cider and produced a first run of 5,000 gallons in 2015. This year, they'll max production at 60,000 gallons, and plans are underway to expand to a larger area on Greene and Hemly's grounds. Hemly Cider can be found at supermarkets and liquor stores around the region, including Corti Brothers in East Sacramento, Taylor's Market in Land Park and the Davis Food Co-op, and over a dozen local bars and restaurants.
But Hemly's ambitions extend beyond the region. Last year, she entered the International Cider Competition at the Sagardo Forum, an annual cider conference in Spain's Basque region, and came home with a gold medal for Hemly Cider's Brute Pear, a silver for Chai Pear and a bronze for Sloughhouse Jalapeño Pear. The vast variety of ciders on pour at the conference — and talks on growing methods that can withstand climate change — ignited ideas for her own business and Greene and Hemly as it moves into a new generation of leadership.
Last year, her father-in-law Doug Hemly retired and passed the role of president and CEO to his daughter, Virginia Hemly Chhabra. The president of the board and most of its directors are also female members of the family, unusual in the male-dominated agricultural industry.
"At this point in our company, we're making big changes, and this is a growing year. How do we grow into this, and what's the future look like, and what's the future of cider look like?"

Sarah Hemly, president, Hemly Cider
"At this point in our company, we're making big changes, and this is a big growing year. How do we grow into this, and what's the future look like, and what's the future of cider look like?" Hemly says. "It's an exciting point to be at."
–
Get all the stories in our annual salute to women in leadership delivered to your inbox: Subscribe to the Comstock's newsletter today.