Lauren Oto
Vice President of Communications, California Asian Pacific Chamber of Commerce
Sacramento's Capitol Mall — built on the grounds of the city's demolished Japantown — was once again a hotspot of Asian American entrepreneurship on a warm evening last May. Over 4,000 people turned out for the Sacramento Asian Pacific Chamber of Commerce's second annual AAPI Night Market, an homage to Asia's crepuscular outdoor festivals. Visitors munched on Taiwanese fried chicken, Filipino lumpia and Hong Kong-style waffles while listening to music ranging from traditional folk to R&B, all by Asian American and Pacific Islander performers.
The night market was a way to "come together to really celebrate AAPI greatness," says Lauren Oto, vice president of communications at the California Asian Pacific Chamber of Commerce. She spearheaded the event, as well as many other initiatives that fall under CalAsian's widespread umbrella — though she's quick to give credit to her team. "We kind of put our heads together and said, 'We have to do something different,'" she says.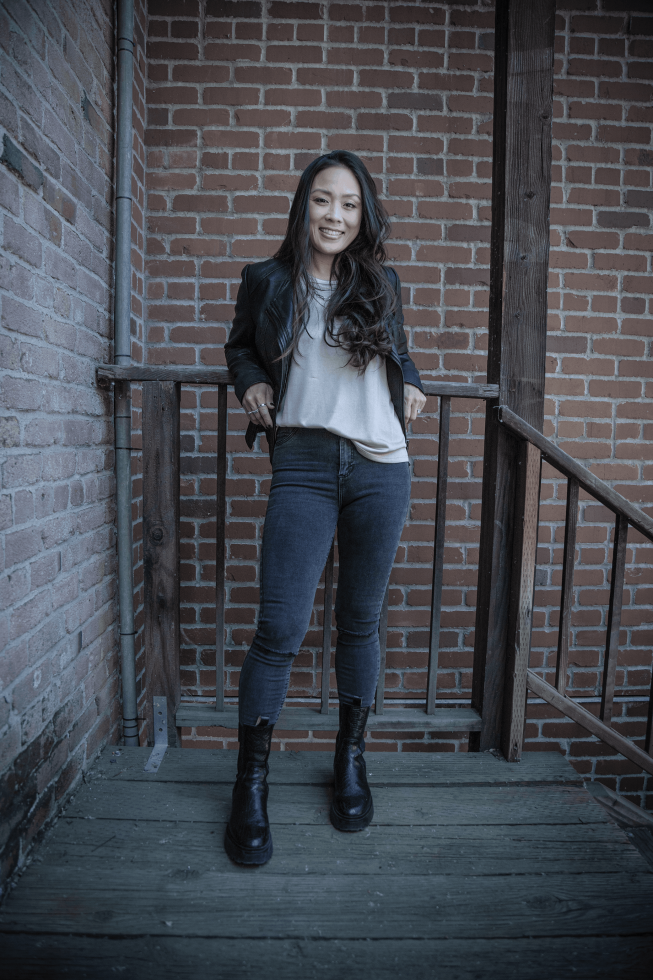 Oto oversees marketing and communications for both the CalAsian Chamber of Commerce, an organization representing Asian American and Pacific Islander-owned businesses around the state, and the Sacramento Asian Pacific Chamber of Commerce, which centers its efforts on the Capital Region. "I always wanted to do something involved with the community," says Oto, who earned her B.A. in communications at Sacramento State and started at the Sacramento Asian Pacific Chamber in 2015. "I'm born and raised in Sacramento, so living here and being able to give back to the community is very fulfilling."
Her surname may be familiar to longtime Sacramentans; the owners of Oto's Market, the Japanese grocery store, are her father's cousins. Oto, whose son, Jaylen, recently graduated from McClatchy High School, is part of a large Japanese American family with deep roots in the region. The family divides itself into "upstairs" and "downstairs" Otos, stemming from a pair of brothers who shared a two-story house with their wives in Walnut Grove, she says. All but one of her grandparents were born in the United States, part of the generation relocated to World War II internment camps during a surge in suspicion against Japanese Americans.
When anti-Asian hate again began to rise during the COVID-19 pandemic, Oto's team looked for ways to protect their community. Much of that work takes place through the CalAsian Foundation, an arm of the CalAsian Chamber focused on workforce and leadership development. The foundation's AAPI STRONG CA initiative, part of the national #AAPISTRONG movement, aims to help Asian and Pacific Islander-owned businesses band together against discrimination.
Oto, who is executive director of the CalAsian Foundation, says that her work "almost tripled" during the pandemic. In addition to the work all chambers of commerce took on — helping businesses access funding, find new business models and leverage social media — her team had to support the community through traumatic events like the vandalization of Asian-owned businesses.
The AAPI Night Market also started as a pandemic pivot; it was a way to move the chamber's annual awards dinner to a safer, outdoor setting. After the first edition in 2022, it was clear that the community needed something like this, Oto says.
The chamber considered holding the night market on the stretch of 10th Street where several Japanese-owned businesses relocated after the demolition of Japantown, but logistics issues led them to Capitol Mall instead. As Taiko drums echoed against the office buildings and a miniature version of Oto's Market gave out prizes, Oto's ancestors might have recognized their own Japantown where it once stood.
Oto looks forward to making the event even bigger next year, as well as expanding the leadership development initiatives of the CalAsian Foundation so they can benefit young people around the state. "It's all very rewarding in the sense that there's really no limit to the job and the role that we have," she says. "We're always allowed to push that needle to do more, to have a bigger impact."
Get all the profiles in our Young Professionals issue delivered to your inbox: Subscribe to the Comstock's newsletter today!