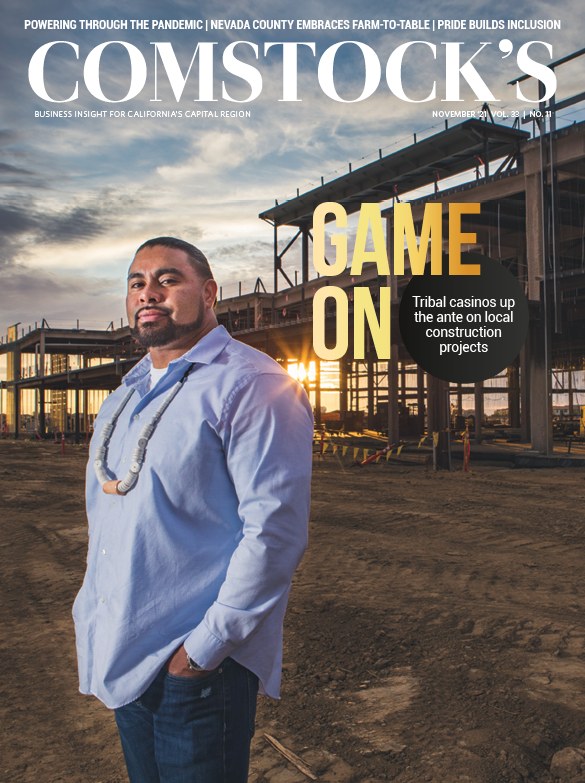 This story is part of our November 2021 issue. To subscribe, click here.
Judging by the crowds I've seen downtown, Sacramento is coming back to life after more than a year of pandemic-induced slumber. During the second weekend of October, Discovery Park was jammed for Aftershock, a rock festival that drew dozens of top name bands and 145,000 people over four days. At the other end of town, "Hamilton" was wrapping up its final performances after three weeks of sold-out crowds at the newly renovated SAFE Credit Union Performing Arts Center.
The Sacramento Kings are once again playing in front of full crowds at the Golden 1 Center. Also, the eagerly anticipated SMUD Museum of Science and Curiosity will be opening its doors after two years of construction and promises to attract thousands of visitors a year to downtown.
All of this activity shows that we have many more arts and entertainment options than we had in the past and more to offer in Sacramento than tours of the State Capitol. And this surge in activity comes as the city begins to see a payoff for its recent investments to boost tourism.
A major part of that effort was the $180 million renovation of the SAFE Credit Union Convention Center. New exhibit rooms, a ballroom and the redesigned lobby provide more space and flexibility to host more and larger conventions. It has already hosted its first conventions since reopening and its historically largest convention, the Unified Wine & Grape Symposium, just signed up for 10 years.
In 2019, the last normal year before the pandemic crunch, Sacramento had over 15.3 million visitors who added $3 billion to the region's economy. Many of those people, of course, stayed in hotels. Sacramento has added many of them to accommodate both tourists and conventioneers and the number of rooms available downtown has increased in recent years. From small boutiques to major brand-names, they collectively offer about 4,200 rooms downtown.
That may seem like a lot. For many years, that was enough to match the capacity of the convention center when it was smaller and couldn't book two or three events simultaneously. But with the recent expansion and renovation, the SAFE Credit Union Convention Center is ready for more business. The number of hotel rooms downtown is a critical factor in attracting new conventions. Having them within walking distance or connected to the convention center is a big selling point.
The convention industry has grown in the last five years. A recent study from the Events Industry Council, a global advisory group, pegged its value in the U.S. at $325 billion.
To compete for a slice of that business, many cities have expanded convention centers and built hotels and other facilities to attract conventioneers. Austin, for example, has 17,000 hotel rooms downtown in the immediate vicinity of its convention center. Indianapolis has 12,000 rooms in two hotels adjacent to its convention center and in other hotels conveniently close by.
Even more important than the numbers, those rooms are concentrated in large hotels. That makes it convenient for convention planners, who only need to reserve a large block of rooms in one place and sign one contract for hotel services. By contrast, a large convention in Sacramento needs to negotiate separate contracts with a dozen or more hotels, which are spread throughout the city.
Conventions are not planned at the last minute. Most are planned out two to five years in advance. To be successful in that industry requires the same long-term thinking.
Renovating and expanding the SAFE Credit Union Convention Center was the result of long-term planning and it makes Sacramento more attractive in a highly competitive industry.
But reaching the center's full potential will require the same long-term planning for the next step. The $180 million price tag for the expansion was paid for by city-issued bonds that are repaid by a tax every tourist or conventioneer pays every night they spend in a hotel.
Large hotels and convention centers match up like a pair of shoes. A new convention-sized hotel would add more tax-generating rooms and enable the city to double down on its investment.
There currently are no plans to build a new hotel downtown and it may take two to five years to get the job done. Sacramento has taken a huge step toward becoming a world class convention city. To land a large citywide convention, we would need at least 6,000 rooms that would be available for several days, according to the Sacramento Convention and Visitors Bureau. It's never too soon to start thinking about the next step we need to take.

Winnie Comstock-Carlson
President and Publisher
–
Stay up to date on business in the Capital Region: Subscribe to the Comstock's newsletter today.