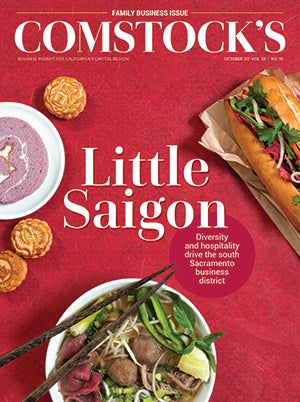 This story is part of our October 2020 issue. To subscribe, click here.
You don't have to look far to find a coach in contemporary American society. No longer relegated to sidelines and dugouts, professional coaches are available to help people conquer a wide variety of goals and tasks. Whether it's personal fitness, parenting, singing or social media, paid counselors offer packages aimed at improving skills and performance.
So it's no surprise that the practice has gained prominence in the world of business. A growing number of leading CEOs and executives credit leadership and executive coaches as key to their success. Former Google CEO Eric Schmidt and Microsoft cofounder Bill Gates have extolled the benefits of calling in the coaching cavalry.
"Everyone needs a coach," Gates declares in one TedTalk. "It doesn't matter whether you're a basketball player, a tennis player, a gymnast or a bridge player. … We all need people who will give us feedback."
It's not just Fortune 500 companies and Silicon Valley startups. Family-owned businesses in the Capital Region are also turning to outside help to build communication skills and navigate thorny management and personnel issues unique to the sector. "There is definitely a need for our family-owned businesses to look for some additional resources and to look inward at their family in terms of succession and getting the next generation ready," says Stella Premo, executive director of the Capital Region Family Business Center.
Even when there is a need, comfortability, cost and finding the right fit can be barriers. And experts say it's important to have clear (and realistic) goals and deliverables before you start in order to make the most of the experience. But navigating the process to find a coach who can help will pay dividends for years — even generations — to come.
Executive coaching is not a new concept. Leaders, including kings and queens, presidents and company founders, have long had advisers to set and keep them on a path to success. But in recent decades, amid a rapidly changing economy and renewed focus on personal development, the practice has grown in popularity for leaders and companies of various sizes. Skyrocketing interest has fueled a $2.35 billion global industry of professional counselors advising everyone from top CEOs to midlevel managers to early career job seekers, according to a 2016 study commissioned by International Coach Federation, which has more than 36,000 members in 145 countries.
In the industry's early days, coaches were often brought in to address poor performance by struggling managers. That still happens. But today, coaches say much of the demand comes from introspective leaders looking to proactively build skills in an increasingly competitive environment.
"Even with budgets being slashed, I think there's been the realization that everybody has a lot of work to do individually and collectively," says Kurt Glassman, a founding partner with Sacramento-based LeadershipOne whose family owned a bed spring company for four generations. "Instead of the parents saying, 'My kid needs help,' now it's the best and the brightest saying, 'Hey, I need to learn more than I did in graduate school and working 10 years in tech in Silicon Valley.'"
Internal Dynamics, New Leaders
Many family businesses face unique challenges that make them prime candidates for an outside perspective: Succession planning looms large; interpersonal dynamics can play a bigger role than at other workplaces; and CEOs and executives from outside the family can crave help building and navigating relationships that date back to birth.
And the stakes are high, especially for companies that want to keep the business not only alive but in the family for years to come. A disconnect between the high rate of family owners who say they want to pass the company on versus the actual success rate, with just one-third making it to a second generation, drove coaches such as Glassman to expand programming for family-business clients. In early 2020, the firm launched a six-month intensive program for emerging leaders in the sector.
"We started on this journey of saying if the passion rate is so high, why is the mortality rate so high?" he says. "It wasn't about estate planning, it wasn't about whether the next generation has the skill set, it was more about relationships and governance and, 'How do we get along?'"
"The challenges today are a lot more difficult than my generation or the current patriachs's generation. These large family businesses, they're more and more complex."

KURT GLASSMAN Founding partner, LeadershipOne
Now, amid a changing and increasingly complicated (and competitive) business landscape, many owners are seeing the value of an outside perspective, especially as business grows. "The challenges today are a lot more difficult than my generation or the current (leader's) generation," Glassman says. "These large family businesses, they're more and more complex."
For previous generations, passing down some knowledge and skills from generation to generation might have been sufficient. But interpersonal dynamics can complicate those efforts.
Lois Lang, an executive coach who works with family businesses at Stockton-based Evolve Partner Group, says she has watched many parents at the helm of a family business fall into a mentor role, where "there's more advice giving than giving adult children assignments that are going to stretch them and help them develop into the leader the business needs them to be."
She says a coach or consultant can help fill in that gap. "As an outsider, you're not as emotionally involved," she says. "You know if this adult professional who is their child does not do XYZ behaviors, they will not go very far in the company. You're able to say those things that are very hard for most parents to say."
The need to develop stronger communication skills to tackle sensitive topics goes both ways, experts say. For the younger executives in family businesses, introducing a new vision or style without totally disrupting the culture can be a challenge. One common quandary, Premo says, is how does the next generation "make proposals to the founding generation or the current managing generation of things they want to change that might be a little risky, where you have someone that's risk averse?
"A lot of them are centered around personal and professional growth," she says. "How can this next generation (develop) their management style in a way that's going to add (to) their family legacy or add (to) their family's core values … in a way that their personal style will trickle down to have a more productive workforce?"
Looking Inward First
After starting Accendo Cellars in St. Helena with her parents and brother in 2013, Jaime Araujo Bézian started to think the family could benefit from coaching as they sought to grow their winery. Araujo Bézian recalled hearing classmates at her MBA program talk about how coaches helped their family businesses. "Do this sooner than later," they told her. "By the time you think you need it, it's too late."
First, she had to persuade her parents. After running a vineyard themselves for years, they were reluctant to let someone else into the new operation. But bringing in the adult children as partners and building a company together from the ground up required new skills and communication tactics. "We realized there were some challenges and questions we couldn't answer," Araujo Bézian says.
By broaching the topic with her parents, Araujo Bézian took what coaches say is a crucial, but sometimes difficult, first step. For many, the concept of "all in the family" extends to issues and management woes. Older generations can be hesitant to let an outsider in. Accepting that styles or norms need to change as a company evolves and grows can be difficult.
"There are some instances where one generation may not be open to any kind of outside feedback, and you might have the next generation completely open. Unless you have everyone on board to at least have the conversation, it's going to be very difficult to make any productive changes."

STELLA PREMO Executive director, Capital Region Family Business Center
A successful coaching experience starts with addressing those internal concerns before the final decision to hire is made, experts say. Having open conversations about the reason for bringing someone in and goals for growth is essential for getting the most out of the relationship and achieving the intended goals.
"There are some instances where one generation may not be open to any kind of outside feedback, and you might have the next generation completely open," Premo says. "Unless you have everyone on board to at least have the conversation, it's going to be very difficult to make any productive changes."
Finding the Right Fit
While committing to a coach might be an early hurdle for some businesses, finding a good fit for your company can also be a challenge. Approach, style and relevant experience are important factors. Bringing in someone who rubs you or your family members the wrong way — or who lacks understanding of your business's individual needs — won't do anyone good. One of the first and biggest challenges can be assessing a coach's qualifications.
As demand increases, the coaching industry is booming. More than 17,500 coach practitioners were at work in North America as of 2016, according to the International Coach Federation study. The industry lacks regulation and standard certifications, Lang and others warn, so experience and training can vary.
Some coaches, such as Lang, have Ph.D.s in organizational psychology that required years of education and hundreds of hours of supervised practice. Others take a 10-hour course or bring decades of their own experience in the CEO chair to the job. Some simply hang a shingle and declare themselves a coaching guru, with little or no training or expertise.
Beyond qualifications, approach and style run the spectrum. Some coaches immerse themselves in a company culture, while others offer check-ins via phone or videoconferencing.
An executive might be looking for someone to fill more of a mediator-therapist role or provide case studies and concrete assignments to build tangible skills.
Tactics also range based on a client's needs. Glassman's work might include reading assignments on time management or hands-on "blocking and tackling" for big issues. Lang, who works with individuals and leadership suites, likes to use 360-degree reviews to develop a written coaching plan with set goals. In some cases, she refers clients to a marriage or family therapist for especially sensitive issues.
For Araujo Bézian, a good fit meant finding someone with a "compatible outlook and style to (the) family." The family knew they didn't want anyone too flashy or aggressive. Araujo Bézian started reaching out to other family businesses she knew had sought coaches for advice and referrals. She interviewed several of the recommended candidates, including Lang. They hit it off.
Experts say turning to peers for recommendations is one of the best ways to find a coach for your family business. Premo says she frequently fields requests for referrals from members. And she's happy to help point them in the right direction.
Cost can also be a factor too. Lang says she's heard of coaches charging from $150 to $800 an hour. A monthslong engagement can cost tens of thousands of dollars. Although the price tag might seem like a barrier to some, Glassman says many family businesses see it as a long-term investment. A bigger barrier than cost, he says, is time. "What we're finding out now, it's more about the time commitment," he says. "'I've got so many demands on my time. How am I going to get (the most) out of it?'"
And be prepared to put in the work, sometimes for the long haul. Successful "management development, active coaching," as Glassman describes the ideal setup, can stretch on for years. But advocates say the rewards are worth it.
Araujo Bézian's family winery is a testament to that. For nearly two years, Lang helped the partners develop more effective communication skills and navigate new challenges, such as bringing in the first high-level hire from outside the family. Araujo Bézian found the experience so helpful that she continued on for one-on-one coaching with Lang. Having an external person to help process issues and bounce ideas off has been invaluable.
She now sees a coach as an "essential tool in the family business toolbox," and a tool she personally plans to keep sharpening for years. "It's not a one-and-done thing," she says. "It's a resource that can be really helpful long term."
–
Stay up to date on business in the Capital Region: Subscribe to the Comstock's newsletter today.