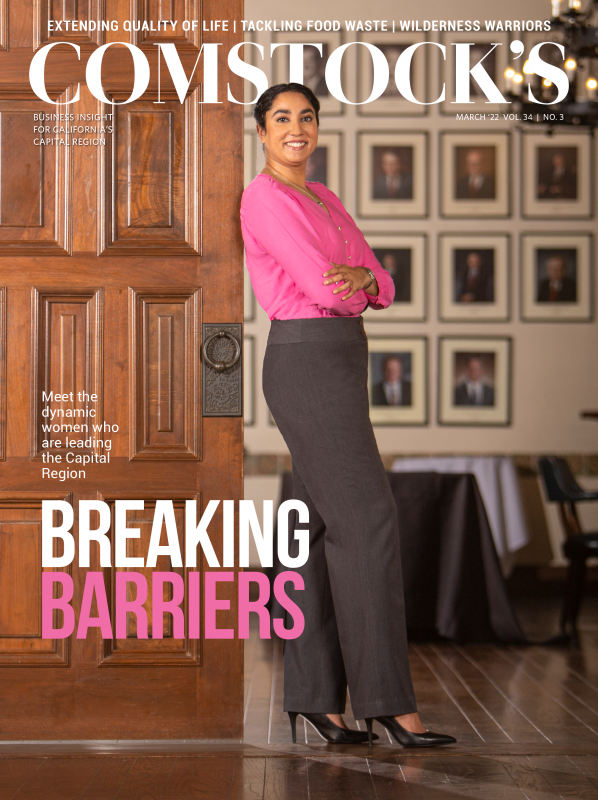 This story is part of our March 2022 Women in Leadership print issue. To subscribe, click here.
Since opening her home day care more than 20 years ago, Charlotte Neal took her first holiday break last December. She needed those two weeks to rest and reset, and she'd earned it.
Neal owns and operates Charlotte's Family Daycare out of her Sacramento house with a small staff. Her first child arrives at 4 a.m. and the last leaves at midnight. She's open six days a week, but with prepping and cleaning, she ends up working Sundays too. She loves her work but admits it's an exhausting schedule.
"You have to take a break for yourself," she says. "As women, we give our all. Even when we don't have any more, we're still giving. But we have to save some for ourselves."
Since February 2020, women nationwide have seen a net job loss of more than 1.8 million, according to analysis released in January from the National Women's Law Center based on data from the Bureau of Labor Statistics. The same analysis stated that in January, 27 times more men than women joined the labor force.
Sacramento Vice Mayor Angelique Ashby highlighted those numbers in a tweet, saying they reveal ongoing inequalities at work.
"Hear me out on this… we can pretend that men and women have been equally impacted by the pandemic or we can face the truth," she tweeted Feb. 4, when the NWLC numbers were released. "Women lack equal representation and equal opportunity. Hard Stop."
It's a lesson Neal and many others have learned during the pandemic: Women's lives are so much more than their careers — even those who love what they do. Months of isolation, health concerns and widespread loss have been jarring experiences. There's an added emotional weight for those who care for children or elders, difficult and delicate work that largely falls on women. But the last two years have also opened up space for women to reassess the role of work in their lives. As many faced changes in their jobs, they were able to shift the priorities and persist with the support of their families, colleagues and communities.
Getting to our pre-pandemic state
At the start of 2020, California boasted a 4.2 percent unemployment rate. This followed decades of women making headway in the labor force. Since the 1960s, federal policies that banned sex-based wage discrimination and pregnancy discrimination made these gains possible.
"Women's lives were really materially improved over those decades," says Jessica Mason, a Washington, D.C.-based senior policy analyst for the National Partnership for Women & Families. "There really had been tremendous progress made in the 20th century in terms of women's equality overall and gender equity and economic participation."
In the 1960s, the women's participation rate in the labor force hovered around 38 percent, Mason says. That number peaked in 1999 at 60 percent and has steadily declined since then. In 2019, 57 percent of women were working. In a 2017 report, the U.S. Bureau of Labor Statistics projected that number would continue to decline. Of course, it didn't factor in the impact of a pandemic.
Last September, 309,000 women ages 20 and older left the workforce entirely, meaning they're not looking for work. That same month, women lost 26,000 jobs while men gained 220,000, according to the National Women's Law Center.
Leading up to the pandemic, another indicator of economic equality showed some promise: the wage gap. In the 1960s, white women made around 58 cents for every dollar a white man earned for the same work. Due in part to the Equal Pay Act of 1963, the gap narrowed, and on average women earn about 82 cents for every dollar a man makes. But that progress has been uneven. Today, Black women and Latinas earned 63 percent and 57 percent, respectively, of what a white man earns, according to organizations including Equal Pay Today and the American Association of University Women.
"Women of color have been hit on two or three fronts," Mason says. "Being overrepresented in jobs that were laid off at the beginning of the pandemic … and then also represented in those frontline jobs" where they were at risk of contracting COVID-19.
The child care provider
Neal has long related to the struggles that her day care families face: long hours and low pay. In 2019, the median hourly wage for child care workers was $13.43 in California — just above minimum wage. Her day care serves families who qualify for subsidized care. She took the Centers for Disease Control and Prevention's safety protocols seriously and costs climbed as she went through cleaning supplies quickly. She credits Child Care Providers United, her union, with getting hard-to-find personal protective equipment into the hands of providers and helping them get paid.
Like California public schools, subsidized day care is paid by the state based on in-person attendance, which in Neal's case dropped from its maximum of 14 children to two in the first weeks of the pandemic. During the omicron surge earlier this year, attendance again shrunk to two children. The union bargained with the state to pay based on total enrollment during the pandemic, a lifesaver for Neal.
"Thank goodness, because I would have to close my doors if that was not in place," she says. Even with these gains and federal stimulus support, many providers couldn't withstand the unexpected costs. According to the California Child Care Resource & Referral Network, between January 2020 and January 2021, licensed family child care homes dropped by 3,635.
"I'm grateful that I'm still here today, that I'm still open," Neal says.
The stay-at-home mom
Parents of young children face the difficult task of juggling work and family. Often that conflict falls on women. "I take a lot of pride in my reliability … and I'm scared that I wouldn't be reliable as an employee right now," says Meghan Bingen. "This is nothing like I expected it to be."
She and her husband, Jeremy, factored in child care costs while planning for their second child in 2019 and determined that with their combined incomes, it was doable. At the time, she was an assistant manager at a cosmetics store in Arden Fair mall in Sacramento. Seven months into her pregnancy, the pandemic hit. She felt relief when the shelter-in-place order went into effect, because she worried about infecting her unborn child. Her son Caleb was born in May 2020, and while on maternity leave, she loved staying home where she could rest, heal and care for him.
In time, she felt the setbacks. She lost her job in early 2021 after the store announced it would close. Before that, the day care her older son Harrison attended was purchased and the cost of attendance jumped hundreds of dollars per month per child. She landed interviews for other jobs but when it came down to it, the balancing act wouldn't work. So she committed to staying home, changing her title on Facebook to Chief Controlling Officer at Home. But she says she misses feeling like an adult — making schedules and working in Excel spreadsheets, and she sometimes yearns for the wider family support and connections her first son had that Caleb has missed out on.
"There was an image of what it was going to be like to have our second baby," she said. "Everything got turned on its head." She plans to begin looking for work again when Caleb enters transitional kindergarten in a couple years.
The artist
Melissa Uroff was making strides in her career. A photographer and multimedia artist, she worked part time teaching art, curated exhibits at Warehouse Artists Lofts in Sacramento, had begun working with neon lights and had promising contract jobs on the horizon. She was preparing an elaborate neon scene for the grand opening of a five-story luxury apartment complex in Midtown Sacramento, scheduled for mid-March 2020.
"It's exactly what I want to do, it's the job I want to have," Uroff says, remembering her excitement. "Not even a week later, I was quarantined in my house."
She quarantined with her daughter, Madeleine Millner, while her husband, Matt Millner, continued working long days as a train conductor. Eventually she started reconnecting outdoors with a group of mom friends who also worked in creative fields.
"It's really easy to give up on trying to follow your dreams," Uroff says. "The creative mom group came together because I was like, I need somebody who knows what I'm going through." That connection proved vital, and Uroff began formulating a photo collage series that she'd name Mother. The women she photographed are all creatives — a writer, an herbalist, a drummer. The completed images show them surrounded by animals before celestial backdrops, cradling items in their arms or wearing flower crowns — beautiful stand-ins for the added weight they gracefully carry. In an art commission through the Midtown Association, several of the images are now dotted throughout Midtown's Fremont Park, wrapped on utility boxes.
"It was nice to bring together people that have the common ground of children, but also we didn't even hardly talk about our kids," Uroff says. Instead, they discussed their projects and hyped each other up. "You're a mom," she says, "but you're still you."
The entrepreneurs
Since 2014, the sisters behind Tiferet Coffee House developed bonds with their East Sacramento community. Often, the cafe adjacent to McKinley Park hosted small groups of middle school students in the afternoons.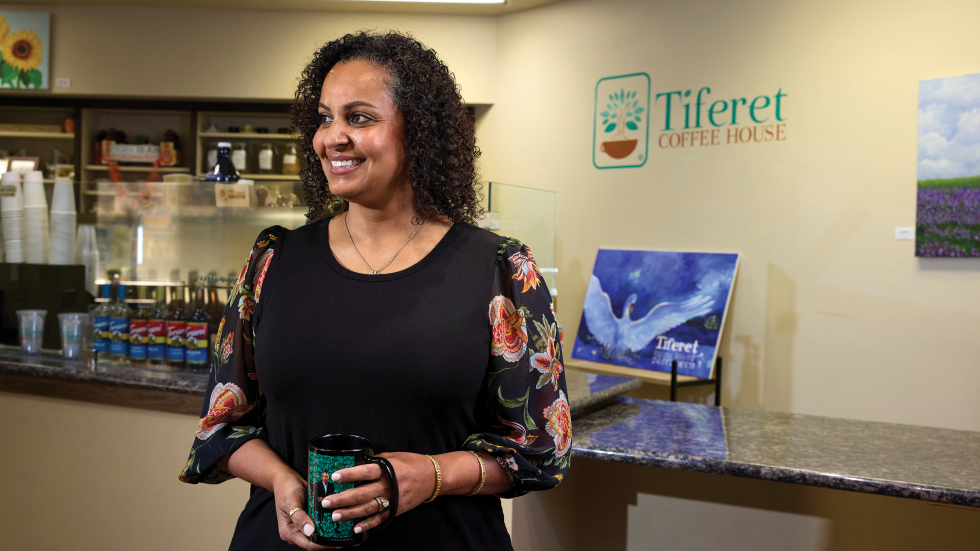 "We became the safe space for all of these kids whose parents were able to come for a couple of hours and they just became our regulars," says Sabrina Berhane, who owned and operated the cafe with her sister, Makeda Berhane. "That's what we would want for our children."
When the pandemic put their small business in flux, the community stepped up. "People were just really intentional about letting us know that they would do their part in making sure we didn't close down," Makeda says. They bought gift cards, beans and tumblers to show their support.
The sisters had two priorities at the time: continue to pay their small team who staffed their three locations (one at Sacramento City Hall and another inside Mercy Medical Plaza) and to be there for customers. "We were trying really hard to make sure that we maintain a level of normalcy for all of us, including them," Makeda says.
But she was being pulled in another direction, too. Before the pandemic, she co-parented her preteen daughter, who lived part time with her father on the East Coast. "Then the pandemic hit, and I couldn't physically get to my daughter," Makeda says. She decided to move back to Virginia. "As much as I love being a female business owner in Sacramento, I have to be a mother first."
For a while, Sabrina, who has a grown child of her own, was single-handedly managing the three shops. Makeda did operational work from afar but without her helping with the day-to-day work, Sabrina was getting burned out.
"When you're running three shops, you actually lose personal time without even being aware of it," Sabrina says. "I'm intentionally claiming that back, and it feels great."
After closing the city hall location when demand declined because of the pandemic, the sisters decided last year to focus on the J Street Mercy Medical Plaza location. They sold the East Sacramento flagship location, which is now called Tiferet by the Park, to two of their longtime employees.
"It was time to pass it on to the most natural progression, which would be our employees who had been with us," Sabrina says. "And we have two new female business owners, which is kind of exciting."
The leader
Zima Creason has made a lot of adjustments to her work and personal life since 2020. Less than a year into her role as executive director of California EDGE Coalition, the pandemic made it impossible for her to travel to the conferences and networking opportunities that she'd been attending nationwide to familiarize herself with the field. California EDGE coalition is a Sacramento-based organization that focuses on legislation and budget investments to address the skilled workforce shortage while creating pathways to the middle class, particularly among California's marginalized communities.
"It's been really, really hard to build these relationships," says Creason, a Carmichael resident. "All that professional development and learning … was ripped away really fast."
She had to adjust as a professional and as a mother. Her oldest son Tyler enlisted in the Navy just out of high school and went to North Carolina for basic training in 2020. "We did not see him again for over a year," she says. Her younger son Caden is an outgoing kid who missed his friends and struggled with motivation during virtual learning. Creason was also remote at this time, and she could no longer tune everything out to focus on work while home with her son.
"I go into a tunnel and I'm really, really focused and I'm really productive," she says, but she had to become more flexible in managing her staff and colleagues and showing care for her son. "Figuring out how to show up for everybody was really challenging."
She had to show up differently for herself, too. In addition to running California EDGE and parenting, Creason is vice president of the San Juan Unified School District Board of Education. She's proud of the board's work, like adopting a curriculum that includes the historic contributions of LGBTQ people, and while she'd always envisioned running for higher office, that's now off the table. She says she had to ask herself: "What's really important? What are really my values? I know what I invest my time in, but are those really my values?"
She's already started living her life better in tune with her values. In the past, ''I'll work morning, noon and night, just get it all done," she says, but now she sets boundaries. She'll no longer take calls at 7:30 a.m. and shuts down on the weekends. She used to be embarrassed about setting boundaries so she could be more present for her family, but that shame is gone. It's good for her well-being, and helps others take care of themselves and their families, too.
"I can't tell you how many women, especially women, have commented on that," she says. "It's like almost giving other people permission to create their own boundaries."
–
Stay up to date on business in the Capital Region: Subscribe to the Comstock's newsletter today.