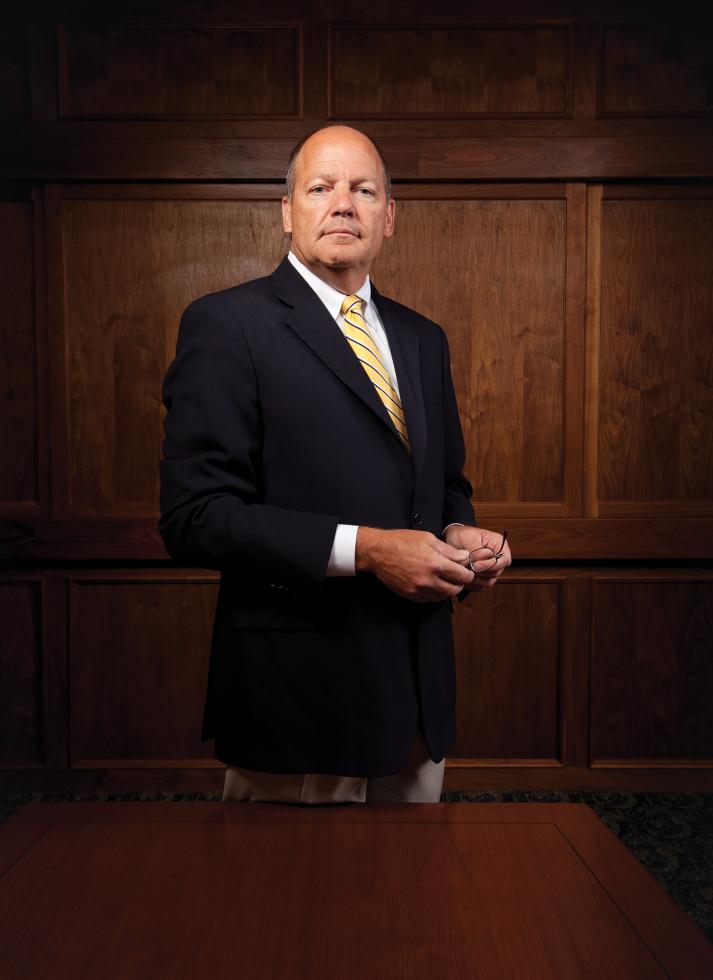 In an economy where company officials are making hard financial decisions, spending thousands of dollars on training might seem like an unnecessary expense.
To Terry Street, president of Roebbelen Contracting Inc., and others investing in executive education, it's an essential part of the organization. Street, who attended an annual three-week program at Harvard Business School from 2001 to 2003, continues to send his partners to that program and others.
"It's not like us in the construction industry or a lot of industries to want to spend that," Street says. "I still remember sending two of my younger partners back to a negotiating class for a full week (at Harvard), and they were questioning whether it was worth spending the $8,000 for it — each."
Within a week of returning, Street says, one of the partners used the skills he learned to resolve an issue, and it paid for the class five times over.
"Coming from that class, there have been changes and decisions we've made because of that education back there that paid for the class tenfold," Street says.
Street attended an executive education program at Harvard several years ago after a company growth spurt. For the company to make it to the next level, he knew he needed to create a culture of continuous training — starting at the top.
"We probably wasted 10 years of our life as an organization by not investing in that training," Street says. "People who did that more and better probably moved ahead of us."
Sometimes it's not obvious to company leadership what kind of education is needed, but it's clear something must be done.
"Usually we get a call when there's pain or fear," says Hal Johnson, the chairman of LeadershipOne, a consulting company that educates executives in Northern California. "Things aren't working, and they've been to a conference and heard someone talk about how important it is to keep learning — something gives them a nudge in the right direction to investigate."
As businesses change with technology, economic stress and work force demographics, one aspect remains static: the need for executives to head back to the classroom to keep up with the times or brush up on fundamental management.
"What happens so many times is businesses grow, but senior executives don't keep growing their knowledge," Johnson says. "As a result, a lot of them are way behind the curve in even knowing what productivity tools are available to them."
Johnson spent most of his career as a CEO moving from company to company, tasked with prepping businesses for a sale, merger or other transition. The needs he sees at the top for many midmarket companies today haven't differed the past 30 to 40 years.
"What I found out when I got into these companies," Johnson says, is "there was usually a knowledge deficit that impacted the company's performance."
Recent research on executive education programs at universities in Northern California found this to be true, says Kim Elsbach, a professor at UC Davis Graduate School of Management who ran a leadership consortium for executives. "The major problems that confront companies are the same problems that have always confronted them, and that's leadership," Elsbach says.
Elsbach says it's more than focusing on a specific technology. Today's needs focus on longstanding human nature. "It's not like a technological problem where eventually the technology and the science will catch up and we'll find a solution to it," she says. "These are human problems that never go away."
Going back to basics becomes even more important in harsh economic climates.
How an executive runs a company, the processes followed and how to carry out the executives' responsibility to create "predictable success" are the foundations of executive education, Johnson says.
"So many midmarket companies are started by entrepreneurs who are really great technicians. … But they've never been trained professional managers."

Hal Johnson, chairman, LeadershipOne
He refers to what the Wall Street Journal has called "unconscious incompetence." In other words, many executives are unclear on how much they don't know, especially in companies that grew out of mom and pop founders where management training might mean simply emulating previous managers.
"How would they know some of the best business practices if they don't continue their education?" Johnson asks. "So many midmarket companies are started by entrepreneurs who are really great technicians. They're great engineers, they're great architects, they're great you-name-it salespeople, but they've never been trained professional managers."
For this reason, the executive education program aimed at wine executives at UC Davis is popular. For "people who are winemakers who grow up in wine companies, the emphasis is on knowing how to make wine," Elsbach says. "Those people have a background in viticulture and enology [but not] necessarily a background in business, which is a whole different set of skills."
A slow economy might cause some businesses to pull the reins on spending for executive education, so the market has evolved to give executives more of what they want.
"One of the things we observed is there are cycles — peaks and troughs — in the appetite and the willingness for people to pay for these courses," says Steven Currall, the dean of the UC Davis Graduate School of Management. "In a down economy, you tend to see some modest decreases in these executive education programs. Still, they continue, and they're pretty strong. Their numbers may not be as high."
But effective leadership — and the skills needed to follow through — is even more essential to a business's success in down times.
"Things like creativity, innovation, those actually matter more in a down economy than they do in an up (economy) because people are really looking for the thing that's going to get people to spend money," Elsbach says.
Because of this urgency, it becomes more important for the skills executives pick up in these courses to be tangible and immediately beneficial. "A lot of corporations in these economic times are thinking very strategically about how they allocate funds for executive education," Currall says.
This means focusing on specific topics such as finance, marketing and corporate governance as well as customizing courses to precise needs over a shorter period.
Johnson's executive education program involves executives studying 25 best practice summaries he's developed and meeting monthly to discuss why the practice is important, what it looks like when carried out and how executives could put it to work.
Executives attending university programs have similar expectations of tangible information and results coming out of time spent in the classroom. "They won't have a lot of patience with material that's not directly business relevant," Currall says. "The material cannot be sort of abstract or purely academic material. It has to have very clear business implications."
Harvard Business School, for example, offered new programs during the financial crisis designed to help executives learn from those events and move forward in their businesses, and most recently, the school has added programs in health care and energy in addition to expanding international programs.
Aside from occasional trending topics such as e-commerce several years ago and international business and health care today, when it comes down to what executives need to know to survive in today's business climate, the basics are key.
"The major problems that confront companies are the same problems that have always confronted them, and that's leadership."

Kim Elsbach, professor, UC Davis Graduate School of Management
"Running businesses is more complex" today, Johnson says. "We're not in a state economy or national economy; we're in an international economy. The competition is more fierce, (and it's) really demanding higher levels of performance for businesses to be effective."
Executives must learn how to run a business smarter to keep up, which includes keeping up with technology — and knowing how to use it to measure performance.
"There's so much technology available now to help you, although technology in and of itself won't make you better," Johnson says. "It's just another tool, but those tools are out there to help you understand what's happening in your own business: setting up key performance indicators, tracking performance and understanding where your profits are coming from."
In the Capital Region, the need for well-trained executives is expanding, but so are options for education. "I think we clearly have a huge section of the work force in Sacramento that is what you'd really consider to be the ordinary work force that does the nuts and bolts," says Sanjay Varshney, the dean of the College of Business Administration at Sacramento State.
"Then you have a very small portion of the work force and a growing need for much more sophisticated upper-level managers who basically can see the big picture and take a big-picture approach to either growing businesses or doing a better job with the business models or with the bottom line."
Varshney says his program is working to meet that need, as is UC Davis, which could soon see an expansion to its executive education program. Currall says school administration is "aggressively exploring" expanding executive education, having hired a consultant and currently undergoing a market analysis to do so.
Whether the training takes place in a university setting or the company meeting room, without consistency and follow-up, the skills learned won't translate into measurable business success. As Johnson says, "Continuous learning is a vital part of a business that wants to thrive."
Johnson says the highest payoff comes from the entire executive management team coming together on a regular basis to evaluate what methods are working and to keep everyone accountable. "That is the powerful, secret syrup in my book," he says.
At Roebbelen, executives attend education courses, but they are also encouraged to join the boards of local organizations to get more experience with meetings and other organizational strategies.
It's through these experiences that executives have what Street calls aha moments.
During those weeks spent living in dorms at Harvard, Street got validation on many of the decisions he made as president of the company before the training.
But, he says: "The other side of it is, wow, I wish I had been here last year. I would have saved $200,000 in that decision. You're kicking yourself."
When Street made the decision to attend the courses, the company was growing, and business was good. "You have to sit down and ask yourself, 'Am I doing this all wrong?'" he says.
Several years later, Street doesn't know how much of his company's success can be attributed to training, but he knows it's helped. "I think on some level, there's a little bit of that in all of us that says, 'Hey, you better be one step out in front. You better be able to look around the corner a little better than the next guy,'" he says. "Because you can get pushed off to the side pretty easily in this economy."
After two decades of working in the nonprofit industry, Robin Chronister, an executive assistant for Mother Lode Rehabilitation in Placerville, noticed a gradual but clear change in the nonprofit sector.
Small-company advancement is on the rise, and more local businesses are seeking innovative leadership training that can help catapult their companies into a source of industrial growth.