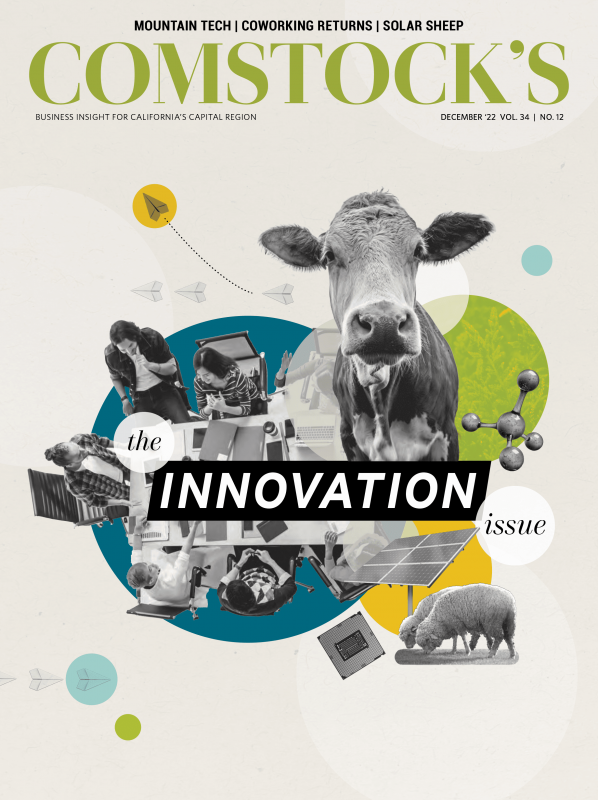 This story is part of our December 2022 Innovation print issue. To subscribe, click here.
At Johnson-Neles Dairy in Sonoma, 380 acres of undulating green hills under desktop background-blue skies, a farm worker mixes a wheelbarrow of feed for eager cows. On top of the usual blend of hay and grasses, the worker sprinkles a purplish-red powder, like a chef adding a pinch of seasoning to finish a dish. It looks like an extra bit of pampering for the Johnson-Neles cows, a relatively cosseted bunch that supply the top-shelf dairy company Clover Sonoma. But this powder is no pepper: It's pulverized Asparagopsis taxiformis, a red seaweed that can dramatically reduce the methane cows emit in their burps, according to studies by UC Davis scientists.
For dessert, the cows tuck their heads into a device called a GreenFeed machine, lured in by corn-based "cow cookies" that hold their attention just long enough for the machine to measure their methane output. By the end of the 60-day trial, the machines read methane reductions of anywhere from 50 to 80 percent, depending on the cow. "We were really excited that it seemed to check all the boxes we were hoping to see," says Michael Benedetti, director of quality at Clover Sonoma and part of the third generation of the family business.
The test at Johnson-Neles Dairy, which took place last summer, was the first on-farm test of Brominata, a product made by Hawaii-based company Blue Ocean Barns from cultivated seaweed. It's the latest attempt to reduce the greenhouse gas footprint of California's dairy industry, the source of more than 40 percent of the state's methane emissions. Methane is a powerful driver of global warming — in its first 20 years in the atmosphere, it is 80 times more potent than carbon dioxide — so reducing these emissions is crucial to achieving the climate-stabilizing goals laid out in the Paris Agreement and in California legislation.
A lot to digest
In 2016, California passed Senate Bill 1383 (the same law that requires Californians to separate their food scraps from landfill-bound trash beginning this year) with the goal of reducing the state's methane emissions by 40 percent relative to 2014 levels by 2030. The law set plans in motion for capturing methane from livestock, mostly through manure digestion technology that can produce fuel for tractors and other vehicles. The state has allocated more than $350 million to build digesters on cattle farms within its borders.
But manure digestion doesn't address the methane that cattle emit from their mouths, known as enteric methane, which dwarfs the amount that comes out of the other end. A single cow burps up 220 pounds of methane in a year. Ermias Kebreab, a UC Davis professor and associate dean who has devoted nearly two decades to studying livestock feed, says that the state will be hard-pressed to achieve its methane-slashing goals without considering the burps.
"California has always been very progressive, trying to come up with solutions to reduce emissions, but right now we are on course to meeting half of the mandate by 2030," says Kebreab, who works out of a shingle-sided building near the UC Davis arboretum when he isn't traveling the world expounding on seaweed and other feed additives. (He's presented both TED and TEDx talks on the subject.) "If you use feed additives, then we'll easily meet the 40 percent mark. If you don't, then we are only going to be at 20 percent."
Two miles west of his office is the UC Davis animal science feedlot, where a rotating cast of roughly 650 head of cattle have sampled a smorgasbord of feed additives under Kebreab's direction. Over the past seven years, he says that his team has tested two to three additives annually for their ability to reduce enteric methane. These include products already on the market in Europe, such as the citrus-and-garlic supplement Mootral from Switzerland.
A spoonful of molasses helps the seaweed go down
Seaweed ranks among the most promising of these additives, Kebreab says. His team conducted several lab and feedlot studies with various forms of Asparagopsis, beginning with wild-harvested seaweed shipped in from Australia. In 2018, Kebreab led the first Asparagopsis trial with live cattle and saw methane reductions of up to 67 percent in dairy cows; a 2019 trial with beef steer saw reductions over 80 percent.
"It was a surprise," Kebreab admits. "At the beginning, I wasn't expecting to have that much of an effect. I thought there would be some effect because in vitro (in laboratory experiments), we showed that there was a huge reduction happening or complete elimination in some cases, but I didn't think that that would translate well in living organisms."
The bovine digestive system is a labyrinth with room for surprises. A cow's stomach has four compartments, each responsible for a different stage in the process that breaks down its tough plant food into energy and nutrients. A complex ecosystem of microbes assists this process, including single-celled organisms called methanogens that help break down cellulose and produce methane as a byproduct. Asparagopsis seaweed contains a compound that disrupts the enzyme these organisms need to produce methane, without interfering with their digestive work.
Some cows are put off by the scent of the seaweed — in early studies, Kebreab helped the medicine go down by mixing it with molasses — but the goal is to create a product that can be incorporated into feed without bothering the animals. "It's effective, and it doesn't harm the animal, and it's relatively easy to integrate within the intensive livestock system," Kebreab says.
Kebreab and his co-authors noted one main caveat in the conclusions of their studies: There isn't enough Asparagopsis in the wild to supply even California's cattle, much less all the cattle in the world. Seaweed is the foundation of many marine ecosystems, so unsustainable harvesting can have far-reaching consequences.
Some cultivation is already happening in Australia by licensees of the company FutureFeed, which owns the international intellectual property for the technology of cultivating Asparagopsis as animal feed; its roots go back to an Australian coastal dairy farmer who noticed cows that munched on washed-up seaweed produced more milk. Most licensees are located in Australia and New Zealand and operate on a small scale.
A green light for red seaweed
Blue Ocean Barns, co-founded by Joan Salwen and Matt Rothe, became the first American licensee of FutureFeed in 2019. So far, it has raised about $27 million in funding and built a production facility on the west coast of Hawaii's Big Island. In the shadow of the island's sloping volcanoes, yards away from the black-lava beach, the red seaweed floats in vats fed by ocean water. After harvesting, it's dried in sheets and made into the fine powder that Johnson-Neles' cows sampled last summer. The company also has a research and development facility in San Diego and recently announced a partnership with a Mexico-based aquaculture company to test the algae's viability in the Gulf of California.
CEO Joan Salwen, who encountered early Asparagopsis research while she was a visiting scholar at Stanford University in 2016, began working with Kebreab in 2017 and helped raise money to fund the UC Davis studies from foundations concerned with the climate. She's optimistic about the rate at which her company will be able to scale. "We're looking at a runway of probably about 10 to 12 years to supply all 93 million cattle that are in the U.S.," she says.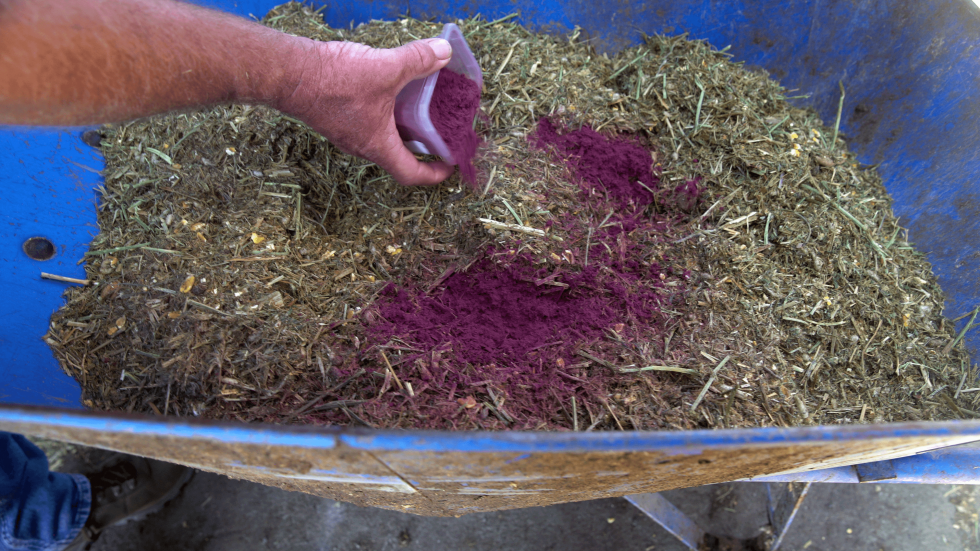 It may also take that long for the Food and Drug Administration to approve the Brominata seaweed-based supplement for sale as a product that purports to reduce methane emissions. Kebreab, who is a science advisor to Blue Ocean Barns, says that the FDA approval process is "the main barrier" to rolling out methane-reducing feed additives in the dairy industry. "All of those feed additives are treated as drugs, and so it's a little bit more complex," he says. "Hopefully, the FDA will change their mind, and they will make the process similar to what the Europeans have."
The California Food and Drug Administration already has an approval process that more closely resembles the European system, which allows feed additives to enter the market after an authorization procedure. Earlier this year, the CFDA gave the green light to Asparagopsis taxiformis as a feed additive following a commercial trial at Straus Dairy Farm in Marshall, owned by the Albert Straus, founder and CEO of the organic dairy company Straus Family Creamery.
The Straus trial took place over 50 days in 2021 using wild-harvested seaweed from the Atlantic Ocean; Blue Ocean Barns oversaw the study, but its production process wasn't far enough along to supply cultivated Brominata when it was proposed. Each of the farm's 24 cows received a quarter-pound ration of seaweed daily, in addition to her usual 45 pounds of feed. By the end of the trial, average enteric methane emissions of the herd had reduced by 52 percent, and some individual cows had reductions of up to 90 percent.
In May, after reviewing data from the trial, the CFDA issued a no objection letter for Asparagopsis taxiformis use in cattle at the levels and duration prescribed at Straus, which allowed it to be sold in California. But if manufacturers want to sell the product with a label that says it can reduce methane emissions, they'll need to receive FDA approval.
'An essential role in reversing climate change'
Straus Family Creamery founder and CEO Albert Straus isn't waiting. He plans to incorporate Brominata into the everyday diet at Straus Dairy Farm by the end of 2023, part of his goal to make the farm carbon neutral by that deadline. By the end of the decade, he also hopes to encourage the rest of the family farms that supply the company to adopt the additive. They may be incentivized to do this by receiving carbon credits and selling them on the market for extra income. (Farmers can already sell carbon credits if they install a methane digester and qualify through the California Air Resources Board's Low Carbon Fuel Standard.)
Clover Sonoma, which is also supplied by several independently owned family farms, has similar goals. "If there's not a monetary benefit for the dairy farmers, then we're willing to figure out ways to manage that increased cost for them to add one more feed ingredient," says Benedetti of Clover Sonoma. "I don't think a dairy farmer on their own is going to say, 'I want to add this just out of my good heart to help the planet,' so we're realizing that we're going to have to find ways to make that something that they're willing to do."
Clover and Straus are premium brands that may be better equipped to absorb these costs; at Sacramento stores like Raley's, Taylor's Market and the Sacramento Natural Foods Co-op, Clover milk costs between $6 and $9 a gallon and Straus milk between $9 and $12 a gallon, plus the bottle deposit. Dairies that produce cheaper milk may be less inclined to add another cost to their inputs, especially with feed prices hitting record highs — though Salwen says Blue Ocean Barns has already contracted with a large, conventional dairy player in the Modesto area that declines to be named. As inflation prompts more budget-consciousness among consumers, one might ask whether a few farms adding seaweed to their feed will make a dent in climate change.
"The marketplace is demanding these changes, that farms and brands do their parts to change the future."

Albert Straus, founder and CEO, Straus Family Creamery
It's also no coincidence that all three of the companies that have publicly signed on to use Brominata (Clover, Straus and Ben & Jerry's) make dairy products, not meat. Critics have pointed out that the feed additive can have minimal impact in the beef industry, where cattle usually spend most of their lives on pasture. Additives are most effectively administered in feedlots during the steers' last months of life, when they already produce less methane because they eat more easily digestible feed, such as grains, instead of tough grasses. Others have argued that the only real way to cut down the greenhouse gas footprint of the livestock industry is to dismantle the industry entirely and transition to plant-based diets.
But Straus asserts that "livestock have an essential role in reversing climate change." He believes that livestock can play a role in regenerative agriculture, a philosophy of farming that aims to reinforce the soil's ability to sequester carbon through compost application, rotational grazing and other methods. Seaweed isn't a silver bullet, but it may be one useful weapon.
On his farm in Petaluma, Straus has a few more weapons on display. His personal car and farm vehicles run on manure-derived methane, the cows' feed is organic, and they nose among the hedgerows (which improve biodiversity and protect soil health) until it's time to turn in for the evening. "The marketplace is demanding these changes, that farms and brands do their parts to change the future," he says.
Correction December 27, 2022: A previous version of this article misidentified the location and owner of Straus Dairy Farm. It is located in Marshall, not Petaluma, and is owned by Albert Straus, not Straus Family Creamery.
–
Stay up to date on business in the Capital Region: Subscribe to the Comstock's newsletter today.