Even for those who know what to expect, it can be a shock to pull into the driveway of Morsey's Farm in Wilton and see hundreds of Asian water buffalo perking up and staring through the car windows. "They're very curious and super smart, with different personalities," says Yulia Morsey, giving a tour of the 25-acre farm founded by her husband, Kal Morsey.
It's surprising to see the curly-horned farm animals in California. Originating on the Indian subcontinent and Southeast Asia, they've also been domesticated for thousands of years in China and the Mediterranean basin. There are millions of Asian water buffalo around the world, but only a few thousand in the United States. They populate fewer than 20 water buffalo dairies in the nation, with three, including Morsey's, in Northern California.
But the population is growing as more consumers discover the rich flavor and silken texture of water buffalo cheese and gelato. "The milk is still the queen of the castle, because that's what everything else is made from," Yulia says. Water buffalo milk has 68 percent more calcium and 40 percent more protein than cow's milk, according to the American Water Buffalo Association. Even though it has more fat, it has less cholesterol.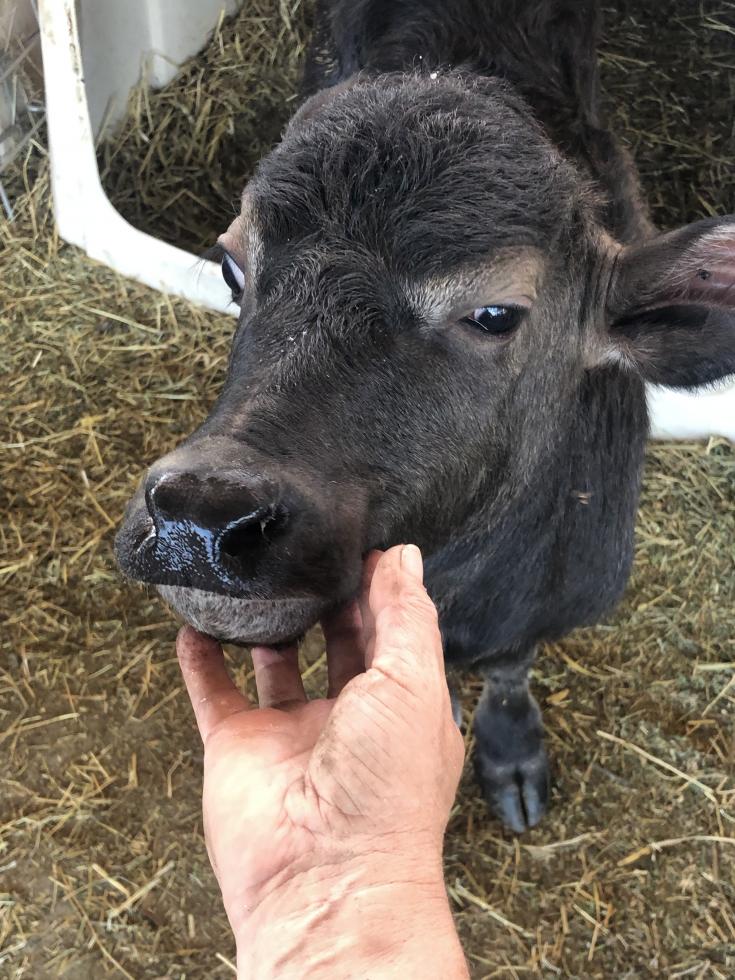 To a large extent, Morsey's Farm is self-contained. The milking, pasteurizing, packaging and labeling are done on site. The Morseys grow much of their own alfalfa, nourishing it with manure, not synthetic fertilizer. The livestock is fed a diet of organic wheat silage, alfalfa and ryegrass, along with GMO-free corn.
When they're not grazing, the buffaloes are held in a series of corrals, depending on their purpose. One holds females used for breeding, another is filled with gamboling heifers (females too young to bear calves). "Those are our future," Yulia says.
As she passes by one corral, 20 or so buffalo spot Yulia and trot over to the fence, crowding in to lick her hands and be petted. "The minute they see me, it's like, 'Mom is here!" she says, laughing.
The main herd gathers in a massive covered corral behind the building that doubles as a milking station and packaging center. A massive bull named Theo — easily weighing a ton — ambles to the fence to have his snout rubbed. "They're like golden retrievers," Yulia says.
An Ancient Food Is New Again
Eight years ago, Kal and Yulia Morsey founded the dairy with seven buffalo and have since grown the herd to nearly 400 animals. Kal says that buying the buffaloes from overseas is difficult because of USDA regulations. He bought the first seven animals from a breeder in Texas, added a few more from other sellers and then went to Italy and imported water buffalo semen with USDA permission.
The next step was turning to specialists at UC Davis. "With their help, we formed a breeding program that produced most of the buffalo you see here today," Kal says. "We're on the fourth cycle of insemination, breeding a very good Italian line."
In the early years, the Morseys couldn't produce enough milk to make its cheeses and gelato for wide distribution. Herd size was one issue, coupled with limited milk productions. "Water buffalo produce only two gallons a day, compared to 11 to 15 for cows," Kal says.
Still, they had to get the word out. For years, Yulia did all the marketing — she drove from grocery store to grocery store between the Capital Region and the Bay Area with samples and spent weekends at farmers markets promoting the products. "Since the first day, customer feedback has been amazing," Kal says. "How can anybody beat mozzarella made fresh today and eaten tomorrow?"
To further cultivate public exposure to a product unknown to most Americans, they opened Morsey's Farmhouse restaurant in Los Altos in 2018, followed by Morsey's Creamery in Palo Alto the next year. The creamery specializes in gelato but offers the full range of Morsey's products for sale. The pandemic brought closures to both, though the creamery — the only buffalo milk-based gelateria in the U.S. — has reopened. The restaurant is still on hold.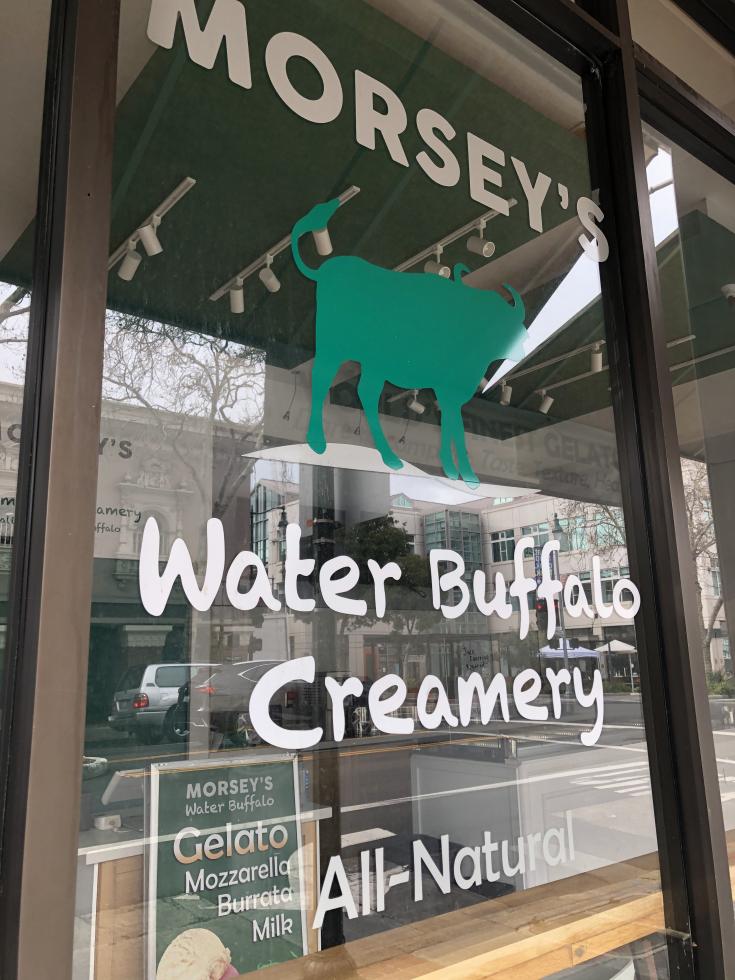 Today, Morsey's milk, gelato, and mozzarella di bufala, burrata and ricotta cheeses (with butter and yogurt in the works) are in about 100 stores from Sacramento to San Jose, with plans to expand into Washington and Oregon. Locally, they're at Corti Bros. Market, Sacramento Natural Foods Co-op and Davis Food Co-op, and are used at the Kitchen restaurant, Masullo Pizza and Majka Pizzeria and Bakery.
Corti Bros. was the first in Sacramento to carry the line. Store director Rick Mindermann recalled the initial tasting that he and store owner and food and wine authority Darrell Corti held: "I was amazed. But you could say of Darrell, 'Here's a man who's tasted it all,' and when he reacts that positively to a product, it's really something special."
The mozzarella di bufala is the bestseller. "Everybody who's tried it has raved, but the biggest indicator is that it's selling again and again," Mindermann says. "People are coming back for it."
'I Believe in These Animals'
Kal and Yulia had no farming experience when they opened Morsey's. "Our backgrounds aren't even close to what we're doing now. Our lives have turned upside down," Yulia says.
Kal emigrated from Alexandria, Egypt, in 1978, earned an MBA from New York University and became an international commodities trader specializing in cotton. Yulia has a Ph.D. in neuropsychology from St. Petersburg University in her native Russia. They've lived in London, Moscow, Cairo and Dubai and traveled through many other countries.
"I grew up on water buffalo (products) in Egypt," Kal says. "I would go to Europe and South America, and the taste was not the same, the luxury was not there. I'd go back to Egypt and the taste was amazing. It stayed in the back of my mind all these years."
After tasting water buffalo ice cream in Pakistan, which he deemed "as good as I got in Egypt," he discovered the difference was the quality of the milk, linked to the animals' diets. "I decided when I retired from the cotton business, I would look into making a buffalo farm. That's how it started," Kal says.
Now, eight years after the first animals came to the farm, the Morseys are poised to expand to new markets and initiate new consumers. "We want to bring to Americans something they are not aware of, and the dairy industry needs this addition," Kal says. "It makes me very proud to take the risk and give it a shot. I believe in these animals, and their products deserve a chance."
–
Stay up to date on business in the Capital Region: Subscribe to the Comstock's newsletter today.