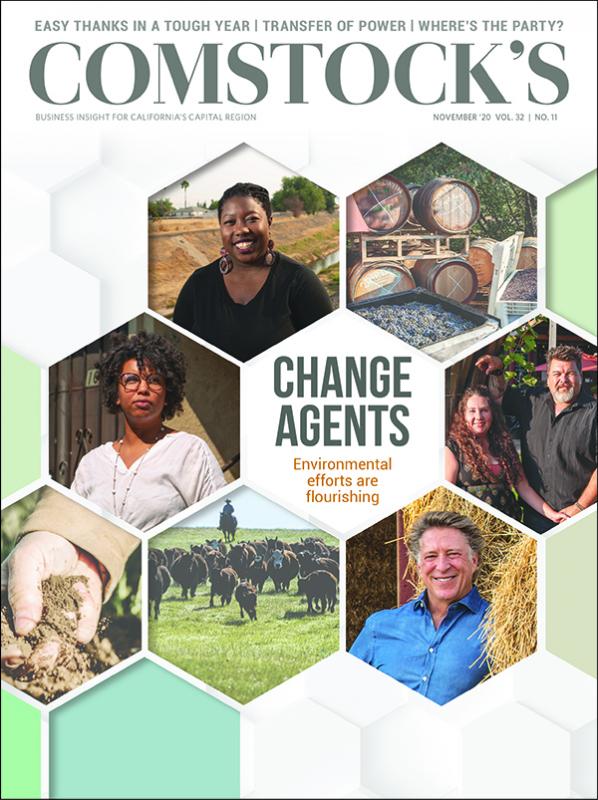 This story is part of our November 2020 issue. To subscribe, click here.
If you were employed by Google in 2006, you were invited to a holiday party called Googlympus, held on San Francisco's Pier 48. The gala featured a live orchestra, disco room, an epic theme that honored the Greek gods, tarot card readers, mermaids, open bars — and 10,000 attendees.
Or if you worked in Bloomberg's London office in 2000, your holiday party had a seven deadly sins theme, with a casino, cabaret and "lust room" with a 25-foot purple satin bed. For most of the post-World War II 20th century, your holiday party would have involved booze, dancing, more booze and flirtatious behavior that would have left many coworkers red-faced (and hungover) the next morning.
All of that has changed. "This is a big HR topic, for sure," says Preet Kuar, an HR expert and CEO of Sacramento-based Pacific Staffing. In recent years, before the pandemic, says Kuar, most companies scaled back their parties for a gamut of reasons — religious conflicts, troubles with alcohol and heightened awareness of inappropriate behavior in the #MeToo era.
As for holiday parties in the pandemic era? In one of the great understatements of 2020, Kuar predicts that "this year is going to be tricky."
From Merry Christmas to a Silent Night
For many companies, the holiday party used to be the Christmas party. "We stopped saying Merry Christmas in the '80s, and we're long past that," says Kuar, who adds that merely using the word "holiday" is not enough to ensure inclusivity. The list of holidays in December includes Bodhi Day, Posadas Navidenas (celebrated in Hispanic and Latin American communities), Yule (Wicca), Kwanzaa (African American cultural celebration), Zarathosht Diso (Zoroastrianism), Hanukkah (Judaism), Christmas (Christianity) and, of course, Festivus (secular).
Kuar says that to avoid this potential minefield of cultural insensitivity, some companies have pushed the parties to January or February with more innocuous themes, like Winter Wonderland.
Or they've scrapped them altogether. "After a while, companies have just said, 'In order to appreciate everyone, we will no longer host any of these types of events,' right, wrong or indifferent, just to take that neutral path of inclusiveness," says Julie Worley, a senior consultant at Sacramento-based HR Done Right. She adds that even Halloween can be problematic, so, "You don't see too many businesses say, 'Let's dress up for the holiday!'"
"After a while, companies have just said, 'In order to appreciate everyone, we will no longer host any of these types of events,' right, wrong or indifferent, just to take that neutral path of inclusiveness."

JULIE WORLEY Senior consultant, HR Done Right
Religion is only one of the many issues. "Companies have stopped saying 'Your spouse is invited,'" says Susan Heathfield, a management consultant and HR expert for The Balance Careers, a website that offers career advice. Heathfield says the word spouse has largely been expunged from the corporate vocabulary. "There are all sorts of family relationships these days," says Heathfield. "You have people in partnerships, you have gay relationships where the people aren't necessarily married."
Even the food can be fraught. In the past, maybe a company would serve a juicy Christmas ham and expect all to enjoy. "Companies have become extremely careful to always have a vegan or vegetarian option," says Heathfield. "The whole arena of awareness is just 100 percent more than it would have been years ago."
Then there's a more mundane challenge: scheduling. December is a crowded month, stuffed with social obligations, and there are only three weekends from which to choose. "My company stopped having holiday parties, because it became too difficult to get all the employees and partners together in the same evening," says Heathfield. So they turned their holiday party into a February birthday bash, to celebrate the month the company was founded. Heathfield says not only did this untie the knotty scheduling conflicts, but it's cheaper to book events in February.
Those boozy holiday parties of yore could also lead to drinking-and-driving accidents, injuries, and problematic behavior such as sexual harassment. At one of Kuar's client's parties, an employee drank too much, hit his head and was sent to the hospital. "The company was liable," says Kuar. Another client used to throw a lavish annual party at a hotel with cocktail hour, dinner, dancing, and everyone stayed overnight and then had breakfast the next morning.
"For 10 years, everybody looked forward to it. It was exciting," says Kuar. Then, for three years in a row, there were sexual harassment allegations, injuries and fighting. "They had four or five cases — within three years — of something they had to hire an attorney for," says Kuar. "After that, they were done."
Less Naughty, More Nice
Despite all these complications, in the pre-COVID-19 world, most companies still planned some kind of holiday gathering. A 2019 survey from the outplacement firm Challenger, Gray & Christmas found that 76 percent of companies planned some kind of celebration, even if the events were more subdued.
"It doesn't appear that companies are holding the lavish parties of the 1980s and 1990s, and post-Great Recession, and even post-#MeToo (awareness), those days may be long gone," founder James Challenger said at the time of the survey, finding only 53 percent of companies planned to serve alcohol.
Heathfield has seen the same shift in an advice column at "The Balance Career," where she gives readers tips on workplace etiquette. "I would get notes from readers that went on and on about … a senior executive who stripped naked and climbed the telephone pole," says Heathfield. "I don't get notes like that anymore. Employers are doing things to limit the drinking."
"I would get notes from readers that went on and on about how a senior executive who stripped naked and climbed the telephone pole. I don't get notes like that anymore. Employers are doing things to limit the drinking."

Susan Heathfield Management consultant and HR expert, The Balance Careers
Even if alcohol is served, many companies have shifted to cash bars, providing only beer and wine, or curbing consumption by giving out drink tickets, often just one or two. "I don't think we'll go back to (the) era where it was an open bar," says Worley, "because people tend to get a little out of control."
Every expert cited this specific trend: Companies are nudging holiday parties away from alcohol and putting the focus on something else — anything else. "Some make absolutely certain that food is the centerpiece of the holiday events," says Heathfield, adding that many are also now family-friendly affairs.
More holiday parties now look like the annual events at Tesco Controls, a Sacramento-based manufacturing firm that makes wastewater and electrical control systems. You won't find a bar, but your kids can play on inflatable bounce houses, or maybe you can try your luck at some pingpong or bingo. "We try to create a family culture here," says Tesco's Allison Hunter, who helps plan the events.
Randy Peters Catering & Events, based in Roseville, has produced office holiday parties since 2005, and president Lisa Peters says she has "absolutely" seen the shift from cocktails to kiddies. Her company used to create massive themed holiday parties like an O.K. Coral for Waste Connections in Folsom (the company moved to Texas in 2011) with saloons and line dancing and magicians.
"All the (women) dressed in saloon outfits, and the guys dressed in Western wear," remembers Peters. More recently, the toned-down parties feature doughnut walls (doughnuts hang off pegs and people help themselves), candy walls and game rooms for the employees' kids.
Companies have pivoted to lunches, toy drives, golfing, bowling, poker nights or making a charitable contribution. In lieu of the holiday party, Pacific Staffing (Kuar's company) invites employees to a luncheon, and then donates to Women's Empowerment, a Sacramento-based nonprofit organization that helps women experiencing homelessness.
Other companies now host brunch. "They don't have to deal with the alcohol as much, and it's a daytime event, so they still have their evenings free," says Peters, who, in recent nonpandemic years, has coordinated holiday brunches, serving less (if any) alcohol and more eggs Benedicts, bread pudding, frittatas and make-your-own-burrito bars. Out with the bourbon, in with the blueberry pancakes.
A Very Pandemic Holiday
In late August, when Kuar asked nine of her clients if they were planning a holiday party, only one said they would attempt anything in person. "Everybody else said they plan to do something virtually," says Kuar. Just as videoconferencing has replaced in-person meetings, Zoom galas might replace in-person holiday parties.
"This year is not going to be normal at all," says Heathfield. Worley agrees, noting that parties are simply not top of mind. "People are so focused in other areas," says Worley, such as economic distress, politics, fires, protests, Black Lives Matter or the other challenges of 2020.
Then there are the fiscal realities. "Christmas parties reflect what the economy is doing," says Susan Crane, owner of The Party Concierge, another Sacramento company that organizes holiday parties. "When the economy is running well, Christmas parties are all decked out. It really does flow with the economy." Given the grim economic condition for much of the nation — on top of the pandemic uncertainty — this does not bode well for the holiday season. "We don't know what's going to happen," says Crane.
Neither does Tesco, or at least not as of early October. "I don't know what the world is going to look like in December," says Hunter, but she still plans to do something fun to recognize and reward employees. The company is getting creative. For example, Tesco annually has a Shoot the Hoop basketball contest, where each department takes turns taking shots.
This year, in October, every department had a socially distanced 20-minute time slot to shoot the hoop, they recorded the event, and then one department got bragging rights. Just as the company switched Shoot the Hoop to virtual, Hunter expects it can do something similar in December, like virtual cooking classes. "We'll all be online, and a chef will help us cook," says Hunter.
The purpose of a holiday party is to reward employees and boost camaraderie, and that could be especially important as we close out 2020. "Owners still want to recognize the work employees are doing, especially this year, as it's a hard year for everybody," says Peters. When employees are stuck at home, hunched over their laptops, quietly clacking — all while watching over or homeschooling their kids — they're not getting much in the way of recognition or warm fuzzies.
This is why some clients of Randy Peters Catering have the company deliver gift boxes, such as packages with homemade barbecue sauce, to employees. One of Kuar's clients is sending flowers. Another is writing handwritten cards to thank people. Others send an Amazon gift card and a personalized note of thanks.
When most employees think about where they want to work, says Heathfield, they consider not just the basics like salary, title and scope of work, but also the company culture. They ask themselves questions: Is the culture one of team building? Is it inclusive? Is this the kind of company where I can make friends? Yes, even fun matters. They might not require a crowd of 10,000, a Googlympus or even an open bar, but being recognized still counts. Holiday parties are a way to reinforce values. This is why Heathfield predicts that, "even with all the potential problems of holiday parties, smart employers will be willing to struggle with this forever."
–
Stay up to date on business in the Capital Region: Subscribe to the Comstock's newsletter today.