By: Vanessa Labi
When you drive through the picturesque hills of the Sonoma coast, undulating against an ocean backdrop and dotted with grazing cows, you're probably not thinking of destructive greenhouse gasses. But they're there, being burped up by California's dairy industry at a rate of 220 pounds of methane (per cow) each year.
Methane, Senior Editor Jennifer Fergesen writes, is a powerful driver of global warming and up to 80 times more potent than carbon dioxide. In her December feature, she reports on the progressive efforts to reduce those emissions with a powdered seaweed that farmers add to feed "like a chef adding a pinch of seasoning to finish a dish." Learn more about the innovative solutions and products being developed by researchers and embraced by Northern California dairy farms in "A Sea of Hope."
Here's the rest of the Capital Region Rundown:
The pandemic-friendly concept of rentable ghost kitchens continues to offer flexibility to chefs and restaurants; a startup solves the problem of having to wait for a cocoa tree to mature to produce the beans needed for chocolate; an employee discipline professional consults Evil HR Lady about the volume of their company's volume of racial slurs; and our president and publisher pens this month's letter on the importance of trust, even amid a swirl head-spinning opinions and algorithms.
Recommendations from our editors:
In this section we editors share what we're reading, listening to, watching or even eating. Here's what we're consuming this week:
Judy: I worked for the California Farm Bureau for a year so I got to learn a lot about ranchers and cowboys in our state, but I was unaware of the history of Black cowboys. The Los Angeles Times did a nice story on their legacy, which continues to grow today and includes a Black riding club, the Loyalty Riderz, in Wilton in our region.
Jennifer: Last week, the exemplary podcast "99% Invisible" did an episode on P-22, a lonely mountain lion who trekked across busy freeways to make a home in LA's Griffith Park. It's a made-for-Hollywood story that sheds light on the plight of wild animals in California's urban areas.
Vanessa: The electronic band Tycho will be performing at Harlow's this week for a special three-night series that will celebrate their influential album "Dive." Band leader Scott Hansen wrote the tranquil album in a converted garage a couple blocks from Harlow's 10 years ago. Hansen lives in San Francisco now, but guitarist Zac Brown lives in Midtown Sacramento and says he will be able to walk to the shows. I interviewed the band for a story that will hit the web later this week.
Odds and ends:
Which businesses or destinations do you think deserves a spotlight in our column, "Off the Beaten Track?" We're looking for cool, quirky, hidden or underrated places in the Capital Region that are worth the trip. Leave a comment on our Instagram post to share your ideas!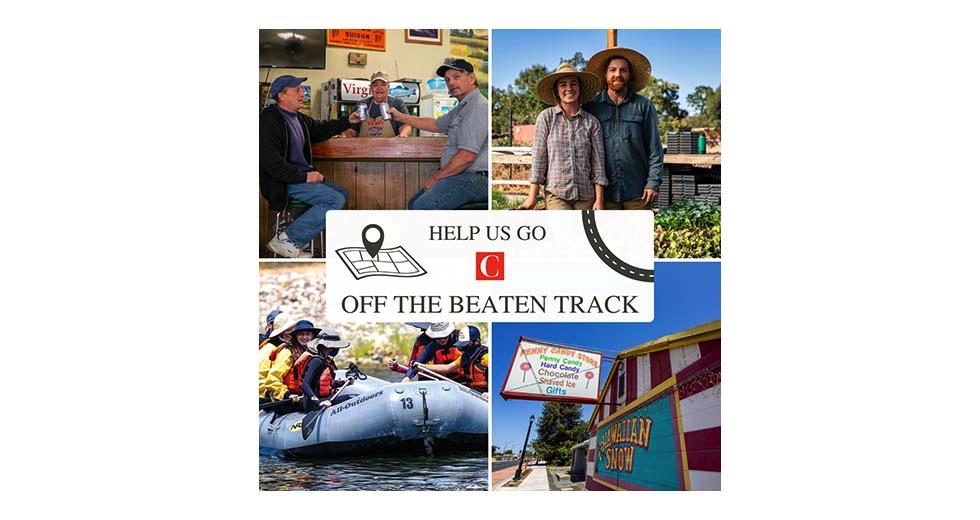 We've extended our Women in Leadership nominations through this Friday. Don't forget to subscribe to the magazine to stay up to date on the region's business trends, and follow us on Instagram, Facebook, Twitter and LinkedIn for daily stories and extras.
Comstock's is now accepting nominations for its ninth annual salute to women in leadership. We're looking for top-tier executives who make a demonstrated difference in their industries, companies, communities and the next generation of the workforce.
PODCAST: Guest writer Melody White reads her column about the surprising perks of working from home as an extrovert, and how employers and managers can support remote workers who thrive on social interaction.

Unity Lewis recently curated a series at Crocker Art Museum that brought his grandmother's book into the three-dimensional world by pairing works of artists from previous generations with their modern counterparts who will carry the torch.