Hello! Spring has sprung, and events have (somewhat) sprung back to life as well. Last night we attended a wonderful conversation organized by SheShares, the organizaton's first in-person event in two years. Onstage was a powerful and inspirational mother-daughter duo, Secretary of State Shirley N. Weber, Ph.D., and Assemblymember Akilah Weber, M.D. The lively conversation, which covered mentorship, the importance of staying connected with family, and racism in the workplace, was moderated by Cassandra Pye, executive vice president of Lucas Public Affairs.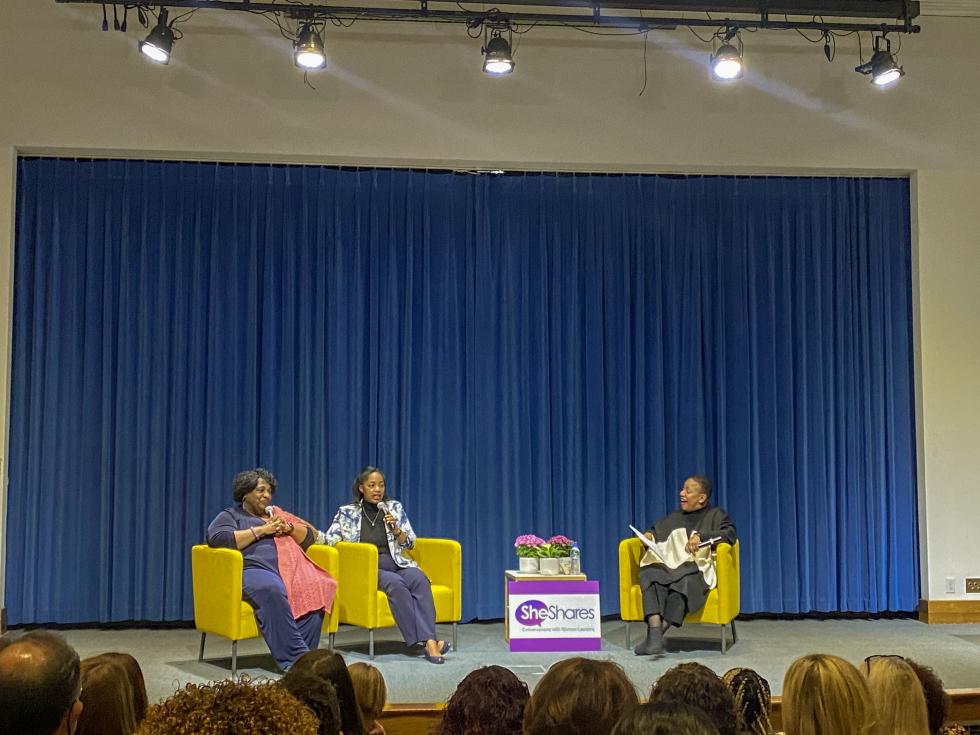 Among the many insights was this gem from Dr. Shirley Weber:
"A mentorship is not on a time frame. It's a life experience. Even if some of my students have been out of my class 20 years, they can still call. It's a unique quality we have to help and nurture other people. Mentorship enhances your life."
Who has enhanced your career path and life? In the spirit of last night's talk, we encourage you to reach out to them and send them a little thank you or check-in.
Oh, and we hope you have your windows open on this beautiful and warm spring day!
Here's the latest:
A sushi-making competition among California lawmakers draws attention to the water management involved in growing rice; organizations supporting women in crisis offer culinary training programs as a way of imparting skills, confidence and self-sufficiency; the California Mobility Center opens a facility with electric cars designed to help meet SMUD's goal of zero carbon emissions by 2030; innovators in the Capital Region develop new tools and technologies to help the population feel stronger while living longer; amateur drivers take to the race track in beat-up cars in an irreverent endurance racing event; a medical herbalist at Sacramento Native American Health Center treats patients through a holistic approach; an arts professional shares her globe-trotting career path before settling into her role as executive director of Nevada County Arts Council; TECMA's president praises her team of precision machinists for their craft building materials for NASA; the former CEO of San Joaquin Regional Transit District reflects back on a career of caring for the riders of Stockton public transportation.
Recommendations from our editors:
Last week we introduced a new section where we editors will share what we're reading, listening to, watching or even eating. Here's what we're consuming this week:
Vanessa: I just took a weekend trip to San Francisco and got my cultural fix with a trip to SF MOMA, a radical indie comic book store and a concert at the Starline Social Club in Oakland. I loved the opening band, which is always a fun way to discover new music.
Judy: More than 100 million people are expected to tune into March Madness this month. The Cinderella story of the NCAA tournament has been the St. Peter's Peacocks of Jersey City, New Jersey, who upset No. 2 seed Kentucky and No. 7 seed Murray State to advance to the Sweet Sixteen. As a New Jersey native, I enjoyed reading up on this team's background, which has sports fans buzzing.
Jennifer: I've been making lots of marmalade from the surplus of oranges, grapefruits, lemons and kumquats that arrive at my doorstep from my CSA (H&K Farms) and friends with trees. Alison Roman's recipe in the New York Times is foolproof and works with any citrus.
Odds and ends
Don't forget to subscribe to the magazine to stay up to date on the region's business trends, and follow us on Instagram, Facebook, Twitter and LinkedIn for daily stories and extras.
There's only one week left to nominate an inspirational young leader age 40 or under for our upcoming Young Professionals issue! It takes just a few minutes to fill out the form and submit your pick. Deadline for submissions is April 1.