Yesterday I had the joy of tasting a preview of the coveted menu, unveiled yesterday, for the Farm-to-Fork Gala Dinner on Tower Bridge. If you were able to snag a ticket to the event, there's a lot to look forward to.
Chefs Oliver Ridgeway of Grange Restaurant & Bar and Ravin Patel of Ella Dining Room & Bar lead this year's lineup of top Sacramento chefs to host a 3-course meal featuring the region's finest farm-fresh products.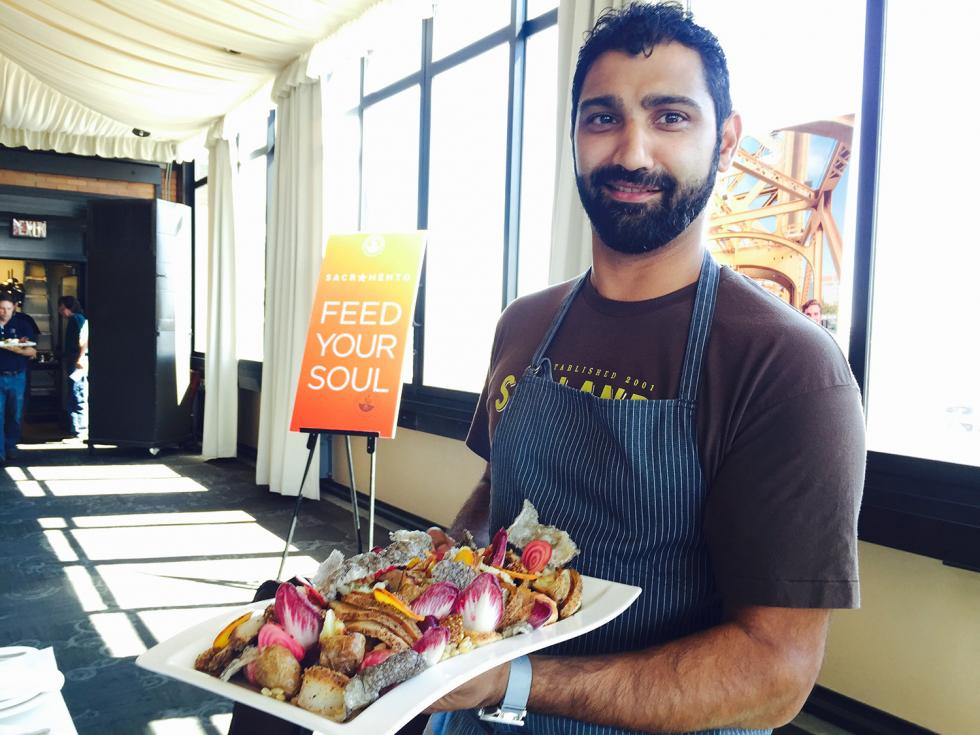 According to Patel, the late-September date allows this year's menu to "straddle the seasons." Ridgeway agrees. The blend of ingredients — from squash to fig, tomatoes to greens — reflects both late summer and autumn, a time of year many chefs adore.
"The table doesn't look like July," says Jim Mills of Produce Express, a local food purveyor. "And it doesn't look like winter."
The dinner starts with artisan cheeses procured by Chef Scott Rose and made throughout the region, including those from Sierra Nevada Cheese Company in Willows and Cowgirl Creamery in Point Reyes Station. The plate comes closer to home with its accompaniments: apples from Twin Peaks Orchards as well as walnuts, jams and the drought-resistant Malabar spinach from Del Rio Botanicals in Sacramento.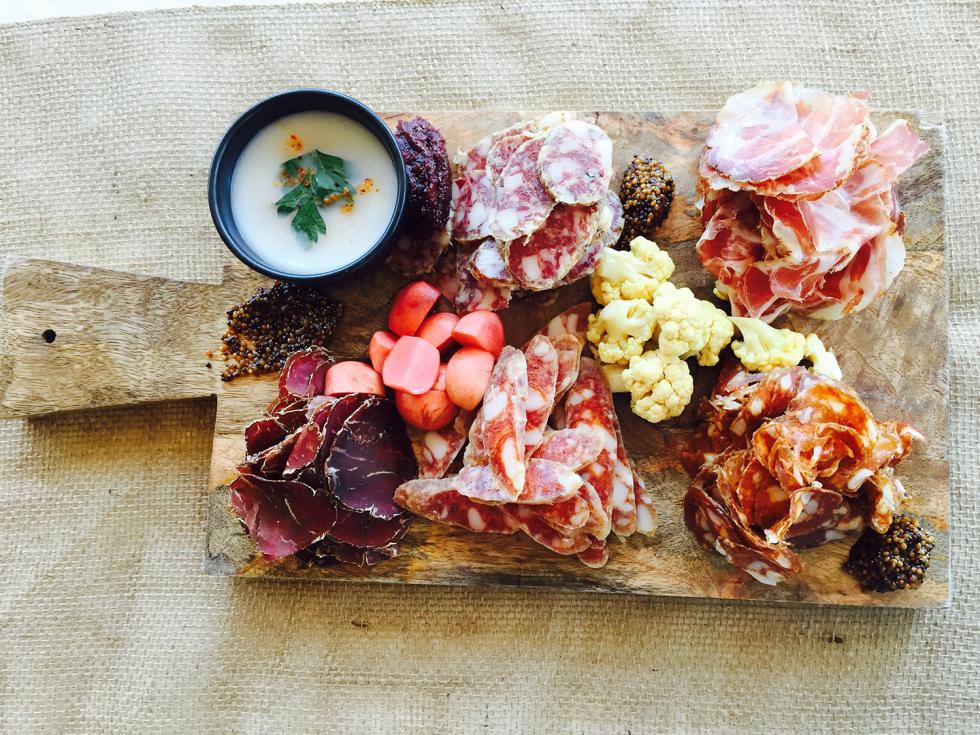 The charcuterie comes from Chef Brock MacDonald of LowBrau. Italian words fall like tiny poems from this tattooed chef's lips as he describes the copa (muscle cured from pig shoulder), bresaola (cured beef shoulder) and liver mouse he's prepared. Sliced paper thin, the meats are salty, some peppery and all entrapped with heady smoke.
Chef Bret Bohlmann of Boulevard Bistro is the culinary genius behind the first course: autumn squash panzanella. In addition to Del Rio Botancial's bitter greens mix, this comforting dish features a rare treat nestled among the creamy wedges of roasted, mapled squash and crispy thick-cut bacon: whole wheat tortellini stuffed with apple and camembert. Thanks to Vinny Lazzaretto of Lazzaretto Pasta Company, never has a whole grain noodle felt so light.
"Everything else is out of Washington, shipped to Italy, and then comes back again," Lazzaretto explains. But these noodles are truly local. The wheat was grown just north in Yuba County's Wheatland and milled by a company called Grass Valley Grains.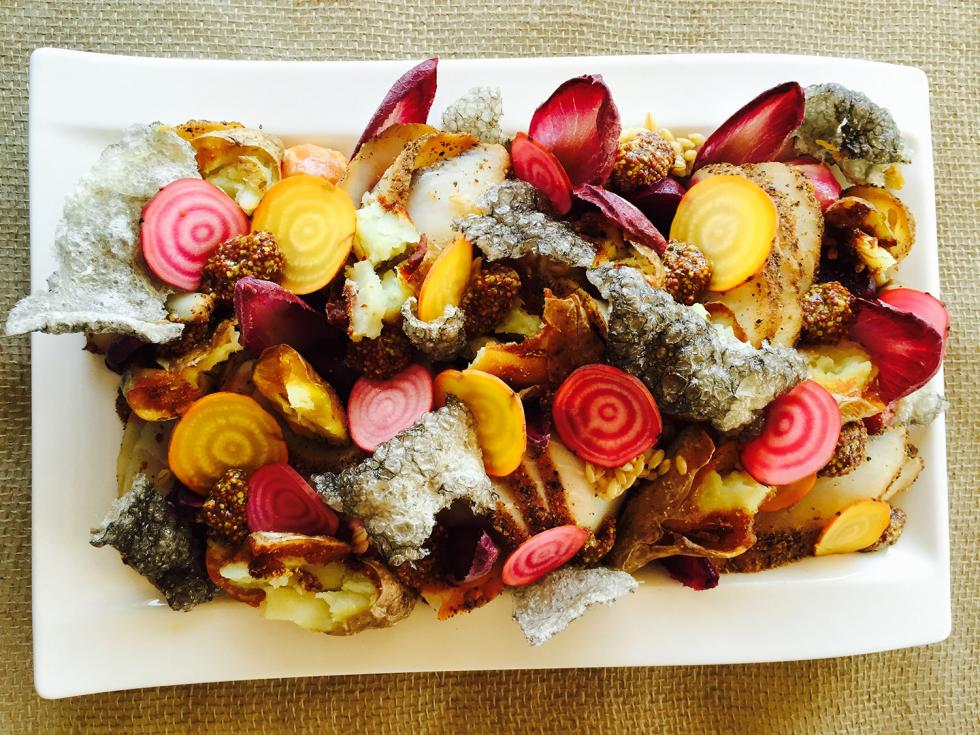 The second course is the brainchild of the dinner's lead chefs, Ridgeway and Patel, who are both known to enjoy the occasional Rueben sandwich. They creatively deconstruct this American classic into a dish of fish and beets. You really have to eat it to believe it. They've cured Passmore Ranch sturgeon to taste like pastrami and tucked it onto a loaded plate of pickled beets reminiscent of sauerkraut, smashed potatoes, endive leaves, crispy chicharonnes (fish skin), local mustard and rye berries.
The dinner will feature a duet of third courses. The mesquite-grilled whole chicken is prepared by Chef Patrick Prager and paired with rich runner beans from Slow Food Sacramento Snail of Approval winner, Elegant Bean in Lodi, and a perfect summer succotash of sweet corn, green beans and corn shoots. The second is a beef ragu served atop crispy polenta with cherry tomatoes and herbs.
Food cost and server wages are paid by the Sacramento Convention & Visitor's Bureau, says program director Nicole Rodgers. The chefs, however, donate their time pro bono, paid instead with experience and prestige.
"I appreciate every moment and every mistake I made to get here," says MacDonald.
So will the diners.