The most popular snack at Tupi Coffee in Sacramento is coxinhas, which translates to "little thighs" from Brazilian Portuguese. The fried dumplings are named for their resemblance to a chicken drumstick sans bone: the favorite food of the young prince they were created for, according to legend. But balanced on a plate with their pointed ends upwards, they look more like heavy teardrops — and they may induce them, especially among those with roots in or fond memories of Brazil.
The dumpling's mantle is mashed potato, lightly veiled in breadcrumbs. Break it to reveal shredded chicken, paprika-pink and plumped with requeijão, a Brazilian cheese as rich and viscous as crème anglaise. This style of requeijão (the Portuguese version is more like ricotta) was popularized in Minas Gerais, the main dairy-producing region of Brazil. The state is home to 20 percent of Brazil's cows, as well as to Tupi Coffee owner Eduardo Faustino.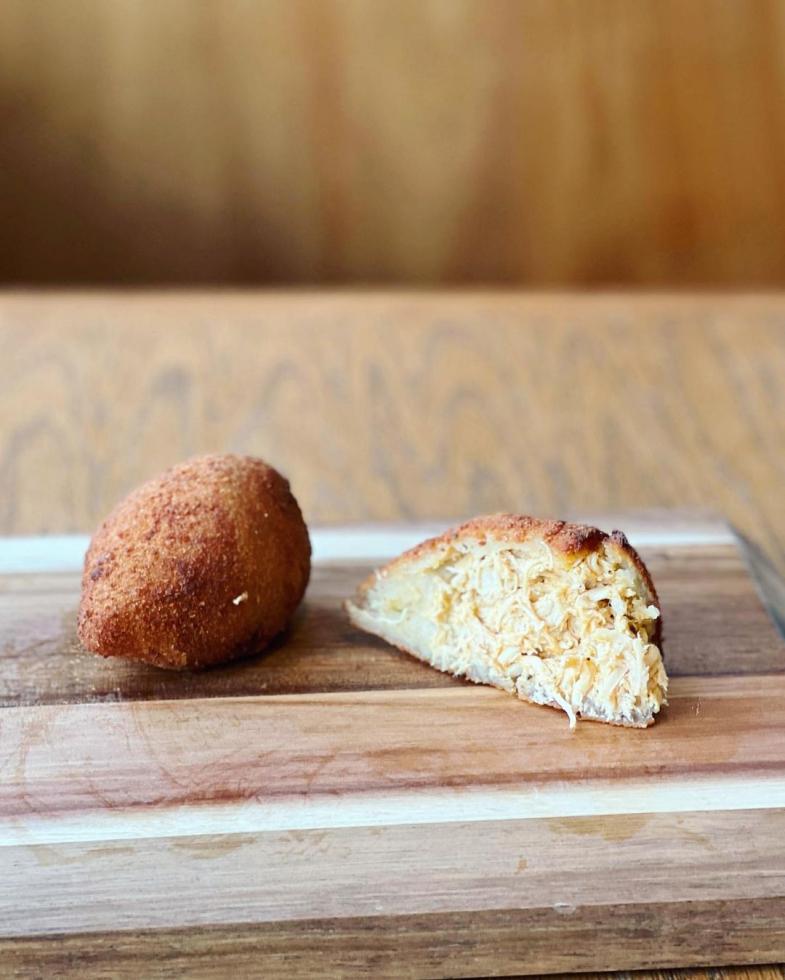 "This is the real Brazilian coxinha," says Faustino, who has run Tupi Coffee in Boulevard Park since July 2021. "I eat them almost every day, and I'm like, 'Oh my God, I'm so happy.'"
He feels similarly about the pão de queijo, or cheese bread, another invention of Minas Gerais that's made of little more than cheese with some tapioca starch and egg to hold it in place. In the oven they puff like bite-size souffles, hollow as held breaths, with a subtle pull somewhere between mochi and mozzarella. The elasticity comes from the tapioca, a word derived from the language of Brazil's Indigeous Tupi people.
"I'm not lying about this. The cheese bread we have is the best cheese bread I've had in my whole life, and I was eating cheese bread for 30 years in Brazil before I moved here."

Eduardo Faustino, owner, Tupi Coffee
"I'm not lying about this," Faustino asserts, "the cheese bread we have is the best cheese bread I've had in my whole life, and I was eating cheese bread for 30 years in Brazil before I moved here."
Faustino moved to the Bay Area in 2016 to finish his master's degree in marketing. Within the year he was importing coffee from his home state, which once dominated the world's coffee supply and still accounts for nearly half of Brazil's production. He opened his first coffee kiosk in 2018 at the utopian Salesforce Park atop Salesforce Transit Center in San Francisco. After cracks began appearing in the beams that held up the transit center, threatening to sink the floating garden, his kiosk had to close with the park.
Other Bay Area locations proved out of reach, with high rents and even higher bank account balance requirements. "Then I came to Sacramento to visit, and I fell in love with Sacramento," he says. He moved to the city and found a cafe he could afford at the back of an office building in Arden Arcade — a drop-ceilinged, fluorescent-lighted space that had been under the same proprietor since the 1980s. Six weeks of work, new counters and a fresh coat of paint made it his own. The grand opening was in May 2019, so he had a good 10 months before the pandemic gutted the office building of his regulars. He closed just short of his one-year anniversary.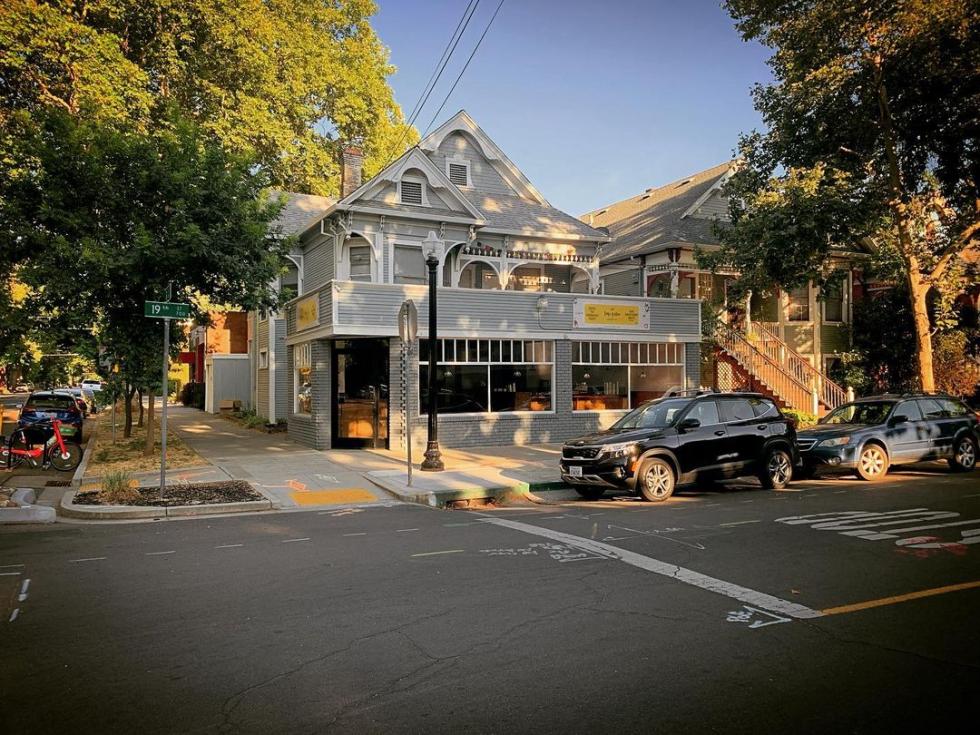 Then someone else's pandemic closure offered him a foothold. His friends alerted him to the demise of Simpleton Coffee, a branch of Identity Coffee (which rebranded as Pivot Coffee and closed most of its locations over the past two years as employees accused the owners of discrimination and poor business practices). Formerly a corner market, the side-street space had already been renovated into an airy cafe with wide windows and wooden tables well suited for remote work. It was a perfect fit, Faustino says. Little by little, he's giving Tupi its own look — he's recently introduced outdoor seating and commissioned painter Rachel Kerns to adorn its interior with a golden-toned mural of a jaguar slinking through a Brazilian jungle.
Every morning at 7, the tables begin to fill with regulars he has accumulated over the past year. They come mostly for coffee, all sourced from Minas Gerais and roasted in Sacramento. Unlike many of the city's independent coffee shops, Tupi serves low-acidity brews — "I'm not a citrusy coffee guy," Faustino says — and often stocks varieties other than the familiar cafe arabica, such as robusta and catuaí. Once maligned and relegated to lower-grade blends, these varieties are gaining some respect among those who admit their preference for earthy, nutty flavors.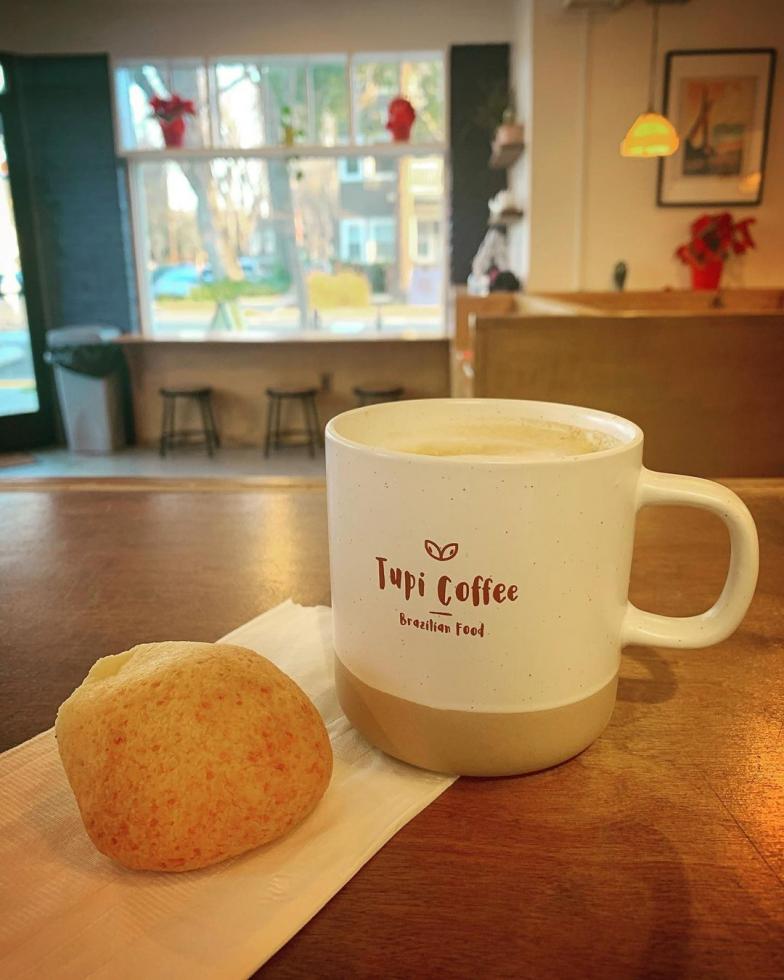 The business is currently open until 3 p.m. (with plans to stay open until 9:30 p.m. once the beer and wine license comes through), and most items on the menu serve equally well for breakfast or lunch. In addition to the coxinhas and pães de queijo, the Brazilian menu includes enroladinhos stuffed with cheese and meat, croquette-like rissoles, and esfihas, miniature flatbreads introduced to Brazil by Lebanese immigrants in the 19th century. (Another branch of the same exodus brought doner kebab to Mexico, where it became tacos al pastor.) All are made in-house by Tupi's chef, who hails from Rio de Janeiro. The cafe also offers one of Brazil's best-known exports, açaí berries, served in smoothies or bowls topped with fruit and granola.
Many customers opt for more standard fare: sandwiches, breakfast bowls, muffins or avocado toast. The latter, at $8 for two generous slices, is less likely than most to prevent one from buying a home. "I'm always investigating what people want without losing our core, which is the Brazilian açaí, the juices and baked goods," Faustino says. "This is America, so we serve what people need to make us survive."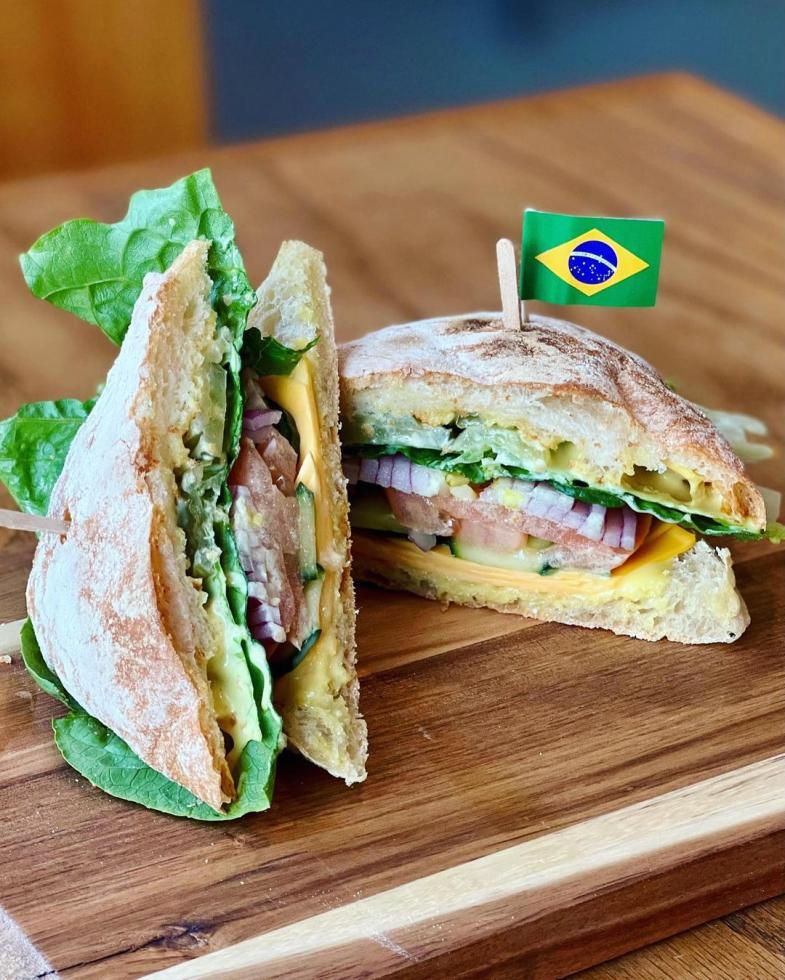 His future plans expand beyond survival. He hopes to make Tupi a nationwide chain — either a franchise or a venture capital-backed company like Philz — and to "put coxinhas in all the 50 states in a way that nobody else ever did before." But first he'll try to reopen his original location in Arden-Arcade, where his earliest customers are asking for him.
"They value us," he says. "We want to be personable and we want to be close to them, like it is in Brazil. It's all about family, it's all about friends. Our biggest currency is our social skills."
–
Stay up to date on business in the Capital Region: Subscribe to the Comstock's newsletter today.