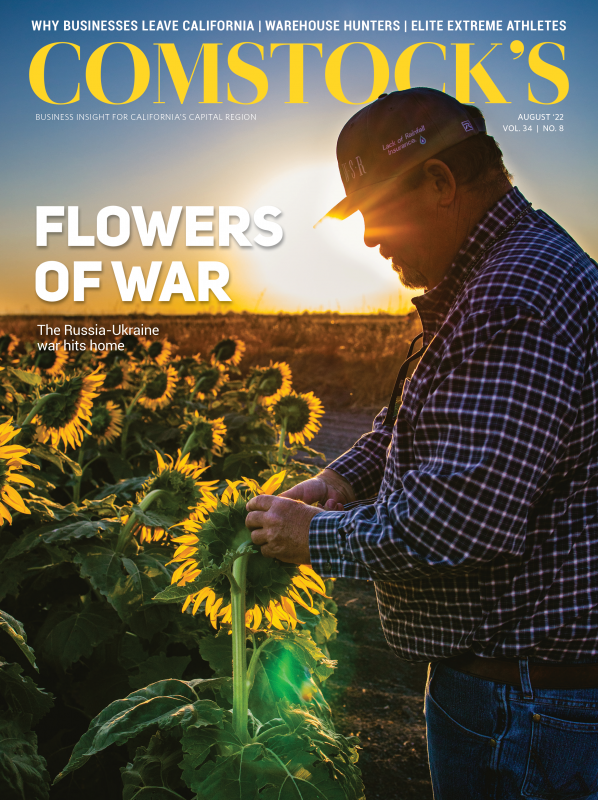 This story is part of our August 2022 print issue. To subscribe, click here.
Evidently, breast milk has benefits that go beyond babies. According to Ishita Shah, CEO and co-founder of Matrubials, "nature's first food for newborns" has big potential to help a variety of customers, young and old.
"In general, human breast milk has so many different components that change throughout the stages," Shah says. "Understanding the structure and function of molecules, we could identify antibiotic-like molecules."
Her startup, a spinoff from the Foods for Health Institute at UC Davis, aims to provide safe solutions to reduce health care costs and the economic burden related to bacterial infections. Matrubials builds on years of research at FFHI focused on understanding the intricacies of structure and function relationships between milk components and the host, Shah says. (This isn't the only startup out of UC Davis to realize the potential found in breast milk.)
With her three co-founders, Shah discovered these possibilities through their work in human milk and its nutrients customized to newborns. The antibiotic molecules are small peptides from larger proteins that can kill bacteria, some of which cause diseases.
The first area of focus is women's health. Now that the team knows the specific chemical structure of the molecules in breast milk, they can replicate them to create medications — and formulate them in ointments or tablets — to treat bacterial vaginosis, which impacts about a third of women.
BV comes from an imbalance of bacteria in the vagina. An overgrowth of pathogenic bacteria in a healthy vaginal microbiome can cause a host of issues including an odor, higher pH levels and secondary effects include urinary tract and yeast infections, fertility issues and other problems.
According to Shah, antibiotics are the current treatment for BV, but they don't prevent recurrence and don't work against drug-resistant pathogens. Matrubials aims to address BV through topical therapeutics that can quickly eliminate the "bad" bacteria without harming the "good" bacteria.
"As you look at global health and the kinds of solutions we need to deliver to market, (Shah) has identified a problem for essentially 50 percent of the world's population," says Monique Brown, co-founder and managing director at The Growth Factory, a nonprofit pre-seed accelerator with an accompanying venture fund in the Sacramento region. "She is innovating on products that hadn't been innovated on in 40 years."
Brown calls Shah one of the most intentional, coachable and positive visionaries she has come across. (Mark Haney, who co-founded The Growth Factory, already had a relationship with Shah's family, having invested in her husband's company, IGH Naturals, formerly Gray Mountain Sports Drinks). Shah came aboard as a member of The Growth Factory's first cohort in September. The accelerator and $13 million venture fund has invested in 26 early-stage companies to date.
Matrubials is in the early stages but is seeking FDA approval within the next two years. Shah knows this is a long process, and finding funds for early-stage infectious disease startups is challenging because the return on investment takes longer.
Meanwhile, Matrubials is using artificial intelligence to develop products for additional indications starting with skin health, which don't have to go through federal channels before hitting the market.
"The AI allows us to identify numerous peptides based on protein sequences," Shah says. "We can look through diverse mammalian milks: human, bovine, camel, sheep, goat. We can pick the best ingredients from milks and look into cocktail therapies and combine them into one, two or more products to address different indications."
The other three UC Davis founders are J. Bruce German, David Mills and Carlito Lebrilla. Matrubials was awarded a National Institutes of Health phase one business grant and a pilot Gates Foundation grant and has raised about $1.1 million in total, looking to raise an additional $900,000 to complete its seed round, Shah says.
Matrubials comes from two words, Shah explains: "Matru" means mother in Sanskrit and "bials" comes from antimicrobials. "The name represents that mom is making breast milk as a way of nourishing the baby," she says, "but also protecting it from infections, and the protective molecules present the core technology of Matrubials."
–
Stay up to date on business in the Capital Region: Subscribe to the Comstock's newsletter today.