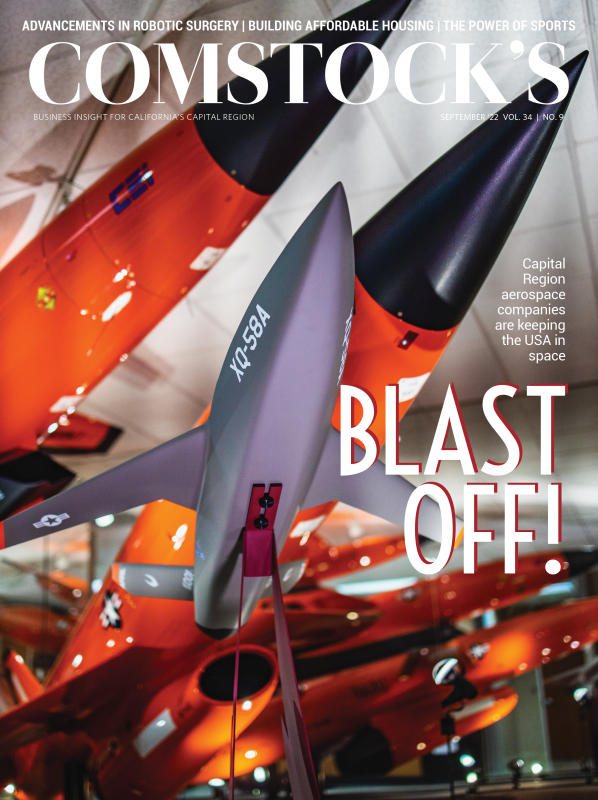 This story is part of our September 2022 print issue. To subscribe, click here.
One of the scariest questions for parents of children with developmental disabilities is: "What's going to happen to my child after I die?" As a special needs attorney, Michael Pearce has heard this concern and came up with a solution: a web app that enables parents to organize, manage and instantly access their child's key disability information in one secure place.
"The app makes sure the parents have a way to pass on the child's story," says Pearce, founder and CEO of VestLife.
Typically, parents would keep a trust document or other pieces of vital information about their child in a spreadsheet, binder or possibly a file-hosting service. But VestLife, Pearce says, was built specifically to solve the unique and complex problems faced by parents of children with developmental disabilities.
The app, called Vest, is organized into 22 major sections of life, each with dozens of pre-labeled "pockets" for parents to put their child's information. For example, the first section is "The Top 10 Things You Need to Know About Me," which can include details about the child's allergies, seizure procedures, primary support team contacts, unique strengths and needs, and dos and don'ts. Other sections include health care, medical records and family notes, so an employer, teacher or another guardian has all the data needed to give support.
Dan Strauss, ARCA board delegate and board member for the Far Northern Regional Center, met Pearce a few years ago to help set up a special needs trust. Strauss, whose son has autism spectrum disorder, helped test run the Vest app and sees the tool as bridging a critical gap between responsibility and recreation.
"For parents, there's a balancing act between the duty of care: 'I need to make sure you take meds, be safe, etc.,'" he says, "and the other side, which is the dignity of risk: 'I don't want you to make him so safe you take away his fun and joy.' Vest hits that sweet spot."
The app also empowers the child, Strauss says. He updates his son's life story on Vest with pictures and anecdotes, keeping track of fun stuff, milestones and changing preferences. This ever-evolving story is something his 33-year-old son carries with him, something he's proud of. It's his choice who he wants to share it with, Strauss says, and parents can have peace of mind knowing the app can help with not just the legal aspects, but also the quality of life.
"You can't replace a parent, but a parent can put in place this document that talks about what they want and what the child wants and how to guide use of caregiving after they're gone," Strauss says. "I have no illusion I can control anything after I die, but Vest can put parents at ease."
Jessica "Jess" Weber, who has cerebral palsy, and her mother were also early Vest adopters. Jess' mother was terminally ill — and has since passed on — but Jess continues to use Vest on her own.
With her iPhone and iPad mounted on her wheelchair, she has access to the information at all times. As someone who needs "everything written down," Jess finds comfort and feels independent being able to open the app and read everything whenever she wants. Sometimes she wakes up in the middle of the night to update it. She calls it her "security blanket."
"I feel more confident about my life in the future, knowing all of my information is in one spot," she said in a post on Pearce's site, adding that Vest benefits not just her, but also family, friends and personal care workers.
Pearce and his wife, Sue, both have more than 20 years of experience in the special needs community. They bootstrapped the app development, hiring programmers in San Diego to build it out over a 10-month period. Recently, VestLife received a $30,000 grant award from the City of Elk Grove through its Invest Elk Grove program. The subscription service, which costs $99.95 annually, has about 100 paid subscribers to date.
According to Pearce, no app exists like this one because software companies in this space have overlooked the needs of parents. The major players are focused on business solutions for the enterprise, such as public agencies, schools and disability providers, he adds.
In contrast, he says, Vest uses proprietary technology to predict and provide targeted solutions for parents across the lifespan, based on their child's unique needs, age and abilities. Things like when and how to obtain public benefits, starting a conservatorship, employment opportunities and housing options. Pearce says even the most basic of details — such as where they get a haircut — become crucial for a nonverbal child with ASD. In that way, he adds, Vest is like having "an expert disability guide on the parents' team."
"It doesn't sound real techie because it's not," Pearce says. "It's about a human life. … It's about making sure (the child) has positive outcomes and parents don't wake up at 3 a.m. worried about what's going to happen after they die."
–
Stay up to date on business in the Capital Region: Subscribe to the Comstock's newsletter today.