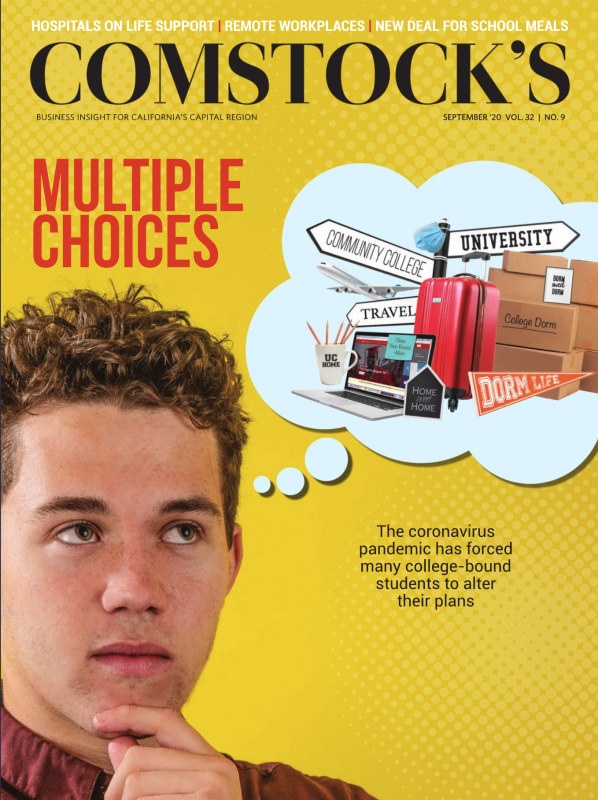 This story is part of our September 2020 issue. To subscribe, click here.
When it came time in 2019 for Ernesto Delgado's next culinary venture, he did not have to look far. Delgado opened Mayahuel in Sacramento's downtown in 2011, and opened Mesa Mercado in Carmichael in 2016. The next year, he opened La Cosecha in Cesar Chavez Plaza, also in downtown.
He then only had to travel fewer than 2 miles down the road from his downtown eateries and over the I Street Bridge to become the new owner of Sal's Tacos last year and join West Sacramento's Washington District. Once a blighted area, the neighborhood has transformed in the past decade, due to efforts by the City of West Sacramento, developers and entrepreneurs like Delgado who saw the area as a blank canvas for food operations.
The district could see even more growth soon, with the city and other stakeholders working on the conversion of the top deck of the historic I Street Bridge for pedestrian and bicycle traffic and building a replacement bridge for cars and pedestrians from C Street in West Sacramento to Railyards Boulevard in Sacramento.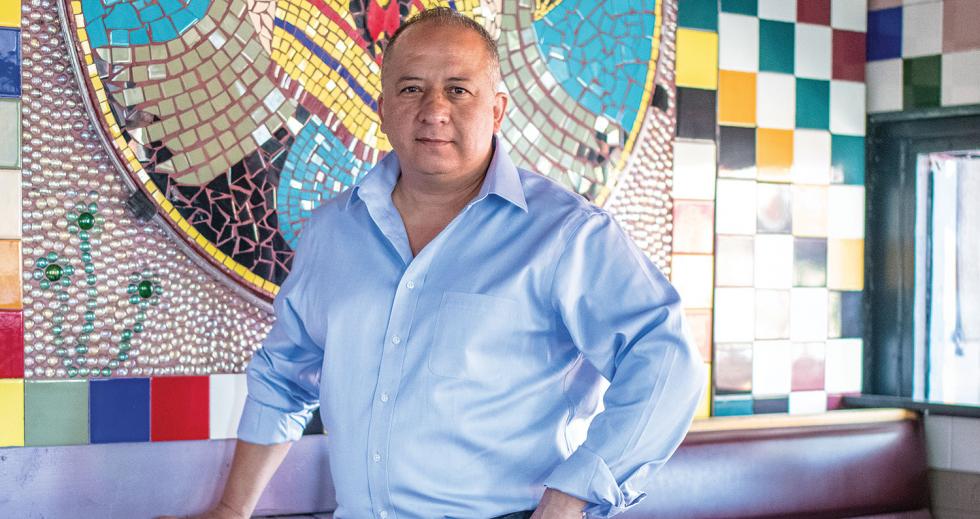 The new vehicular bridge and converted bike and pedestrian crossings will flow into a district located along the riverfront north of the Tower Bridge gateway and with a mix of housing, restaurants and retail. Katy Jacobson, economic development and housing director for the City of West Sacramento, describes the district as a smart-growth area, designated for transit-oriented development, with walkable grid patterns for streets, "beautiful old canopy trees and … cute older bungalows."
Mayor Christopher Cabaldon has watched the emergence of the food scene in the Washington District. "Even though (the district is) relatively new, it is the best of what West Sacramento is, and it feels as though it's been there since the gold rush," Cabaldon says.
The district dates to the late 1840s when it was part of the Town of Washington, with the town later renamed Broderick in honor of a U.S. senator killed in a duel in 1859. West Sacramento eventually incorporated as a city in 1987. But in recent decades, the Washington District deteriorated. "It's an area that, over time, had really lost all economic vitality," Jacobson says. "The area began to stagnate. It was blighted, there (were) a lot of vacant properties, there were security concerns and safety concerns."
"It's an area that, over time, has really lost all economic vitality. The area had begun to stagnate. It was blighted, there (were) a lot of vacant properties, there were security concerns and safety concerns." Katy Jacobsoneconomic development and housing director, City of West Sacramento
Chris Jarosz saw problems firsthand after he became the owner in 2012 of a bar at 319 Sixth St., which straddles the Washington District and the present-day Broderick neighborhood to the west. Jarosz remembers issues with homelessness, as well as a curfew the city had in place because of violence caused by the Broderick Boys street gang. But Jarosz's business, Broderick Roadhouse, soon developed an unusual clientele mix of bikers and public officials.
With help from a U.S. Department of Housing and Urban Development Sustainable Communities Initiative grant of roughly $400,000, plus $300,000 in local matching funds, the city developed a plan adopted by its city council in 2015 that focused on creating a better quality of life in the district. Jacobson says improvements included infrastructure to support "more urban-scale development" in the largely industrial area and walkability upgrades such as sidewalks and streetlights.
One of Jacobson's staff members also helped recruit Sacramento-based D&S Development in 2015 for a public-private project to restore the old Washington Firehouse on Third Street. Built in 1940 as a Works Progress Administration project, it was a fire station until 1979 and later a police station before shuttering in the late 1990s. It sat vacant for close to 20 years. "It was just a mess," Jacobson says. "Like, there (were) thousands of bats that lived in it."
The city sold the building to D&S in early 2016 for $24,000, with a condition the developer invest $700,000 in improvements. Sara Lebastchi, a vice president and project principal for D&S, remembered the fire station's circa-1950s lime-green fridge and old appliances. "It's exciting to be able to be creative and rethink how to repurpose an old building," Lebastchi says. "It's a passion for us to do these projects and make it financially feasible."
The building now houses Burgers & Brew Station 1 (owners Derar Zawaydeh and Philippe Masoud didn't respond to interview requests). D&S, which maintains ownership of properties it develops, also owns a building across the street with four businesses: Devil May Care Ice Cream & Frozen Treats, Roy Mata's Barber Shop, Edible Pedal Bike Shop, and La Crosta Pizza Bar. A fifth business, Stone Vintage Music Boutique, has closed.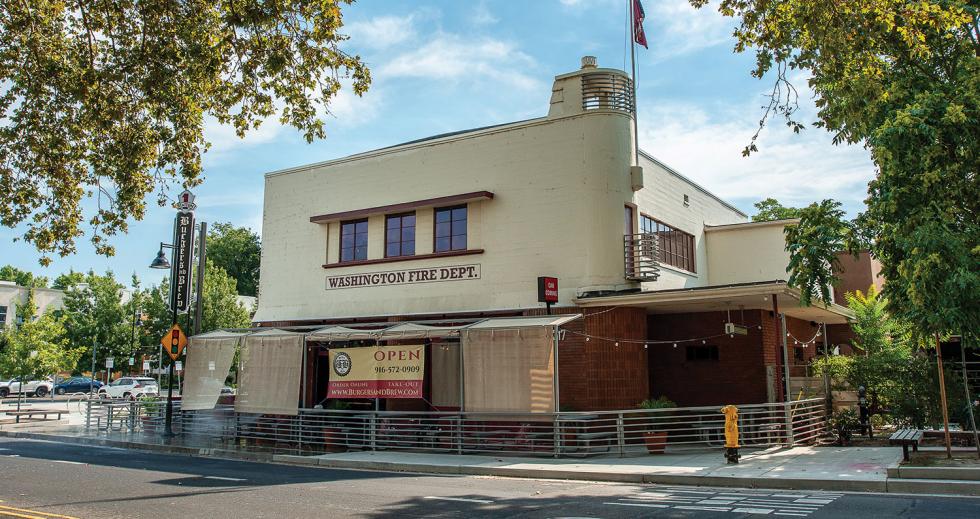 Jess Milbourn, who opened Devil May Care four years ago, worked at Broderick and other eateries before opening his shop. Milbourn experiments with offbeat ice cream flavors like toast, cold pizza, and peanut butter and jelly. "The landlords want the food to be unique," Milbourn says. "They're not pushing for your Applebee's or things like that."
Devil May Care's West Sacramento location was previously a Greek deli and, before that, a Subway sandwich shop. Seeing Third Street developing all the way up to Sutter Health Park (née Raley Field), Milbourn knew he wanted to be a part of it. He concedes he still has doubts about if what he's doing can work.
"This was a trial balloon kind of thing," Milbourn says. "For me, it wasn't, 'Oh, my God, this is the perfect space to go and open an ice cream shop.' It was like, 'I generally like the area, and I could see some other businesses moving in.'" His business has done well enough that he is opening another location in Sacramento.
Four doors from Milbourn, Steve Tatterson and a former business partner opened La Crosta in 2018 in an old liquor store. Tatterson, a former co-owner of The Rind, a high-end cheese restaurant in Midtown Sacramento, attempted a similar approach with La Crosta.
"We thought that might be something that people would really enjoy, and it didn't work as well as we would've liked it to," Tatterson says. "I think that West Sac appreciates its comfort food more so than the fine-dining piece."
Tatterson teamed with Jarosz earlier this year and is now working on rebranding La Crosta. They plan to add a bottle shop to the pizzeria and rename it Anonimo, which is Italian for "anonymous" and a tribute to watchmakers in that country who plied their craft with a low profile.
"When I heard the story, I was like, 'What a great name for a restaurant,' to really be about the craft of the food and not to worry about who owns it or who the chef is," Jarosz says. "It's just people coming together to make an amazing thing."
Then there's Delgado, a longtime friend of Jarosz's who would talk with him about West Sacramento while they were board members of the California Restaurant Association. "I've always been truly excited to be part of West Sacramento," Delgado says. "'Cause I've always seen that West Sacramento thinking was similar to my thinking, and, you know, they want to develop … a new style of a city."
Work remains, though. These are challenging times for restaurateurs, who've been forced to rapidly transition operations due to COVID-19. "We're in the space in between right now," Jarosz says.
The city continues to work on improvements to the neighborhood, including the I Street Bridge conversion and replacement. "Additional river crossings are very important for supporting sustainable development and walkable development," Jacobson says.
Jarosz is hopeful. "I always say about Broderick in West Sac, as many of the mistakes as I've made and as hard as it's been, Broderick has always been this weed that somehow finds its way back out of the cracks and grows and flowers again," Jarosz says. "I feel like that's the Broderick and Washington neighborhood. It's been through tough times for many, many years. But it just seems to keep finding its way."
–
Stay up to date on business in the Capital Region: Subscribe to the Comstock's newsletter today.