Restaurateur Derar Zawaydeh initially signed up for DoorDash as a means to combat "dead time" during the day, as in those gaps when indoor service is slow and employees are still clocked in with little to do. Zawaydeh, who owns five Burgers and Brew locations from Sacramento to Chico as well as Crepeville in Midtown Sacramento, says he has come to rely on DoorDash even more during the coronavirus pandemic.
"You come across times in the day where you still have employees, but they're not doing much," he says. "So we were trying to fill that with delivery services. It works really, really well with our concepts like with our burgers, not the crepes."
For Sacramento-area restaurants operating during the COVID-19 pandemic, the hits just keep on coming. Many restaurants were quick to adapt to ever-changing dining restrictions in order to keep doors open. But besides the challenges associated with a quick pivot from indoor to outdoor seating, takeout and curbside delivery, some establishments point to another difficulty — third-party delivery services.
When the pandemic forced restaurants to rethink how to reach their customers, many turned to DoorDash, Grubhub, Uber Eats and similar services for their built-in fleets of delivery drivers. Yet the commission each company takes per order, a range between 20-40 percent, has many wondering if these services are truly helping their business or taking advantage of an unfortunate situation.
"Honestly, I personally do not like them very much because what they charge is outrageous," Zawaydeh says. "I know people that are being charged 35 percent. When you pay 35 percent of your sales, what are you making? That's crazy. They charge the consumer as well. They take money both ways."
For Zawaydeh, once outdoor seating is full and orders start stacking up in the kitchen, he says his managers at all Burgers and Brew locations have the authority to turn off the app to better serve their dining customers. "I've come to realize that it was affecting my business, it was affecting the customers who were in the place because orders were taking long," he says. "If we're busy, we simply put a stop to it because it's the least moneymaking and it's affecting the people that are in the restaurant, so why should I be spending another 20 percent and my customers are not happy?"
Drivers Gone Astray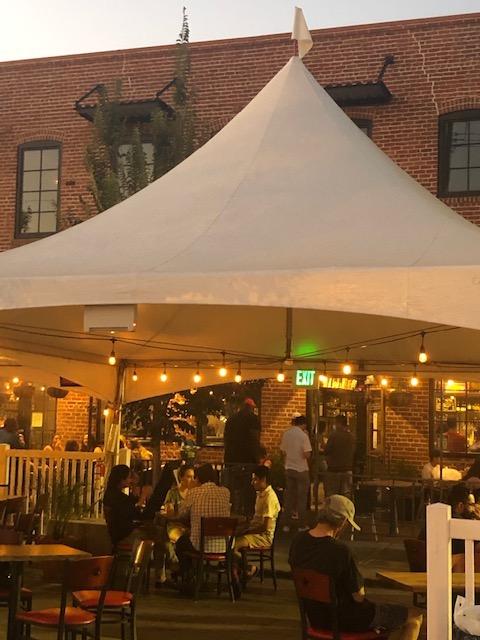 Besides the commission each delivery service receives, restaurants owners, including Zawaydeh, say there are a number of ways rogue delivery drivers take their slice of the pie. On one occasion, a driver arrived at Burgers and Brew on R Street and showed the employee a pickup order on his smartphone. The order was then handed over and the driver left.
Later that day when a customer complained about a missing order, Zawaydeh found out that the driver showed his employee a screenshot versus the actual live feed of the purchase. Meaning, the driver who initially showed the employee his smartphone wasn't the true carrier and simply received a screenshot of the order from a second driver with real-time access to Burgers and Brew to-go orders via the delivery app. It's a lot of work for a free burger, but it's a hustle that Zawaydeh won't fall for again. Now, all third-party affiliated orders are heavily vetted before any food leaves the restaurant.
Over in Sacramento's Oak Park neighborhood, Diana Dich, whose family owns Happy Takeout, says not only do the high commission rates leave a bad taste in her mouth, but she's also experienced her fair share of mishaps with delivery drivers. She says some drivers sign up for a variety of apps and get a ping when an order is placed and rush to the restaurant in order to beat the true driver and keep the food for themselves.
"We've experienced this scam on numerous occasions," she says. "We now require all drivers to show us their phone as well as confirm what is on the order, but some still slip by."
Happy Takeout, a small Chinese restaurant, is bustling daily with customers waiting outside to pick up orders of steamy beef chow fun and sticky orange chicken. Most days, Dich works from 10 a.m. to 10 p.m. just to keep her family business going.
"The problem with Grubhub is they do not keep a history of who was assigned to the order when drivers get changed," she says, citing a problem referenced by several other restaurant owners. "So a driver can come in, have the order on the phone with our side showing their face and name. Then, a few minutes later, the driver will change on the tablet with no clue who took the food."
Although Dich was able to negotiate the delivery service commission rate, she says not all companies are forthcoming with that information. "I would suggest no business ever sign up for their 'promotions,' which is how they get you," she says. "The commission is negotiable, and of course, they don't tell you that."
From April through June, delivery orders increased 32 percent compared to the same time last year, according to a spokesperson from Grubhub via email. Food sales were also up 59 percent year over year. As these delivery service giants respond to ramped-up demand, some are taking steps to ensure these problems are fixed. At DoorDash, senior policy advisor Katie Witman says all drivers' behavior as well as customer feedback are closely tracked.
"If the customer rates the Dasher poorly, we track that very closely and if a Dasher does not maintain a certain level of ratings they are deactivated from our platform," Witman says. "So every customer has the ability to provide feedback on how their delivery experience went. We're actually rolling out a great new tool for our merchant partners to see that feedback directly in the merchant portal and interact with customers directly."
In cities such as Los Angeles and San Francisco, legislators capped delivery fees at 15 percent, helping keep costs low for struggling restaurants who use third-party services. At the state level, Assemblymember Lorena Gonzalez authored Assembly Bill 2149, the Fair Food Delivery Act, and it passed the Legislature in August with bipartisan support. AB 2149 requires food delivery companies like DoorDash and Grubhub to have an agreement with restaurants before delivering their food as some third-party delivery services do not and display a restaurant's food online anyway.
"This bill levels the playing field for small businesses by empowering mom-and-pop restaurants to have a say in whether delivery app companies can deliver food to their customers," Assemblywoman Gonzalez said in a statement on her website. The bill now goes to Gov. Gavin Newsom for consideration.
Backed Into a Corner
On his days off, Executive Chef Adam Pechal says he doesn't want to cook. In July, he launched two restaurant concepts, Cali Bird and Atom Burger — as well as the return of Tuli Bistro on Sept. 4 — all inside Tiger Bar and Food Hall on K Street. All orders are to-go, which Pechal says leaves him no choice but to use DoorDash and Uber Eats' services to get his food out to the public.
"I don't want to pay the extra money and I don't want the restaurants to lose the money. I want to go give my money to the restaurants directly when I can," he says of his experience using delivery apps as a means of research and as a way to buy local food. "I'm hoping through all this, there's a rise in competition with these apps and they're going to have to tighten up their game. I feel like they've got us backed into a corner, so they're just kind of getting away with everything."
Pechal hopes as the volume of orders increases across all of his restaurants, he won't need to rely on delivery services and can do away with them altogether. He also plans to revamp Tiger's website in order to direct customers to an app of his choosing.
"What will happen is, we direct people to the website and they can ideally order takeout and just order through our website online. Or, they click the delivery button and we send them to the delivery app of our choice," he says. "I'm hoping, say six months down the road, maybe we use two apps instead of five. They have to be able to negotiate moving forward. They just don't have to right now because everybody's so desperate."
–
Stay up to date on the effects of the coronavirus on people and business in the Capital Region: Sign up for the Comstock's newsletter today!