Rick Mindermann strides through Corti Brothers wearing his standard attire of khaki slacks, a white shirt, tie and black grocer's apron (a box cutter is always close at hand). He dashes down the grocery aisles, through the swinging doors to the warehouse and back out, past the meat counter and deli, down a crowded hallway to the production kitchen, then up the stairs to his office.
Along the way, he abruptly halts every so often to answer customers' questions ("Do you have any crème fraiche?" "Which brand of pasta is best?"). He lingers for a teaching moment with a customer holding a jar of Giuliano Hazan's San Marzano tomato sauce: "Giuliano's mother was cookbook author Marcella Hazan, who was known as the Italian Julia Child," Mindermann explains. "He adapted this recipe from one of hers, and I think he made it better. It's full of onions and butter."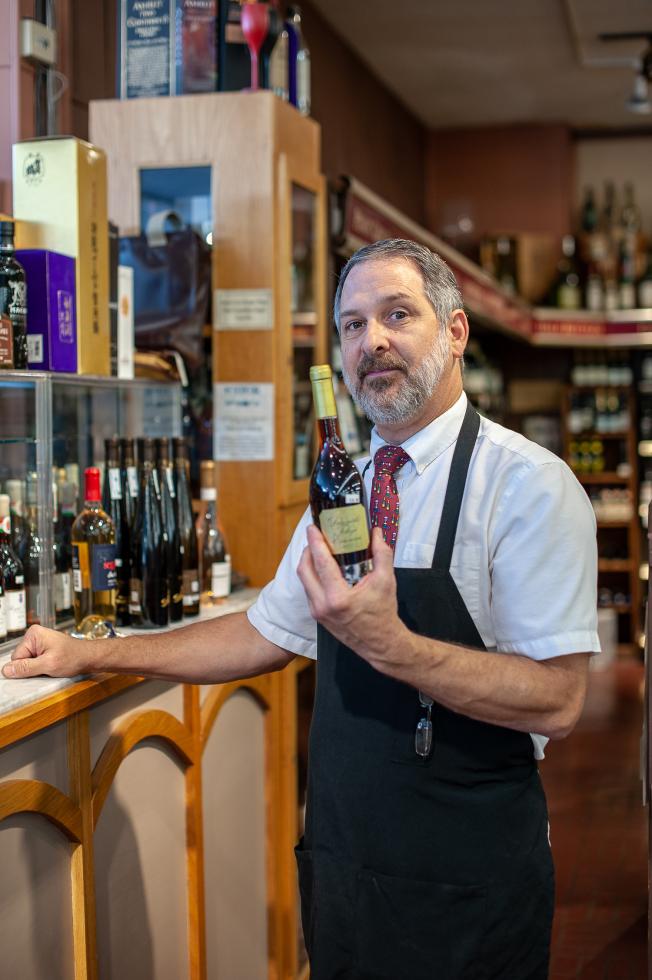 While renowned culinary scholar Darrell Corti is the legend of the
specialty-goods store, Corti Brothers, which he transformed into a totem of food and wine culture, Mindermann is the day-to-day fixer behind the scenes. A big part of his role as store director has been to bring a new-school mentality to the old-school market without sacrificing the store's charm, uniqueness or customer service — critical components to Corti Brothers holding strong against competition from big supermarket chains through the decades.
Mindermann has done this in part by elevating the store's digital presence to showcase the expertise of the nationally known culinary authority whom he calls boss and mentor, and to attract customers from around the U.S. to the East Sacramento store.
There is a touch of surprise in Mindermann's voice when he acknowledges he's been with Corti's for 40 years. "It's almost a little embarrassing because of the reactions I get. But coming to work is comforting. The bulk of the challenges are positive, and I'm given tremendous latitude."
"The two most critical things we have at corti's are our relationships with customers and our ability to continue to learn so we can teach them and offer them new things." Rick Mindermann, store director, Corti Brothers
Mindermann, who grew up in Land Park, was hired shortly after graduating from C.K. McClatchy High School by co-founder Frank Corti — Darrell's father. (Brothers Frank and Gino Corti opened the first store in 1947.)
"Frank literally handed me an apron and said, 'If you don't know something, ask — and always stack my raviolis flat. If you put the boxes on their sides and I get a complaint, you're in trouble,'" Mindermann recalls. He worked at all four Corti Brothers markets over the decades (three closed due to landlord issues and the supermarket surge), beginning as a bagger. He landed full-time as personal assistant to Darrell at the current site on Folsom Boulevard in 1995.
Mindermann became store director in 2008 — the same year Sacramento nearly lost its last Corti Brothers market when the landlord of the 20,000-square-foot property decided to bring in another tenant. The proposed "gourmet bistro-market" venture, called Good Eats, was willing to pay more rent than Corti Brothers, which had been operating on a month-to-month lease since 1988.
In response, more than 500 supporters rallied in the parking lot, Mindermann recalls. Among them were esteemed Sacramento restaurateurs and chefs who lined up at a microphone to give testimonials — Biba Caggiano, Kurt Spataro, Randy Paragary, Mai Pham and Patrick Mulvaney among them. The Good Eats principals stood down, and Corti Brothers signed a long-term lease a few months later, which is still in effect today.
Today, Mindermann's job is complex and unrelenting, requiring a deep-dive familiarity with all aspects of food and wine, and the skills to procure and sell them. "One of the advantages of having Rick here is he enjoys interacting with customers, showing and telling them new things they might never have seen or known," Darrell Corti says.
Mindermann deals with some of the most influential food and wine producers, distributors and merchants in the world. At the same time, he and Corti delight in discovering unusual local products.
For instance, when baker-entrepreneur Margaret Waterhouse decided to sell her trademark macaroons beyond the Davis Farmers Market, Mindermann set up in-store demonstrations for her and added the French pastries to the inventory. Glistening filets appeared in the seafood display case soon after Sacramento restaurateur Michael Sampino told Mindermann he had a connection in Bodega Bay who could supply top-quality fresh-off-the-boat halibut.
"In a lot of ways I'm a docent," Mindermann says. "The two most critical things we have at Corti's are our relationships with customers and our ability to continue to learn so we can teach them and offer them new things."
One longtime Corti's regular is JaRue S. Manning, a professor emeritus of viticulture at UC Davis. He's a fixture every Saturday. "Corti's is a combination of social occasion, museum of food memorabilia and elegant specialty store," Manning says. "I always get new information from the staff in the different departments. They're really professors with their own areas of expertise."
Paula J. Johnson, curator of the Smithsonian Institution's Food History program, describes Corti Brothers as "an educational experience as well as a gustatory one. Since the 1970s, Darrell Corti has traveled the world to find an array of unexpected specialty foods and wines and bring them to people's attention, and then letting them in on their stories."
Johnson says Corti made a huge difference in California's culinary direction in the 1970s, during a time when the state was influencing the food history of the nation. "I always stop in whenever I'm anywhere near Sacramento and can't get out the door in under an hour," she adds.
The store's primary marketing tool is the newsletter Corti has written for 40 years, with food and wine history and education about speciality products. In 2012, Mindermann digitized the newsletter — which remains in black and white, without graphics or other flourishes — on the store's website; the newsletter now has a national digital circulation of 5,000. "The typical target clientele for a supermarket is a 1- to 5-mile radius," he says. "We have people who come from a 100-mile radius — and some who fly into Sacramento — with printouts of the newsletter in hand."
Always enamored of audiovisual means (Mindermann was involved in film in the 1980s as a sideline to his Corti Brothers' job), he created Corti TV in 2011, which now has an archive of more than 800 videos that give customers insight into Corti's business and international travels.
"Because Darrell is a Renaissance man, he doesn't have an interest in technology," Mindermann says. "But, in a way, my skill sets allow him to participate."
This particular morning, Mindermann makes his third trip to the store's warehouse. On a counter are samples of Italian hazelnuts, walnut butter, bottled cherries and bags of short-grain rice.
"Not a day goes by that I'm not tasting something new," he says, offering a bag of galip nuts from Papua New Guinea, which Corti Brothers partner Allan Darrah discovered on a recent trip.
Once, driving near Modesto, Darrah stopped at a roadside stand and bought some unusually light and tasty corn nuts. "He brought them back here, and we loved them," Mindermann says. "I found a producer who would custom-make them for us. Now we sell 6 tons a year."
Mindermann pauses to answer his cellphone. It's a customer wanting to know about a certain high-end olive oil. Earlier, he'd spent a half-hour giving another customer a course in the production of real balsamic vinegar.
For a moment, Mindermann is reflective, then says, "I'm a loyalist, and this job is my life. It's not about the money, it's about the ride — something new, something interesting, something challenging every day. My mantra is, 'If it's good for Corti Brothers, then I'm good, too.'"