On hot summer weekends, a 20-barrel brewery west of Winters overflows with patrons. They flood the taproom and crowd around shaded picnic tables, sipping beer while soaking in live music. A few kids play baseball in the gravel lot. Others pull wooden blocks from an oversized Jenga set by the food truck. Some are locals, but many come from Davis, Sacramento and beyond to get a taste of whatever Berryessa Brewing Co. has on tap for the week.
This scene is nothing new to brewmaster Chris Miller. The place has been packed every weekend since he opened the taproom two years ago and began selling his signature brews on-site. For this reason, Miller is a hard man to catch.
"I'm looking for Chris Miller," a first-time patron says to the bartender.
"He's at the end of the bar, the one in the hat," she says between orders.
There he is, 36 with a full beard, chatting with customers. He likes to mingle, but he moves fast. Here one minute, gone the next. But there is one person who knows how to reach him — his upbeat wife, Lori. The two balance each other, and their shared vision of the business as a community center has helped them succeed in a saturated craft beer market.
As craft breweries continue to bubble up in the Capital Region, Berryessa Brewing Co. stands (way) out, situated near Lake Berryessa on a rural strip of Highway 128. It's not to be confused with Berryessa Gap Winery, which has a tasting room next door. The two companies share the building and have common ownership, but are separate entities. Even with little marketing, the brewery hasn't had trouble distinguishing itself.
Business has grown so fast, the Millers might need to adjust their distribution strategy. Right now, the company self-distributes, meaning their own delivery truck hauls kegs to buyers throughout California. This gives them full control of their product.
"We know our beer is not going to be sitting in the hot sun," Lori says. "If you get too many people involved, too many hands can change the brand. It could ruin you."
As demand increases, the Millers will have to decide whether to start their own distribution company or partner up. In the meantime, Chris Miller says he is focused on the taproom, which rotates beers every week, including customer favorites like the Double Tap IPA (hazy orange with a tropical mandarin aroma) and Chris's personal pick, Common Sense (deep straw color with a light floral aroma).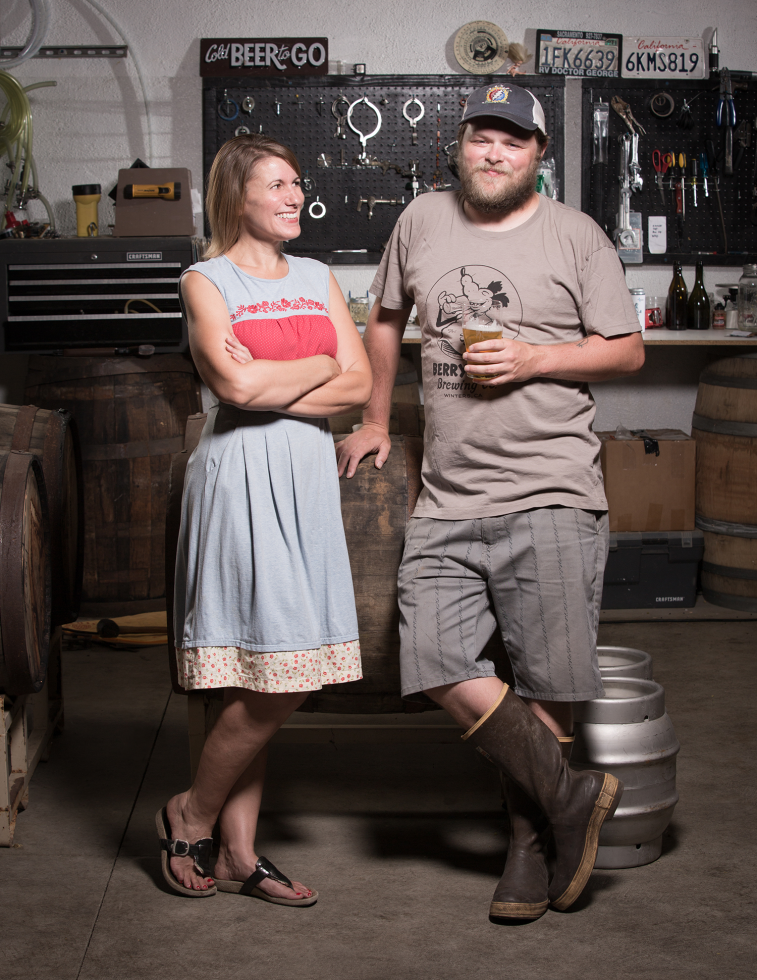 Like his beers, Chris is the type of guy you might hear about before you meet. He has a reputation for being a character. Guarded, yet outspoken; a man who knows his hops. The industry respects his opinion and, even more, his palate. Over the years, he has racked up numerous awards for his beers, including silver in the 2010 World Beer Cup for his fresh hop beer, Harvest, a name that alludes to his brewing origins in the Northwest.
Born and bred in Seattle, Chris got his start at Pacific Rim Brewing Co., working 60 hours a week, mostly washing kegs and barely making $9 an hour.
"It was a bottom-of-the-barrel job," he says. "But I was drinking beer, and I was thinking, 'I can totally do this.'"
He was learning a lot. But when a hop shortage jacked up local prices, the brewery couldn't manage financially. After four years there, Chris became the last employee and learned how to shut a brewery down.
He landed on his feet in 2008, taking on the head brewer position at Snipes Mountain Brewing in Washington's Yakima Valley, home to nearly 75 percent of the nation's hops. Farmers would bring him experimental hops, which he lab tested for bitterness and flavors. The relationships he built there put him on a path to Winters. An opportunity came for Chris and Lori to start their own brewery, and they relocated in 2011.
To this day, Yakima farmers send Chris fresh hops, not even a day old. Only a handful of people know his proprietary brewing techniques. One of them is T.J. Morton, his assistant brewer.
Morton started training under Chris two years ago. In the beginning, he wasn't allowed to go anywhere near the beer. He first had to master the meticulous art of cleanliness. Chris taught him that brewing good beer is 90 percent cleaning, 10 percent production. So he had Morton scrubbing everything: kegs, hoses, fermenters. "If what he's doing in the brew house goes into something dirty," Morton says, "it's pointless."
Morton learned that thorough sanitation creates an environment for beer to thrive, and he brought that discipline home with him.
"I have a 4-month-old," he says, "and I have the cleanest bottles on the planet, based on everything he's shown me."
Chris's obsession with cleanliness goes beyond the brewery. He's particular about selling to establishments that keep their tap lines clean, too. This push for quality control and high standards keeps customers coming back.
"This is my third time here," one patron remarks to an organic vegetable vendor outside the taproom. "I've been to 256 breweries, and this one is definitely at the top."
The vendor, Kevin Weedon, is from Fiddler's Green Farm in the Capay Valley town of Brooks. He and his business partner, Jim Eldon, used to come to Berryessa Brewing Co. for beer on the way home from the Marin County farmer's market. One day, they were joking with Lori about setting up a table to peddle leftover veggies. She agreed, and for about a year now they've been coming every weekend, selling squash, zucchini and onions and taking in the brewery's small-town vibe.
"They've created a real village spirit with the music, people drinking, kids playing Wiffle ball," says Weedon, an Englishman in a Hawaiian shirt. "I've been in the States 10 years, and I think this is the heart of what America is."
Sick of missing out? Sign up for our weekly newsletter highlighting our most popular content. Or take it a step further and become a print subscriber — it's both glossy and affordable!