To celebrate 100 years in business, electrical contractor and engineering firm Rex Moore hosted nearly 700 employees, alumni, vendors, customers and associates at the SAFE Credit Union Convention Center in downtown Sacramento for a party featuring food, wine, a live band and a historical journey from 1922 to today.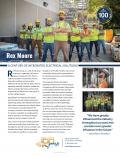 Summer Solstice Dinner and Auction
On June 18, the American River Parkway Foundation held its Summer Solstice Dinner and Auction at William B. Pond Park in Sacramento. The sold-out event raised $100,000 for the Foundation to fulfill its mission to nurture and conserve the American River Parkway for everyone to enjoy.
Photos by Tia Gemmell
Juneteenth Mixer
On June 16, the Sacramento Black Chamber of Commerce held its Juneteenth Mixer at The Mix in downtown Sacramento. The sold-out event featured keynote speaker Scott Syphax, president of Syphax Strategic Solutions and founder of the Nehemiah Emerging Leaders Program.
Summer Soirée
Over 100 attendees gathered for the Leadership Sacramento Alumni Association's first Summer Soirée reunion, hosted speakeasy-style on June 23 in a transformed warehouse in downtown Sacramento.
96th Annual Sacramento Host Breakfast
The 96th Annual Sacramento Host Breakfast was held on June 2 at SAFE Credit Union Convention Center. The annual gathering was attended by nearly 1,000 California civic and business leaders to discuss issues in finance, government, education, agriculture and industry.
Feast at the Fox
Visit Stockton and the City of Stockton held their third annual farm-to-table experience Feast at the Fox on May 6 in front of the Bob Hope Theatre on Main Street in Downtown Stockton.
Executive Insight
Sacramento's top executives joined together on May 17 at the Sutter Club for Executive Insight. The event gave 100 young professionals direct access to network with inspiring regional leaders. Panelists included Adam Attia, founder and Owner of Fitness Rangers Bootcamp, Cathilea Robinett, president and CEO of e.Republic, Dr.
NAWBO OWL Awards
The Sacramento Valley chapter of the National Association of Women Business Owners announced the winners of the 26th Annual Outstanding Women Leaders (OWL) Awards at a sold-out ceremony on April 14 at the SMUD Museum of Science and Curiosity.
25th Anniversary
MarketOne Builders celebrated 25 years as a construction leader in Northern California with a client and employee party at Del Paso Country Club on May 5. More than 250 guests enjoyed posing in the New York skyline photo booth, reminiscing about the journey the company has been on and looking forward to the next 25 years.
Photos by Kimera Collective
The Broadway Sacramento Gala
Broadway Sacramento held its annual gala and fundraiser on May 7 at the SAFE Credit Union Convention Center. The elegant evening featured entertainment by Broadway star Stephanie J. Block, dinner and dancing in the new Convention Center Ballroom.