Kevin Nagle has held many jobs. He has cut lawns, pulled weeds, flipped burgers, washed dishes, pumped gasoline and made millions in the pharmaceutical industry. He has also been a bartender, hot dog salesman, partial owner in the Sacramento Kings (and a crucial reason the team stayed in the Capital Region), real-estate mogul (El Dorado Hills Town Center) and, most recently, primary owner of the Sacramento Republic FC and the man most hell-bent on bringing Major League Soccer to town.
How did Nagle, now 62, go from weed-puller to angel investor? He shares his maxims of leadership, including how he somehow reads 300 emails a day, makes work an obsession and why he feels soccer is the future of America.
Failure is not an option
Nagle had his first job at the age of six. He chased down lost golf balls, wiped them off, then sold them to amused golfers on the 18th hole. "It took me six weeks to realize that I really needed to sell them on the 14th or 15th hole," he says, laughing a bit. This early brush with capitalism made him $3 or $4 a day, which he dutifully gave to his mother, who raised him and his two sisters largely by herself. The family lived in borderline poverty. In Moorhead, Minn., young Nagle grew up in a house where bill collectors pounded the door, threatened eviction, and nearly switched off the phones and electricity. When it came to making extra money for his family, "failure was not an option," he says, repeating that mantra several times over multiple conversations.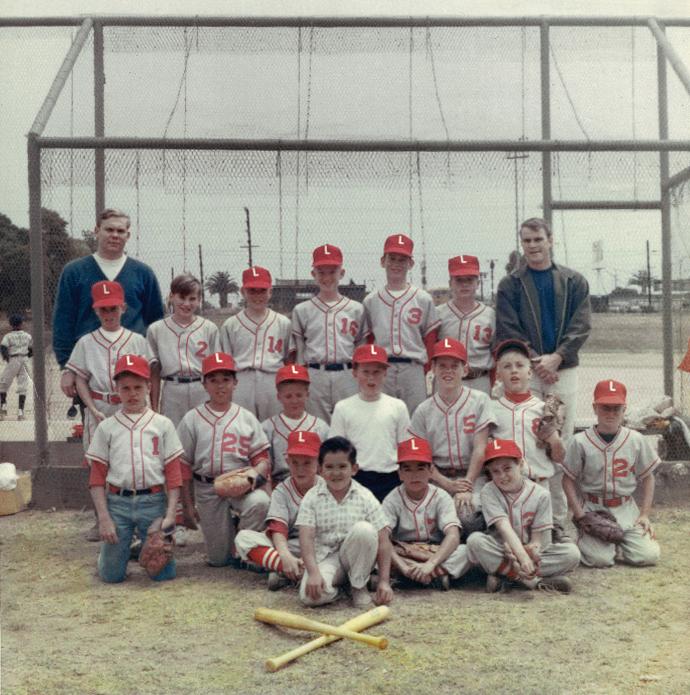 At age 12, failure was not an option on his school's baseball team, where, unable to pay the $35 for a uniform, Nagle made his coach a surprising pitch: "I figured we had 17 games in the season, and if I paid him $2 a game, then eventually I would have my dues paid."
The coach agreed, but with one condition: He would keep the uniform's red hat as collateral, meaning Nagle had to scrounge for one on his own. He rummaged through six garage sales before finding a suitable cap and then MacGuyvered on the school's logo using his mother's sewing kit. Done. Splitting time at second base, third base and the outfield, he became the best player on the team.
And failure was not an option when, 45 years later, the Sacramento Kings nearly left the city. In 1994, Nagle had moved from L.A. to Sacramento "for a quality of life change." By 2011 he had roots here. "Kevin was the MVP of the corporate push to keep the Kings in Sacramento, no question," says Kunal Merchant, the former chief of staff to Mayor Kevin Johnson and now, Nagle's chief adviser on wooing the MLS. "Kevin had to show the NBA that Sacramento was a viable market, that it had a strong corporate base and that it punches above its weight class. Kevin embodied everything we were trying to prove to the NBA. He got it. As a business person, he knew that we needed to speak to the NBA in business terms."
Thanks to Nagle's full-court press, Johnson was able to raise $10 million in corporate sponsorships in 10 days. When Johnson announced the figure to the NBA, Nagle says the officials didn't believe it. Not normally one to brag, Nagle admits that, "[former NBA Commissioner] David Stern sent me an email saying that if there were an owners' Hall of Fame, I'd be in it." (He kept the email.)
Adapt. Reinvent.
Failure is not an option, but neither is doing the same thing again and again. Nagle's itch for reinvention started with baseball, when at age 12, he played a pickup game against some 30-year-olds. An aggressive hitter who crowded the plate, Nagle eeked out a base hit and then, while on first base, the next hitter lost control of the bat. Like a missile in flight, the bat flew straight toward Nagle, slamming the back of his head into a pole.
The bat broke his nose, shattered his teeth, split his lip and knocked him out cold. "The guys just threw me in their car while I was unconscious and then dropped me off in front of my house. I crawled inside." He was then hospitalized.
Nagle returned to baseball, but was never quite the same aggressive hitter. "I started bailing on inside pitches, and that used to be my forte," he says. But he soon found a new athletic calling: wrestling. He won tournament after tournament, earned a college scholarship (he didn't take it) and one of his only losses was to a guy who was the third alternate to the Olympics.
Nagle would continue to adapt throughout his career. In 1980, his first grown-up job was at the firm E.F. Hutton in L.A., which was then the second largest investment bank in the U.S. "But I realized that was not my thing," he says. "It was boring to me." His studies of market segments while in graduate school at USC, where he earned a master's in business and public administration, gave him a hunch: "It was apparent to me that health care was going to be wide open for the next several decades."
He cut his teeth in big pharma, at a company called Upjohn, and scrambled up the corporate ladder. Then, at 39, he started his own business, leading a string of various pharmaceutical companies (largely specializing in member benefits). This culminated in 2014 when a firm he cofounded, Envision Pharmaceutical Services, sold to Rite Aid for a cool $2.3 billion. He owned 22 percent — not too shabby for a former golf ball chaser.
So again he adapted. Armed with this war chest, Nagle invested in the El Dorado Hills Town Center, the Kings — and local filmmaking (a "labor of love," he says, that mostly uses local actors; one film will soon be submitted to the Toronto Film Festival). Throw in the Sacramento FC, and it's no surprise that the Sacramento Business Journal named him 2015's Executive of the Year.
Make Work an Obsession
When asked for the core principles that help explain his success, Nagle doesn't miss a beat. "There are two things you have to have. One: passion. Two: obsession. A book ought to be written about that."
Underneath all the warm and fuzzy business jargon, however, the message actually has a hard, sobering lesson: Success comes with, and as a result of, really long hours. This is not a particularly catchy or inspiring slogan, but it's a crucial part of what makes Nagle tick. He doesn't cut corners, and he out-hustles his competition. As a young baseball player he would trudge to the batting cages, again and again, and keep swinging until he corrected any glitches.
"Even [NFL] football owners realize that not in our lifetime, but after ours, soccer will be the No. 1 sport in America." Kevin Nagle, CEO, Sac Soccer and Entertainment Holdings
His office, which he moved into in July, is adorned with sports memorabilia, his favorite of which is a USC helmet he received at a sort of training camp where CEOs and USC coaches learned from one another. (The CEOs were even required to gear up and scrimmage on the field.) "We concluded that the fundamentals of success are the same whether you're playing a team sport or managing a corporation — it's the obsession for perfection," he says.
Yet those long hours take a toll. "When I got married and had children, I was gone a lot," Nagle concedes. He made it a priority to attend his two daughters' soccer games and activities — he estimates that he made "probably 98 percent" of their school events — but also admits that his work played a role in his divorce. "I'd be on the road a lot, trying to build a better life for them," he explains.
One day, his daughter asked him why he wasn't home more often at night. So he drove his daughters (then ages 6 and 3) to a "part of town that wasn't so nice," and said to them, "If you want, I can be home every night, but that means no new dresses, no dolls and no sporting equipment." Nagle pauses in his story. "I was home two nights in a row after that, and the girls asked me, 'Hey Dad, are you sure you don't have to be somewhere?'"
Perhaps Nagle is a workaholic, but he's a highly functioning one, and he still carves out time for ample reading (he's currently devouring the memoirs of Ulysses Grant), bike riding (in the '80s he was a competitive cyclist, because of course), and the requisite gamut of Kings and Republic games.
He also found some productivity hacks. "I only schedule four meetings a day," he says, which bakes in time for him to answer emails (he gets between 300 and 400 a day); consume content (ranging from The Economist and The New York Times to CNN, MSNBC and Fox News because "It's good to look at as much as you can,"); and brainstorm on "the next big thing." Speaking of which …
All Hail the Republic
When Nagle was in eighth grade, his physical education teacher gave him a lesson he would never forget. The PE teacher held up a soccer ball to the class and said, "Some day this is going to be the future of America."
Yeah right, Nagle thought at the time. That's not our sport.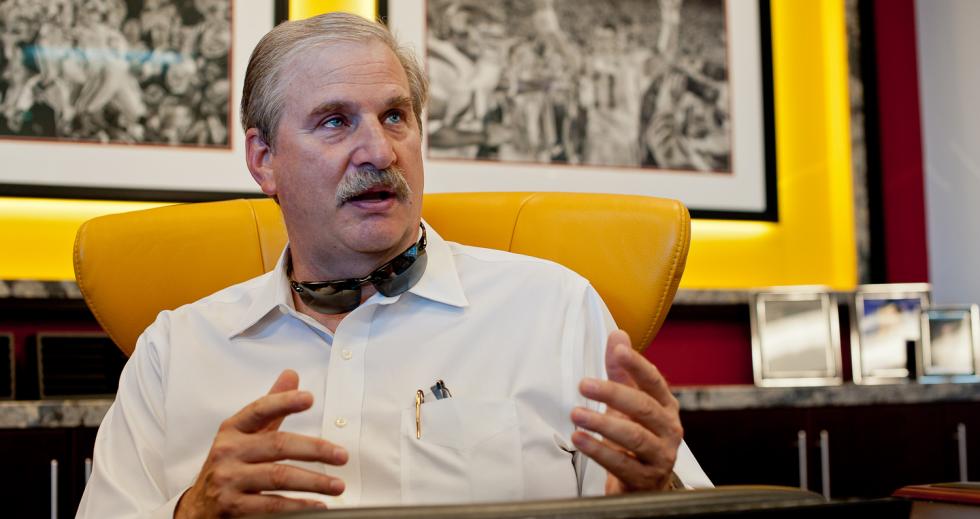 That was then. Just as Nagle had spotted health care in the '80s as a lucrative opportunity, he now sees soccer as a long-term no brainer. "There's unbelievable momentum," he says. "The percentage year-over-year growth in valuation is higher than every other league. Attendance has moved passed virtually every other sport. Even [NFL] football owners realize that not in our lifetime, but after ours, soccer will be the No. 1 sport in America."
So he's cracking open the Kevin Nagle playbook. He says Sacramento needs three things to successfully nab an MLS franchise: a great fanbase, a solid ownership group and a soccer-specific stadium. Nagle is bullish on all three.
"We've clearly demonstrated the fanbase," he says. "We're special here in Sacramento." The data backs this up, with an eye-popping 9,000 season ticket holders despite prices that "are close to MLS [levels]." (The Republic FC's 2014 USL Pro Championship win helps.) Nagle is hands-on with the ownership group, and he has lassoed a glittering roster of investors that includes the York Family of San Francisco 49er fame. And the stadium, of course, boasts a slick design that factors in feedback from both players and coaches. "We asked the players what they felt was important, and they said noise." Nagle promises it will be loud.
To Nagle, this investment is about more than just the sport of soccer. It has a ripple effect. "This is going to inject billions into the local economy," he says. Restaurants, concerts, nightlife, shopping — all will get a boost.
"Kevin understands the area, and he loves it," says Tony Mansour, his managing partner at the El Dorado Hills Town Center. "And when Kevin is passionate about things, he'll pursue it, and he'll get it done."
For Nagle, the question is not if but when the MLS will award the franchise. He expects that by 2020, "I would love to see the first ball kicked off the pitch." And he even floats 2019 as a possibility. "Even if the stadium was not ready by 2019, we would find a way to make it happen."
Because failure is not an option.
The young and successful Sacramento Republic FC aims to sink its roots as deep as the coveted grounds just east of the Sacramento River will allow, with a new stadium at the Railyards. The plan is that within a few years, the venue will open as a downtown centerpiece, and Major League Soccer will officially welcome the local franchise into the fold as an expansion team.
For the past 48 years, Mike Doran has watched El Dorado County evolve— slowly. He recalls the days when the county was a peaceful, low-density community — long before the Home Depot came to Placerville, before the Dollar General got the greenlight for Georgetown, back when Highway 50 was nothing but a two-lane road.