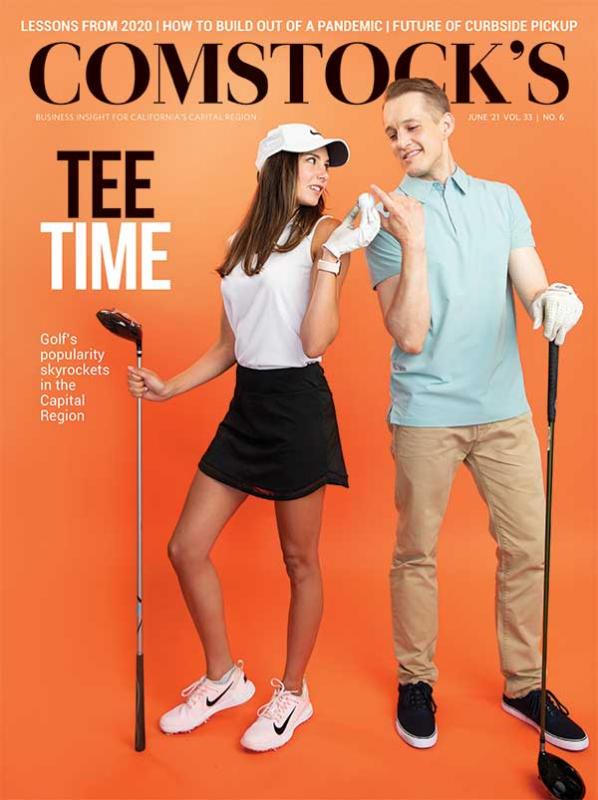 This story is part of our June 2021 issue. To subscribe, click here.
When husband-and-wife restaurant owners Jeff and Gail Back started hearing rumors in March 2020 that society as they knew it would shut down, they immediately went to work researching how to reconfigure their restaurant's business model — a model previously not conducive to anything other than in-person dining.
"We knew that we had to transition, or else we're going to be left behind," says Gail. The restaurant, Back Bistro, which opened in 2008 in Folsom and moved to the city's Palladio shopping center in 2018, went from solely upscale indoor dining to only offering takeout (the customer orders in person, over the phone or online, and retrieves their order from inside the restaurant), curbside pickup (customer orders online and a store associate brings out the food) and delivery (via third-party cellphone application or direct service). This spring, the Backs were finally able to return to their pre-pandemic business of in-person dining focused on what they consider their specialty: quality atmosphere and service.
For all the struggles COVID-19 has caused restaurants, there have been some benefits to consumers in terms of the quick advancement of service options, including online ordering and curbside pickup. Customers can simply drive into a parking spot, and then call, text or check in on the restaurant's app to announce their arrival, and the order is brought out to the car window when it's ready. And curbside pickup is less expensive than a third-party delivery service, where the customer also pays a delivery fee and a tip for the driver.
But what has provided convenience to the consumer hasn't always been convenient for the business owner. Now that COVID-19 infection rates are down and vaccination rates are up across the Capital Region, restaurants have to decide whether to continue to offer these services adopted during the pandemic that customers have become accustomed to.
Pandemic Pivots
Amanda Blackwood, president and CEO of the Sacramento Metropolitan Chamber of Commerce, says a shift had already begun in terms of how businesses could best serve customers long before the pandemic forced California's statewide shutdown in March 2020. "The overall cultural shift from brick-and-mortar, walking in face to face, had already started to change," she says, referencing the shift to online shopping.
The initial shelter-in-place orders, however, increased "clients' desire to do business in an online … touchless way," Blackwood says. "Restaurants, like everybody else, have had to dive into having a strong digital presence, whether they wanted to or not, knowing anyway that customer mentality was already moving" in that direction.
Curbside pickup lent itself to this shift, and in the case of Back Bistro, proved critical to retaining customers. The restaurant experienced a 32 percent decrease in business during the first year of the pandemic, according to Gail, but was able to continue because of added services — with curbside pickup, takeout and delivery at the top of the list.
"Curbside really showed us the loyalty from our community, having people get meals delivered to their car when we, the owners, were literally running the order out to you," Gail says. "It gave the customers … an appreciation for what we do."
Selland Family Restaurants CEO Josh Nelson says that curbside pickup is here to stay, certainly with the company's Selland's Market-Cafes in Sacramento and El Dorado Hills and OBO' Italian Table & Bar in Sacramento, which were set up pre-pandemic for both dine in and takeout. (The company's fine-dining restaurants, The Kitchen and Ella Dining Room and Bar, were temporarily closed throughout the pandemic. The Kitchen is now open, and plans are in progress for Ella to reopen, Nelson says.)
There were, however, still challenges to implementing a full curbside system. "We're not built to do this volume of curbside pickup that we've done," Nelson says. "We've had to rearrange our restaurants to accommodate it; it's clunky and a difficult task to do curbside and eats up a lot of space and takes a lot of labor. … It's like running a restaurant inside a restaurant." He says that exclusive curbside pickup is easier than when it is combined with outdoor and indoor dining.
Selland's and OBO' also faced a significant drop in revenue in the first year of the pandemic, Nelson says, "anywhere between 20 to 90 percent, depending on dining options," referring to how restrictions dictated the dining experience at any given time. One of the challenges, he says, was running a different business model every few weeks.
In addition to curbside pickup, the restaurant industry has made several other pivots, including giving diners more opportunities to eat outside when indoor occupancy decreased, with alfresco dining along normally busy streets and open shared seating for neighboring restaurants. Alfresco dining, just like curbside pickup, encourages diners to leave their house and go to the restaurant rather than having the food delivered to the customer. It keeps a part of established societal norms in place, while still allowing for innovation that benefits both the consumer and business.
"If you can remember just a year ago, the idea of walking down R Street in Sacramento and having it blocked off with these outdoor alfresco patios, we didn't have that," Blackwood says. "The shift was to say, 'Let's really repurpose our streets to make them walkable and embrace outdoor dining.'"
"I'm grateful that … people have adapted to curbside pickup. It's been a lifeline for restaurants, as hard as things have been. It's not perfect, but it's there."

Josh Nelson, CEO, Selland Family Restaurants
Sacramento's Downtown Commons also has an alfresco dining program. And Sutter Street in historic Folsom is closed to vehicle traffic on weekends to allow for parklets and increased outdoor dining, and the area bustles with pedestrians. On Vernon Street in downtown Roseville, several parklets were created to accommodate customers for eateries and a coffee shop.
"I'm grateful that the city offered alfresco dining," Nelson says, noting how his restaurants have expanded outdoor patios onto neighboring lots, "and that people have adapted to curbside pickup. It's been a lifeline for restaurants, as hard as things have been. It's not perfect, but it's there."
Curbside Pickup Ahead
Blackwood says curbside pickup will likely continue beyond the pandemic in part because customers still want the option. "We got really accustomed to it. … (It's) something that customers now expect," she says.
Nelson says that if technology hadn't been where it was prior to the pandemic, to allow restaurants to easily employ curbside pickup through apps, there would have been a lot more financial hurt experienced by the industry. "We've lost money," he says. "COVID-19 was obviously not a profitable scenario, but curbside certainly slowed the bleed."
Jeff Back of Back Bistro says, "Everyone knows what a QR code is now because we don't have printed menus anymore." QR codes in place of printed menus will be the new normal for Back Bistro, he says, which saves the business money. "We can just go online, change one thing, publish, and it's done. Efficiency was a big win for us."
For restaurants that continue to offer this convenience, it'll look different in the months and years ahead to accommodate for the return of in-person dining alongside its takeout system: longer wait times, less curbside drive-up spots, less takeout availability. "We'll use curbside as a complement and offer it," Nelson says of Selland's Market-Cafe and OBO', "which will allow us to serve our guests in front of us properly."
Back Bistro will also continue curbside pickup, takeout and delivery on a very minimal basis. "We're going to offer it, but we're not a takeout restaurant," Jeff says, "but we've gotten people used to it." He says there has already been a strong downward trend of the percentage of business in curbside pickup since restrictions started loosening in January. "Curbside is going to stay, and it's easy for us because we're all set up for it. All the infrastructure is set up."
As more businesses reopen and people continue to get vaccinated, there is a growing excitement about a return to normalcy, Blackwood says, including being about to go out to eat at restaurants: "There is a huge pent-up desire to go out, have fun and see friends. If our restaurant community can hold on, we're going to see a huge boost for our hospitality industry who has taken a hard hit.
"From a business perspective," she continues, "we learned that we could do things differently, you can do business in a new way. It may not be exactly how it always felt, but you've got people who want to do business with you."
–
Stay up to date on business in the Capital Region: Subscribe to the Comstock's newsletter today.