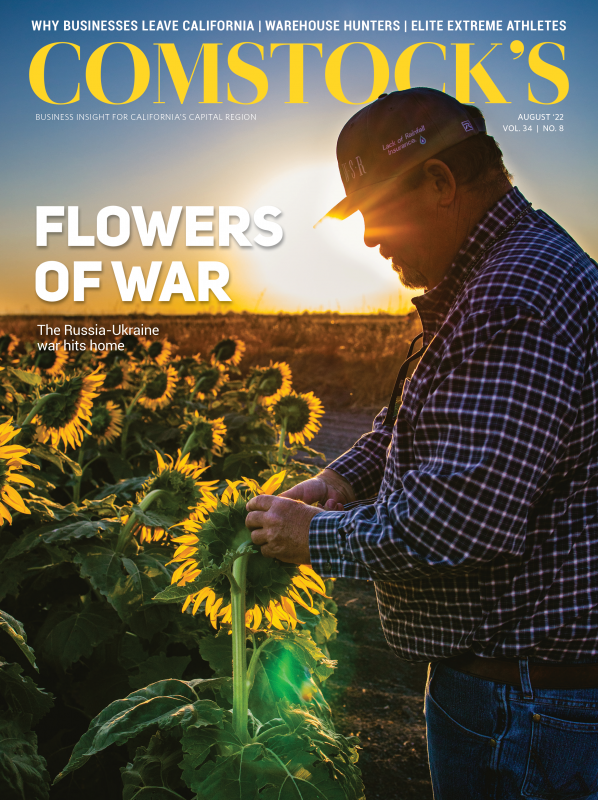 This story is part of our August 2022 print issue. To subscribe, click here.
The vacant spaces smell centuries-old musty. There might be holes in the roof — if the roof hasn't collapsed — where some animal decided to take up residence. Pigeons probably. Or bats. When Sara Lebastchi walks into an old warehouse for a potential rehab job, she never knows exactly what she'll find. But, as vice president of operations at Sacramento urban infill developer D&S Development, she starts every project with the same question: "How are we going to do this?"
D&S Development has been doing historic rehab for more than a decade, starting with the infill redevelopment in the early 2000s. The warehouses they have repurposed have a historic nature to them, most of them brick, but each has its own characteristics. One had a raised foundation with wood flooring. Another had large dock doors for deliveries. Their current multi-phase project is in Elk Grove: a warehouse built in the 1800s that a family owned for close to 50 years. It was still being used as storage, with crates to the roof filled with old tubes and electronics from their prior business, Lebastchi says. But this warehouse near Old Town Plaza will be reborn as a restaurant and bar, slated to open by the end of the year.
For historic buildings, it's important to preserve the historical integrity. But repurposing an old warehouse for a new use comes with bigger challenges, both technical and financial.
"It's expensive these days with any construction, but even more when you're talking about a building that needs to be structurally retrofitted on a large scale," Lebastchi says. "It may require more energy and costs, but there can be a great benefit in retrofitting infill warehouses, and repurposing old materials within existing buildings can be one way to build green and sustainable."
They were built decades ago, these massive complexes of industry. But around the Capital Region, many of these old industrial buildings don't carry the same weight they once did. Times changed. Companies folded. Manufacturing migrated overseas. Some never recovered and now stand as empty, gigantic eyesores. Some complexes have found new life in a new age as office spaces, restaurants, bars, museums and other uses. But with a lack of redevelopment funds, developers must decide if the benefits of repurposing old industrial buildings outweigh the high costs.
"We find that it's a little bit of a labor of love in repurposing. It's not the easiest process, but there is a lot of character you can't replicate in some of these warehouse buildings.

Sara Lebastchi, Vice president of Operations, D&S Development
That answer, like most answers, can be summed up in two words: It depends. When reusing an existing building, whether it be a warehouse, industrial building or old airplane hangar, a lot depends on use and location, Lebastchi says. Environmental regulations have scaled up, so developers need to know if the warehouse has a history of contamination from what was stored and used there. It also might be a challenge working with local agencies and rezoning laws. But Lebastchi says nothing beats the feeling of walking into a warehouse after the rehab has been completed and seeing employees or patrons living, breathing and existing in the revitalized space.
"We find that it's a little bit of a labor of love in repurposing," she says. "It's not the easiest process, but there is a lot of character you can't replicate in some of these warehouse buildings."
A solid base
The uniqueness of an old, empty building can work in a developer's favor. The McClellan Air Force Base is a prime example. The base, privately acquired in 2001, was originally built in the 1930s with more additions as the base grew. Many manufacturing buildings have clear heights (the distance from the floor of a building to any object overhead) of up to 40 feet with no building columns obstructing the interior. At McClellan, the hangar-type facilities designed for aircraft have high ceilings and wide spaces, which allow tenants flexibility in designing their operations floor, says Ken Giannotti, senior vice president of leasing and marketing at McClellan Business Park.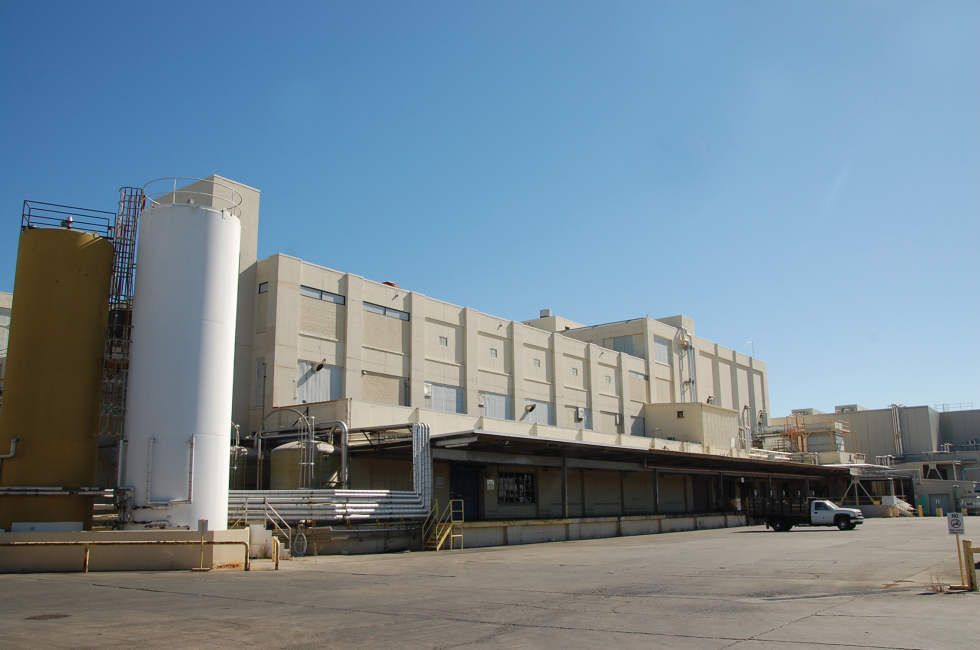 Other regional projects include WAL (Warehouse Artist Lofts), a mixed-use, mixed-income community for artists in downtown Sacramento's R Street District. Converted from the Lawrence Warehouse built in 1914, this structure has 116 rental units and retail space on the ground floor, where "100 years of history and character are on display," according to its website. In 2020, Abbey Flooring, a commercial flooring company in Elk Grove, bought a 26,000-square-foot building and converted 7,000 square feet of the space into a one-stop showroom for customers to browse selections of carpet, hardwood, laminate, vinyl and tile. The showroom, Abbey Flooring Design Center, opened this year, and the company recently announced plans to support local startups interested in any of the remaining space. And in July, the Sacramento City Council approved the Growers District redevelopment project for the River District which involves bringing 525 housing units and repurposing historic warehouses for commercial use, according to a tweet from Mayor Darrell Steinberg.
Last fall, local art nonprofit, A Space in Between, had its grand opening in downtown Mansion Flats. Inhabiting a 12,000-square-foot industrial-era warehouse, the street art museum brings artists, designers, entrepreneurs and dreamers together for a multipurpose, multimedia experience.
"Enter this space with a thought, an object, an intention, a question, and perception changes along with the physical space itself," the website notes. "This is the liminal place where beauty and truth dance, where the boundaries between individual minds dissolve, and something new takes shape."
Sacramento's Power Inn Road corridor continues to grow its industrial sector. Buzz Oates, commercial real estate developer, has submitted an application with the City of Sacramento for two new buildings to be constructed at Depot Park, adding 373,000 square feet of space to the industrial park, which is home to Siemens, the California Mobility Center and other agencies. These buildings can be lucrative. LDK Ventures sold a 340,000-square-foot building on Belvedere Avenue for $42.8 million to Dalfen Industrial, an industrial real estate company based in Texas.
'Functionally obsolete'
But these decades-old warehouses and industrial buildings can't just waltz into the 21st century without help. A lot of help. These big spaces were built for manufacturing purposes, but the specific designs of these interiors can also cause issues for developers.
To understand this unique challenge, look no further than the old Campbell Soup manufacturing plant in south Sacramento. The hydraulic plant closed in 2013 after a 66-year run. That same year, an affiliate of Hackman Capital Partners purchased the site with the Mill Valley-based industrial asset recovery company Rabin Worldwide and renamed it the Capital Commerce Center.
It seemed like a solid buy. Humongous space. Historic roots (dating back to 1947). Near downtown, right off Highway 99. This was about 1.6 million square feet of space with 12-foot columns, each 3 feet in diameter. But only about 700,000 square feet ended up being reusable in the beginning, says Nate Ellis, senior vice president of real estate at Rabin Worldwide.
"Sometimes, it's just functionally obsolete," Ellis says. "When that happens, you can either rent it for cheap or sit with an empty building. With some spaces you're stuck. It could be market conditions, locations, the building's physical characteristics. But you have to wait for the market to catch up to tear it down."
Ellis has been in this business for 25 years. He knew the space was not going to lease easily the first time he walked inside. Rabin went through engineering and architectural analysis and ultimately decided tearing down the older structure to rebuild was for the best, Ellis says.
"For most of these facilities that are manufacturing facilities, you run into the same problem," he says. "The building was built to support manufacturing processes because that's what it was built for. It has really specific improvements that are so unique that they're incredibly challenging to reuse."
If a developer can make it work, the upside could be big. Bruce Monighan, urban design manager for the City of Sacramento, has been a longtime advocate for adaptive reuse of warehouse space. The local architect says these kinds of buildings are perfect to have new life for different purposes, as they have very little restrictive structure in them.
Think of houses from the 1930s, where every room had a specific purpose: dining room, foyer, laundry room, kitchen, etc. In contrast, Monighan sees warehouses more like the homes of the 70s, with open living spaces that could be customized as needed.
Adaptive strategies
The surrounding areas also reap the benefits of adaptive reuse, Monighan says. He points to R Street and how its old brick and concrete warehouses have been transformed to give the corridor a cool, edgy vibe. North 16th Street and Richards Boulevard are following suit, areas that had once been industrial and commercial hubs reemerging into hotspots for new activity.
"In real estate, it's all about location, location, location," Monighan says, "but sometimes you have to think about locations as what's coming over the next five years."
This doesn't discount the massive financial challenges. Most older buildings require seismic upgrades to be safe enough to withstand earthquakes. These retrofits can be costly. In California, redevelopment funds were reallocated in the state's plan to shore up its 2011-2012 budget under Gov. Jerry Brown. That makes it harder for developers to create a profitable budget for reuse projects.
"You drive around now, there's a lot of mid-century real estate — strip malls, old industrial buildings — where the local economy doesn't fix it up," Ellis says. "You just see real estate deteriorating and going away."
Redevelopment funds bridged the gap to show investors a potential return. For some warehouses, the facility is big enough to rent and create income, but smaller sites don't have that luxury and investors don't have time.
"I've seen so many times projects not happen purely because when you get investors to give you money," Ellis says, "they don't want to wait two years to see a return."
To cover the $30 million it would cost to demolish and prepare the site for redevelopment, Capital Commerce Center (with Sacramento County and Sacramento Regional Sanitation District staff) came up with a slick plan. The Campbell factory was a water-based manufacturing process when it began, with 165 million gallons of sewer discharge rights per month. The team created a wholly new methodology to allow the sale of the excess sewer capacity to create funds, which would then be reinvested in the site.
"If that hadn't happened," Ellis says, "this building would be rotting for the next 100 years in south Sacramento due to demo costs."
Bonus material
Rather than tearing down old buildings and dumping excess material into landfills, the City of Sacramento wants to incentivize adaptive reuse as a green solution. In the past, bonuses from the city went to developers involved with affordable housing projects, Monighan says. But he hopes the City's 2040 general plan update (which might go into effect next summer) includes density bonuses based on sustainable response, energy conservation and adaptive reuse.
Basically, if a developer transforms an existing building with higher density, construction costs go up. But their overall costs don't rise proportionally, so they would generate more profit. If the city uses increased density as a bonus to reward types of projects it finds important (such as adaptive reuse), Monighan says developers may be encouraged to go that route by increasing their financial return.
"What it says is, we're not throwing things away. We're going to reuse them," Monighan says. "Whether we're recycling plastic bottles or recycling warehouses, it's the same thing. We're giving it an extended life."
"What it says is, we're not throwing things away. We're going to reuse them. Whether we're recycling plastic bottles or recycling warehouses, it's the same thing. We're giving it an extended life."

Bruce Monighan, Urban design manager, City of Sacramento
This funding would supplement the high costs of reuse where the returns are not as substantial, and there is less predictability and more unknowns. With these factors in mind, Monighan says, a developer's motivation behind the repurposing of an old warehouse or industrial building is a big deal.
"Sometimes development is a purely financially driven process, and sometimes it's based on a desire to do good, to do better," Monighan says. "We have a lot of developers in our city doing work, driven by, 'How do I make a contribution to Sacramento?' It's that group that's willing to take on a project like adaptive reuse."
–
Stay up to date on business in the Capital Region: Subscribe to the Comstock's newsletter today.