By: Vanessa Labi
Our region is in clean-up mode after a series of storms. According to a CalMatters story we published last week, climate experts and state officials are taking stock of flood protection systems and our ability to take advantage of the rainfall. The good news, they report, is "the ongoing rains are already boosting California's water storage system." The bad news, they warn, is "it would be hasty, though, to assume the ongoing storms and wet forecast mark an end to the drought."
A comedian on a podcast recently joked, "I don't want to make light of this, but California is a place where it will be fully flooded and then someone will be like 'We have to do something about this drought,' and you're like, get your story straight!" His comment speaks to the aforementioned speculation about whether January's storms have ended California's drought and its record-breaking three-year dry period. In our upcoming February issue, several pieces will consider the potential solutions for capturing and storing the influx of rainwater.
A significant casualty of the storm systems has been our trees. Perpetually saturated soils have loosened their roots, and vicious winds have taken them down. Over the summer, we published an opinion piece by the Sacramento Tree Foundation and Regional Water Authority that urged Sacramentans to care for trees during drought, illustrated by a satellite view of the area's canopy loss. This month's storm damage, sadly, further stripped the City of Trees. This week we published a photo essay by Sacramento photographer Nick Shockey, with images of property damage and an update on the estimated costs to the city. CapRadio's "Insight" also broke down the factors that contributed to tree damage.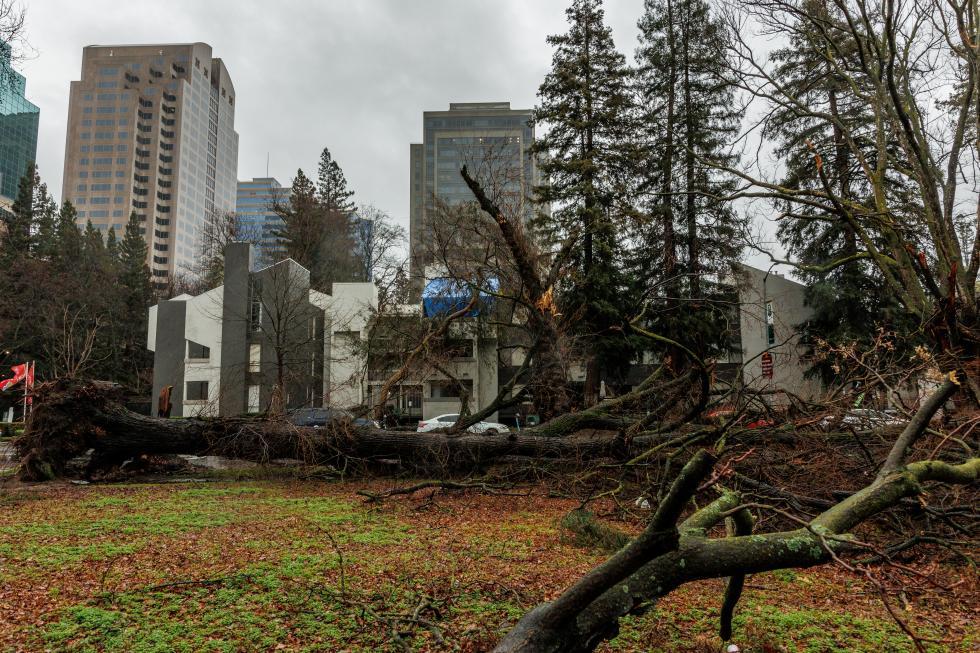 We hope you get some sun today, and make some time for yourself, possibly with a sweet video of the Sacramento Zoo's new baby giraffe.
Here's the rest of the Capital Region Rundown:
A couple of entrepreneurs open Sacramento's first non-alcoholic cocktail bar that celebrates the communal highlights of drinking culture while foregoing the risks; the nation's leading employer of people with disabilities expanded with a program that will help disadvantaged young people learn job skills; photographer Nick Shockey documents Sacramento's recent storm damage, estimated to cost the county over $123 million; longtime contributor Michael Scott is reprises his book review series with a review of a book on the entrepreneurial freedom of microbusinesses; and a guest contributor argues in an opinion piece that investing in injury prevention programs can improve financial performance, even as we head into a possible recession.
Comstock's thoughts are with the Monterey Park and Half Moon Bay communities after the deadly shootings there.
Recommendations from our editors:
In this section we editors share what we're reading, listening to, watching or even eating. Here's what we're consuming this week:
Judy: If you've attended a Sacramento Kings game or watched on TV, you've seen the image and heard the chants: "Light the beam!" The Kings are having their best season in years and are currently in third place in the NBA's Western Conference. Every time they win, a bright purple laser beam shoots into the sky from Golden 1 Center. NBC Sports reports the beam was the idea of Kings President of Business Operations John Rinehart, who based it after the Los Angeles Angels baseball team's halo outside their stadium, which lights up after every win. "Light the beam!" has captivated and excited fans and players.
Jennifer: This weekend I headed up to Grass Valley's Center for the Arts with some friends to see one of my favorite musicians, Kishi Bashi. I've seen him before in big cities and was interested to see what the vibe would be at the mountain town venue. It was the perfect backdrop for his innovative, heartfelt orchestral pop, and the local strings quartet he partnered with was great. And I got the set list signed!
Vanessa: Over the weekend I attended the exhibit The Black Power Tarot at Verge Center for the Arts. The show includes 26 tarot cards in the likeness of African American archetypes. The deck of giant tapestries was designed by a musician, artist and writer who goes by King Khan and the designer Michael Eaton, who worked as an artist for Game of Thrones. My favorites were the cards for "temperance," which featured R&B legend Curtis Mayfield, and "la force" with pop icon Tina Turner. (In a recent Zumba class, I tried channeling Miss Turner during her raucous hit, "Rolling on the River.")
Odds and ends:
Don't forget to subscribe to the magazine to stay up to date on the region's business trends, and follow us on Instagram, Facebook, Twitter and LinkedIn for daily stories and extras.