Imagine Boccherini's classical tune, "String Quintet in E Major," is playing. You know the one — it's often used in commercials or television as a mood-setter to establish an uptight, mannered tone. Now for comic effect and some of that clichéd "gotcha" flair, imagine its pretension disrupted by a record scratch and juxtaposed with a hardcore metal song.
This tension might be embodied by Jennifer Reason, a musician who — although as elegant, worldly and disciplined as any classical musician — also prefers to jam out to metal music while driving. And she would like to remind you that the classical musicians of the day were rule-breakers too.
Reason is the new host of Capital Public Radio's midday classical show, where she gets to talk about classical music to an audience of other die-hard fans and hopefully open the minds of some new (read: younger) fans along the way. Beyond classical music performance, her experiences in music direction and leadership of music-centric nonprofits give her an unorthodox edge to hosting. For example, Rogue Music Project, where she is the music director and founding member, is about breaking rules and pushing boundaries in order to shake up the way people experience classical and opera genres.
Reason says Sacramento is her current favorite place in the world. For a well-traveled musician — her profession has taken her to dozens of European cities to perform in classical music festivals — that's saying something. To be fair, she didn't always feel this way. Originally from Sacramento with a degree in piano performance from Sacramento State, there was a time when she saw big city life as her only viable option as a person in the arts. Now, she sees Sacramento as ripe with opportunity for fresh, new possibilities — a time to create.
Read on to find out how the once-self-diagnosed-workaholic has worked (irony not lost) to achieve balance in a way that allows her to be more present in her work, and how her punk rock attitude is blowing the powder right off those proverbial wigs.
How I describe what I do: (It's) the coolest job in the whole world. I've been a performer and educator my whole career, so then to add on a daily conversation about music with people who love to listen is awesome. What I do is kind of two-fold. One part is very straight forward, and that is to host the midday classical show. … I host, and then I'm assisting with the programming of the music as well. The other half of the job is still being developed, and that is the community liaison position. Because I'm a classical pianist, I know the music in and out, and I'm established within the community already — among the classical musicians and the other musicians, so it's kind of a nice, direct tie. (As the community liaison), I'll go announce if there's a concert. I'll either plan it and, on behalf of CapRadio, be one of the announcers or one of the performers. And another reason I was hired is to get younger people involved.
The community I serve through my work: I feel like this is the time in Sacramento. For a long time, people would grow up, finish their degrees, and say I can't do the arts here, there's nothing here, there's no culture, I've got to go to San Francisco or L.A. … I did the same thing. I fled. Finally, I think there's the right group of people, the right artists and the right visionaries. And everyone's just kind of coming here at once, and now's the time to make it happen and make Sacramento relevant and an arts staple.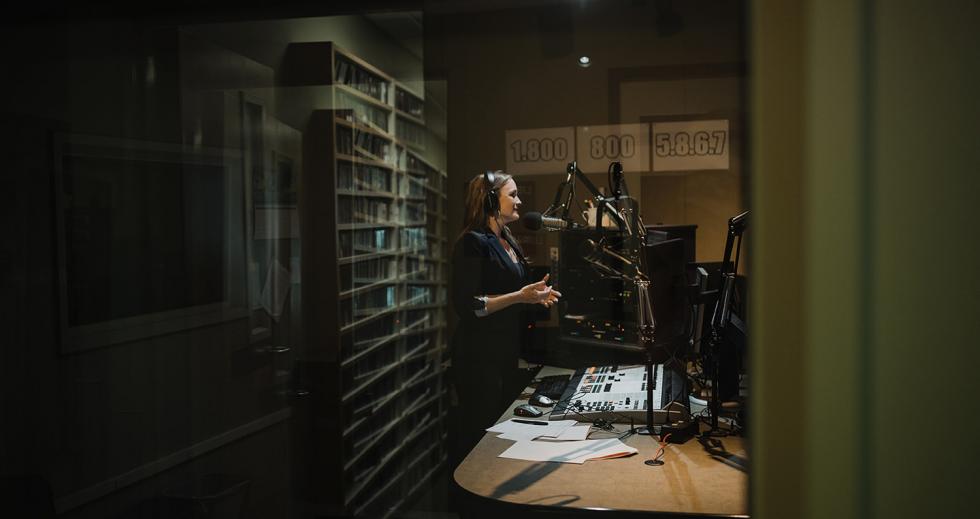 How I connect with my listeners: There's a call-in line that is not live, so they can leave messages. They can email, we have Facebook Live, Twitter, so we use social media. It's also been really interesting because I was already so established musically in the community, those people are listening to me on the radio. But then there are also people who are loyal to the station and coming (to listen to me for the first time). …
How I, as a classical artist and a radio personality, can be more accessible to the audience:
There are several stigmas, and they are 100 percent justified. (Laughs). Even getting my classical piano degree, it was hours and hours a day. It is inaccessible and maybe a little lofty, like we don't speak the same language, I've been alone too much. (Laughs). I never really gravitated 100 percent toward the classical genre for that reason. I'm way too social, you know what I mean. Way too connection-driven, too interested in multiple projects. It's also not typical to play other types of music, like rock n' roll and jazz and musical theater is kind of a no-no. It's kind of necessary to be that good at (classical) but that's kind of soul withering, to me.
My favorite current project: Mozart in Motion, and it happens the first week of October. This collaboration feeds me and gives me joy. I have two (music) groups, and we're pulling members from each of those, and we're doing this big collaboration with Sac Ballet. It'll be a world premier. It's a new choreographer, and they're doing this entire visual art thing with on-stage musicians. So we'll be the music and be part of the ballet, and it's being choreographed around us. So exciting. … (The Sac Ballet) has been really great about expanding horizons.
How a classical music festival is different/similar to mainstream music festivals like Coachella: There's a lot more sitting. It's a little more concert-hall driven in a lot of cases. The biggest difference is that there aren't, like, laser shows, although I have seen it! But after that, it's people being people. There's just as much drinking, just as much misbehaving. I've had more all-nighters at classical fests than I have at something like Coachella. Classical music in European cities is their rock n' roll. The entire city comes out, and it goes until 4 a.m. It's just raucous, very different. …
(Classical music) is their cultural heritage and it's been centuries. … (This music) came from pubs. It came from: if the audience didn't like it, they would throw rotten fruit in your face. It is a high-art form, yes. It is refined and takes discipline. And I think that's maybe where we've started distancing ourselves, and now it's become this thing where you where a tuxedo and it's very prim and proper. But that was not the spirit of the music back then. It was the music of the people.
My morning routine: I've started doing three simple things. I don't touch my phone until I've done these three things. It took me a month to get over the twitchy jitters of (not touching my phone first). And now it's flipped, I crave this time. The first thing is I have a whole glass of water with grey sea salt and lemon, because it rehydrates after the night, has minerals, is mood-enhancing it turns out, and doesn't taste as bad as you think. Then I do a little bit of stretching and 10-15 minutes of mindfulness and meditation, of just body scanning and total silence. And then — this is going to sound so cheesy and trite — but I write down five things that I'm grateful for or that I woke up happy about, so the first thing I think about is positive. The whole thing takes me about an hour total. Then I can pick up my phone and answer emails. If I start from that positive mindset, to remember how good life is, (the day's stresses are) so much less of a burden to pick up.
My favorite wellness tip: Balance. This has been the hardest thing for me to learn because prior to this job, I ran my own business. I was completely self-employed. It's just (this mindset of) the daily grind: Get all the gigs; you've gotta be out there; work, work, work; if you don't take the gig, someone else will. I have a very workaholic tendency. I had to learn this lesson a thousand times, and that is achieving balance between the parts of your life that are not work. Now I actually schedule into my day: You will sit down, read a book, and it will be in the grass. So I actually force myself: If this many hours, then I need this much time off, and I have to honor it. Maybe it's a little crazy, but if I don't, I could always practice more, I could always meet that next person, I could start that next project. There's always that pressure of competition (in classical music), so you want to stay on your A-game all the time. But that pressure will eat you alive if you let it, so forcing yourself to step back is everything.
My ideal lunch is at: Magpie Cafe. The wine list, the food is amazing, the people there are amazing. My favorite dish is the fried squash blossoms. But (as the midday host), I usually work right through lunch, so usually I hit up a coffee shop, stuff my face, try to make it till 2 p.m., and then stuff my face again.
My drink of choice: It's my favorite beer ever, Weihenstephaner. I never see it anywhere and there's two places here that have it. Karma Brew pours it and so does the Biergarten, and that makes me so happy. I did a music festival in Germany and it was being poured and I was like what is this? I was so excited that I found it here; Sac is really upping the food and drink game.
Things I'd never get rid of in a Marie Kondo-like purge: I love Marie Kondo, I have that book! I've purged my house already, except for my fridge magnet collection, which would cause (Kond) to die a thousand deaths! I've done a lot of tours in Europe and around the world because of music and everywhere I go I get just one little magnet. Not a touristy one, like a little piece from an artist there, or a little store that's off the beaten path. She'd have to pry my collection of fridge magnets from my cold, dead fingers.
My favorite type of music to work to: It's so funny, people always ask me that. Sometimes I just go for silence, man. When I'm working, it draws my attention too much; it's not just background noise to me. I'm an active listener so I'll forget what I'm doing. But when I'm driving, I like metal. I do, I love it. And rock n' roll and blues.
My philosophy on networking and relationship-building: If you find a team of like-minded people, you can do anything. Finding your artistic family can only happen through networking, reaching out, finding out who's thinking the same thoughts as you, having the same sparks and inspirations as you. Cling to those people as an ever-growing circle, and then suddenly the world is yours. I am so lucky, because I went to college here, I've got relationships that go back 15 years. So now we've been making art together for coming up on two decades.
Editor's note: This story has been edited to include an additional paragraph.
—
Get this and other stories delivered to your inbox weekly: Sign up for our free email newsletter by clicking or tapping here.
Gabriel Diaz expects the quizzical expression that sometimes washes over people's faces once he tells them what he does for a living. He's a style and wellness influencer, or "creative stylist," as he prefers to be called.
Daniel Stephan may blend in with his fellow millennials. He's an avid podcast listener, has a few tattoos and has nurtured a passion project into a dream job. But the baker and owner of Niche Bread & Company in Midtown Sacramento also has an old-school approach to the basics of healthy living — nutrition, discipline, balance — that affects the way he runs his business.