Walking into the Sacramento warehouse where Kelly and Russell Conroy house their woodworking company, Timber + Main, it's easy to see the source of their inspiration. Salvaged wood slabs, planks and posts rest against the walls just waiting to be turned into something sustainable, beautiful and functional.
However, Timber + Main has been in a bit of a holding pattern. After being in operation for just over a year, the Conroys have been juggling the responsibilities of Russell's day job as a mechanical engineer for a Roseville aerospace company and Kelly's goal to build Timber + Main into a self-sustaining business with their joint desire to have children.
Over the last six months, they have found themselves in and out of doctor's offices with issues surrounding multiple miscarriages. The heartbreak that's come with each incident has made Kelly rethink her own career priorities.
"Unfortunately, I think people need big, traumatic events to make them reflect that way," she says. "But it was the type of event where I was like, 'How do I want to spend my life? How do I want to spend my time?'" In November of 2016, she made the decision to focus her efforts on Timber + Main, while taking on contract work in environmental and science communications and strategy, rather than having a regular 9 to 5 job.
This type of reflection — intentional thoughts and actions around balancing work and life goals — isn't all that foreign to their lives. The couple grew up in the Sacramento region and despite attending different area high schools, they became friends in a summer school class at Mira Loma High School. For college, Kelly went to UC Davis and Russell opted for Long Beach State, then adding a stint in the Peace Corps in Malawi to his resume from 2009 to 2011. It wasn't until after Russell left for Malawi that the two decided to see if a relationship might work.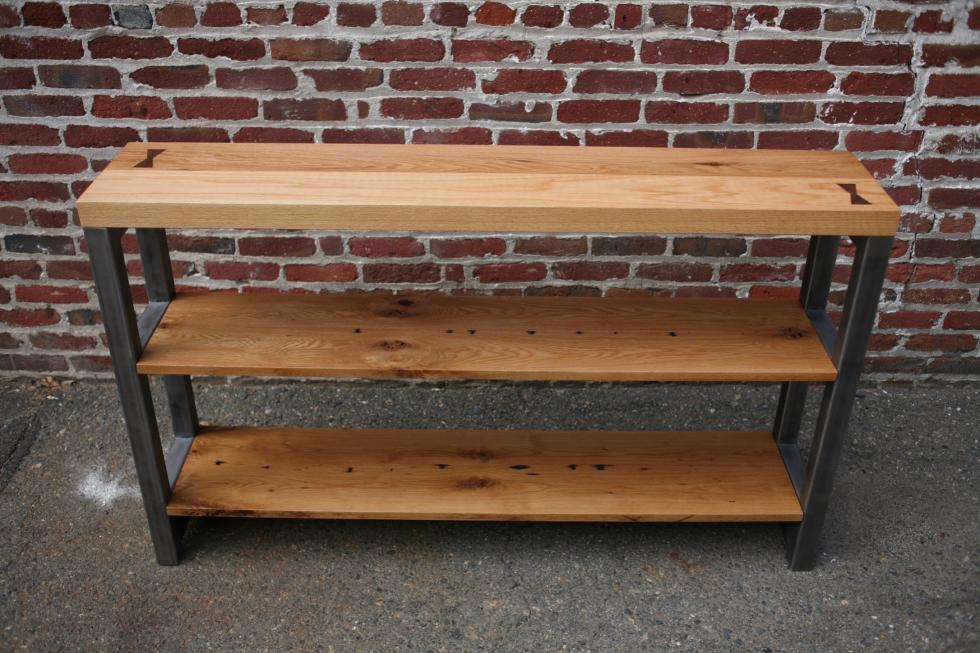 "I was 21 when I graduated and I had no idea what I was going to do," says Kelly of her experience post-graduation in 2007. "I had no experience, just this degree in biological sciences. So I ended up finding a paid internship and just held onto that and moved through that organization and became a waterfowl biologist." In 2011, she quit to travel to Malawi to visit Russell, which cemented their intent to give their friendship-turned-relationship a chance.
Russell left the Peace Corps and returned to Long Beach to find work, while Kelly went back to Sacramento to do the same. Eventually, the two both found work in Northern California — Kelly working for various nonprofits and organizations to combine her love for wildlife and nature with her penchant for effective communication and streamlined project management, while Russell found fulfilling employment in the field of engineering.
So, the pair settled into life in Sacramento. They bought a house, and Russell began using his woodworking skills to fill the space with handmade items. That desire to build custom furniture and accessories with sustainably-sourced materials eventually became the beginnings of Timber + Main. Since then, they have been working with local sources to procure reclaimed wood, moved their operation from their garage to a warehouse and have seen demand for their pieces — both custom work and designs sold in their online shop — increase.
Working as a husband-and-wife team has come with its own set of challenges. "People assume that we spend a ton of quality time together," Kelly says. "For the most part, we just put our headphones in, and we know what our jobs are, and we come here and we work. We're here and we're working and if we're communicating, it's either because we need to make a decision on how to move forward or one of us is frustrated and we're butting heads on things."
But they agree that working together has taught them the art of compromise and communication, which has translated into a healthier life at home.
Over time, the Conroys have tried different iterations of their business to see what works best in response to customers' requests, which include those wanting beautiful cutting boards to their home, shops wanting to carry smaller gift items, interior designers seeking furniture for clients and large companies asking for very specific designs.
In 2016, they received a request for custom shelves and cupping tables for the Java City headquarters in Natomas. According to Vice President of Operations and Coffee Buyer Shawn Hamilton, he was looking for a showpiece. "We have a room called the cupping room, which is basically a tasting room, where we taste all of the coffees," he says. The room has a dual purpose: to ensure quality control as coffee comes in and as a space where customers can learn more about Java City's coffees. "I had met Russ and Kelly before, had seen some work they had done and I really liked the style."
Aside from custom work, Timber + Main's smaller homegoods have been stocked at the DISPLAY boutique in Oak Park. They've opted to open the shop only a few times a year to help stagger the workload. With this common maker business model, they spend time building a collection, open the shop and fulfill orders until the last item sells. Then they put the shop on hold and start the process again.
According to Russell, this allows them to have space to get creative with what they bring to a collection without having to halt work to fulfill orders. It also allows him to maintain his day job — something he plans to do for the foreseeable future.
"It's easy to romanticize," Russell says of their side business. "I feel like we don't talk about that with our friends as much — the reality of what it's like having to work an eight- or 10-hour day and then come home and, you know, change and go to the shop and work four hours."
Kelly jokes about how many times they've stayed in the shop as late as midnight to get a job done and found themselves eating granola bars for dinner. But she wouldn't have it any other way. "I feel like after starting Timber and Main, I have that entrepreneurial spirit," she says. "I like patching it together myself and being my own boss, and then being able to use my skills in a really diverse way."
Follow our writer Jennifer Snyder every month as she speaks with people in the Capital Region who have taken unconventional career paths to get to where they are today.