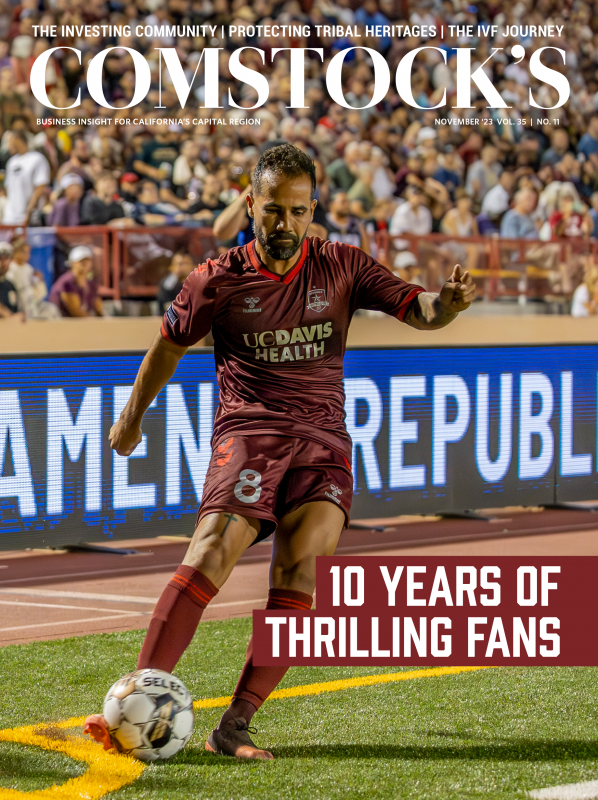 This story is part of our November 2023 print issue. To subscribe, click here.
Grown in a lab from raw materials, so-called "baby trees" could be essential for protecting not only the future of fruits and vegetables, but also people. This is the aim of Botanical Solution Inc., a Davis-based ag tech startup with global roots.
The company, which started in Santiago, Chile, made a major discovery in 2013: Extracts from the Chilean native Quillaja saponaria tree had the ability to produce a highly effective biofungicide, which could shield plant life from a range of diseases.
But there was one problem blocking BSI founders from turning this finding into a commercial reality: Chile has strict laws against cutting down Quillaja saponaria trees. So BSI scientists chose to grow their own, creating a "plant tissue culture platform," says Gaston Salinas, CEO and co-founder. Using a proprietary method, BSI scientists managed to extract the active ingredients in their labs from plants in vitro.
This was a breakthrough as the industry typically uses decade-old trees to extract compounds, Salinas says. By growing biomass in vessels, producing crude extracts, then purifying the materials to get more than 95 percent purity of various compounds of interest, BSI has created its own repository without cutting down trees in the process.
"All that we do is inspired by nature," Salinas says. "We've gone to fields, identified certain plants or trees that have characteristics we're interested in, taken samples and developed them in our labs. That's what we're using. That was the starting point."
Moving to Davis became a pivotal step for BSI to connect to the entrepreneurial and innovation ecosystem necessary for the startup to thrive, he says. For this transition, Salinas received mentorship support from Marcus Meadows-Smith, CEO of BioConsortia, a Davis-based microbial crop protection and crop enhancement company.
Initially, Meadows-Smith says his job was to lend his expertise to Salinas on how the agriculture market operated in the U.S. He was drawn to the company's more sustainable and cost-effective method for extracting compounds from plant tissue culture rather than using rare and endangered species. But he acknowledges the startup's evolution into the pharmaceutical space, driven by the pandemic, put BSI on a "transformational" path.
"BSI realized they had a sustainable and lower cost method of producing this very key metabolite for human pharmaceuticals," says Meadows-Smith, who would eventually join BSI's board of directors. "Valuation has grown exponentially with the move into the pharmaceutical space."
In the past year, BSI has expanded its focus to providing the "gold standard adjuvant QS-21 for activating the human immune system in pharmaceutical vaccines," according to Jon Amdursky, who handles marketing for the startup. This is crucial for vaccines to combat RSV, shingles, malaria and others.
Due to high demand, supply chain issues and deforestation restrictions, the cost of QS-21 has been running around $400K per gram, according to Salinas. But he says BSI's in-lab approach to growing a virtually unlimited amount of Quillaja saponaria trees and extracting botanical materials for QS-21 will increase supply and lower the cost.
"The nice local news story is Gaston's move to California with his family," Meadows-Smith says. "They've set up an office with a lab in Davis and started to hire a team of scientists here. … It started as an outreach by UC Davis to support growing companies entering the U.S. market and it looks like it's going to be an incredible job creation opportunity in the U.S. as well."
After relocating its headquarters to Davis, BSI grew in 12 months from 30 people on the team working in Santiago to 110 people, including many BSI members now working in Davis. Most of this growth comes from opportunities the company has in the pharmaceutical space, which Meadows-Smith says involves major "household names." This year, the startup closed a Series A extension, raising more than $17 million in total since inception.
"The main obstacle right now is time," Salinas says. "We understand that most pharmaceutical companies are looking for saponin compounds to make vaccines while abiding by deforestation policies. … Botanical Solution has set an internal goal to prove its technology is ready to deliver QS-21 at kilogram scale within about 18 to 24 months."
–
Stay up to date on business in the Capital Region: Subscribe to the Comstock's newsletter today.