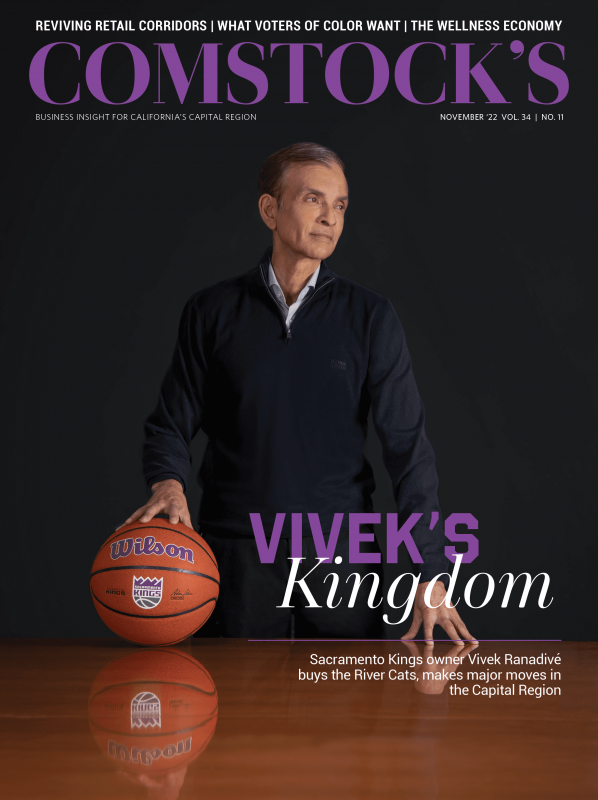 This story is part of our November 2022 print issue. To subscribe, click here.
On a sunlit afternoon in 2021, a Honda hauling a long, white rowboat pulled into a truck stop as its windshield filled with a sapphire mirage of Mono Lake, the water pinched between jagged mountains and bright blue skies.
The man behind the wheel was Craig Reynolds, a retired political operative who has become Yolo County's pioneer agave farmer and founding director of the California Agave Council. The crew waiting for him with a van on that day was from Shelter Distillery, one of only seven alcohol producers in the state currently making California agave spirits. Shelter's tequila-like elixir, born from a tequilana species of agave Reynolds grows, was just on the verge of being released. The small distillery based in Mammoth Lakes decided it needed more plants. Reynolds was already planning an adventure in the high Sierra when they called. He glanced at his fishing rig — and got an idea.
"I thought, 'You need more agave?'" he remembers, chuckling. "How about a boatload?"
The bladed, Stegosaurus-looking plants that produce tequila might be associated with the deserts of Mexico, but researchers at UC Davis announced a $100,000 project in early September to study their viability in the state. Over the last eight years, Reynolds and several farmers have demonstrated that the crop can thrive on acres traditionally known for fruit, nuts and wine grapes. In an increasingly warm landscape, where severe droughts are predicted to be the norm and political battles over water are intensifying, agave could represent a game-changing possibility for the state. It's generally dry-farmed in Mexico, meaning its water comes naturally from the sky for a few months, the rest of the year enduring the sun's fiercest heatrays.
Reynolds wants agave to evolve from a novelty crop to a force of stability within California's changing bread basket. He also wants it to propel a signature Golden State spirit that consumers are truly excited about. That's why he brought farmers and distillers into the California Agave Council when it was formed in March of 2022. Within five months, Reynolds had found an author for AB2303, organized industry support for it and testified before the legislature. The bill passed and was signed by Gov. Gavin Newsom, setting agave on a new trajectory.
"It says that if a producer uses the words 'California' and 'agave spirits' in any combination on the label, it has to be made 100 percent from California-grown agave, with no additives for flavor or color," Reynolds explains. "That's the highest standard you can have. For California to get into this market, we want to make sure we get in at that very premium level, especially during the embryonic stage."
Up from old Mexico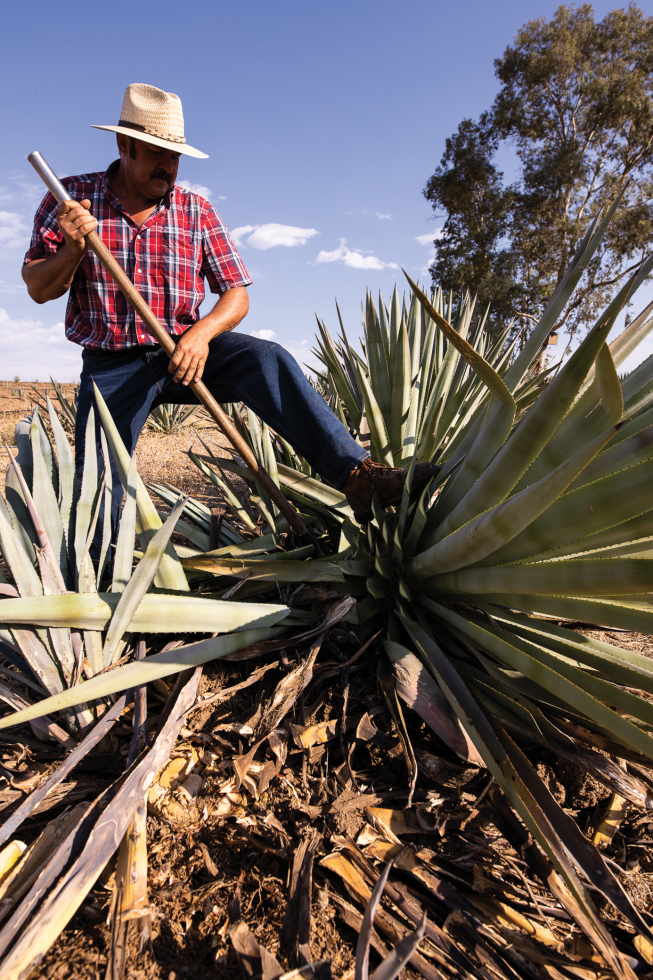 Reynolds started his agave farm with 500 plants on Muller Ranch near Woodland. A former chief of staff for three assemblywomen, he describes himself as a hobbyist grower with a potential trend on his hands. He's had a lot of help from his harvester, Raul Chavez, since starting in 2006. Reynolds stresses that the real expert on whether agave can work in California is Stuart Woolf, one of the best-established farmers in the San Joaquin Valley.
Woolf hails from a multi-generational ag family and has spent most of his career seeing his crops get caught in the middle of logistical and political battles over water.
"I'm kind of long on land, short on water," Woolf notes. "I've been trying to figure out, how do I optimize the value of the lands that I can't farm? … I was sitting around my house, drinking tequila, and the dim light bulb started to shine a little."
In 2020, Woolf planted 1,500 agave plants, experimenting with 12 different species of the plants. He's been feeding them water through drip lines, which is more moisture than they get in Mexico, but far less than what Woolf's almonds, pistachios and tomatoes require. One of his almond crops, for example, needs about 48 inches of water annually. For Woolf's tomato crops, it's 30 inches of water. He only gives his agave plants two or three inches a year.
"I think about this like the early wine years in California, because there was probably some skepticism back then about whether you could actually do this in the state. Now, I'm looking at agave like this could be one of those pivotal crops."

Stuart Woolf, agave farme
"I've been pleasantly surprised," Woolf confirms. "I think about this like the early wine years in California, because there was probably some skepticism back then about whether you could actually do this in the state. Now, I'm looking at agave like this could be one of those pivotal crops."
It was Woolf who donated the $100,000 to UC Davis' viticulture program as seed funding to study California agave. Ron C. Runnebaum, a chemical engineer who oversees the university's distilled beverages training, now heads up that research. He says that while growers have interest, craft distillers have questions based on early trial runs.
"The distillers, so far, have had challenges with the fermentation," Runnebaum admits. "The agave plants have different limitations for them because different species of it are being grown in different regions and conditions. Different microbiomes affect fermentation. I think this is where UC Davis can get involved and help."
'Give Me Shelter' in a glass
The sky was gleaming over the eastern Sierra as a bartender named Maddy Hoffman worked on two of Shelter Distillery's signature cocktails. Her cozy bar stands in the heart of Mammoth Lakes' alpine village, its patio facing the soaring mountaintops. In the luminous afternoon light, Hoffman makes cocktails featuring California agave spirits.
A few months before, she would have been making them with Shelter's Agave Yolo, which was derived from Reynolds' plants in Woodland. However, 14 months after the experimental farmer brought Shelter its first spikey loot — and a year after he re-supplied it with his rowboat — the distillery is completely sold out of the 190 bottles it made with those plants.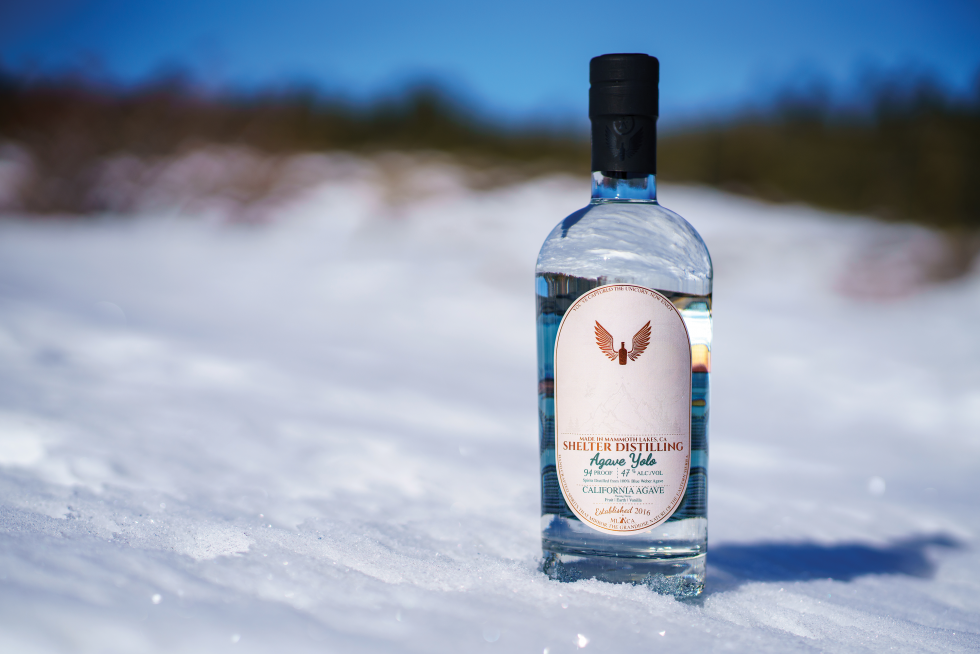 That kind of fevered demand is one of the most challenging elements of the California agave endeavor so far, according to Shelter's co-owner, Jason Senior. "None of this is something we get a lot of yield out of," Senior says of the plants, some of which he's sourcing from small farms in Murrieta and Santa Barbara. "I think the most we've gotten from a batch is a hundred and some bottles."
Fortunately for curious travelers, Shelter still has bottles of its Agave Murrieta, which is made from plants on Agave Concerto Estates in Riverside County. Straight, this spirit combines the contours of tequila with a more rustic, peppery distinction hinting at sage. One of the cocktail recipes Hoffman uses to highlight it is called Track's Passion. It's elevated by limes, Orgeat syrup and strawberry passion fruit juice, all of this making the agave glow with a citrus softness.
"It does taste different," Senior explains of California agave. "The utilitarian reason we started using plants from our state is that it's close to the distillery, so you don't have to worry about import fees. But way beyond that, it makes for a unique product. It goes back to how things are going hyper-local now, too. Customers like how it comes out, but they also like the story behind it."
That doesn't mean jumping into agave is easy for a craft distillery. Senior describes the learning curve as "a nightmare." For him, it involved chopping the plants up with a wood chipper and then using a brewery mash tun to cook them. There also aren't enough agave plants yet to produce more than three products, especially considering that it takes five to 10 years before a plant can be harvested. The UC Davis research underway looks to identify what soil, climate and farming conditions might allow the plants to mature in five to six years.
"The bottleneck right now is plant supply," Reynolds admits. "But given how ideal agave is for the water challenges — and it can also be used for firebreaks, food, biofuel and feedstock for energy — there will be a lot of incentives to plant it more and more. It's that triumvirate of food, fuel and fiber. Agave hits all the marks."
–
Stay up to date on business in the Capital Region: Subscribe to the Comstock's newsletter today.